10 Great Lingerie Gifts for Him
Make it a holiday he will never forget! Show your man how much you adore him by wrapping yourself up in one of these great lingerie gifts for him.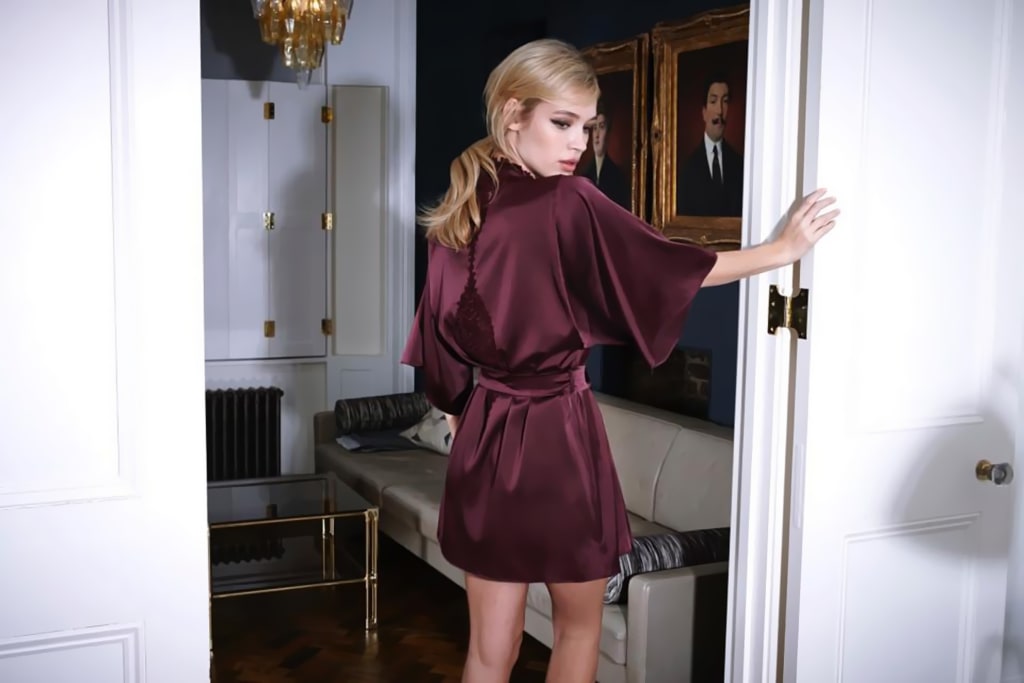 Source: Fleur of England
While men love receiving clothes, tools, and sporting gear for special occasions like Valentine's Day or birthdays, you know what else they love? Seeing their beautiful woman in some sexy lingerie, that's what! Especially when it is unexpected and for their eyes only. So, with Father's Day approaching, I figured I would do my ladies (and men) a solid, and list out a few great lingerie gifts for him.
Now, if lingerie isn't your thing (or at least you don't believe it is), let me assure you that there is something on here for everyone. You don't need to be dressed in nipple tassels and clear heels in order to capture his attention, and buying him a gift he will love doesn't have to be so hard. However, from one woman to another, I want you to remember that this is YOUR man we are talking about. The man you are intimate with. The man you love and trust (hopefully). I know a lot of women carry around body insecurities and the idea of wearing only dental floss may seem intimidating, but I promise, there is nothing more sexy than a confident woman. And if women are good at one thing, it's faking it, so fake it till you make it, baby. The pure shock and excitement on his face when he sees that you bought lingerie you'll both love will make every doubt you had worth it.
Out of every piece of sexy lingerie I know of, nothing will compare to the pure hotness of a garter belt! Between the belt itself and thin straps connected to a pair of sheer thigh highs, any man will be counting his lucky stars to see his woman dressed in this. The best part is you can wear a garter belt and stockings under any dress without him knowing, and when it comes time for his birthday dessert... Well, let's just say that there is no question which cake he will be eating.
When you're feeling sexy AND feisty, a blindfold can be just the fun you're looking for. Not only can you wrap this up in a pretty bow and gift it, but you can also choose who gets to wear it and what for! For extra bonus points, pair this blindfold with a sheer lace teddy or matching bra and panty set.
For my first timers, you may feel some hesitation of the unknown, but if you trust the man you're with then you have nothing to fear. Start off simple with blindfolding him during a massage or perhaps while using whip cream or ice, and then gradually work your way up (or down) at your own pace.
At first glance, these panties may seem like any other ordinary pair; however, little does he know, they are missing quite an important piece of fabric. Nothing says, "Happy Birthday," or, "Happy Father's Day," better than a surprise pair of crotchless panties. To really celebrate his awesomeness, let him in on your little naughty secret while out in a public place. Maybe, say, when you two are out to dinner at a restaurant. After all, they say anticipation is the greatest foreplay, and that anticipation in his eyes will probably make you feel sexy all night long.
Next Valentine's Day, why not try something a little more erotic than a box of chocolates? How about wrapping your buns up in a sexy pair of booty boyshorts? They say men are simple creatures, so with showing just the right amount of skin, these undies are fun, flirty, and allow his imagination to run wild with possibilities. For my man, getting a little peak of the cheeks is as hot, if not hotter, then seeing it all at once.
While you may not consider erotic handcuffs to be lingerie per se, it checks off all my requirements for the perfect bedroom present. Let it be said that all these gifts are just as much for your enjoyment as they are for his, and handcuffs are the perfect example. Sexual power for him, tortuous pleasure for you. By gifting an adult toy to your partner, you are showing him trust and your desire to try something new, fun, and maybe even a little dangerous. After all, a gift is given to bring someone joy, and what better way to do so than with a little game of "You're Under Arrest," including a fully naked pat down?
Telling you that buying a gift for a man can be difficult is no secret. Either they already have everything they need or are just not into exchanging gifts. That is why giving the gift of intimacy is a win-win for every couple. A sensual image that no man can refuse is that of a woman dressed in nothing but bra, panties, and a pair of high heels, stilettos preferably. They give length to legs, add a sway to a woman's step that is extremely seductive, and, of course, look great thrown over his shoulders. Now this is my kind of holiday gift, purchased for his pleasure and for my closet.
Buying a gift for your lover boy doesn't have to be difficult. In fact, choosing to purchase a piece of sexy lingerie can be the easiest and most successful gift ever. Nothing, and I mean nothing, is more sexually iconic than a lace teddy when it comes to lingerie. It works for all shapes and sizes with endless style options you can choose from, and follows almost all of the guidelines for lingerie you can think of. From dainty bows and ruffles to more daring pieces made of sheer lace and open bras, this is truly the gift that keeps on giving. It's as if you took his favorite present of all time and packaged it in the most beautiful wrapping imaginable. Regardless of the occasion, wearing this will surely be a memory he will think about for a long time.
Fetish or not, nothing is hotter than a gorgeous gal who's ready to wear lingerie and have some fun roleplaying. It could be a naughty nurse or a feisty French maid, but when it comes to spoiling your man on his special day, dressing up can be just what the love-doctor ordered. With Father's Day approaching next month, this could be the perfect opportunity to show your appreciation by turning your man's greatest fantasy into reality, even if just for one night.
With such busy lives, just keeping clean underwear for everyone in the family on a daily basis can be a mission. So for women, especially busy women, having undergarments that match is about as important as cleaning the fish tank. Meaning, not important at all. That is why when a special occasion for your man arises, like a birthday or Valentine's Day, strutting around in a sexy, lace bra with a matching lace thong can be pretty freaking epic. Not only will he appreciate the barely-there ensemble, but so will you. There is a confidence that comes along with feeling your best and being desired, so pull out your inner Victoria's Secret Angel and bless him with your elegantly covered assets.
With plenty of great lingerie gifts for him, there are options for everyone. Remember, as much as the lingerie matters, the tips for choosing sexy lingerie to conquer a man aren't even on his radar. It's really what's underneath that is his end goal. So, what better way to surprise your man on the next holiday than with you as his present to unwrap. His beautiful woman wrapped in a short piece of silk fabric that can slide off with the pull of a sash. Now, for what's underneath, that's your purgative. It could be another piece of sexy lingerie or nothing at all; but whatever you choose, rest assured that your man will be ecstatic when he sees what's next.
About the Creator
Sometimes offensive yet mostly sweet. Always honest and often vulgar. I'm a wife, MILF, and everyone's homey. From trends and sex to mom life and fitness, I tell it how it is and not how it should be.
Reader insights
Be the first to share your insights about this piece.
Add your insights