When The Night Came Down
This is for the Vocal "Arid" Challenge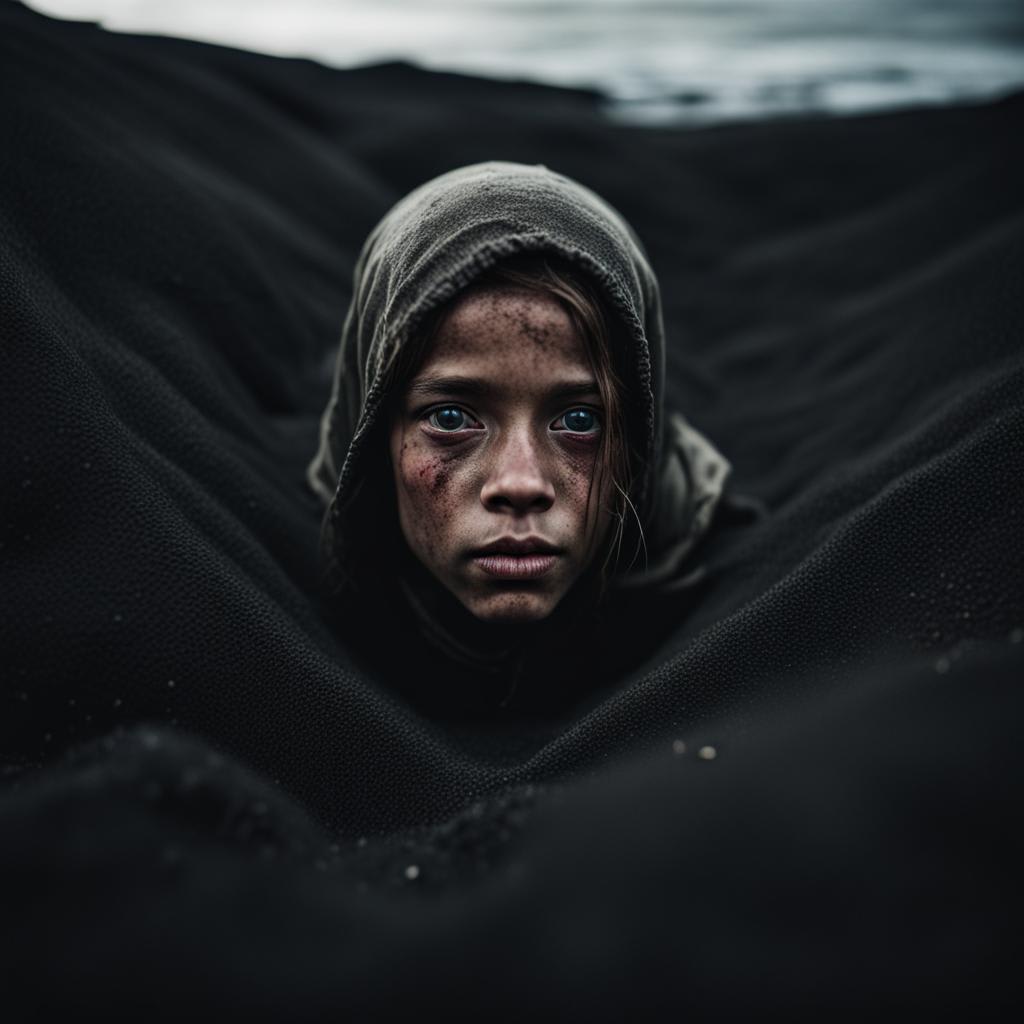 An AI Creation By The Author
The Prompt
Write a story that ends in a desert setting with this last sentence:

Engulfed in the desert's parched silence, I was nothing but another grain of sand in the wind.
The music is "When The Night Comes Down" by XYZ
When The Night Came Down
What is night? Is it lack of light or just not day? It is something we all know and experience but it is just a state, not a physical thing.
So I am standing here looking at a scribbled diary in the desert camp where we were meant to meet the rest of our exhibition. Everything in the camp is covered in black dust, deeply covered.
The bodies of my friends are on the ground almost fully buried in it.
This is a black desert graveyard, I am too late.
I knew there had been a volcanic explosion pouring out ash and lava. The ash had blackened the sky and luckily come down in the desert, not hitting any cities or towns.
But the expedition was in the desert.
When the eruption happened and the dust cloud hit, communications were wiped out. I commandeered a jeep immediately and set off but I had to wear a gas mask to breathe, I knew the expedition was not equipped for this, so I loaded up masks, oxygen, breathing apparatus and medical supplies. I would have to answer to my superiors when I got back but five miles from the base my communications were gone.
Twenty four hours I drove and as I got closer the desert got blacker, the dus t had hit and I finally arrived at the camp.
And this is where I am reading the end of this diary:
The Last Pages
The sun has gone down and we have taken all today's samples, so things were looking good.

We have eaten and drunk and we are enjoying chat by the fure.

One of the members says that his radio has stopped working.

We all check, and it's true every radio is out, so signal, nothing.

We walk out from camp and there is still no signal.

Then we notice something really odd, there is no moon and no stars, last night it was a full moon so it can't have disappeared, and where are the stars? This is really weird.

Then one of us notices that the ground is turning black, and we are the same, getting covered in blackness, it's like the darkness has been given a physical form.

It's getting thicker, we try and get back to the tents to find shelter but we are in a sea of dust. Everyone is coughing, I am as I write this, I am choking, drowning in dust.

What the fuck is this the others have dropped I don't have long.

I am coughing up black stuff out of my lungs but I am bereathing it back it.

I don't think
Now
And that is what I am holding, the last attempted communication.
Humanity is always dependent on the whims of nature, and though I have tried, I could not save my friends.
There was no warning of the eruption, nature does not have to tell us what it is going to do. We try to predict things but sometimes things come out of of left field to hit us smack in the face.
So I stand alone, in this black desert, knowing that this could not have been stopped, because Mother Nature decided it would happen, and I realised how totally insignificant I was.
Engulfed in the desert's parched silence, I was nothing but another grain of sand in the wind.
Reader insights
Be the first to share your insights about this piece.
Add your insights