The Undulating Field
SometimesThings Are Not What Is Expected - For Mother Combs "Twisted Endings" Challenge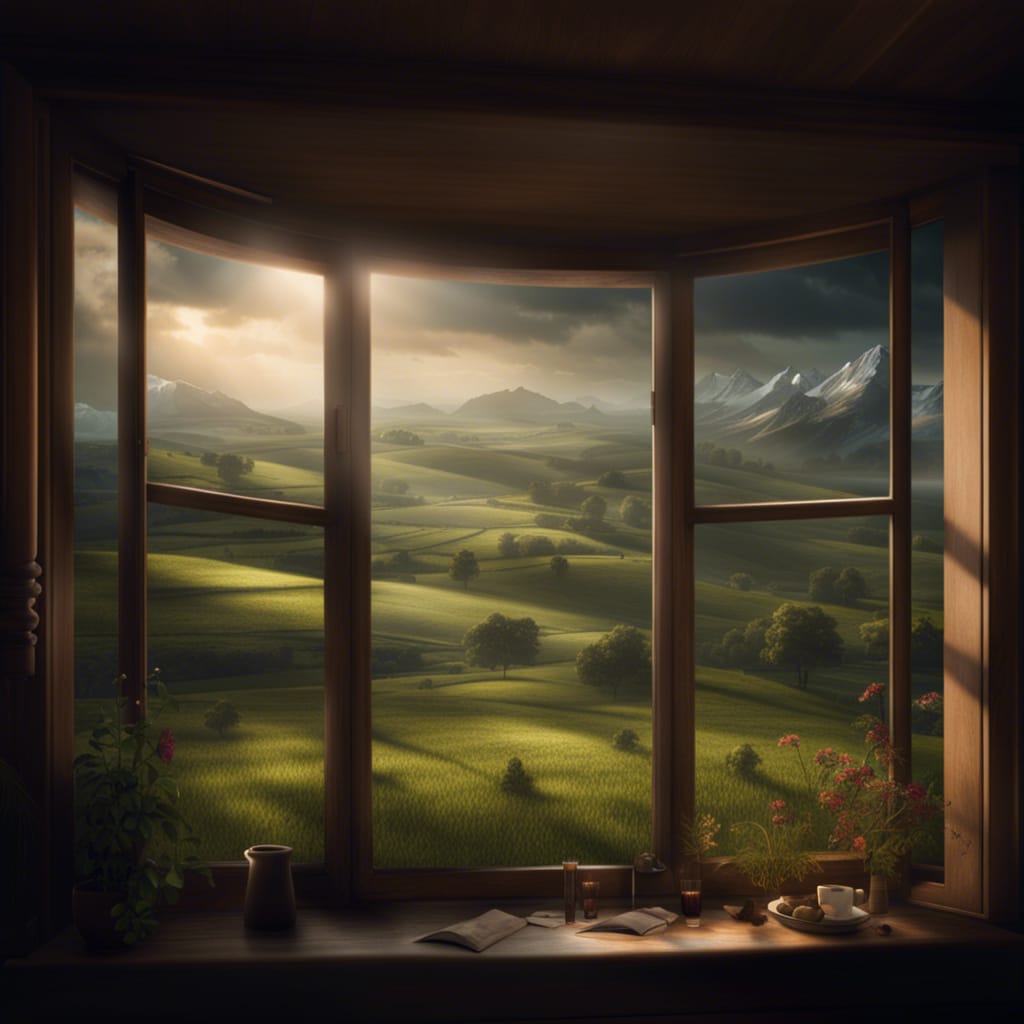 An AI Nightcafé Creation By The Author
This is for Mother Combs "Twisted Endings" Challenge that you can read about here
The Undulating Field
I had a restless night and kept getting up for some reason, but I don't know why. Eventually, I decided I might as well just get up, so went to the bathroom shaved, cleaned my teeth, took a shower, took drugs and got dressed. It was six in the morning, and I was on holiday, so there was no need for me to be up at this unearthly hour, but I was and went to the kitchen and made coffee, instant, with oat milk in the microwave.
I went to the window and looked out, and felt there was something wrong. Through the window was a field or meadow, but, I don't know if it was the light or my eyes, but the field seemed to be moving. The land looked like there were waves going through it, almost like it was liquid.
I looked away and rubbed my eyes, this was not happening, but I looked out and it was getting worse the walls and buildings were joining in the flowing motion, and it was starting to make me feel sick and dizzy.
I held on to the wall.
The thing is, this was not like an earthquake. Buildings weren't falling down, there was no rumbling, no sound at it was just that the field was undulating like soapsuds after washing, spinning before they go down the drain.
The outside and inside were not going anywhere but I was feeling sicker than ever. The inside of the flat was still stable, I think, but my head was spinning and eventually, I did throw up.
I was going to ring somebody but my phone was in as much state of flux as the undulating field and buildings outside, so I just threw it to the floor.
I felt like I was going to die, I could not move and my brain felt it was being scrambled with a sonic whisk.
Things were getting darker and oblivion came .........
🌻❓🌻❓🌻❓🌻❓🌻❓🌻❓🌻❓🌻❓🌻❓🌻❓🌻❓🌻

"Every bloody time"

"What happened?"

"He's done it again"

"What's he done?"

"He's just done a fvcking manual reset again, and you know what happens when he does that"

"He knows he should get us to do a system reset. The mess this is going to cause again. I am sick of having the clear up after him, again and again. Fvck me"

"I really feel like just walking out, we're not here to clear up after him. He really doesn't care about the consequences, and seriously, why does he keep doing it? He knows what happens when he does it and the mess that it causes for us"

"He never bloody listens, and I don't know if his memory is shot, surely he wouldn't do this if he remembered the consequences. Although the other side is that he always knows that us and the crew are here to clean up his mess"

"If he wants it doing he knows that he should ask us, but he never bloody does and leaves it in a total mess, God knows how it affects the humans, or rather he doesn't otherwaise he wouldn't do these manual resets. Earth is a complex and fragile computer and these resets could destroy the planet if not properly controlled.

"OK I've redone a controlled reset, everything should be back to normal in thirty minutes."

🌻❓🌻❓🌻❓🌻❓🌻❓🌻❓🌻❓🌻❓🌻❓🌻❓🌻❓🌻
I woke up, still had a banging head, looked out the window and everything looked OK. The undulation had stopped, but I still had my vomit to clean from the carpet.
It must have been something I ate or drank, but it was OK now.
Reader insights
Outstanding
Excellent work. Looking forward to reading more!
Top insight
Heartfelt and relatable

The story invoked strong personal emotions
Add your insights