"Stubborn"
"What are your thoughts, Riya?" When will you disconnect the call? You are incredibly stubborn, and I am even more so. I'll keep calling you; let's see who has more stubbornness and who wins. "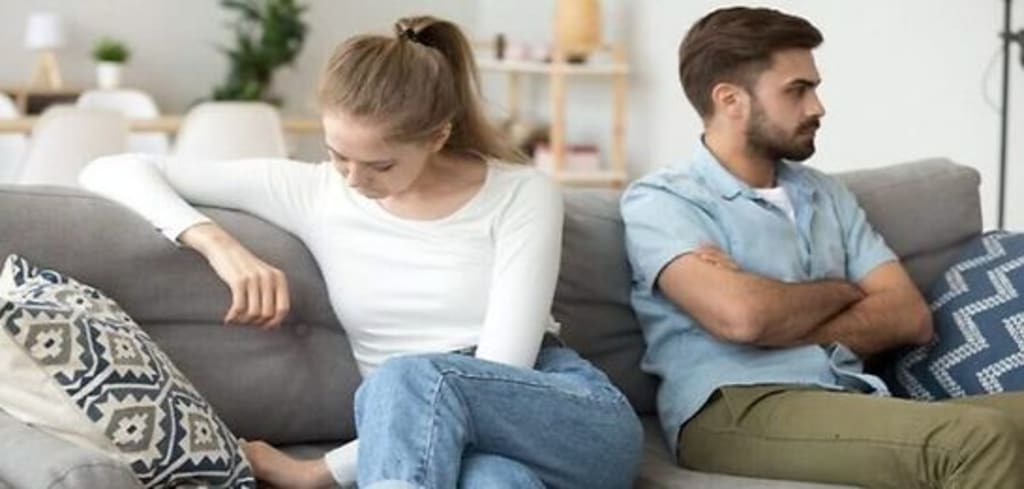 Riya took a sigh of relief after leaving Rachit's cabin and returned to her own. Riya sat in her chair and emptied the water bottle in one go. Riya couldn't believe it had all happened a while ago; was it real or a dream?
"Riya's Bubble thought"
"How is Rachit trying to do this to me?"
I am not a puppet in his hand who can do anything he wants to me whenever he wants; I must inform the P.O.S. committee.
Wait!! What am I going to say before the P.O.S. committee? Rachit kissed me twice on my own will. "
"Did I really want to?"
"Yeah, of course."
"I feel Rachit's touch. My body reacts. His hot breath creates strong waves in my body. "
Okay, I had my will the last two times, but today he forced me. How is he able to force me?
"Come on, Riya, even when you closed your eyes, you still wanted him to kiss you."
"Do you think Rachit is so stupid?"
That he might not realise your body's reactions.
But he was disturbed by my quietness; he loves my presence, and every time I gaze into his eyes, electricity flashes inside my body.
Rachit is so attractive, he has a successful career, and how good in nature as well, no girl will say no to him. Rachit will get a more beautiful and trendy girl than me, so what is Rachit like in me?
He was irritated simply because he wasn't able to communicate with me.
Why is he so fascinated with me?
I adored romancing him despite the fact that he was so upset with me because he was staring at my lips so carefully today, and I could definitely see the desire to kiss me in his eyes.
Rachit's chest was shining and wide.
Why can't I keep my emotions under control while he's around?
How much do I have to explain?
No matter how much I try to stay away from Rachit, he keeps trying to get closer to me.
After all, what was I to do? I attempt to keep my temper, but as soon as I see Rachit in front of me, I lose control.
I'm also restless to talk to Rachit all the time, but I can't fool Harsh; he loves me.
The ringing bell on the telephone woke Riya from her thoughts.
Riya received the call "Hello."
Rachit replied angrily, "Remove my phone number from the blacklist, or else you've just seen the trailer of my rage,"
Riya removed Rachit's phone number from the blacklist immediately. Continuing the conversation, Riya said to Rachit, "Sir, I have removed your number from the blacklist, but it doesn't mean I'm terrified of you." You'll soon see the results of what you did to me today.
"Oh, I'm so afraid," Rachit exclaimed in response to Riya's remarks.
Riya slammed the phone receiver fiercely.
Ashish knocked on the cabin door at 2:00 p.m. "It's lunchtime, Riya."
Riya declined Ashish's invitation in hushed tones, saying, "I am not feeling well, and I do not feel like you should go to lunch."
"What happened? Are you all right? " Ashish voiced his worry.
"Yes, it's only a headache; I took the medicine," Riya assured Ashish.
"OK, inform me if there's any problem," Ashish said as he exited the cabin.
Riya nodded and shook her head.
Riya, why didn't you have lunch today? Rachit's message appeared on my phone.
Riya smiled as she read the message and ignored it; soon after, another message appeared.
You can't take my anger out on food. It's wrong. Please go eat something else or you'll get sick.
Riya reread the message and ignored it.
Riya was extremely surprised by Rachit's actions.
Rachit's behavior puzzles me; on the one hand, he is enraged, mistreats me, forces me, hurts me, and yells.
On the other hand, he cares about me, he notices my activities, and he does not like to neglect me.
Rachit can be difficult to understand at times since, on the one hand, he is concerned about his professional image, but, based on his actions today, he appears to be unconcerned about anything.
The ringtone on Riya's phone startled her out of her thoughts.
Riya disconnected Rachit's phone, and the call came again. Riya hung up the phone.
At least ten times, Riya hung up the phone.
On the phone, a massage box appears. "What are your thoughts, Riya?" When will you disconnect the call? You are incredibly stubborn, and I am even more so. I'll keep calling you; let's see who has more stubbornness and who wins. "
Riya was overjoyed to see Rachit so incensed and drawing so much attention.
Rachit's challenge is accepted by Riya. Calls were coming in on the phone constantly, and Riya was continually disconnecting them.
Riya was having so much fun with this game that when the calls stopped arriving, she became upset.
Riya had won Rachit's challenge, but she was unhappy since Rachit had stopped paying attention to her.
Okay, I finally won.
At the very least, he won't call again and again. He'll realize I'm not paying much attention to him. He will keep his actions under control. What do you think you understand? What did he think that I was such a stupid young lady who would fall into his trap? I don't mind if people flirt like this nowadays.
Riya slammed the phone down on the table.
"Do you really care?" Rachit asked as he entered the cabin.
"You here?" Riya shocked.
"Yes , I'm here, ma'am." Rachit stated, as he sat in an empty chair.
"What do you have to do with me, sir?" Riya inquired, her voice solemn.
"Stop your nonsense and go to the cafeteria and eat something," Rachit yelled at Riya.
"No, I don't have to go anywhere and I don't eat anything," Riya argued.
"Why?" Rachit inquired sternly.
It's my choice. "Who are you, to whom I should respond?" Riya said as she flaunted Rachit's choice.
Only you can decide who I am for you and what I can be. But for the present term, I'd like you to eat something, "Rachit replied calmly.
"Sir, your food is getting cold on the table in the cafeteria," the pantry boy reminded Rachit, as he stood at the cabin door.
Rachit turned his attention to the pantry boy and replied, "Thank you."
Have you had anything to eat yet? Riya questioned Rachit, showing her concern.
"Does it play an important role for you whether I eat or not eat?" Rachit stared Riya in the eyes and asked, "Let's go have lunch," Riya said as she rose from her chair.
Does it play an important role for you If I am not eating my food? Rachit asked Riya, a slight smile on his face.
"Yes, exactly like you. I care about my colleagues. Let's hurry, "Riya said, making her face emotionless.
Wait!! What did you say that prompted you to agree to eat lunch with me? I'm simply a colleague for you, "Rachit mournfully.
Please come on, I am extremely hungry. I wasn't eating because of your displeasure. Otherwise, I cannot take hunger, "Riya hurriedly stated to Rachit."
"What?" Rachit surprised.
"Oh my God!" Riya realized she had said something she didn't want to say.
Rachit smiled as he and Riya walked towards the cafeteria.
Thank you for taking the time to read this chapter. This chapter is part of my work on #Wattpad naming "Unfulfilled Desires." please checkout complete story on given link.
https://www.wattpad.com/story/290266827?utm_source=android&utm_medium=link&utm_content=story_info&wp_page=story_details_button&wp_uname=ritu5594&wp_originator=iXHdZ15KNRGIDueCb013VczXqV%2Fx3kixEd%2FRYtZArifHV4WSJKjnmPJ3651XjoSgq0nituWE9A%2FMFWfTpCrJ0qhAoQuGXcoycaENqcPbFLSj5EoEF6Wel9B1PjBSn2xy
Who do you think is more argumentative?
Riya already has feelings for Rachit; will she ever confess to him?
Is Rachit also in love with her, or is he just flirting with her as she thought?
Definitely revealed in the next few chapters.
Sorry for not updating on a regular basis due to my hectic schedule.
As previously stated, this is my first work on this platform, so please point out any errors so that I can improve.
The next chapter will be available soon.