Staring Out of The Bus Windows at Night
for the: JBaz 'Silent Thought' Challenge.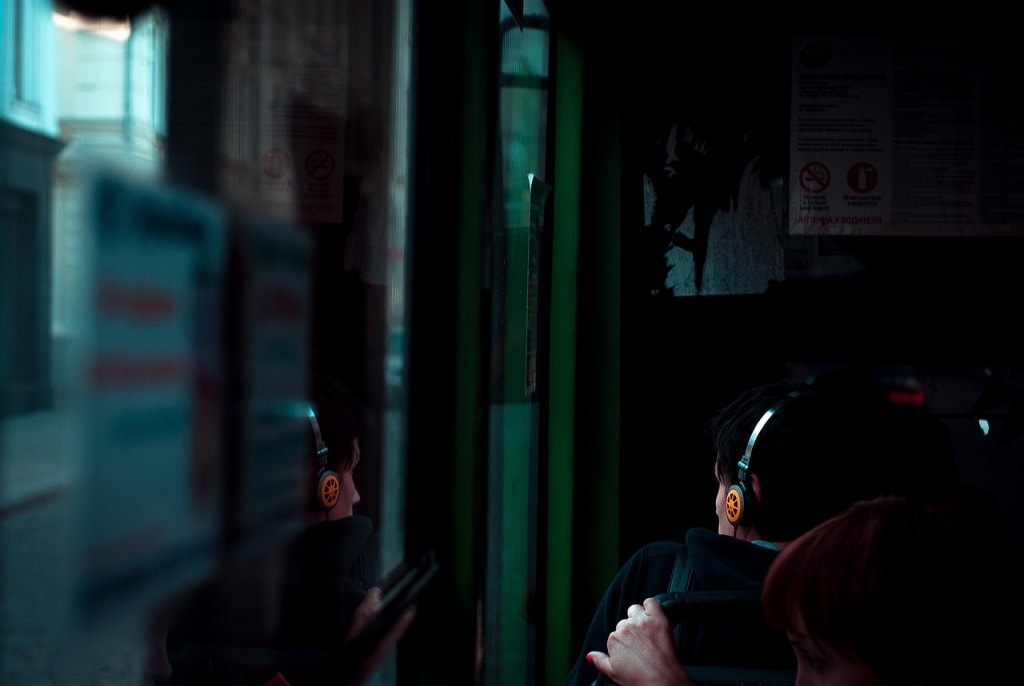 https://pixabay.com/users/1027738-1027738/
Thank you, my dear Lord, for this seat. I don't care that it's the sprung seat with the dip to the right. I. Don't. Care. It's sitting. Sitting!
I don't care that it's going to take 45 minutes to make a 20 minute drive. I. Don't. Care. It's sitting. Finally sitting. My butt is clenched and my back is braced against this seat- it's like I actually do have a grip on a pole keeping me upright here. No, not a pole up my a-hole. No matter what HE says.
My back. My feet. Please. Please don't anyone ask me anything. Just. Just nothing. Talk amongst yourselves, people.
Did I lock the safe? Did I? Yes. Yes. Yes I did. I turned it and said it out loud- I locked the safe. Ditto on the back door check. Ditto on the front door. Ditto on the bank drop. Check. Check. Check. Check.
Not that it matters; I'm opening tomorrow anyway. No one would know but me. But I WOULD know. I would know. And I know I did it. I TELL them that - just say it outloud when you do the LP stuff. Just say it. Doesn't make you crazy- it's science or psych or something... the you inside knows when you did the thing and then you don't need to go back and re-check. You can sleep easy knowing that you did what you were supposed to do. I know I did it.
I did it.
I wonder if anyone is still up? Oh please. Please . Please have the kitchen cleaned up. Please have the dishes done. Please have the cat food brought in. Please don't have a basket of dirty clothes waiting for the laundry Brownies to come out at night and put them in the washer.
Ouch! Nailed it dude. That stop sign has only been there 17 years and three days already. Glad it didn't sneak up on you. Great reflexes, Mario Andretti.
Where's my phone? Oh man; where's my.. here it is. I can feel it in my bra. Lucky that stop didn't squish it into my armpit with the way it tossed us around.
I wonder if I can answer my phone by flexing my arm against my boob? I wonder what the odds are of that working? I wonder if I'm giving myself a mammogram with all the invisible waves and electrical imaginary imaginings by putting my phone in my bra? Would it overheat if I kept it in there for too long?
Is that why I get hot flashes?
I'd google it but that would mean that I'd need to hide my boobs with my purse, get under my armpit, and fish it out and everything. That would mean I'd need to move.
I'm not moving.
Is that rain? For the.. no. no. No. If I keep my eyes shut then I can't see out of the windows and then it won't be rain. Please. It can't be rain. No. Rain. No. Rain. No. Rain. Rain. That's rain. Of course it is.
It's rain and the kids will have left their bikes on the front walk again. I know they will. Because why would they start putting them away now? And it gets dark earlier this time of year- no way they would have noticed, and- Yes. Thunder. Of course.
So then I'll take the car tomorrow. He can take the bus. I'll take the car, and take the girls to school on my way in. Do we have coffee? We better have coffee. I'll take the car.
I better leave early because I know I'll need gas. Nope. nope; earlier. Get gas and then come back and get the girls because they won't go to the gas station on the way to school because it isn't cool to have a mom get gas in public. Or have a mom say something isn't cool. Or. Or. Or have me as a mom in general.
I am so f-ing tired. I'm so tired. Oh those bikes. I know they're out there in all of this. And the racoons probably already ate the cat food and they'll give me the 'here comes the loser in the rain look' when I get home. Because why not them, too? Why not?
I'm so tired. I could just stay on this bus all night. Forget the bikes and the laundry and the wet cat food and the thunder and... people ride on busses all night don't they? Or is that subways? I think it's subways. Probably not busses. But I could pretend to be asleep and just miss my stop and who would care? My phone is under my arm fat and it has a good charge and I could just stay on here and sleep until the rain stops and catch the right stop in the next run through or three, right? I could do that. I could do that.
I could do that. I could. I I it's my stop. Stop. This has gotta stop. I
I'm so tired.
~~~
This is Jason's post, where he gives the challenge. And it is a challenge that I failed since I exceeded the 600-650 word limit. However I did do it in one sitting and since I used my allowed edit fixing the spelling I didn't remove any words- so here we are and thanks a lot.
Please leave me a comment: Does this monologue seem familiar? Does it taste true? What is the best seat on a bus and do you ever get it? Will you also take part in this unofficial challenge?
I am travelling and in a new time zone and have my days and hours all messed up. The last time I felt this time-drunk I was a retail manager, sitting in my driveway, with my keys in my hand and trying to remember if I was going to work in the dark or had just turned off the car and arrived home. That feeling made this piece all too real. I hope you liked it!
Reader insights
Outstanding
Excellent work. Looking forward to reading more!
Add your insights