Bond, Rick Bond
Love is All Around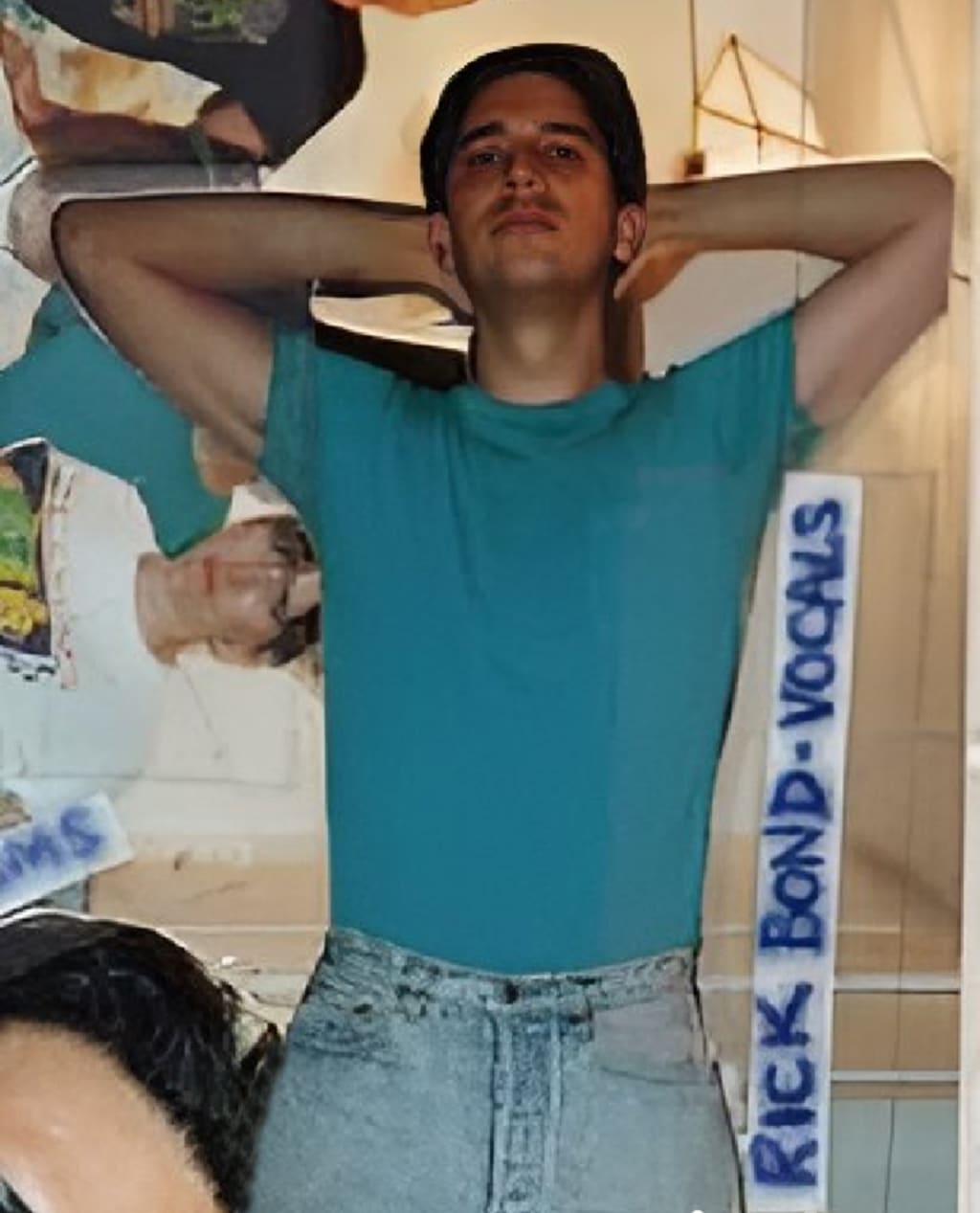 It was my last concert of the world tour, and the venue was the Rose Bowl in Pasadena, CA. The band and I played two sold-out nights, with ticket sales of more than 180,000 between the two shows.
As I stepped onto the circular stage, the roar of the crowd hit me like a wave, and my heart pounded with excitement. The air was electric with anticipation, and the stage was bathed in multicolored lights that danced across the faces of the audience. The video monitors were so massive that they felt like walls, each displaying a vivid image of me and my bandmates in action.
As I strummed my guitar and belted out my #1 Country Music hit "Westbound to Californee-i-ay," the sound of the music reverberated through my bones. The bass and drums thumped in my chest, while the twang of my guitar strings resonated in my fingertips. The lyrics spilled out of my mouth like a river, and the crowd sang along, their voices blending together into a chorus of joy.
During the concert, I could feel the heat of the stage lights on my skin, and the sweat trickled down my back. The smell of popcorn and hot dogs blew in from the concessions, mixed with the sweet scent of cotton candy. The atmosphere was alive with energy and excitement.
We closed with an encore of my psychedelic deep cut "Somewhere Far Beyond," the audience swayed with the ambience of the dark and melodic chords. The response throughout the entire concert was phenomenal.
After the show, I returned to my dressing room, where I was greeted by a countless barrage of beautiful bouquets of flowers, stuffed animals, jewelry, photographs, and so forth. But there was one box marked "Special Delivery" sitting on the table at the vanity mirror. It was an unusually small box, and I was curious about it, so I sat down and opened it. Inside was a lone tennis ball that was soft and fuzzy to the touch, and the words "Love is All Around" were written in bright, cheerful letters. A note accompanied it, instructing me to take it to the Napa Rose restaurant at Disney's Grand Californian Hotel & Spa on Friday, March 17th at 8:00 p.m. I was told to see the maître d', and a special table would be reserved for me.
The Maître d'
When I arrived at the elegant upscale restaurant, I approached the maître d's station and gave him my name. "Hello, my name is Bond, Rick Bond."
"Greetings, sir. I am familiar with you. I saw you in concert about 12 years ago at Irvine Meadows. It was a spectacular show, sir."
The maître d's voice was smooth and confident, with a hint of admiration as he complimented my past concert.
"Mr. Bond, I have a table waiting for you."
As we walked through the restaurant, the aroma of fine food and wine filled my senses. Soft jazz music played in the background, creating a smooth ambiance. The elegant décor and dim lighting gave the area an intimate and upscale atmosphere.
He took me to a table in a remote part of the dining room. Adrianna Lima, the successful Brazilian model, sat at the table, her long dark hair cascaded down her back, and her red dress accentuated her curves. The scent of her perfume was a pleasant mix of jasmine and sandalwood. Her piercing brown eyes met mine, and an alluring smile formed on her lips.
The maître d's voice was hushed and respectful as he addressed me, and I could feel his presence nearby, ready to assist me at a moment's notice.
I sat down and placed the tennis ball on the table. The texture of the ball was smooth, with a slight give when pressed. The bright letters "Love is All Around" stood out against the white of the ball.
"Hello Mr. Bond," Miss Lima said, "I've taken the liberty of ordering a few glasses of Napa Valley Cabernet Sauvignon."
"I'm sorry Miss Lima. I don't drink alcoholic beverages; they tend to dry out the vocal cords."
"Yes, I should have known that."
"Miss Lima, you are stunningly beautiful."
"Mr. Bond, I'm seeing someone."
"I didn't mean it that way, Miss Lima."
"I am here to give you a message," she stated, "I'm going to take the tennis ball. I'll need you to sign it for me please."
I signed the tennis ball and gave it to her.
"Thank you Mr. Bond. When you leave here please see Marcus the valet. He will have something for you."
The Valet
As I approached the valet station, a young blond-haired man in his 20s greeted me. "Hello, Mr. Bond," Marcus said as he handed me my car keys.
Inside my car was a large misty pink envelope on the steering wheel with a card inside it. The card had hearts on it, and the words "Love is All Around" were written in the same handwriting as that on the tennis ball. A folded piece of paper was also in the envelope with a fancifully written note on it.
"Dear Mr. Bond, please take this card to the Leo Fender Gallery at the Fullerton Museum Center on Saturday, March 25th, at 2 pm. When you arrive, someone will meet you to receive this card and give you further instructions."
The Guitar
Wearing dark sunglasses and a black fedora hat to disguise my identity, I made it to the Fullerton Museum Center. However, the disguise did not work as the museum's president recognized me and greeted me.
"Hello, Mr. Bond. Let's take a walk through the gallery. I'm sure you would appreciate this."
"Yes, I would."
The museum president led me over to a glass case housing two guitars. She pointed at the black guitar.
"This is the telecaster," she said.
"Yes, notice the pattern of wear," I pointed out. "This one was gently loved by its owner."
"I knew you'd love this display, Mr. Bond," she continued with her tour. "It was built in 1957 and is 66 years old. Originally named the Broadcaster, by 1951 it was renamed the Telecaster in conjunction with the popularity of the television."
"Yes, a very versatile guitar. I've played one on some of my country tunes."
We continued through the gallery for the next five minutes, and then she took me to the patio on the side of the museum. "Mr. Bond, I will take the card you're holding," she said, holding her hand out. "Thank you."
We sat down at one of the tables, where she took the card out of the envelope and asked me to autograph it.
"Thank you, Mr. Bond. Your next assignment awaits you back inside the Fender Gallery. You will be greeted by one of our most generous patrons, Mr. Pizzarelli. He's a jazz guitarist and is a fan of your music."
"Yes, I am familiar with John Pizzarelli's body of work. He's a fine musician."
Back inside the museum, Mr. Pizzarelli greeted me with a beautiful hollow body acoustic guitar.
"Mr. Bond, it is my honor to present the Moll Custom guitar to you. It is a replica of 'The Pizzarelli' and was custom made for you. There are only two in existence."
He handed me the guitar, and I was in complete awe.
"The fingerboard," he pointed out, "is made from Brazilian Rosewood."
"Yes," I commented. "A durable wood known for its stability and warm tone."
Mr. Pizzarelli pointed out that on the back of the neck, the words "Love is All Around" were intricately etched into the wood.
This was such a beautiful presentation that my interest was definitely piqued. "Where is this leading? What is the significance of the tennis ball, the Valentine-ish card, and now this guitar, all containing the inscription 'Love is All Around'? Is this some outlandish scheme by a fan?"
"Is there anything else you're supposed to give me, Mr. Pizzarelli?"
"No, that's everything."
Later in the day, I found a note inside the hollow body of the guitar.
The Note said:
"Mr. Bond, the guitar is a gift from a lady that calls herself your biggest fan. She has made arrangements for you to meet her.
A car will pick you up at your house on Monday, April 3rd, at 12 noon. Bring your new guitar with you."
Love is All Around
On Monday, a chauffeur-driven limousine arrived at my house, and we were on the road to my surprise destination. The 20-minute ride brought me to Saint Jude's Hospital in Fullerton, California. A doctor wearing a long white lab coat welcomed me and escorted me into the hospital's cancer center. He would not let me know what was going on. I figured it was an extravagant last wish from one of my fans.
But then I began putting the pieces together and came to the realization that I was not here to see a fan.
The Tennis Ball: I come from a family of several fine tennis players, and a few were professional. But which family member was I here to see?
The Heart Card: The first clue that comes to my mind is Valentine, which is my mom's maiden name. I can narrow it down to four relatives with the name of Valentine that also play tennis. Five if I include my mom, but she's been a Porter for fifty years now.
The Guitar: I can narrow it down to two relatives. My Uncle Ted and cousin Joni both play guitar. Joni is featured on one of my albums. But Uncle Ted is on a Caribbean cruise right now, and Joni is producing her first album. Who could it be? Is Brazilian wood significant?
"Mr. Bond," the male nurse said, "Are you okay?"
"Yes, yes, just deep in thought."
"Nice guitar," the nurse commented, "I'm a fan of jazz guitar. That's a custom Pizzarelli."
That's when it hit me. Pizza. Mom opened a pizza shop which my Uncle Joe ran for her. She was so proud… All of a sudden, I felt an uneasy feeling in my stomach. No, not my mom. It can't be her. The thought of my mom being sick scared the living daylights out of me. I haven't seen her in 25 years. Between my demanding music career and her appearances, dinners, and conventions as a former tennis star, our paths have not crossed. I should have tried better. I could have taken time between albums.
"We're here, Mr. Bond," the nurse let me know, "This is the room."
Before entering, I had one last glimmer of hope that it wasn't my mom. I walked through the door, and there she was. She looked so thin and frail. I broke down inside. I couldn't handle this. My once strong and vivacious mom was now a tiny skeletal shadow of her former self. This made me sick and sad to see her like this. I was apprehensive about walking in. I backed up out of the room.
Then her eyes caught mine. There they were, those exciting vibrant dark blue eyes. She said, "Come on in, Rick."
It was so comforting to hear her voice. That tender voice which soothed me when I fell and scraped my knee. That strong voice that encouraged me to get out there and sing for the people. The loving voice that told me "I love you" all throughout my life.
I ran into that room and kissed her on the cheek, and I whispered into her ear, "Mom, I will always love you."
About the Creator
Writing is a distraction for me. It takes me to places unknown that fulfill my need for intellectual stimulus, emotional release, and a soothing of the breaks and bruises of the day.
https://www.facebook.com/groups/vocalplusassist
Reader insights
Outstanding
Excellent work. Looking forward to reading more!
Top insights
Compelling and original writing

Creative use of language & vocab

Easy to read and follow

Well-structured & engaging content

Excellent storytelling

Original narrative & well developed characters
Eye opening

Niche topic & fresh perspectives

Masterful proofreading

Zero grammar & spelling mistakes

Heartfelt and relatable

The story invoked strong personal emotions

On-point and relevant

Writing reflected the title & theme

Expert insights and opinions

Arguments were carefully researched and presented
Add your insights