Zen And The Art Of Making Sauerkraut When The World's On Fire
a meditation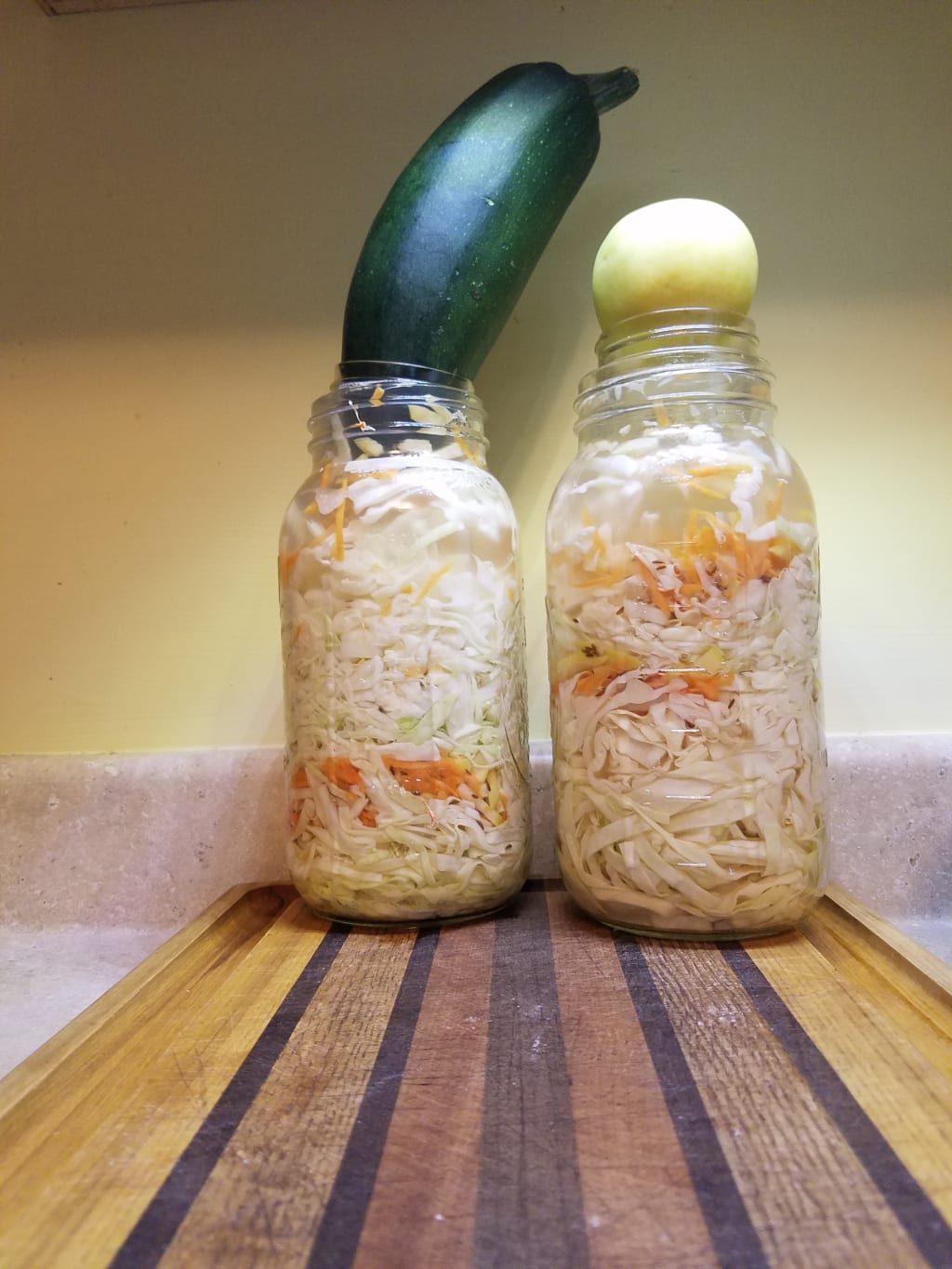 my kraut, weighed down with an apple and a zucchini
Hush. Scrape. Hush. Scrape. That's sound of a single blade against leaf after leaf. It's late spring, or early fall. There's probably a thunderstorm about to break. The kitchen is quiet, and there's nothing but me and the sauerkraut.
It's not sauerkraut yet. It's a kraut-to-be: a pile of the new young cabbages in a crate on the floor, two boxes of salt, two big pots of water that have been boiled and left to cool, and the jars. For this, I save the half-gallons, the biggest ones I've got.
Making cucumber pickles or dilly beans is a party. We bring the family around, set up an assembly line: washing jars and dunking them in boiling water, slicing the cukes into long halves, making sure the people who are in charge of packing the car for a long trip are also in charge of packing the maximum number of cukes in each jar, then ladling hot brine over the top.
But sauerkraut is a one-woman job, most of the time. A meditation. A connecting with a vanishing past. When I started making kraut, I got a barrelful of stories from my grandfather, who grew up on a farm in a country that no longer exists. Kraut pickles were a way of life, there, the only way to keep enough cabbage to eat through the winter. He's tickled by my return to it, after a skipped generation.
For as long as he lives, I will make him a batch studded with caraway seeds, the way they made it back in Výčapky, a town that got swallowed by history, its name, like the name of its country, absorbed into another place. Výčapky's name won't live past my generation, but the tang of cabbage with the deeply savory, almost smoky seeds will be familiar to my children's tongues.
Once the season really gets going, I'll start playing around and goofing off. I'll make a "pizza kraut" with oregano and crushed red pepper flakes. I'll make the "ultimate hot dog kraut" with mustard seeds, cider vinegar, sugar, and bits of cucumber for a one-size-hits-all-buttons condiment. That's not even to mention the kimchi, bright red with Korean pepper, or the curtido, with hints of onion and lime, for tacos.
But in this first batch, this first kraut, I keep it simple: salt, cabbage, water. I halve the heads and hold them firm as I fall into the rhythm of the shredding, back and forth over the blade, admiring the way they fall into a pile of neat ribbons in the bowl. Once shredded, I'll toss them with salt, leave them overnight as they fold and weep, find the puddle of saltwater they expelled overnight at the bottom of the bowl. That's my brine.
From there, the cabbage gets packed into the jars. I use an old mallet, its end smoothed to wooden silk by years of use, to pack the cabbage as tightly as possible. It'll wilt further as it sits, leeching more brine as it begins to bubble and sour. I try to save this task for when I'm angry, or feeling helpless. It's therapeutic, a rhythm of its own, a way to smash things constructively.
I make kraut as a link to the past and a promise to the future, the same way my grandfather's family made theirs to last through the winter. It's proof that tomorrow will come, even when the world's on fire. It's more than I could ever eat alone, so it's also a commitment to sharing the bounty of the dirt.
In 2016, I wrote this about making kraut.
It was a warm and stormy evening, and the world was no less on fire. And then the first small cabbages arrived from the farm, dripping with thunder and tenderness, so sweet.

And I took my rage and my salt and felled that pile of cabbage into limp green ribbons. I took the wooden mallet and pounded it into the crock, watching the salt bring the cabbage to tears.

I pounded and pounded and promised that when all was done and sour, I would share. I would share everything.
It still holds today.
vegan
About the author
By day, I'm a cooking teacher, foster parent, cog in the nonprofit machine, and poet. By night, I'm a creature of the internet. My soul is a grumpy cat who'd rather be sleeping.
Check out my Vocal Spotlight!
Reader insights
Be the first to share your insights about this piece.
Add your insights