World Heritage Day: Protect Cultural Heritage By Doing This
Every year on April 18, people commemorate World Heritage Day with the goal of raising awareness about fading cultures and cultural diversity. The focus of the day is also on strategies for preserving ancient culture. To raise awareness about national monuments, locations, and dying cultures. The day's major goal was to protect and conserve heritage culture, which depicts the ancient past and its significance. They have tremendous global worth.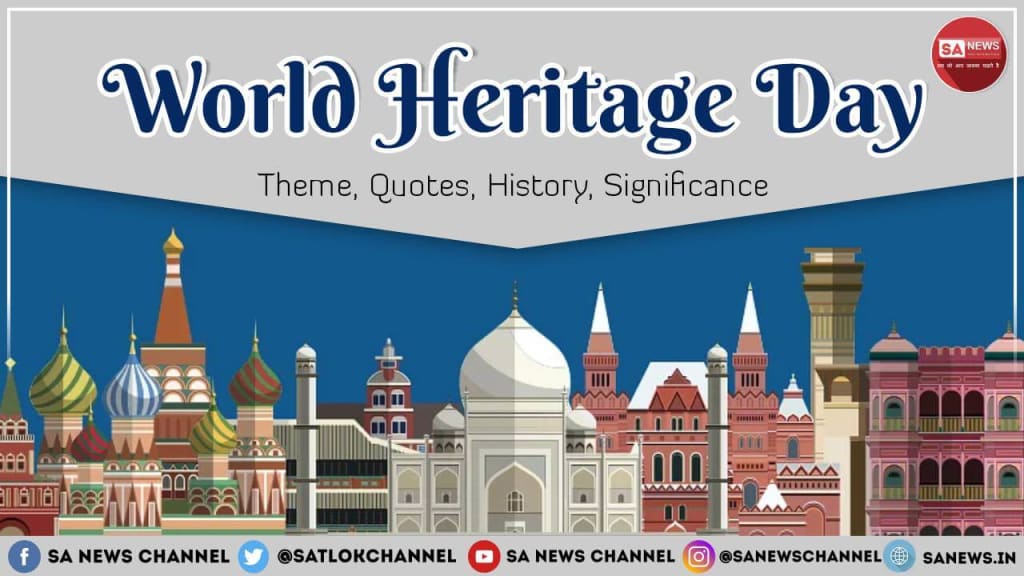 World Heritage Day 2022 Highlights
World Heritage Day 2022: The aim of this day is to promote awareness about the diversity of cultural heritage of humanity, their vulnerability and the efforts required for their protection and conservation.
The notion was endorsed by UNESCO during its 22nd General Conference in 1983.
World Heritage Day is marked in effort to repair and conserve historical cities and fading ancient tribes.
The day includes a variety of activities such as visits to monuments and heritage sites, conferences, round tables, and newspaper articles.
In total, the UNESCO list includes 1,121 monuments in 167 countries as world heritage sites.
The Archaeological Survey of India (ASI), Mumbai circle is set to host a photo exhibition at Raigad fort on World Heritage Day.
Why is April 18th designated as World Heritage Day?
In 1982, the International Council on Monuments and Sites (ICOMOS) declared April 18th to be World Heritage Day. The General Assembly of UNESCO adopted it in 1983 with the goal of raising awareness about the value of cultural assets, monuments, and their preservation.
What is the World Heritage Day Theme for this year?
Since 1983, the International Council on Monuments and Sites has set a theme around which events are centered on the day. The theme for World Heritage Day 2022 is "Heritage and Climate.
What was the Need for an Organization to Protect Cultural Heritage?
The organization was founded after a need was identified to protect these valued locations, and it saw the coming together of experts from hundreds of related fields.
These include architects, engineers, geographers, civil engineers, and artists and archaeologists.
Each year they work to help & ensure that some of the world's most beautiful sites and important cultural monuments remain preserved for future generations.
Since its inception it has grown to include almost 10,000 members in over 150 countries all over the world.
Over 400 members from institutions, national committees, and worldwide scientific committees are among the 10,000 members who are working together to safeguard key sites and discover new ones that should be included to the watch list.
2016 saw the addition of Gorham's Cave Complex in the UK, the Khangchendzonga National Park in India, and the Persian Qanat in the Islam Republic of Iran. It's through the tireless efforts of its members and leadership that these places will be preserved for future generations.
World Heritage Day: Quotes
"Preserving the past for the future"
"Preserving cultural heritage, it defines the national identity of a country."
"Monuments and heritage sites are the rich essence of diversity and reflection of our culture."
"Identify the beauty of monuments and preserve their identity from the roots."
"Preserve your monuments, they are part of a rich civilization and speak volumes about a bygone era."
"A rich cultural heritage depends on the ability of people to maintain their distinctiveness and unique identities."
FAQ about World Heritage Day
Who started Heritage Day?
April 18 was adopted as the International Day for Monuments and Sites by UNESCO based on a proposal by the Paris-based International Council on Monuments and Sites.
Why are World Heritage sites important
A World Heritage Site is a place that is listed by the United Nations Educational Scientific and Cultural Organization as of cultural importance.
How many World Heritage sites are there
In total, the UNESCO list includes 1,121 monuments in 167 countries as world heritage sites
Why is heritage so important?
It helps us know and relive our history, traditions and culture better.
What are the 3 types of heritage?
There are three types of sites: cultural, natural, and mixed. Cultural heritage sites include hundreds of historic buildings and town sites, important archaeological sites, and works of monumental sculpture or painting.
What are heritage values?
The heritage value of a site, building or object lies in its cultural significance, which is a combination of historical, symbolic, spiritual, aesthetic and social values.
Is heritage a culture?
It shows our history and our identity; our bond to the past, to our present, and the future.
history
About the author
SA News Channel is one of the most popular News channels on social media that provides Factual News updates. Tagline: Truth that you want to know
Reader insights
Be the first to share your insights about this piece.
Add your insights