With Its Quirky Charm, the Hermitage Café Welcomes All
The Nashville diner's obscure hours and classic diner menu allows anyone enjoying the city's nightlife to stop by for a quick bite and some southern hospitality.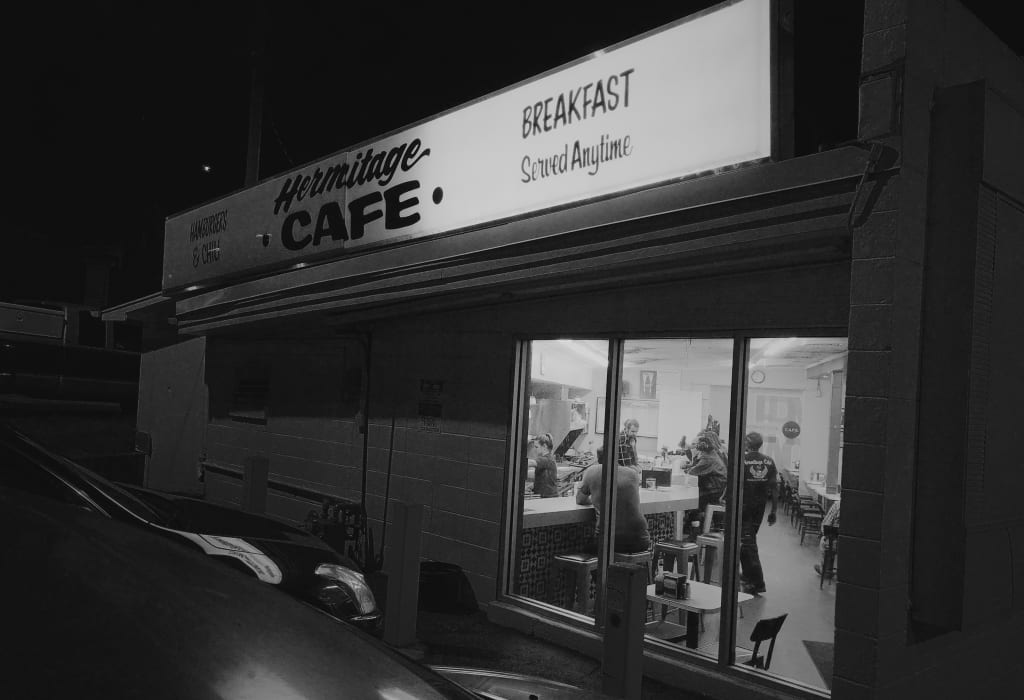 On the lonely corner of Hermitage Avenue and Middleton Street in downtown Nashville, a man wearing a black tee shirt and a baseball cap stands sucking a smoke by the door of a small, white brick structure. He makes it his duty to greet all who enter with a friendly smile.
As the door opens, the unmistakable, gravelly voice of Johnny Cash blasts from a jukebox. A line of gray metal stools with plain black cushions surround a long countertop stationed in the center of the establishment.
Vases of purple flowers which look close to wilting sit on the counter next to random napkin dispensers and salt shakers in no particular pattern.
A rowdy group of intoxicated college students congregates at a table in the corner sounding off on a concert they just attended. A woman with platinum-blonde hair in the group emphatically chimes in, desperately trying to convince her friends to join her at an upcoming music festival.
A waitress races over to the group, scribbles down their orders on a notepad, and immediately zips back to stick the notes directly above the grill behind the counter. Seconds later, she makes her way back to the group of students with their beverages, most likely coffee judging by the steam rising out of the styrofoam cups.
Upon her return to the workspace behind the counter, a man working the grill complains about her handwriting, so she cusses him out.
Welcome to the Hermitage Café.
A Diner Full of Unpredictability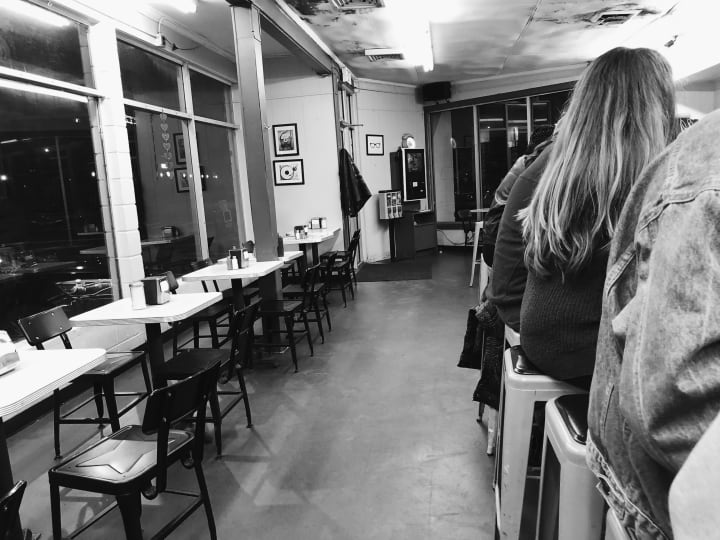 As Johnny Cash's voice fades out, the diner remains loud and lively. Conversations continue, the grill keeps sizzling.
Sherri Callahan, wearing a charcoal long-sleeved shirt with a pair of jeans and just the right amount of red lipstick to compliment her auburn hair, enjoys a soda. She sits at the countertop, perched on one of the many metallic stools.
Although she owns the restaurant, a first-time visitor wouldn't tell by the way she casually chats with employees and customers alike.
Callahan still works here just like any other employee, opening the place at 10 PM and closing at 1:30 PM However, tonight is her off night, she says with relief.
"Sometimes it's fun, but other times, it's like what the hell did I sign up for?" Callahan says. "You never really know what's going to come through that door."
Her words ring true for the night shift. Once the diner opens at 10 PM, it caters to night dwellers, from police officers and cab drivers to drunks stumbling in after a night on Broadway and the bartenders who just finished serving them.
A Place Catering to No Specific Type of Person
Kim Allen, the managing partner at the Hermitage Café, leans over the counter to confirm what Callahan said.
"Anywhere else, the customer is always right, but here, the customers are usually drunk," Allen states as she makes herself a coffee around midnight. She says she just woke up.
Occasionally, the intoxicated customers act like a big family, Allen says.
Sometimes, the barflies come in looking for a fight.
Usually, the drunks just want to sober up.
About a month ago, Allen served a homeless woman some food. About ten minutes later, the woman's boyfriend stormed into the restaurant ready to complain.
"He tried to return it saying his order wasn't right," says Allen. Out of the corner of her eye, she notices an employee struggling on the grill, and with a sigh, she heads over to assist him.
While the night shift embodies madness, the next morning feels completely different. Callahan admits the abrupt change in atmosphere can make her feel a little bipolar.
Around 9 AM, the diner serves primarily old men, many of whom Callahan has served since 1990 when her parents, now deceased, still owned the place.
"They're my favorites," she says. "They're like the dads and uncles you never had."
Still, the restaurant draws the biggest crowds at night, though the clientele does not limit itself to just the night dwellers. Celebrities of all kinds, from Dolly Parton to Vanilla Ice, made appearances in the diner, Callahan says.
Michael Jackson's father even came in once. Callahan describes him as "kind of a douchebag."
When a famous figure saunters in, the restaurant's staff members try not to make too much of a fuss, says Callahan. "We try to just treat them like anyone else."
A Welcoming Community
While celebrities do occasionally grace the diner with their presence, the Hermitage Café remains a place for everyone, which many of its visitors, like Natasha Lehner, appreciate.
Lehner, who has eaten at the restaurant four times in the past week, lounges on a stool at the end of the counter with a film camera slung around her shoulder. She says she likes the sense of community the diner presents.
"No one's a stranger here," Lehner says. "Whether you've been coming here for the past 20 years or it's your first time, you can strike up a conversation with anyone."
Lehner also finds herself intrigued by the different characters who stroll through through the door, saying she wouldn't see them if she went anywhere else in Nashville.
"They make the restaurant lively, and there's just always something to see," she says. "The characters that come in are definitely what keep me coming back."
Some of these personalities stop by frequently, says Allen, now working the grill.
"Some nights, a group of guys will come in with guitars and just start playing, and the whole restaurant will start singing along."
On the contrary, Allen says other figures simply pass through, never to return.
One night a few months ago, a man drifted in talking about a recording deal he got with Toby Keith's daughter. She hasn't seen him since.
On the other side of the diner, someone scrounges up some cash to put in the jukebox. The introduction of "Uptown Funk" blares through the speakers.
Allen hollers above the tune to a couple settling in the back of the restaurant about how they want their bread toasted as she uses one spatula to flip burgers and the other to work on a large omelet. She takes a small break to hand Lehner her usual order: a plate of three fluffy, syrup-doused pancakes.
"They're cheap, and they never disappoint," Lehner says between bites.
A Satisfying Menu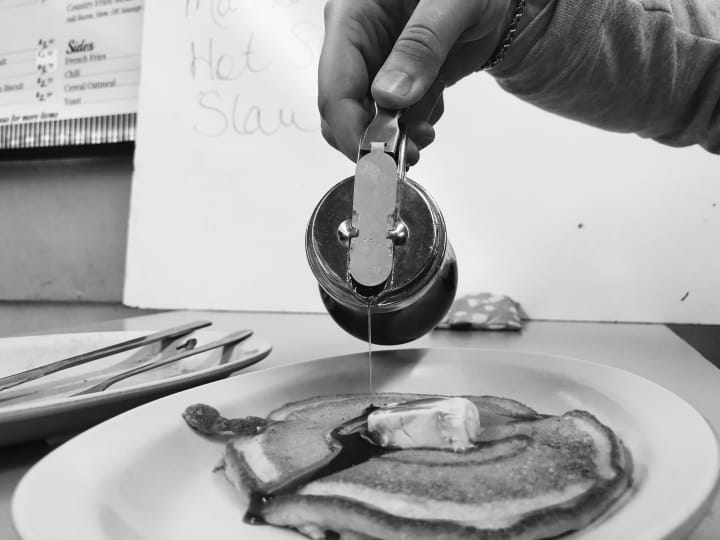 Callahan, on the other hand, likes a good old-fashioned patty melt.
"It's just quintessential diner food and classic Americana," Callahan says with a grin. "Plus, it's fun to serve it to customers from out of the country and see their reaction to it."
Callahan gets up from the gray counter and makes her way toward the door. She needs to go home to take care of her kids, she says.
Meanwhile, Allen stands at the register as the couple from the back of the restaurant tips her before venturing out into the night. Just as soon as they leave, another customer struts in, almost all of his clothes labeled with a "Supreme" or "Obey" logo.
"It's always entertaining here, no matter what side of the counter you're on," Allen says. "You just never know what kind of entertainment you're going to get."
Outside, a different man, the one who Allen took over for on the grill, stands by the door on a smoke break, making sure to bid everyone who exits a good, safe night.
restaurants
Journalism student at Belmont University and lover of music and movies!
Instagram and Twitter: @drewpearce9