White chocolate cheesecake recipe
How to bake the perfect cheesecake at home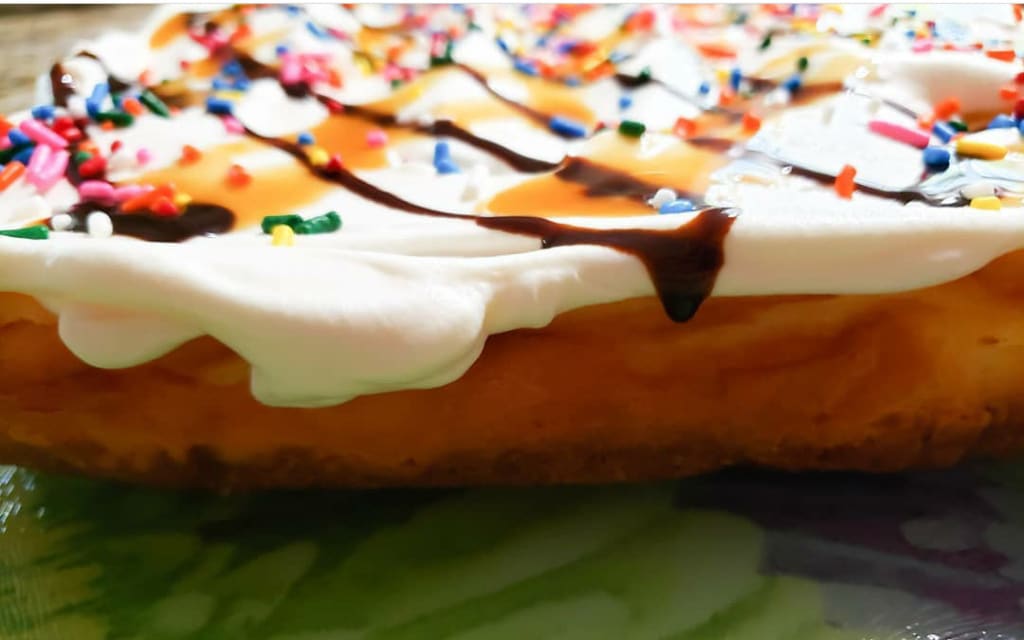 white chocolate cheesecake
Do you love cheesecake but deprive yourself because it is so expensive to buy? I have the solution for you...this white chocolate cheesecake is the answer.
There is no need for crazy ingredients or any special pans. With my white chocolate cheesecake recipe, you use a nine by thirteen baking dish. Chances are you have one or two of these in your kitchen.
There are helpful cheesecake tips at the end of this article.
White Chocolate Cheesecake Recipe
Crust:
3/4 cup graham cracker crumbs
3 tablespoons sugar
3 tablespoons butter, melted
Filling:
4 packages (8 ounces each) cream cheese, softened
1 cup sugar
1 tablespoon lemon juice
¾ tablespoon vanilla extract
4 eggs
1 cup white chocolate chips, melted
3 candy bars, your favorite variety, chopped into small pieces
Topping:
1 container of cool whip or 1 pack of dream whip, prepared
Caramel ice cream topping
Chocolate syrup
Sprinkles
Preheat the oven to 325 degrees.
Line a 9x13 baking dish with no-stick foil.
In a small bowl, combine cracker crumbs and sugar; stir in butter.
Press onto the bottom of the prepared pan.
Bake for 10 minutes.
Cool on a wire rack.
For the filling, in a large mixing bowl, beat cheese, sugar, lemon juice, and vanilla until smooth.
Add eggs; beat on low speed just until combined.
Add melted chocolate and mix until combined.
Pour over crust.
Bake for 50-60 minutes or until the center is just set and the top appears dull.
Allow cheesecake to cool for at least thirty minutes on top of the oven before placing it in the refrigerator.
Refrigerate overnight.
Before you are ready to serve your cheesecake, top with whipped topping, drizzle with caramel and chocolate, and top with sprinkles.
Cheesecake tips:
A cheesecake can be frozen for up to six months.
If you freeze your cheesecake, cut it into slices and wrap it individually in zip-top plastic bags wrapped in foil.
You can double the ingredients for the crust if you would like a thicker crust for your cheesecake. Bake time will stay the same.
Make sure cream cheese is soft and at room temperature before preparing your filling. If it is too cold, the filling will be lumpy.
Don't forget the sugar! ( I did this once, and my cheesecake was inedible.)
You can use Dream Whip or Cool Whip as a shortcut for your whipped topping (as directed in the recipe) or use a container of heavy whipping cream and beat it with your mixer. If you choose this option, add 1 cup of powdered sugar to the whipped topping after it is firm, and mix until combined. You can add more powdered sugar if you desire a sweeter topping.
Make sure your cheesecake has chilled overnight. Doing this allows the ingredients to set and will provide you with the creamy texture in a cheesecake.
Remove cheesecake from the refrigerator thirty minutes to one hour before you will be consuming it. Cheesecake tastes best when it is creamy, and allowing it to become room temperature will provide the creamy texture you are looking for.
When a recipe calls for cream cheese, I highly recommend using the full-fat variety. I have tried low-fat cream cheese, and the texture is not the same as full-fat and creates a texture that is not as creamy when making a cheesecake.
Allowing your cheesecake to cool on top of the oven before placing it in the refrigerator will help prevent cracking.
As with any baking recipe, be sure to read through the directions before beginning and follow them exactly. Substituting ingredients when baking is never a good idea.

Food Writer - Deanna Martinez-Bey
I am an author, blogger, foodie, copy editor, photographer, and social media manager. When I am not writing I enjoy running, watching the Food Network, sleeping, coffee, chocolate, and hugs.
You can find my books on Amazon!
See all posts by Food Writer - Deanna Martinez-Bey →