What to Order at Your Favorite Fast Food Restaurant
Stuck on what to order, or tired of your regular, almost daily order?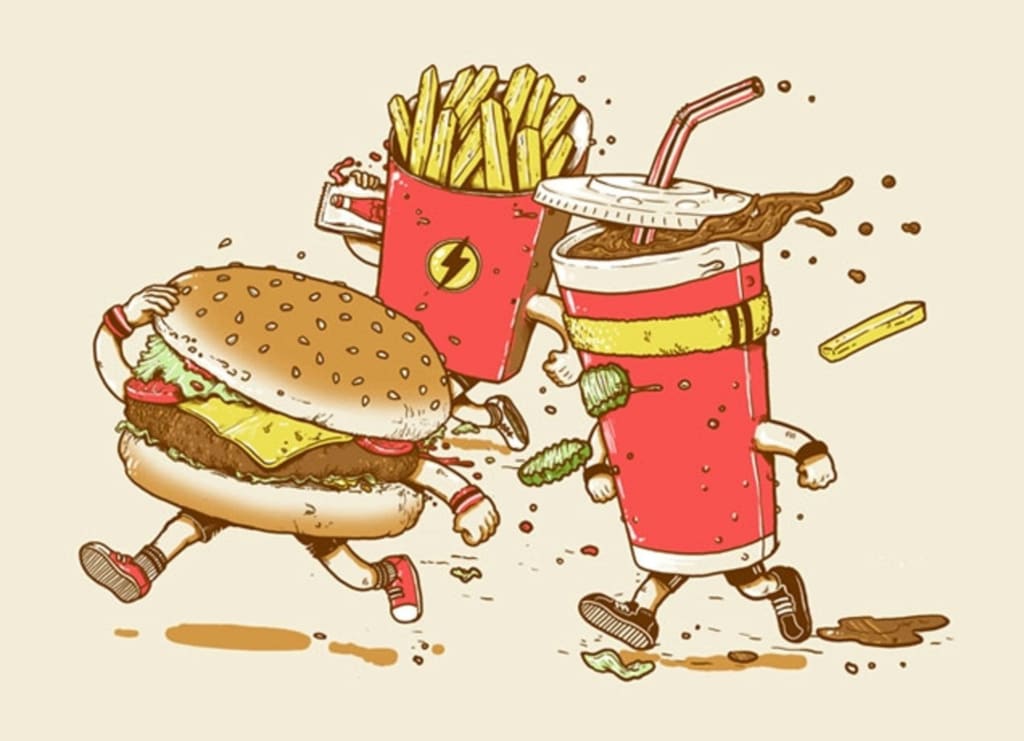 I'm writing this article based on a bunch of different opinions I have found online, some friends and family opinions, and my own personal opinions! Meaning, that I am posting most of the fast food restaurants that are around my local area. And no, where I live, we really don't have the best fast food restaurants like others do, unless we drive a very long way!
Arby's
This will probably be the most detailed one of all, considering I worked for Arby's for 1.5 years. It was probably the funnest and most fast paced job I will ever work. I learned so much of the ins and outs of fast food and Arby's in general while I was there.
In my opinion, my MOST favorite menu items I ate the most while I was there, were a plain crispy chicken sandwich with nothing on it besides mayo, a chicken slider with just swiss, and their mozzarella sticks are the best ones I have found compared to other restaurants.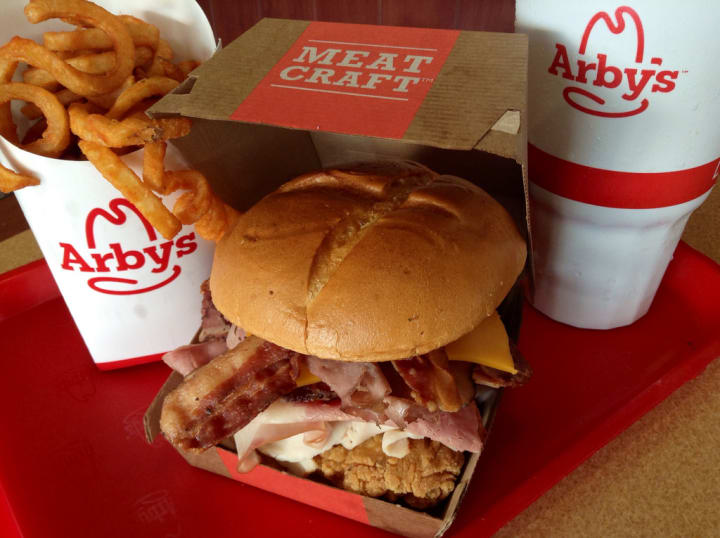 While working there a lot of specials come and go (my most favorite is the pumpkin shake that comes around each fall), but here is the most popular specials they had.
The brown sugar bacon BLT was probably the most popular sandwich that only comes around every so often, but we always ran out of bacon!
The pork belly sandwich was very popular while it was around, but was an expensive sandwich because of the meat that we also always ran out of!
The pecan chicken salad sandwich OR wrap that still now, I don't understand how it was so popular and ordered so often, considering what is in it. It was honey wheat bread, a green leaf of lettuce, then squished in the middle (that was very hard to keep together) was a combination of grilled chicken chunks, pecans, red apples, grapes, and celery. ALL held together with a bunch of mayo.
But, the actual menu items that are served year round that were the most popular included, the French dip & swiss sandwich served with au jus sauce, the beef & cheddar sandwich, the Reuben, and a lot of melts from the value menu. I also got stuck stacking the $10 meat mountain sandwich together (a sandwich with every meat and cheese Arby's serves between two buns) a few times.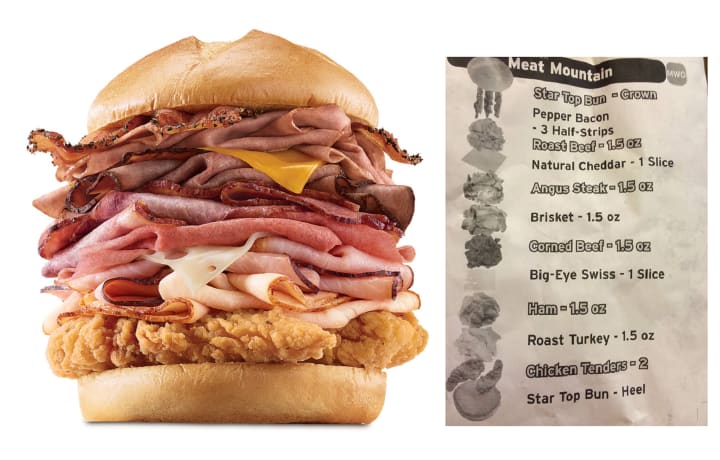 Burger King
I have only visited Burger King a few times, but I thought I should mention it anyway since there is quite a few around me.
Based off my research, it really isn't too popular compared to other fast food chains around the world. But, here is what I found.
The three most popular and talked about Burger King menu items include, their Chicken Fries, the Whopper Sandwich, and their bacon cheeseburger. My personal favorite is their slightly spicy Chicken Fries with their special BBQ sauce.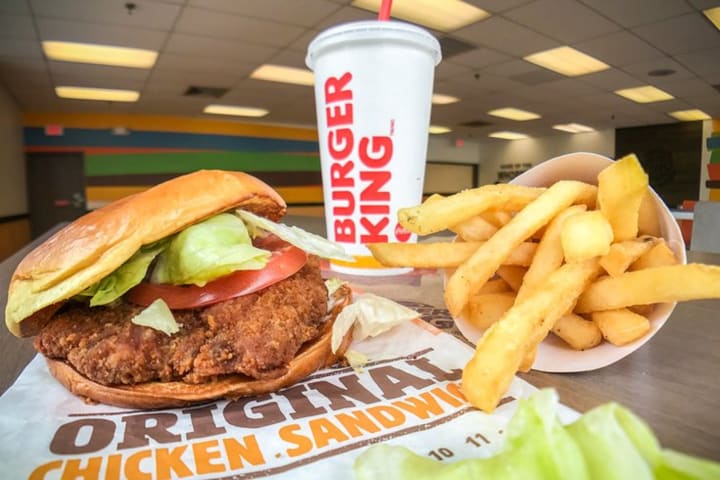 Chick-fil-A
This is one of the places where you know you're always going to get chicken! Chick-fil-A seems to be one of the most popular fast food chains around the country.
Personally, I have only visited Chick-fil-A probably just enough to count on my ten fingers. Definitely not as much as most people that you meet where I am located.
Based off my research and my friends and family who probably visit it too often, these are their three most popular menu items.
Their waffle fries are very popular. To me, they aren't seasoned enough, but I am used to pretty salty fries.
Their spicy chicken sandwich served on a toasted, buttered bun and also includes pickles.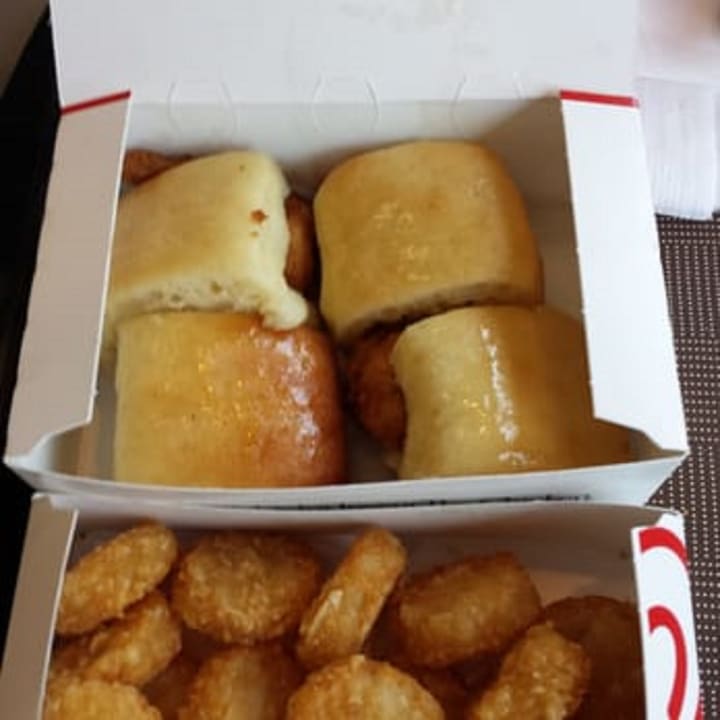 And probably their most popular breakfast item would be their chicken minis. Even though they're a little expensive (almost $1 each), they are SO good and my personal favorite. But, you have to make sure and get to a Chick-fil-A before they stop serving breakfast, which is usually around 10:30 a.m.
Dairy Queen
Not even a year ago, we got our FIRST Dairy Queen around my city that is local enough to drive to. Everyone was excited to finally go to this popular fast food chain, so it was very busy for it's first few months.
The first time I visited, I got their monthly special which is what is in the picture I included here. It was a Cotton Candy Blizzard that was heaven and kind of tasted like Fruity Pebbles in a way and had small bits of cotton candy flavored stuff in it.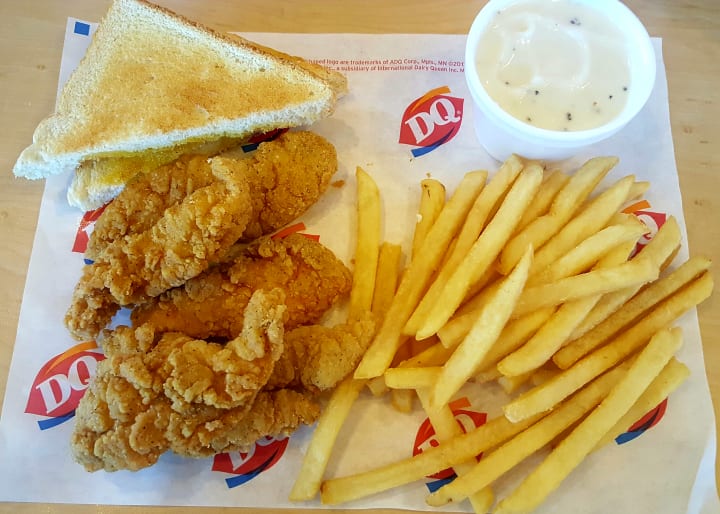 And based off most of my research and personal resources, most everyone says Blizzard as what they order the most at Dairy Queen. A few others said, their chicken strip basket with Texas toast and fries. OR, their honey BBQ glazed chicken strip basket with Texas toast and fries also.
Dunkin' Donuts
I finally tried Dunkin' Donuts for the first time just a few months ago. I don't think it was all it was made out to be for the years I never tried it, but it definitely exceeded my expectations.
Here are my three personal favorite menu items that some of you still may not have tried, since they have a huge variety of options.
Their Blueberry Muffins aren't too dry for a muffin and not too sweet, with a ton of blueberries either. Just how I like them, pretty cheap too!
For the next two, I am adding my own personal photos, because I tend to take a lot of pictures of my food!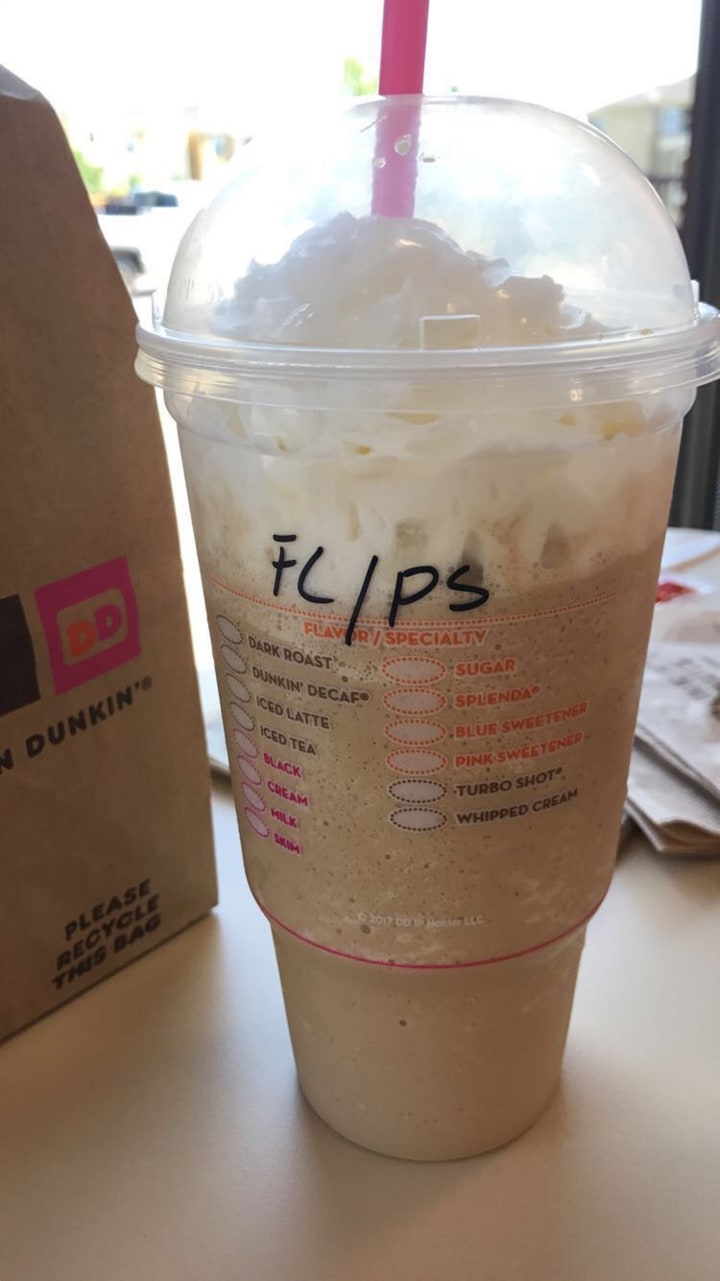 Their frozen coffee. I went during the fall and got a large frozen pumpkin spice coffee and it was very good. The pumpkin was subtle and not too overpowering.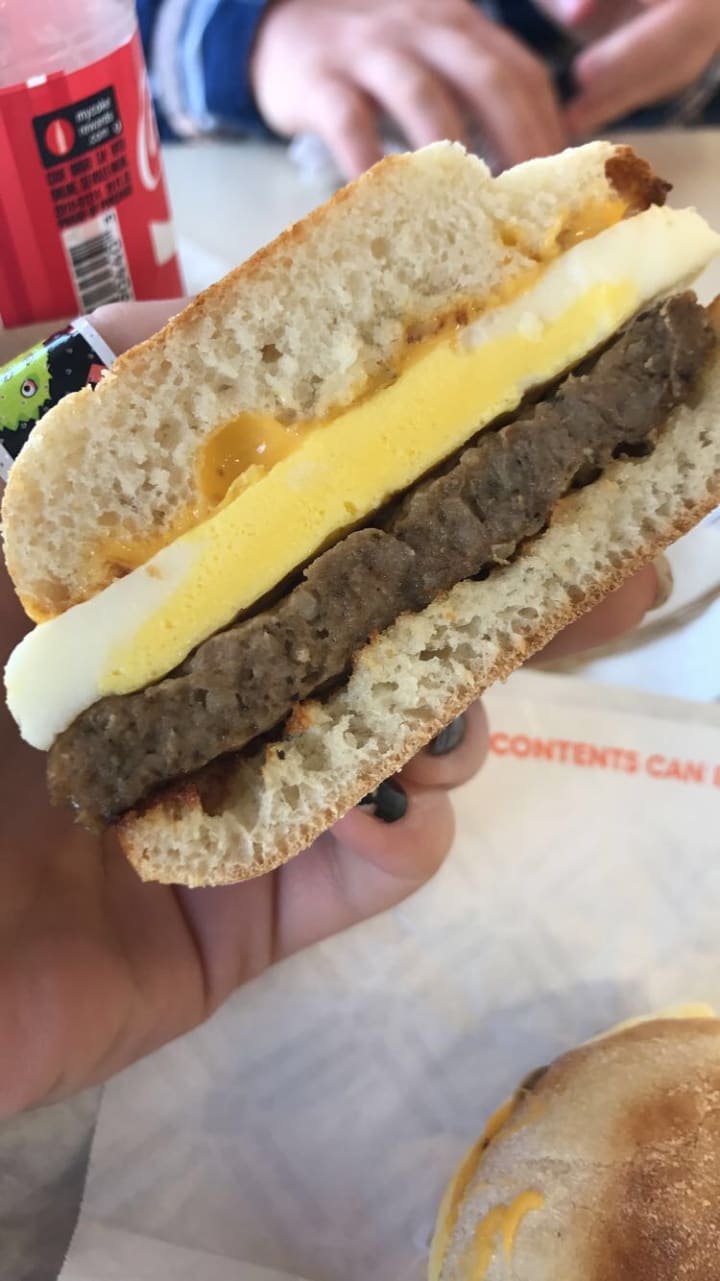 And, their sausage, egg, and cheese biscuit I would definitely come back for!
Freddy's
Freddy's is my all time FAVORITE fast food place that I have ever been to. They are also probably the cheapest, my boyfriend and I can both get large meal combos for under $20! For this post, I am also sharing my own personal photos, since I visit Freddy's very often!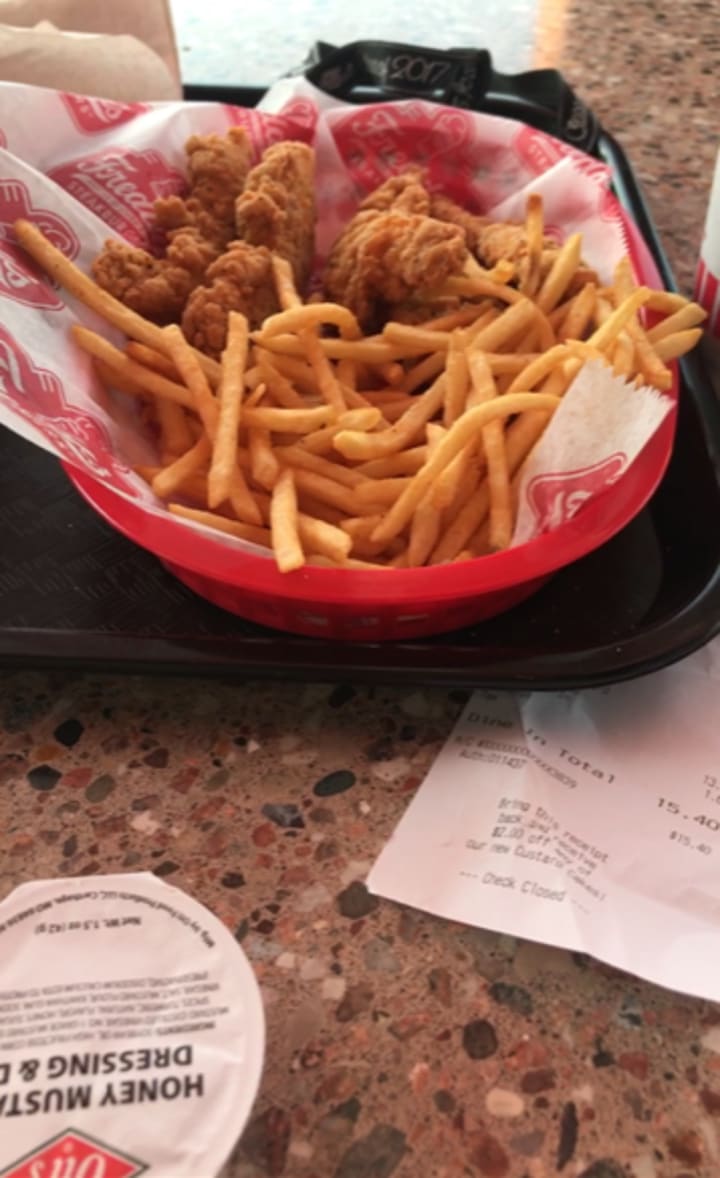 Sorry if it is blurry, but this is what I order almost every time I go. It is the large 5 piece chicken tender meal with fries and a drink. They have the BEST chicken, fries, and honey mustard. You really can't find honey mustard like theirs anywhere else and I use it on everything. If I don't order this, I order the double steak burger, their chili cheese fries, or the grilled chicken sandwich which are both also very good!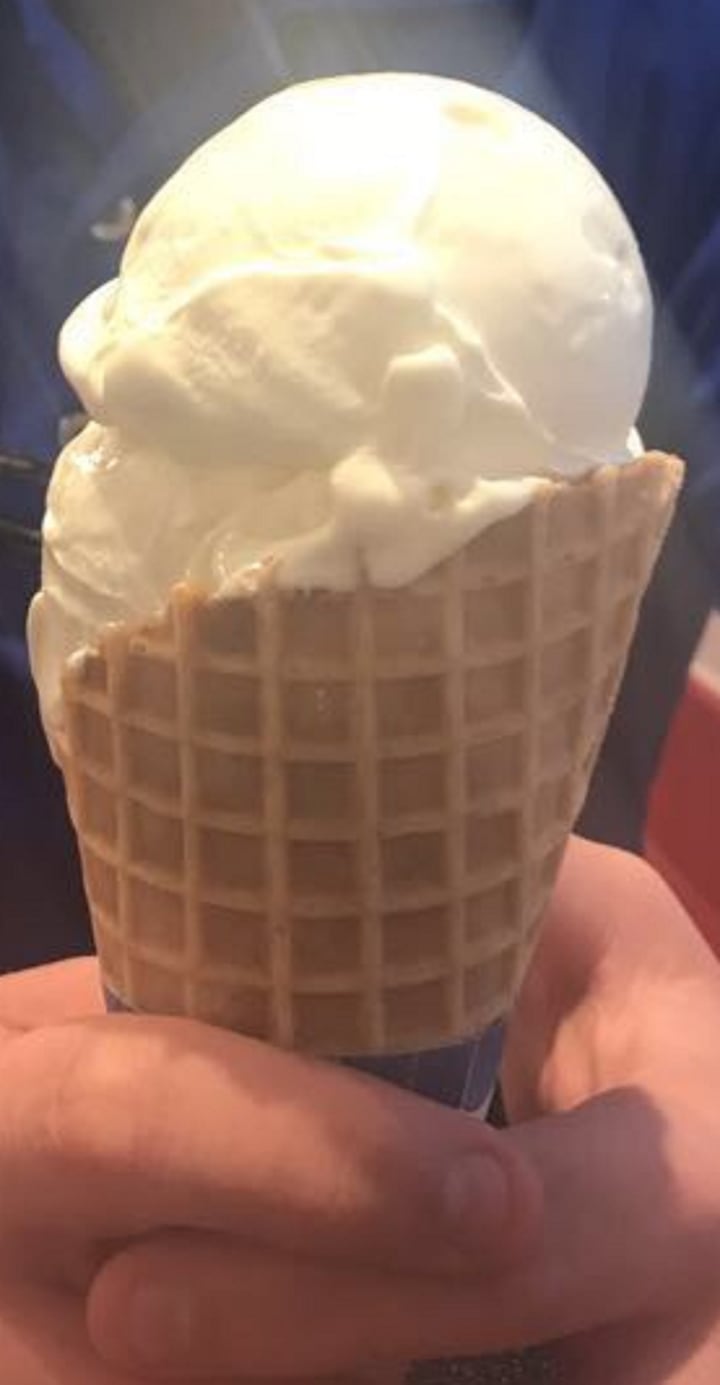 This is their vanilla custard waffle cone. It is so smooth and creamy and their waffle cone tastes somewhat like roasted marshmallows!
Hardee's
There is only two Hardee's that are close to me locally, but I do visit them every now and then!
My personal favorite from Hardee's, is their $5 all star meals, which are a pretty good deal! For example, you can get a double cheeseburger, a spicy chicken sandwich, a small fry, a small drink, AND a fresh-baked chocolate chip cookie. ALL for $5!
Also, their made from scratch biscuits are very popular that come in their several breakfast menu choices. Such as, their biscuits and gravy, or their bacon, egg, and cheese biscuit.
And, they also have curly fries on their menu. Hardee's and Arby's are the only fast food places around me that offer curly fries!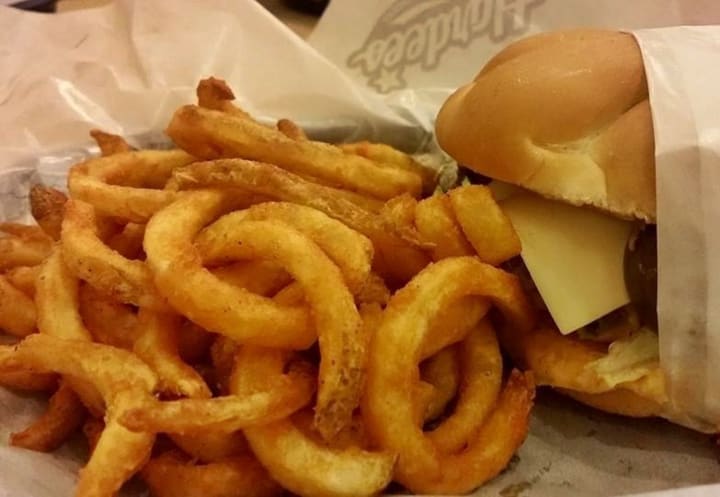 KFC
I think almost everyone has tasted KFC fried chicken, it's the best around.
I personally love the original fried chicken legs, thighs, or breasts! And they come at a pretty decent price too, for what you are getting. For example, you can get a $5, $10, or $20 Fill Up. They have good choices for $5 Fill Ups, such as chicken tenders, breasts, their famous bowl, or their chicken pot pie!
In my opinion, no other fast food place (No, not even Popeye's!) can match KFC's mashed potatoes and gravy!
But, my most favorite side from KFC would have to be their coleslaw that you can't find anywhere else!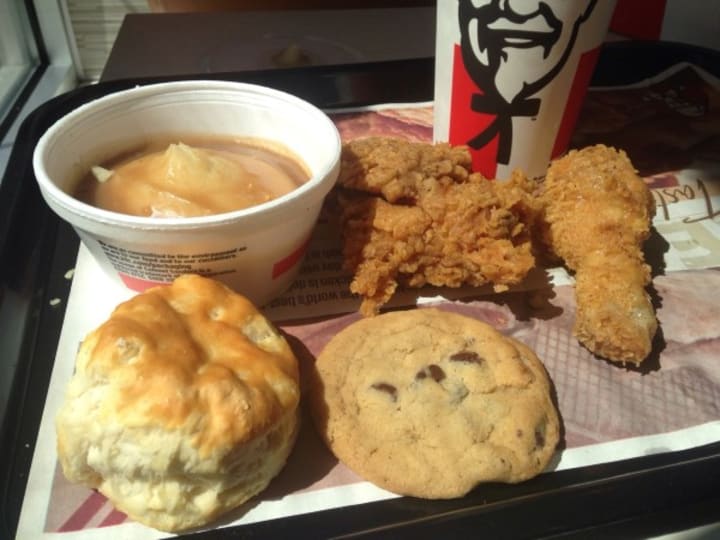 Long John Silver's
Considering Long John Silvers is the only major fast food chain that is dedicated to seafood, I had to include them here!
You either love it or you hate it, but it is pretty popular where I am from. Even though, there is only one that is about a 30 minute drive from where I live.
If I happen to stop by the Long John Silver's in my area, I usually always order their chicken, their hush-puppies, or fries. I am not a big fish eater, but since their chicken is fried where their fish is, it always has a hint of fish taste in it.
According to my research, the most popular menu items they offer are, their fried fish, their fried shrimp, cole slaw, or their hush-puppies of course!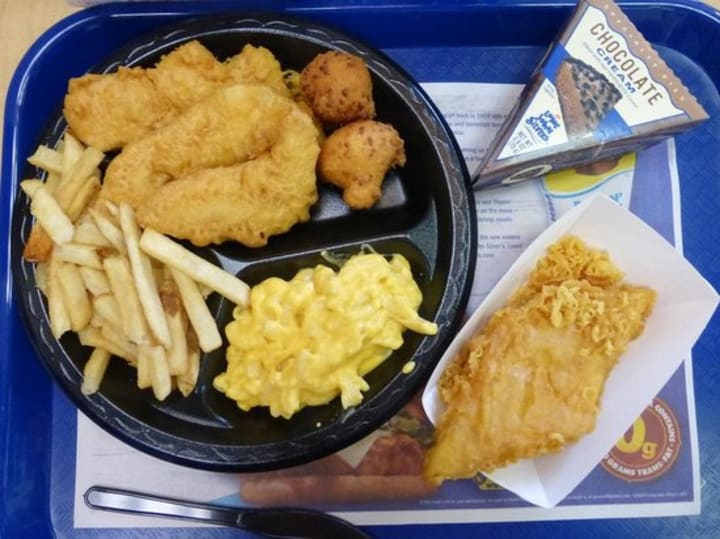 McDonald's
Of course, I had to include McDonald's!
Their number one ordered sandwich is their Big Mac, or quarter pounder with cheese.
Based off of my family's bad eating habits who tend to visit McDonald's sometimes more than once a day, I am listing their four favorite menu choices.
McDonald's sausage burrito would be my all time favorite. I love their picante sauce with their egg, sausage, cheese and pepper burrito all wrapped in a hot tortilla!
Their fries are obviously the most popular fast food french fries in America, but their chicken nuggets are also very popular.
Their sausage biscuits and hash-browns make a great (semi-healthy) breakfast, or dinner!
One of my other favorites, is their frozen caramel frappes (even though they are a little expensive)!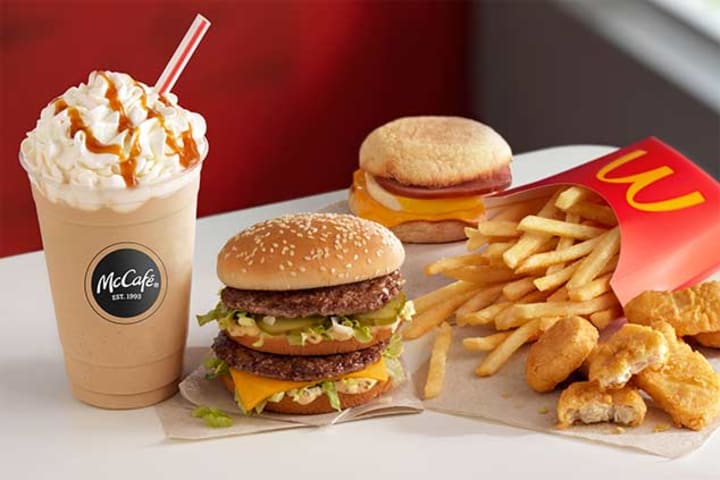 Panda Express
I have just recently tried our local Panda Express for the first time and I was pretty impressed!
They have pretty good prices for the amount of food you receive, as long as they make sure to fill up your box!
Based off of my research and my own personal opinion, I have chose four favorite menu items from Panda Express!
Their fried rice. Sometimes, it will be too salty, or not salty enough, but it is worth ordering! Their chow mein is also decent, but I have had better at fancier Chinese restaurants.
-Their orange chicken is their most popular and most ordered menu item! It is very good and unique compared to other Chinese restaurants, since almost all of them serve it!
-Their Beijing beef and teriyaki chicken are the second best entrees to order after the orange chicken. They are also unique and great tasting flavors!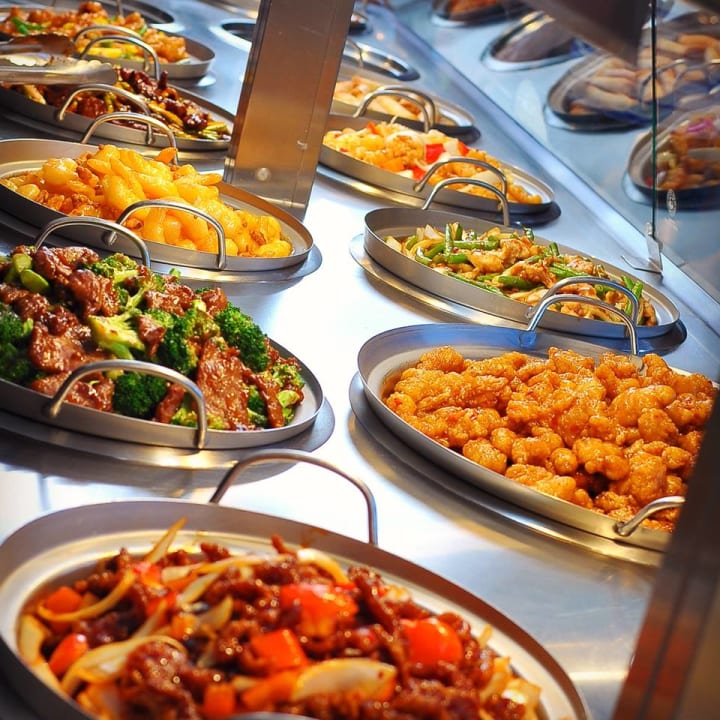 Popeye's
Popeye's is one of the best and pretty popular fried chicken fast food restaurant that comes at a pretty decent price!
My personal favorite is their fried chicken tenders with their signature bold BBQ dipping sauce and their french fries with that unique seasoning on them!
Their buttery and salty biscuits are heavenly with honey and very popular. Also, their red beans and rice is very good and it's one of the things my boyfriend orders every time we go!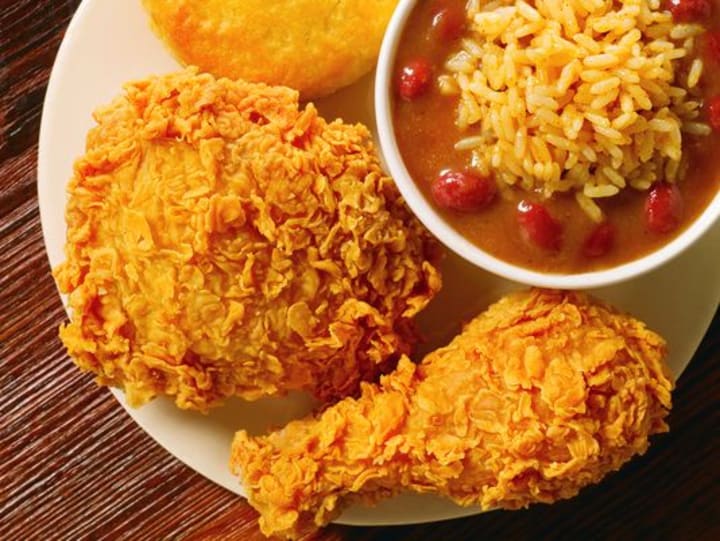 Raising Canes
I have only visited Raising Canes one time, but I was very impressed. I live not even 5 minutes away from the only one in my city, but it always seems to slip my mind when I am thinking of a place to go eat.
After my first and only visit there, it was an overall good experience, but very expensive for what you receive. Yes, their food is delicious, but almost $1 a chicken tender. They also did not have BBQ (which is my favorite chicken tender dipping sauce), so I was stuck with some very vinegary honey mustard.
But besides that, my boyfriend and I had our puppy with us and they gave us a dog treat for her. Which I thought was super cool, it's not everyday you go to a fast food restaurant and they have actual dog treats for your dog.
I was surprised that they only had chicken tender options, for some reason, I thought they would have something else. But, that's okay, their chicken tenders were very good and crispy. Their coleslaw was decent and so were their fries!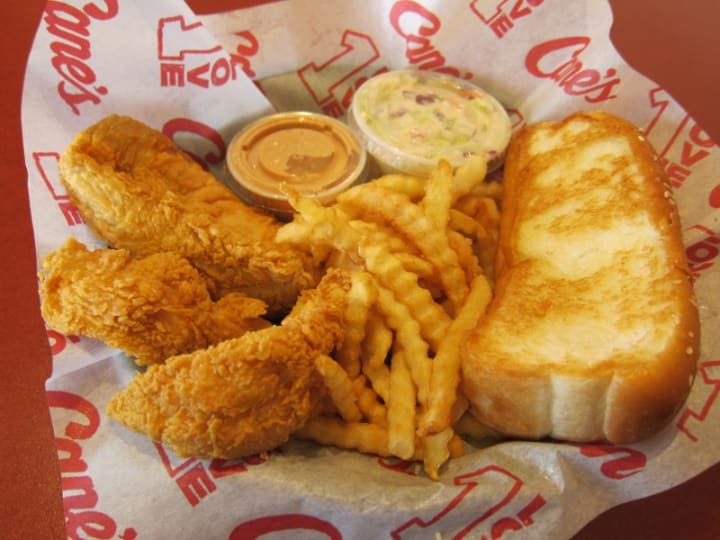 Slim Chickens
I wouldn't say that Slim Chickens is my favorite chicken place, but they do seem to be a very popular fast food restaurant in my area!For some reason, it is my boyfriend's most favorite restaurant of all time, so we seem to go quite a bit.
He loves to get the hungry plate with like 5 ranches, because he says they have the BEST ranch. They're fries are usually pretty good, too!
But usually, I have him get their fried okra instead of fries it's very good!
Based on my research and getting others opinions, I found that their chicken & waffles and their several different wraps are their most popular and ordered menu options!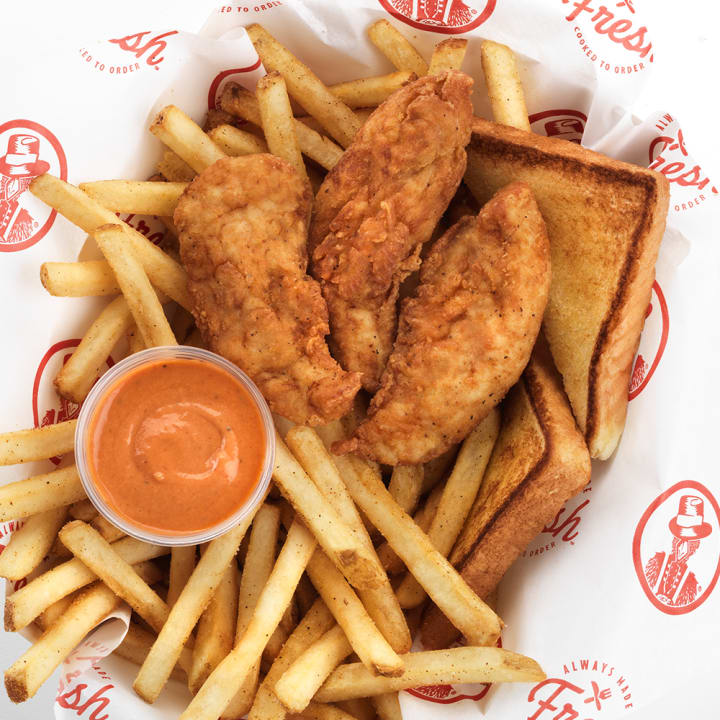 Sonic
When I was in high school, I lived in a very small town that only had Sonic as a fast food place, that was it. So, about every morning, probably half of the high school would visit Sonic to get a drink and breakfast.
That was our go-to fast food place for years, even though it really isn't the cheapest. But, they do have lots of good drinks and combinations.
My boyfriend and I still visit one on occasion and for a drink, we almost always order either a Cherry Limeade, or a Vanilla Cream Coke. The Vanilla Cream Coke is my favorite, it has vanilla, real cream, and Coca-Cola in it and I definitely recommend it, it's life changing!
My personal favorite food from Sonic, would have to be their meat and cheese breakfast burritos. I order one almost every time we stop by, even though they are around $4 for one burrito. They are pretty big and have eggs, sausage, bacon, cheese, and tater tots in them (which makes a huge difference).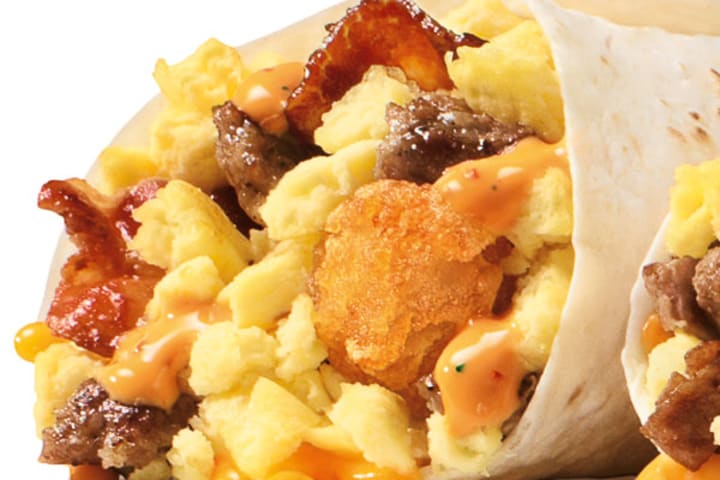 From my research, I also concluded four of their most ordered menu items.
The SuperSONIC double cheeseburgers.
Their Coney dogs, chili cheese original preferred.
And, their tater tots, fries, or onion rings.
Their Oreo and M&M blasts are also unique and can't be recreated anywhere else like Sonic does them.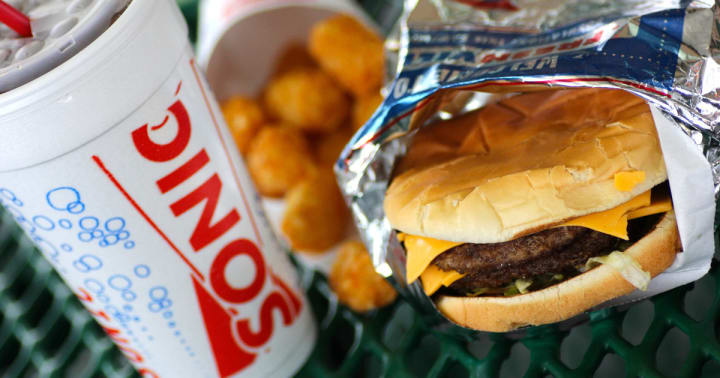 Steak N Shake
I have only visited Steak N Shake once, or twice. I'm not sure why, it's kind of hidden in my city and doesn't seem too busy when I do pass by it.
When I went there, I ordered the chicken tenders and their shoestring fries (my favorite).
From my research, I have found that their burgers and shakes are the most ordered menu items.
I think the most unique thing they have is the country skillet which includes hash-browns topped with a buttermilk biscuit, a sausage patty with sausage gravy, cheddar n' jack cheese, and two eggs.
They also have breakfast bowls in to go form!
Their most popular entree options is their chili and their steakburgers!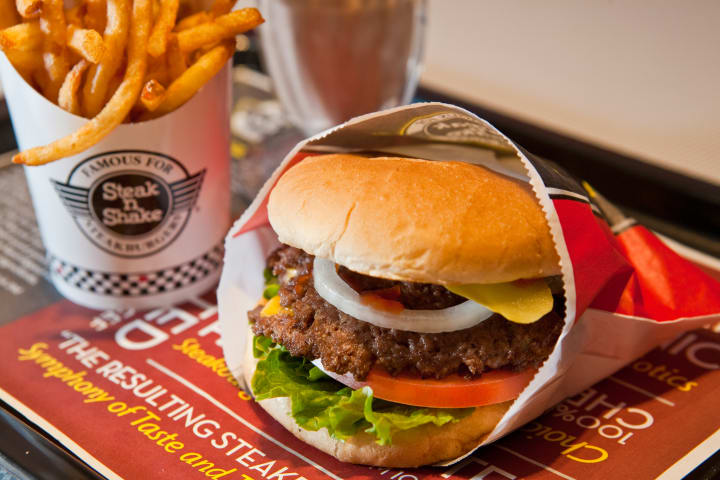 Taco Bell
While I was in high school, there was only one Taco Bell close to my town, which was still about a 30 minute drive. But, we went all the time and probably had everything they offered from the menu.They always seem to have a special, or something new on the menu to try.
My personal favorites from Taco Bell are the beefy nacho griller, the shredded chicken burrito, and the beefy 5 layer burrito.
The beefy nacho griller is just a little over $1 and it has seasoned beef, warm nacho cheese, and red crunchy chips mixed in, all pressed on a hot grill for a great taste!
I always order the beefy 5 layer with no sour cream, and it's unique because it has another tortilla on top of the first one stuck together with nacho cheese!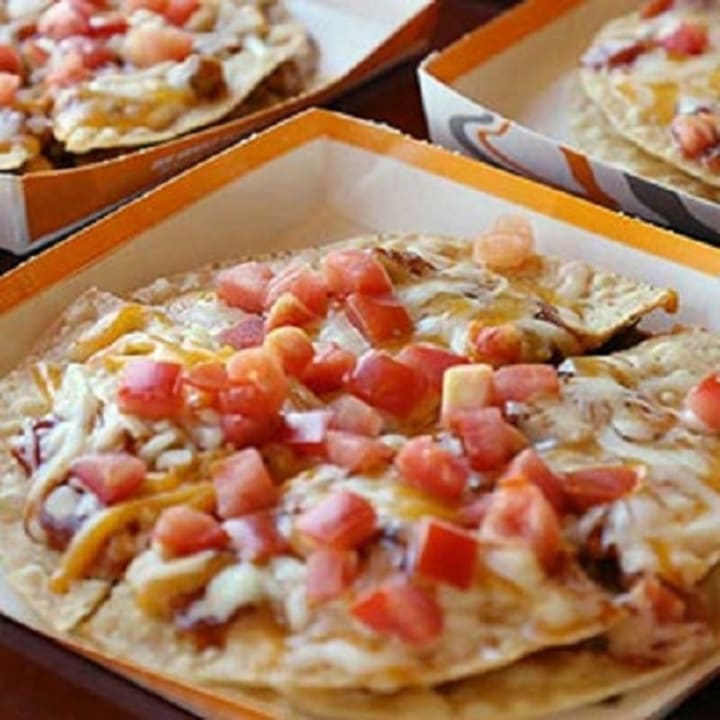 My boyfriend usually orders the cheesy bean & rice burrito, cheesy potato burrito, Mexican pizza, or the crunchwrap supreme.
Their most popular menu items are Doritos Locos Tacos, their new nacho fries, and the cheesy gordita crunch.
Taco Bueno
I am lucky to be living in one of the seven states that this best Mexican fast food chain fell into. I personally, like Taco Bueno better than Taco Bell (and it is a little bit more expensive).When I visit Taco Bueno, I usually order the bueno burrito and then, a cheese or chicken quesadilla. Their quesadillas are WAY better than the ones I have had at Taco Bell.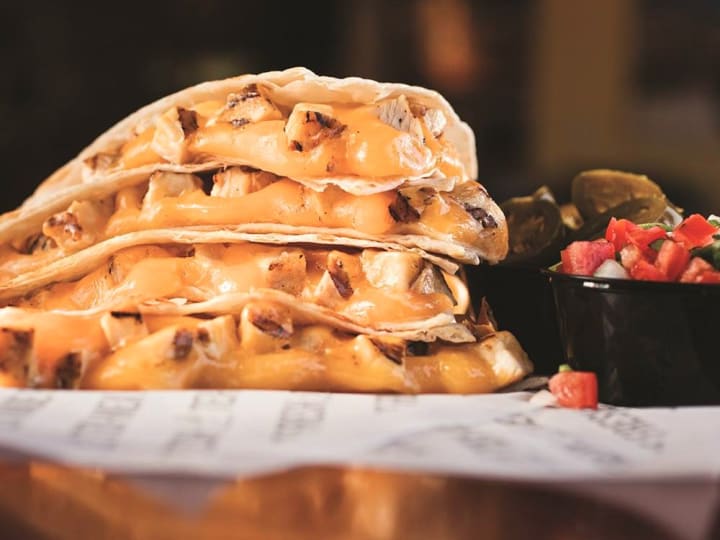 When I visit Taco Bueno, I usually order the bueno burrito and then, a cheese or chicken quesadilla. Their quesadillas are WAY better than the ones I have had at Taco Bell.
My boyfriend usually orders one of their platters and some burritos, with lots of extra salsa. Their salsa is the best around!
Their most ordered menu items are the Wholotta platter (which is a pretty good deal), mucho nachos, and their burrito bowl!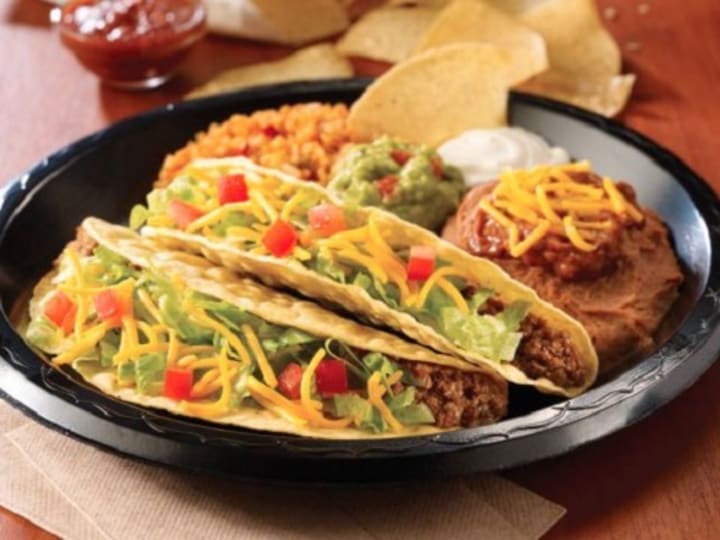 Whataburger
Whataburger fanatics were pumped when they found out there was going to be a brand new one right in the middle of the city I live in a couple years ago. When they first opened, it was so busy that they had cops outside for a few weeks directing traffic through the drive thru.They have since built a second one close to where I live now, but it doesn't seem as busy anymore.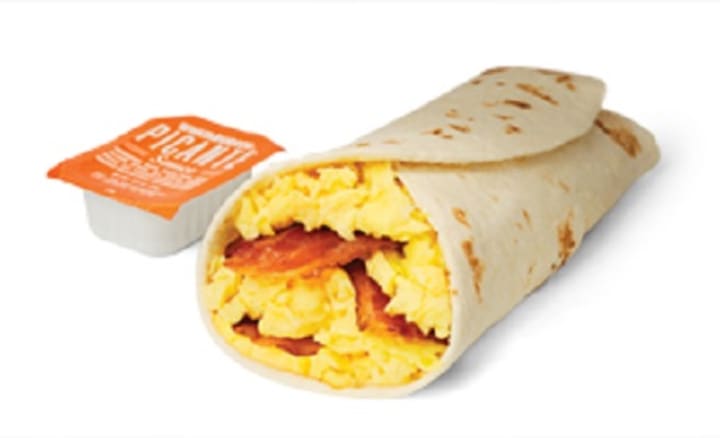 If I can get there in time, I LOVE their breakfast burritos (taquito with cheese) and their hash brown sticks are SO good.
My dad also loves their hamburgers, that you can order at anytime of the day, even in the morning.
They offer a unique breakfast platter that contains scrambled eggs, a biscuit, your choice of a sausage patty or bacon, and a side of hash-brown sticks, TO GO!
The mushroom swiss burger, chicken fajita taco, grilled chicken sandwich, and their Whatachick'n bites and strips are very popular!
AND, they are open 24 hours!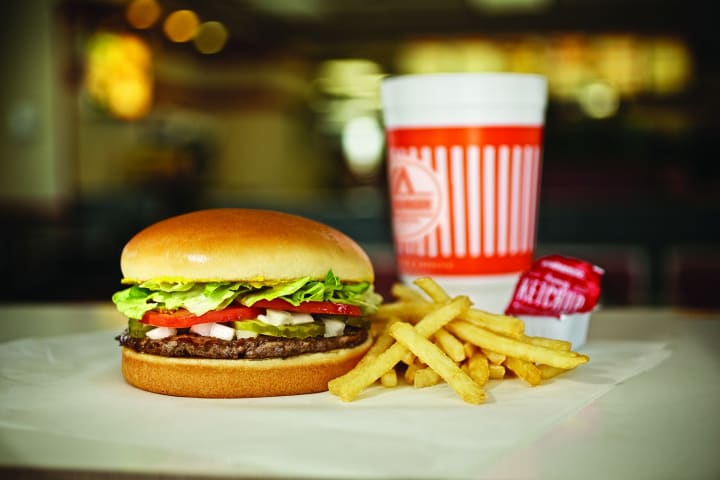 Zaxby's
Zaxby's isn't as popular in my city as Slim Chickens is (they are very similar restaurants, in my opinion).
They're most ordered menu options include, the Kicken chicken sandwich, which is spicy chicken tenders with ranch in between two pieces of toast. Their wingz and things meal is a meal with wings, chicken fingers, fries, and toast.
And last but not least, their fried pickles are a very unique option that other fast food restaurants don't offer!