What to Cook for Your Valentine
An affordable three-course meal that won't break the bank.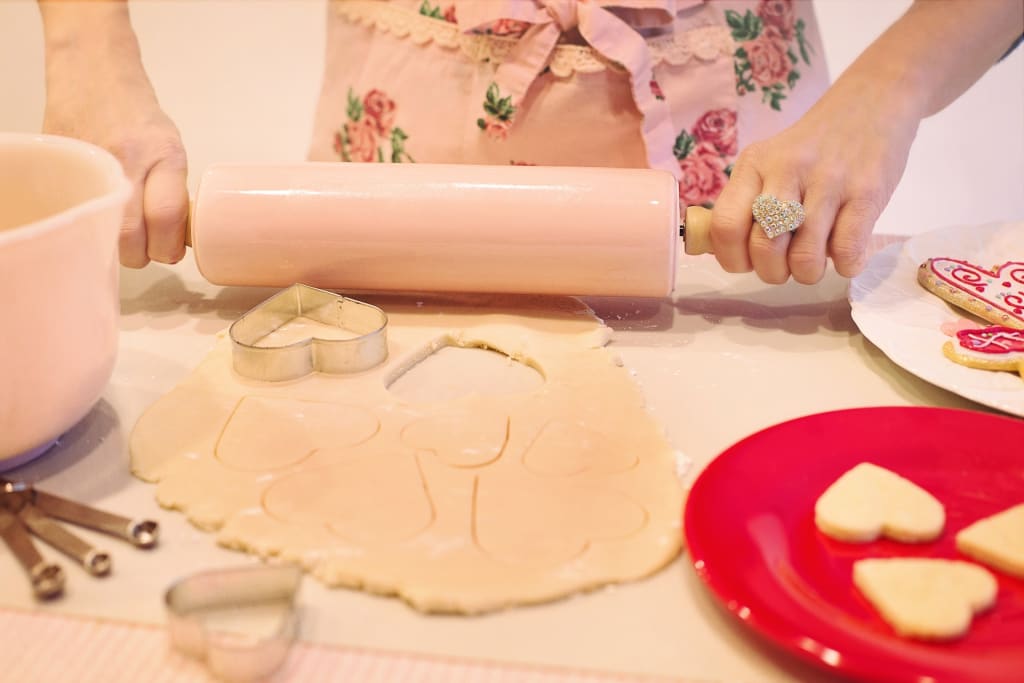 Staying in this Valentines Day is no reason to skimp on the romance. Impress your Valentine with this cost and time efficient three-course meal that will have you feeling like a top chef. The key to success here is twofold: use fresh ingredients, and be creative! Depending on where you live, some ingredients will be more available than others, just know that going the extra mile is sure to pay off in wow-factor.
All of these recipes are fit for two, and designed to be either quick prep, or allow for prep-ahead so you don't have to waste any time with your loved one the day of!
Course 1, Appetizer: Cherry Tomato Galette
One of my all-time favorite recipes, the galette is a perfect medium for just about any combination of flavors. This rustic cherry tomato version with chopped olives and fresh thyme leaves will bring the long, lazy days of late summer to you this Valentines Day.
For the Dough:
In a large bowl, fully combine 2 cups of all-purpose flour with 1 teaspoon of salt and 1/2 teaspoon of baking powder. Cube two sticks (one cup) of VERY cold butter and press the cubes into the flour mixture with your fingertips until butter is somewhat evenly mixed and no more than the size of peas throughout.
Make a well in the center of your dough and add four tablespoons of ice water. Gently work in water until the dough forms a loose ball, then turn out onto a lightly flowered counter-top and knead gently until just combined and somewhat homogeneous. Do not overwork. Refrigerate at least one hour, or up to two days.
To assemble the galette:
step 1. Preheat the oven to 375 degrees Fahrenheit
step 2. Roll out your dough after letting it sit at room temp for 15 minutes (if it has been refrigerated at least overnight) until it is a uniform thickness of about 1/8 inch. Sprinkle lightly with corn meal or corn starch (optional- but helps keep the tomato moisture from making your crust soggy).
step 3. Rinse a pint of multi-colored cherry tomatoes in cold water, and pat completely dry.
step 4. Chop your olives, and mix them into the dried cherry tomatoes.
step 5. Pile your tomato mixture onto the center of your rolled dough, and pleat the excess dough to fully contain your tomato filling while leaving most of the filling visible.
(Fine Cooking has a great article on ways to pleat free-form tarts: http://www.finecooking.com/article/free-form-rustic-tarts)
step 6. Drizzle your filling with olive oil, and generously salt and pepper your galette. Optional- sprinkle with pulled thyme leaves.
Bake until the crust is fully browned, about 30-45 minutes, brushing the crust with a beaten egg about halfway through cooking to ensure a nice, crisp crust.
Course 2, Entree: Chicken Milanese with Arugula
(Adapted from Martha Stewart's authentic Chicken Milanese recipe found here)
Taking advantage of staples you probably already have laying around, this breaded classic is a great way to dress up ordinary chicken. Milanese is sure to leave you and your valentine satisfied without the hit to your bank account you might expect from a special meal.
step 1. Place 3/4 cup flour and 3/4 cup bread crumbs in SEPARATE shallow, wide-mouthed bowls.
step 2. Lightly beat 2 large eggs in a wide, shallow bowl. Season eggs and flour mixture with salt and black pepper
step 3. Take one large, boneless, skinless chicken breast and cut it in half horizontally to get two, flat cutlets. Be sure to use a sharp knife, and cut the chicken flat-side down which the knife parallel to your cutting board, and your hand carefully pressing down on the top of the breast as you cut.
step 4. Using a FLAT meat mallet, lightly pound the two cutlets (between sheets of plastic for easy cleanup). You're going for a thickness of about 1/4 to 1/2 of an inch.
step 5. Dredge each cutlet lightly in the flour, then carefully dip in egg, gently shaking off excess. Then press each side of both cutlets firmly in the breadcrumbs. Store on a plate in the fridge while you prep your pan.
step 6. Heat about 1/4 inch of oil in a wide frying pan on medium heat until a test drop of batter sizzles when dropped in the oil. Add the two breaded cutlets and cook 2-4 minutes on each side, or until brown and internal temp reaches 165 degrees Fahrenheit. Tip: the first side of each cutlet should take about a minute longer, and be sure to temp the chicken immediately after removing from pan.
Serve with a squeeze of lemon and garnished with arugula lightly tossed in olive oil.
*Depending on availability, buying local, antibiotic-free chicken is better for everyone involved. But when in doubt, use what you've got! It's hard to go wrong with this classic, just be sure to use a digital meat thermometer to check that the thickest part of the meat has reached 165 degrees Fahrenheit before serving. Enjoy!
Course 3, Dessert: Stone Fruit Brûlée
Make up for some of the prep time spent on the more involved chicken Milanese entree with this so-simple-you-won't believe it dessert. Easy to throw together while your valentine is finishing up every last crumb of their Chicken Milanese, this brûlée can be made with just about any fruit. Just avoid berries, as they won't hold up as well to the high temperature of your broiler, instead go for a more classic approach with a stone fruit (peaches work best). Pears will also work great and may be easier to find all year around.
step 1. Set your oven to broil. While it preheats:
half and pit your fruit (if using peaches, plums, or apricots. If you use pears: half and core).
step 2. Arrange halved fruit on a broiler-safe baking dish and sprinkle with turbinado sugar (white or brown sugar will also do in a pinch).
step 3. Broil fruit until sugar bubbles and browns, but do not burn! Approximately 6-10 minutes depending on the fruit and your oven.
step 4. Serve with fresh whipped cream and basil if using peaches. For pears, serve with a light balsamic drizzle and (optional) crumbled blue cheese.
*This is a great February dessert to make the best of grocery store fruit in colder climates, as your oven's high temperature will concentrate the fruit's natural sugars even when slightly under-ripe.
And last but not least.. enjoy the evening in with your loved one!