What's In A Pie?
Everything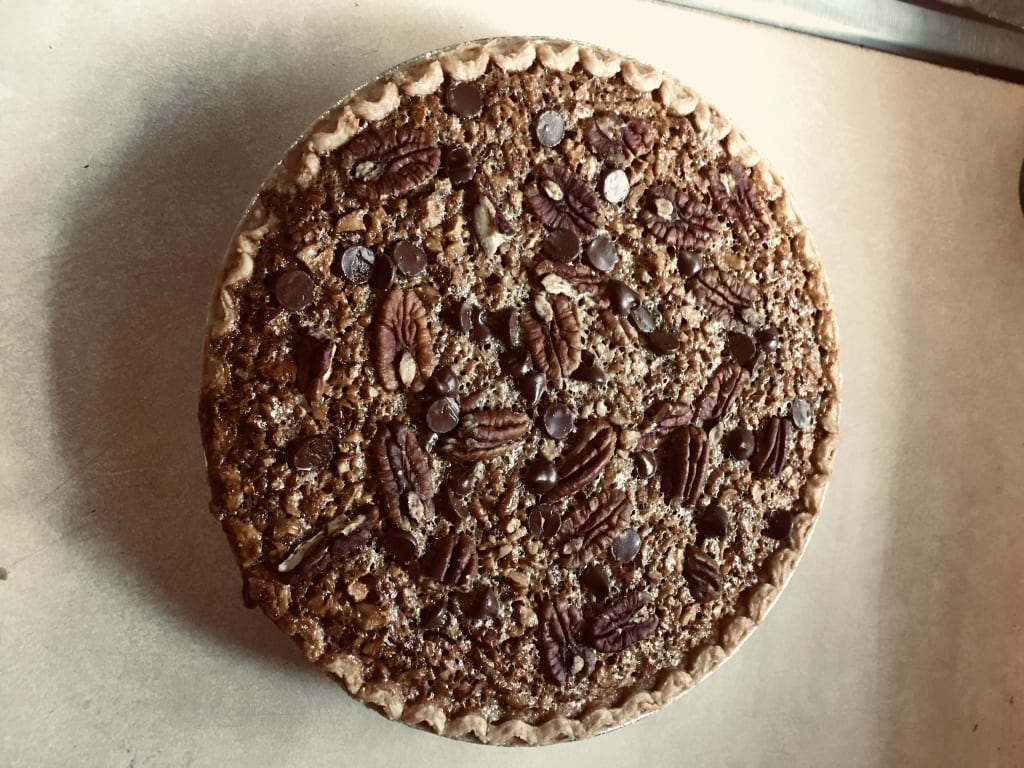 Chocolate Bourbon Pecan Pie
Maybe it is just the pecans that makes it taste so good. The word "Pecan" comes from a Native American word of Algonquin origin and it was Native Americans who first cultivated them. It means " nuts requiring a stone to crack". Both Thomas Jefferson and George Washington planted pecans on their land. One hundred years ago 2.2 million were "cracked". Today 250 to 300 million pecans lose their shells. Most pecans originate from southeastern and southwestern America and Mexico. My recipe calls for 1/1/2 cups of chopped pecans. I like to semi-chop my pecans so they still have more then a crunchy quality to them. You can semi-toast them but be careful not to burn them. Keep them brown and toasty. I layer the top of each of my pies with whole pecans in a complete circle. After all it is a pecan pie to be begin with and to not be afraid to add more. Pecans are expensive, so if you are near a Costco get your ingredients there. And yes a small daily handful of pecans - 1.5 ounces — may help prevent cardiovascular disease and type II diabetes. BUT that is another story since all the next ingredients are full of sugar. Remember, I only make six pies every Thanksgiving and recipients are waiting with their mouths open for mine. One admitted she started eating her pecan pie as soon as I left it at her doorstep and that was two days before Thanksgiving. Have they no shame! I took a New Orleans recipe to begin with and changed a couple of things. I have been making my Thanksgiving Chocolate Bourbon Pecan Pies for years now and my reputation is growing or maybe it is just all those little chocolate morsels that melt in your mouth after each bite. Ah chocolate! As far back as 1900 B.C, the Olimels of Mexico were the first to consume chocolate drinks. They were the father of Yahoo drinks. Mesoamerican tribes which included the Aztecs and Mayan civilizations enjoyed the bitter tasting drink and you were an honored guest if they offered it to you. Chocolate comes from the roasted and ground cacao seed. No wonder my pies taste so good with coffee. A match made in heaven. I use more then one cup of semi-sweet chocolate morsels inside my pie and I sprinkle whole chocolate morsels on top. Oh and yes it makes my pies real gooey. It adds to the crunchy quality. Today, sixty percent of the world's supply of chocolate is produced in West Africa, mostly in the countries of Ghana and Cote d'Ivoire. A very sad note and doubly so since children love chocolate. Two million children are part of the labor in these countries that cultivate chocolate and there is high evidence of human trafficking and child slavery. If you can find American or Peruvian produced chocolate you will not be contributing to this sordid mess. Let's move on to something much sweeter - Jim Beam Honey Bourbon. In the past, I used only straight bourbon but honey is much sweeter and so are my pies. I add at least a half of cup of bourbon to give my pies a bit of a kick. But do not go overboard because too much alcohol will destroy the wonderful taste of the pie. Since we are already in the Neverland world of sugar you might as well add a dollop of homemade whip cream. Not the store bought kind but the homemade kind, where you still taste the ton of sugar you just whipped in. To finish up my special recipe you must first heat your oven to 325 degrees. Just follow these three steps. It is easy.
Step One - Since your oven is already at 325 degrees let your pie crust get toasty and brown and add some chopped pecans and semi-chocolate morsels evenly to the bottom of the pie. One must always build a strong foundation.
Step Two - Use some elbow grease and mix your dark corn syrup, 1/2 cup of granulated sugar, 1/2 cup of firmly packed brown sugar, and 1/2 cup of Jim Beam Honey Bourbon into a saucepan. Make sure you let everything become nice and creamy. This is important. At least three to five minutes and keep this mix hot!
Step Three - Whip up four eggs with one 1/4 cup of already melted butter, 2 teaspoons of plain white cornmeal, 2 teaspoons of vanilla extract (do not forget this) and 1/4 teaspoon table salt. Slowly add 1/4 of the hot corn syrup mixture into the egg mixture but cover the bottom of your pie crust so the chocolate can already starts melting. Finally add the remaining hot corn syrup mixture into the egg mixture and keep hand mixing! Then pour the rest of the mix into the pie. Carefully place your pie into the middle of your oven, so you mix does not tsunami the edges of your pie.
Step Four - Bake for 55 minutes or so at 325 degrees and your done. Make sure your pie is a golden brown. Let your pie cool and now you have my secret recipe to my favorite holiday dessert. Do not forget the whip cream. Happy Baking!
recipe
Hollywood screenwriter wrote for BET, American history writer for website www. peopleofthecivilwar.com and product review writer for amazon affiliate store www. healthandfit2.com on www. fb/me.clk1951.
Receive stories by Christopher Koefoed in

your feed