What I've Been Eating While Staying Home Because of COVID-19
When I'm not playing Animal Crossing: New Horizons, I'm making these recipes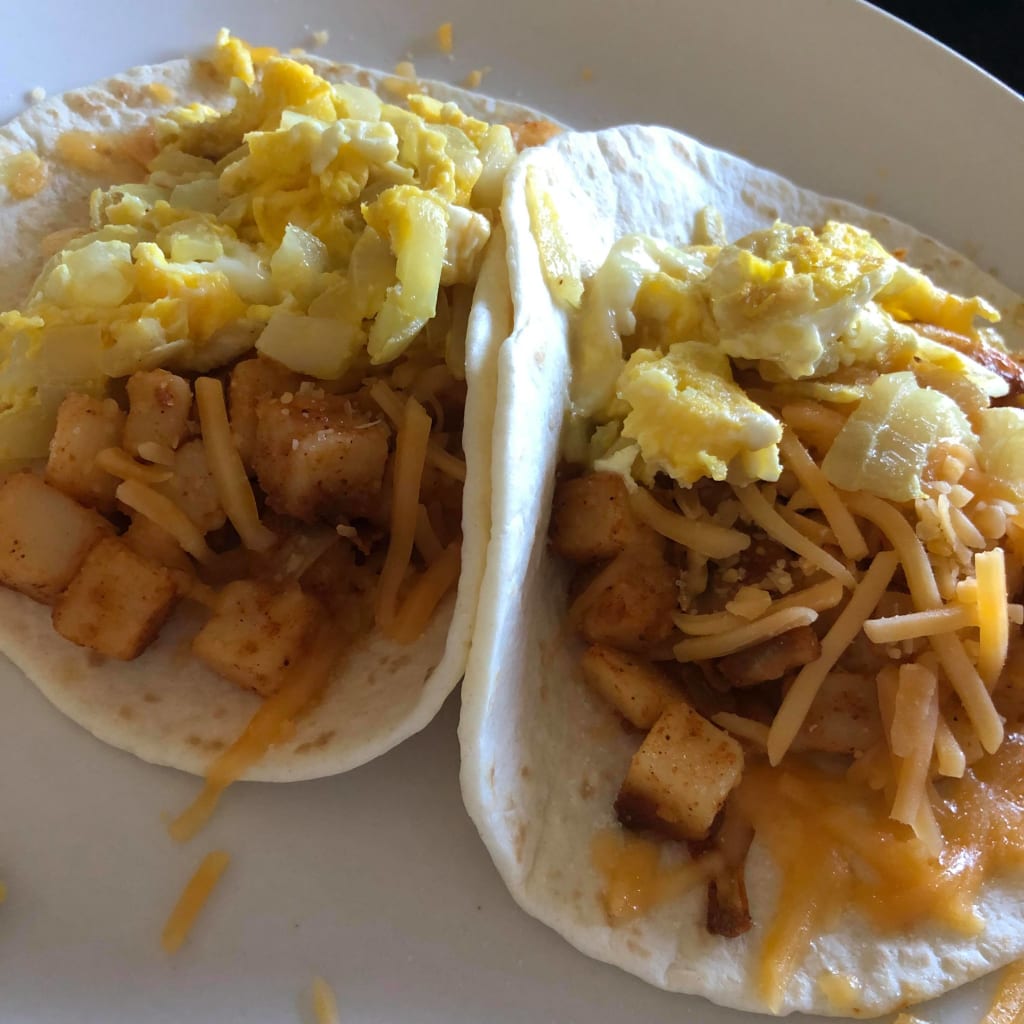 COVID-19 has impacted us all, and for me, it has especially impacted my kitchen. Eating well and staying creative has been my go-to to combat cabin fever, so I'm sharing some of the recipes I've created while being home to inspire you to be creative in your own kitchen!
All these recipes serve one person (except where noted) so if you're cooking for multiple people, please multiply the ingredients you need by however many people you're serving :)
Oats 3 Ways
I never was the biggest fan of oats, but lately, they've been my go-to breakfast. It's been very comforting to start my day with a warm bowl!
Ingredients:
Base:
½ cup oats (quick or rolled, your choice!)
1 cup of water (I like my oats a little runny, so I typically add up to 1 ½ cup, but this is also your choice)
1 tbsp chia seeds (optional but extra fiber and protein!)
Variants:
Apple/Greek Yogurt
1 medium apple, diced
1 tsp cinnamon
1 tbsp Greek yogurt
Cinnamon Brown Sugar
1 tsp cinnamon
1 tbsp brown sugar
Optional: a drizzle of maple syrup
Peanut Butter Chocolate
1 tbsp peanut butter
2 tbsp chocolate chips
Directions:
Follow your package directions to create your base. If you are adding spices, add them to the dry mix of oats and seeds. Stove top cooking takes more time but I believe the results are better!
For Apple/Greek Yogurt:
Dice your apple into small pieces
Heat a small pan over medium heat and add your apples
Cook them to your preferred texture, adding extra cinnamon if you would like
Top your warm oats with apples and a dollop of Greek yogurt for creaminess.
Enjoy!
For Cinnamon Brown Sugar:
Add your brown sugar to warm oats and stir to combine. Add some maple syrup to make these maple brown sugar oats!
For Peanut Butter Chocolate:
Add your peanut butter and chocolate to warm oats and stir to combine. If you want your chocolate chips to hold up instead of melt, add them once your oats have cooled.
Potato Tacos (serves 1 with leftovers)
Since being home and practicing social distancing, I've noticed I've been eating way less meat. I have a lot in my freezer, but I'm trying to save that and use it sporadically. These tacos are vegetarian and can easily be made vegan as well! I'm already looking forward to making these again.
Ingredients:
1 can diced canned potatoes (I found mine at Walmart! If you can't find them pre-diced, whole canned potatoes can be diced easily)
2 tbsp taco seasoning
2 tbsp diced onion, white or red
Tortillas or hard shells for serving
Optional: 2 eggs cooked to your preference
Optional: other taco toppings like guacamole, salsa, or cheese!
Directions:
Drain your canned potatoes and add to a large pan over medium heat
Add your taco seasoning and onions
Cook until the onions are soft and the potatoes are crispy
Serve your potato mixture over tortillas or hard shells, and add your toppings! I make mine with cheese, extra cooked onions, and sometimes scrambled eggs.
Store leftovers in a Tupperware and enjoy within 3-5 days
Cake Mix Cookies
Cookies are part of a balanced diet, of course! These are super customizable and can also keep kids occupied while they're home from school.
Ingredients:
1 package of cake mix, any flavor
½ cup vegetable oil
2 eggs
1 cup of mix-ins! Chocolate chips, M&Ms, chopped candy, you name it!
Optional: mix ½ cup sugar with 1 tbsp cinnamon to roll your dough in for snickerdoodles! Or omit the cinnamon to make sugar cookies
Directions:
Preheat your oven to 350 degrees F or 180 degrees C
Mix your cake mix, vegetable oil, and eggs together
Add in your mix-ins!
Using a small ice cream scoop or a tablespoon, drop cookie dough onto a greased sheet pan
For snickerdoodles, mix ½ cup sugar with 1 tbsp cinnamon in a small bowl. Use the ice cream scoop or tablespoon to create a ball and then roll it in your cinnamon sugar. Place the coated dough on your pan
For sugar cookies, follow the same directions for snickerdoodles, just omit the cinnamon
Bake for 8-10 minutes or until your edges start to brown
Move to a wire rack after 5 minutes to cool completely
Store in an airtight container and enjoy!
Mac and Peas (serves 2)
My fiancée has been recovering from having a wisdom tooth out and this meal has helped a lot! The peas add a great boost of protein while also getting some extra and easy vegetables into your diet.
Ingredients:
1 box of mac and cheese or your favorite homemade mac n cheese
1 cup frozen peas (or 1 steamable bag)
2 tbsp butter
Optional: extra cheese!
Directions:
Make your mac and cheese according to the box or your own recipe. Make sure you have your specific ingredients!
Microwave your peas according to package instructions (it typically takes me about 4 minutes or so, but my microwave runs fast)
Add butter to your peas
Mix the peas into your pot of mac and cheese (or keep them in separate bowls, your choice!) and serve, topping with extra cheese if you please!
Air Fryer Lemon Pepper Fries
Potatoes have been another great staple for me during this pandemic. They're filling, tasty, and overall so comforting! These fries aren't like the ones you get from fast food, but they're just as satisfying.
Ingredients:
3 small potatoes (or honestly, however many potatoes you like. Times are tough, I ate a plate of these for lunch yesterday, the potatoes told me how many to eat)
1-2 tbsp olive oil (depending on how much you like)
Lemon pepper seasoning (enough to coat your potatoes)
Directions:
Chop your potatoes into strips and add them to a bowl
Add your oil and seasoning to the bowl, mixing and ensuring the potatoes are coated in both
Add them to your air fryer in one layer (a little crowding is okay, they just won't be as crispy)
Cook at 360 degrees F for 10-15 minutes, shaking the basket halfway through
If you don't have an air fryer, add your fries to a sheet pan and bake in the oven at 400 degrees F for 30-40 minutes, flipping them halfway through (keep an eye to make sure they don't burn!)