What are the best food and gourmet restaurant recommendations in Bali?
Heavy food gathering place! Who says only seafood can be eaten at the beach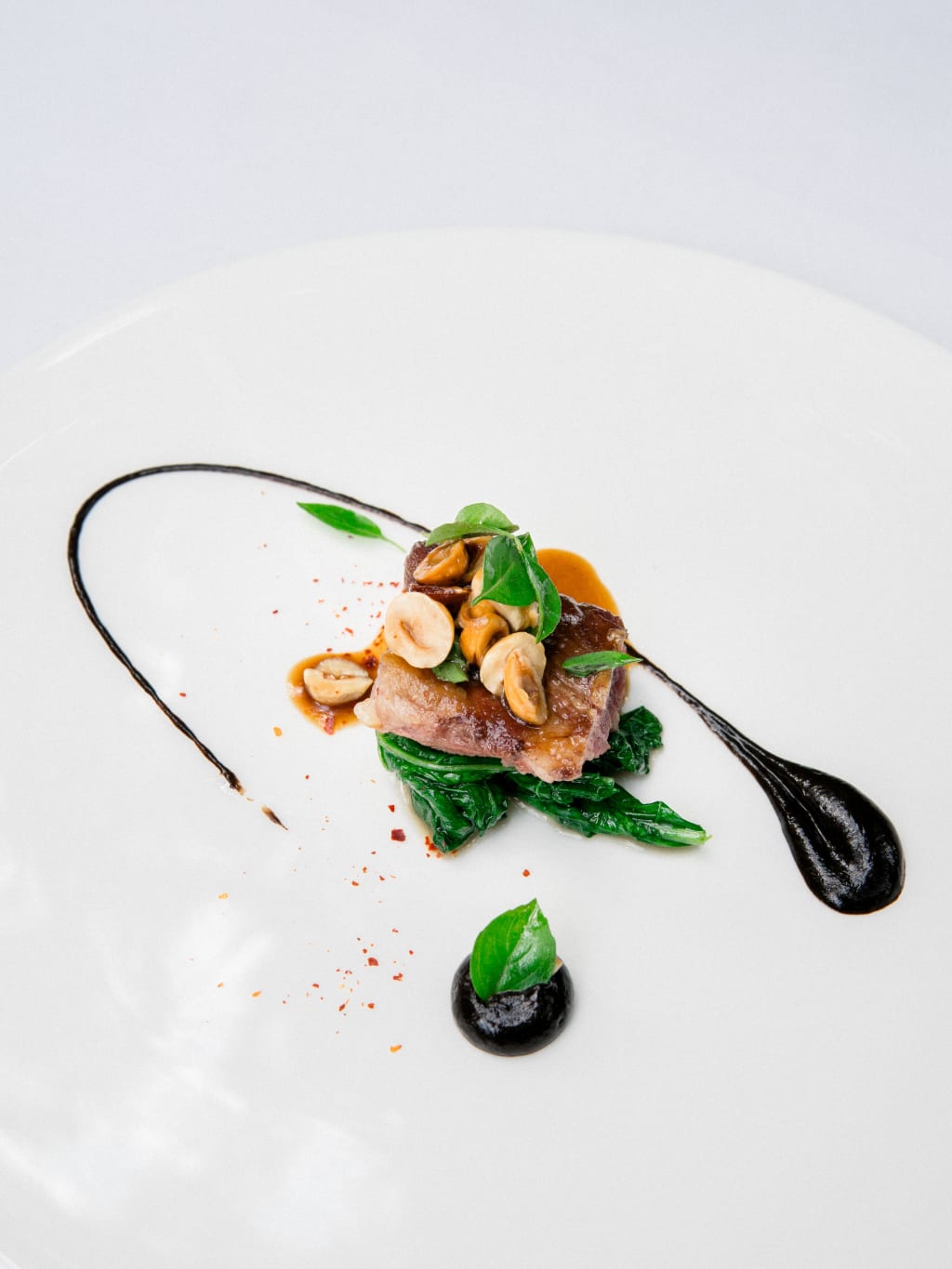 Bali's beaches are fresh and charming, but the food has gone the other way, Indonesian dishes use a lot of coconut milk, pepper, cloves, cardamom, curry and other spices to taste, the table also often has chili sauce, heavy flavors and rough style is not acceptable to everyone. Of course ~ ~ so small romantic little fresh place, there must be some romantic taste of food ~ ~ ~ so do not think that the island only seafood to eat Oh, search carefully, Bali's food or a lot of ~
1、Dirty duck restaurant (Ubud store)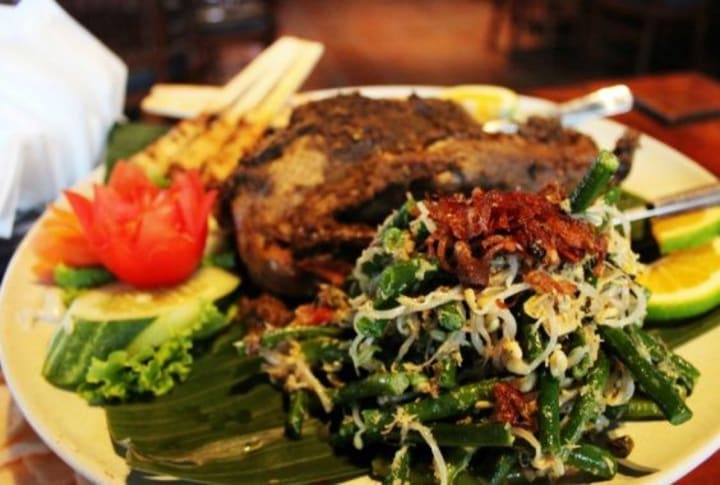 Dirty Duck Restaurant is one of the special restaurants in Ubud. The restaurant is located in an idyllic setting between a field of rice paddies. Typical Balinese architecture. There are many special duck dishes. It is a good place to eat and talk. Dirtyduck is one of the most famous Balinese specialties. The duck is roasted brown and the crispy meat can be torn off by hand. The restaurant is located in Ubud, and the whole rice field is under the corridor of the restaurant, so the environment is very beautiful.
Address: Jl. Hanoman | Padang Tegal, Ubud, Indonesia
Tel: +62 36 1977675
Transportation: 1.4km from Ubud Palace, accessible by foot or by chartered bus.
2、Jimbaran Beach BBQ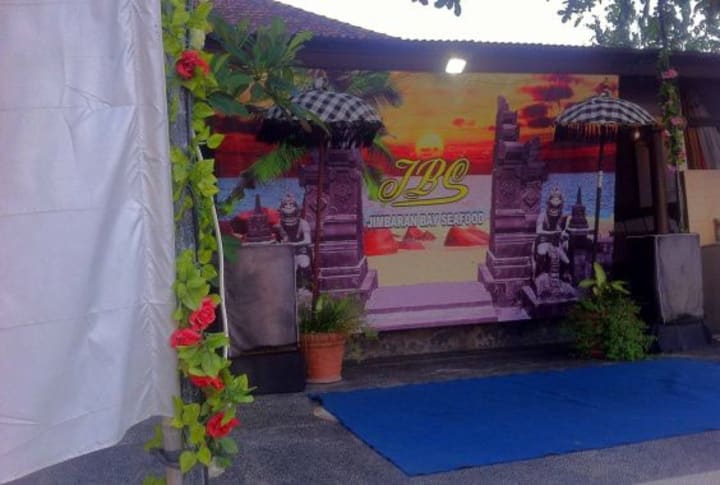 JimbaranBaySeafoodRestaurants is a seafood charcoal grill business on the beach, which is popular among travelers because of its good value and the ability to enjoy the beauty of sunset and evening sun. To enjoy the sunset, you need to calculate the time in advance and grab a good seat. The orange-red haze accompanied by the sound of waves and waves, and the fishing fires looming in the distant boats, this warm and romantic picture is intoxicating. Opening hours: Noon to midnight
Address: Kegdongan Beach, Jimbaran, Indonesia
Tel: 62 85101725367
Transportation: By chartered car, about 34 minutes drive from Denpasar.
3、Potato Head Beach Club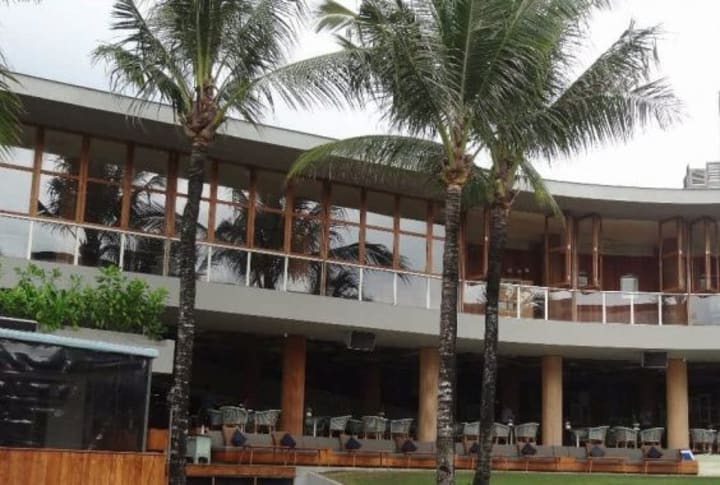 The restaurant is divided into three sections: Western Restaurant, Asian Restaurant and Pool Club. Because the pool is the best business, so do not accept reservations. The restaurant completely overturned everyone's perception of the "Club Club". The club is semi-circular, the whole is facing the sea, and no matter where you eat and drink in the store, are facing the sea, there is a feeling of stepping into another world, the outer wall is built by hundreds of vintage shutters, revealing a strong sense of art, and very special. Western food, Asian food, bar, pool, lawn, beach and sea are all available in the restaurant, so it is definitely the ultimate enjoyment to take three or two friends together for a while.
Address: Jalan Petitenget 51 B, Kerobokan 80361, Indonesia
Tel: +62 361 3007990
This store is not a little bit delicious, the most favorite or here prawns (well, or back to the seafood ......) but the prawns are really super delicious wow, and the attitude of the boss and waiter is also super nice, the price is a little bit expensive, but also worth it, also listened to the dream travel APP thought that the advice of tourists, the evening to go, while eating food while watching the beauty is not too cool ah
4、KU DE TA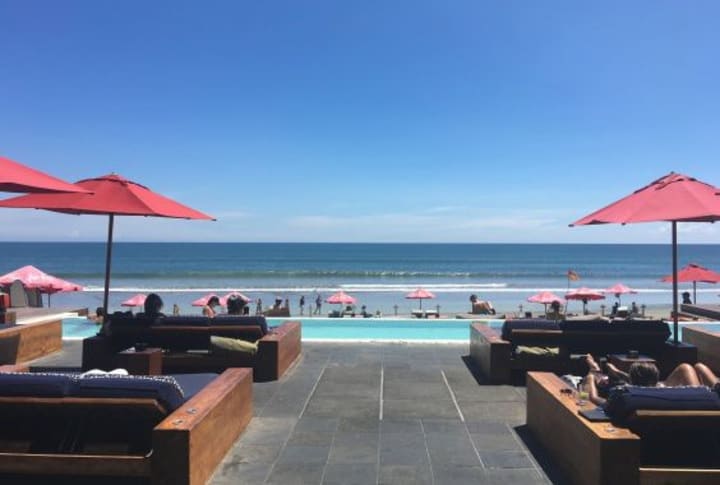 This is a lively bar with a large landscaped balcony with a great view of the morning ocean
Address: 9 Jl. Kayu Aya Street, Seminyang District, Bali
Tel: +62 361 736969
5、Rock Bar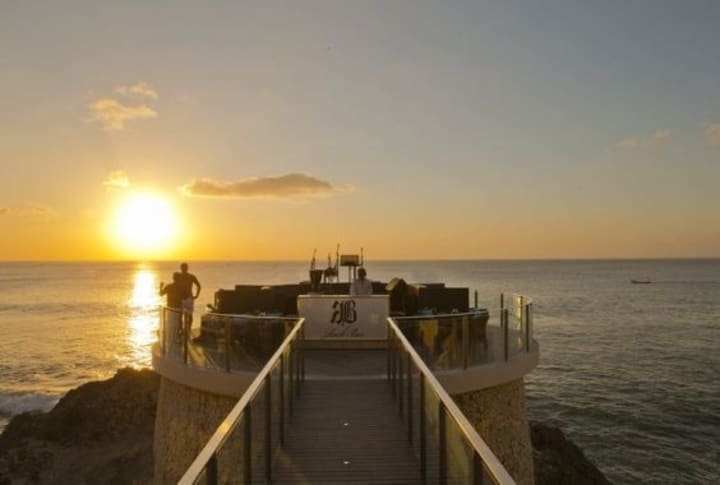 The RockBar is a famous bar, located below the cliffs of the Ayana Hotel by the sea, and after crossing the hotel's barrier, you can come to the cliffside and wait. At sunset, the red sun slowly sinks, and the RockBar's terrace is lit by many torches, and the lazy lounge music seems to buy the hearts of customers, with every rhythm and every note teasing the upcoming night. Sitting in the bar, enjoying the sunset and listening to the waves, it should be an infinitely romantic thing.
Address: AYANA Resort and Spa BALI | Jl. Karang Mas Sejahtera, Jimbaran 80364, Indonesia
6、La Lucciola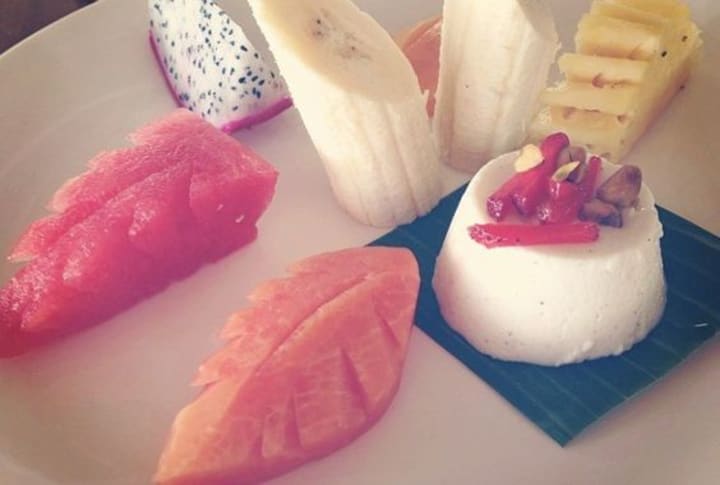 The restaurant is located on the beach and specializes in Italian cuisine.
Address: Jl. Kayu Aya | Petitenget Beach, Seminyak 80361, Indonesia
Tel: 62 361730838
7、Lotus Restaurant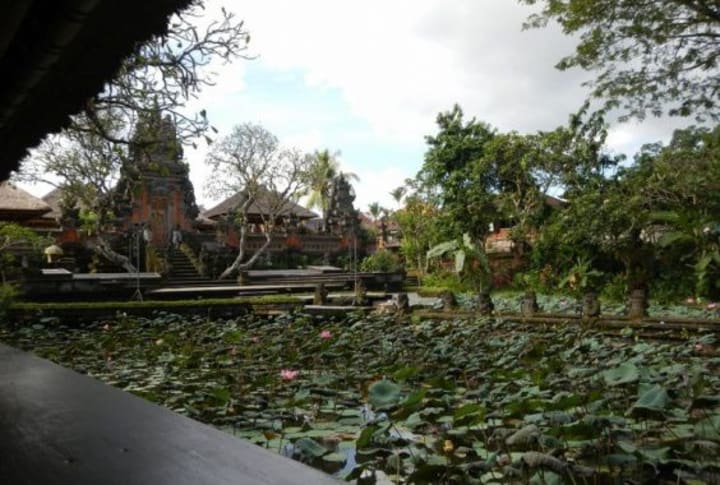 A long-established restaurant in Ubud, overlooking the lotus pond of PuraTamanSaraswati Temple, Lotus Restaurant's courtyard design fully reflects the Balinese aesthetic sensibilities. For those who are new to Ubud, eating here is a treat. The main course is about 80,000 rupiah each, and the food is very generous, one banana leaf roast duck (BebekBetutu) can fill two people's stomachs. There is a dance show every night from 7:30 pm, so you can enjoy it while you eat. We recommend the avocado juice.
Address: Jl Raya Ubud Ubud Gianyar Bali, Tlp 0361-971715 Indonesia
Tel: +62 36 1975357
Transportation: 150m from Ubud Palace, within walking distance.
8、Warung Ibu Oka Roast Pig Restaurant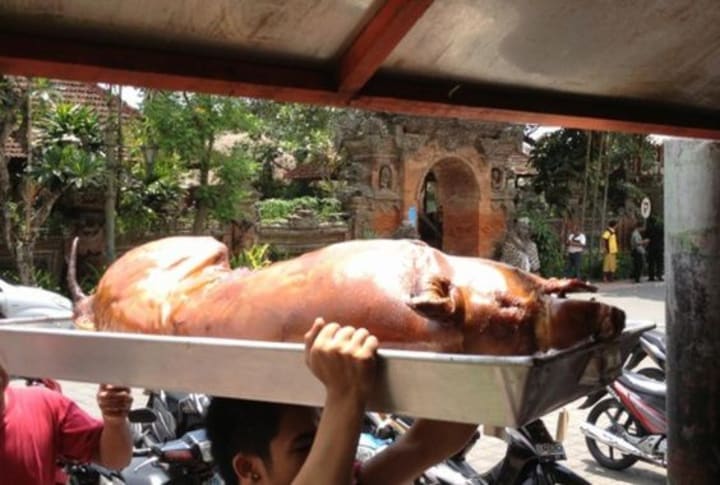 WarungIbuOka is a popular restaurant next to the Ubud Palace, where the roast pork and rice are particularly delicious. The roast pork is a traditional Balinese snack that has been around for a thousand years. The pork is stuffed with local spices, baked for a long time, drizzled with coconut oil and finished with a golden, crispy skin.
Address: Jl. Tegal Sari no. 2, Ubud, Indonesia
Tel: +62 36 1976345
Access: A few minutes walk from Ubud Palace
9、Bamboo Corner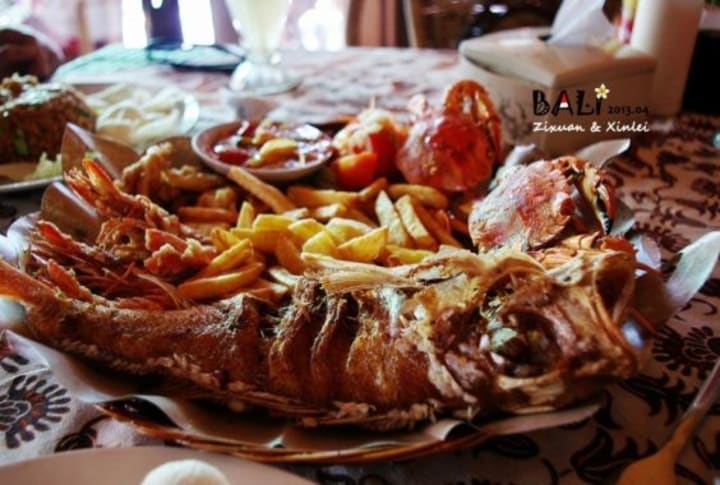 This restaurant is in the middle of PoppiesLane and is decorated with a local touch. The offer includes freshly squeezed mango juice, Avocado juice with chocolate sauce, fried prawns, squid rings and some seasonal vegetables, etc. The prices are relatively affordable, but the quality of the dishes is average.
Address: Jalan Poppies 1 No. 26 (Kuta)
Tel: +62 361765966
Transportation: About 9km from Denpasar, you need to charter a car to get there.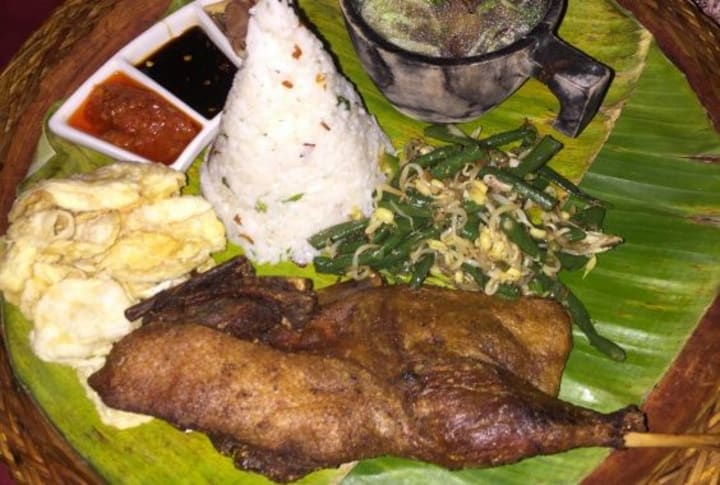 This restaurant has a small fountain in the rice field on the side and a barn-like building in the distance, which looks beautiful in the slanting sun. The dishes are mainly local cuisine and the grilled pork chops look good.
Address: Jl. Raya Pengosekan Ubud, Ubud, Kab. Gianyar 80571, Indonesia
Tel: +62 36 1970633
Transportation: 1.6km from Ubud Palace, can be reached on foot or by chartered bus.
Useful tips for traveling in Bali
1. Necessities: sunglasses, umbrella, sunscreen, swimsuit, gastrointestinal medicine, anti-mosquito bite medicine, etc. Bali ultraviolet rays are very strong, please prepare a hat, sunglasses, sunscreen lotion, and it is best to drink more water.
2. Please buy mineral water instead of raw water and do not drink ice from vendors in Bali. Please do not eat raw seafood.
3. Local tourist spots will be arranged to visit the wood carving village, silverware, batik center, souvenir store, although it is local art and specialties, but if you want to buy must remember to kill another price.
4. Most of the restrooms in Bali do not have toilet paper, remember to prepare your own. Bali is located in the tropics, there are many flies and mosquitoes, so please prepare mosquito repellent and insect bite cream. Please be careful to follow the left side of the road and walk in Bali, which is different from China.
5. Taxes: When eating in Bali forced to pay taxes, five-star hotels, restaurants are 21% tax, ordinary hotels are 15% tax.
6. Tipping: In the local dining and bed preparation generally need to pay a tip, generally 10,000 or 5,000 rupees (0.5 U.S. dollars to 1 U.S. dollar)
7. Hotels: All hotels in Bali do not provide toothbrushes, toothpaste, towels and slippers, some hotels do provide them, but they are not very clean, so it is highly recommended to bring your own.