Vurger Central: The Ultimate Aubergine Burger
Filling, Tasty, and Unique, a Burger for All!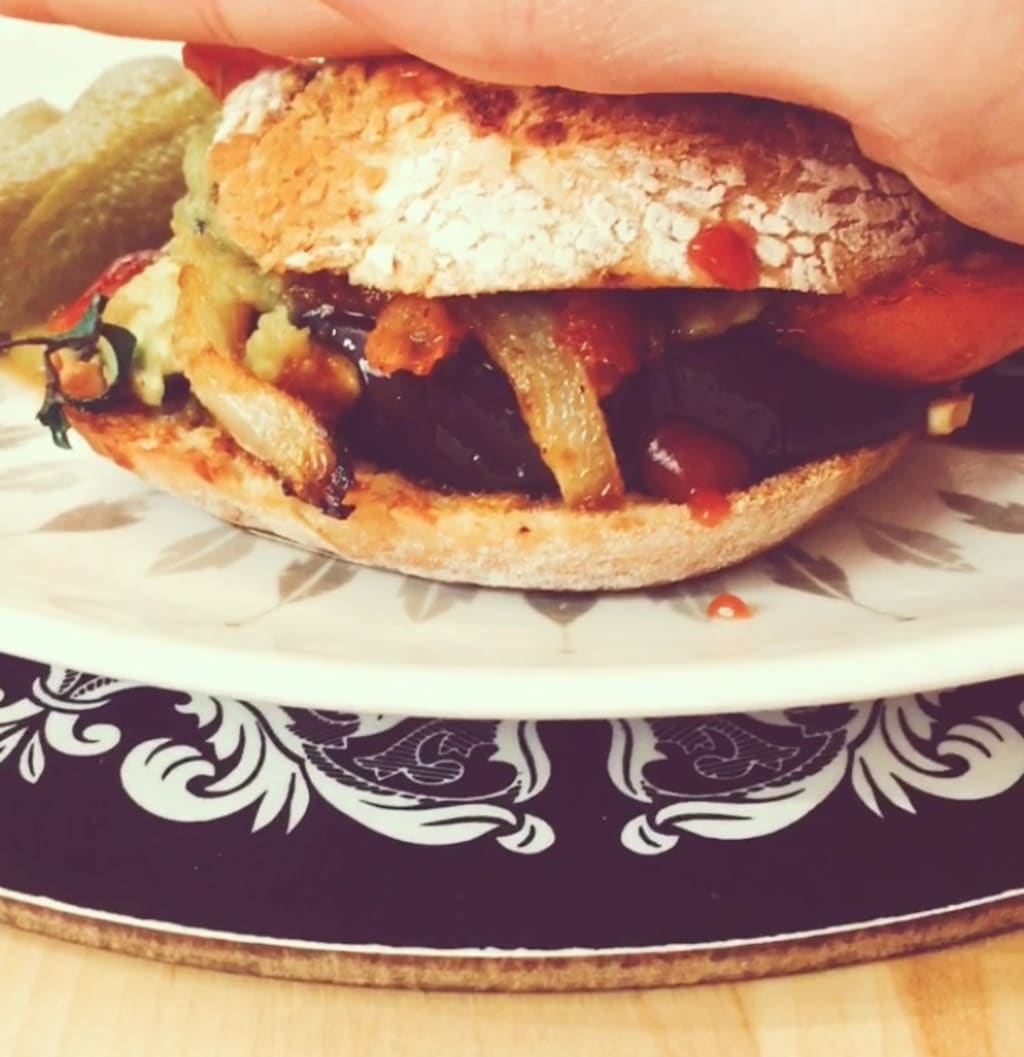 This was taken from a Boomerang, so, you know, just imagine it moving. Now stop imagining it moving, you perverts.
There is a documentary out there titled Carnage, and believe me, it has teeth, dripping with beet juice. Long story short —it did it for milk, butter and eggs. That's it. I was done. I don't advise you go cold... tofurkey instantly, but I did. Ultimately, this meant the base of my diet, the diet I'd had for 26 years, went out the window literally overnight.
The food industry has come a long way from the socks-with-sandals idea of veganism, but you'll still have to settle for a fate that seals you for eternity as the only one of your party eating a dry side salad and chips on a night out. There had to be a way, I thought to myself, as I stared despondently into the fridge, to save the cattle and have a decent meal.
I've always been avant-garde in my approach to cooking (I once put strawberry jelly in my cauliflower curry—13/10 would do it again) and on this particular night I was sick of tofu, vegetables, and noodles. I wanted a burger. Challenge accepted. So, without further ado, check the below for my "Vurger" Aubergine Burger:
The recipe is for one vegan burger, and one helping (double for two helpings/people).
Prep time: 15 mins
Cooking time: 15 mins
Ingredients
1 tomato (large or small)
1 onion, peeled
1 thick (6 cm) slice of aubergine
2 cloves of garlic
1/2 tbsp of smoked paprika
pinch of rock salt
1/2 tbsp of white pepper
3 tbsp cooking oil
3 tbsp of Marmite (roughly)
1 tbsp of dried herb
1/2 avocado
1 tbsp of Golden Syrup
1 roll (whatever you prefer)
Step One
After peeling the onion, cut it into rings, along with thick slices of tomato. Have a pan ready with oil and add the onion and tomato. After they have started to soak the oil, add the salt, pepper, and paprika and cook until crispy. Remove the tomato first, and leave to dry on a piece of kitchen towel to soak out some of the oil. Then fry the onion until crispy because that crunch never fails to make my life.
Step Two
For our non-UK chefs, Marmite is a spread or condiment that is, to the best of my knowledge, unique to the UK. It's made mainly of yeast and it has a resemblance to Bovril or Vegemite. This will be your seasoning for your aubergine slice—add the three tablespoons to a small bowl of cooking oil, press the garlic, and mix together thoroughly. It should look and act like a barbecue sauce with a thick stickiness so that it won't run off the aubergine.
Step Three
Next, cut a thick slice of aubergine and use a brush to apply the Marmite mixture. Once covered on both sides, place the aubergine in your oil covered flat pan you have prepared. It'll take a little while to soak and then crisp, so in the meantime, arrange some salad or a side dish to enjoy with your aubergine burger.
Step Four
Guacamole is always welcome in Vurger town so mash the half avocado into a small bowl, add the syrup, a dash of cooking oil, and a pinch of salt and pepper. Next, toast the bun you'll be using for your burger. When warmed, butter the roll, by which time your aubergine should be cooked and crispy.
Step Five
The fun part, the arranging! Add the cress to the buttered roll, then the aubergine vurger, a spoon of guac, some onion rings, some tomato slices, some guacamole—or however you would like it. Finally, let it warm through in the oven on about 190 degrees for about ten minutes.
Then, serve and enjoy—and say I sent you.
There's room for all in Vurger town!
Until next time!