Versatile Vegan Scones
Gluten-Free and Refined-Sugar-Free to Boot
Strawberry Scones Forever
I love scones. I miss scones. Scones are the perfect treat - not quite a cookie, not quite a muffin. A slightly crunchy outside with a denser, yet tender inside; mildly sweetened and ideal with your cup of coffee. Mmm, so good! But long gone are the days where I could walk into a coffee shop and grab a scone on my way to work with a strong cappuccino.
That's what happens when you're diagnosed with Celiac Disease and can no longer consume gluten. Not even a crumb. Along with Celiac, come other food sensitivities, which largely include dairy products - milk, cheese, and butter - better known as culprits for inflammation and wracking havoc on your digestive system. Fun, right?
So you can imagine my surprise and excitement when I recently discovered a recipe for scones that was not only gluten-free, but refined-sugar-free and vegan as well!
And the best part is, it's so simple to make and doesn't call for any of the typical "vegan-like" products that often contain hard-to-pronounce fillers, gums, or soy.
For the vegan skeptics out there, I assure you, these scones are the bomb. And for my fellow Celiacs, you can actually enjoy scones again.
I'd love to say I created this recipe, but I'll happily give credit where credit is due: Sweet Laurel Bakery, a phenomenal grain-free bakery in Pacific Palisades, California. It's truly a haven for the gluten and dairy intolerant. All their items are grain-free, while most of their items are dairy-free, and many, vegan.
My good friend bought me both Sweet Laurel and Sweet Laurel Savory cookbooks for my birthday last month, along with a Friends' Central Perk apron and oven mitt!!! Friends and baking combined? Could this be any better?
Every recipe I've tried from the books has been undeniably delicious, so it was only a matter of time before I tried their "Mother's Scones" recipe (on page 46 of the Sweet Laurel cookbook), which they pack with chocolate chips (or whatever mix-in you fancy).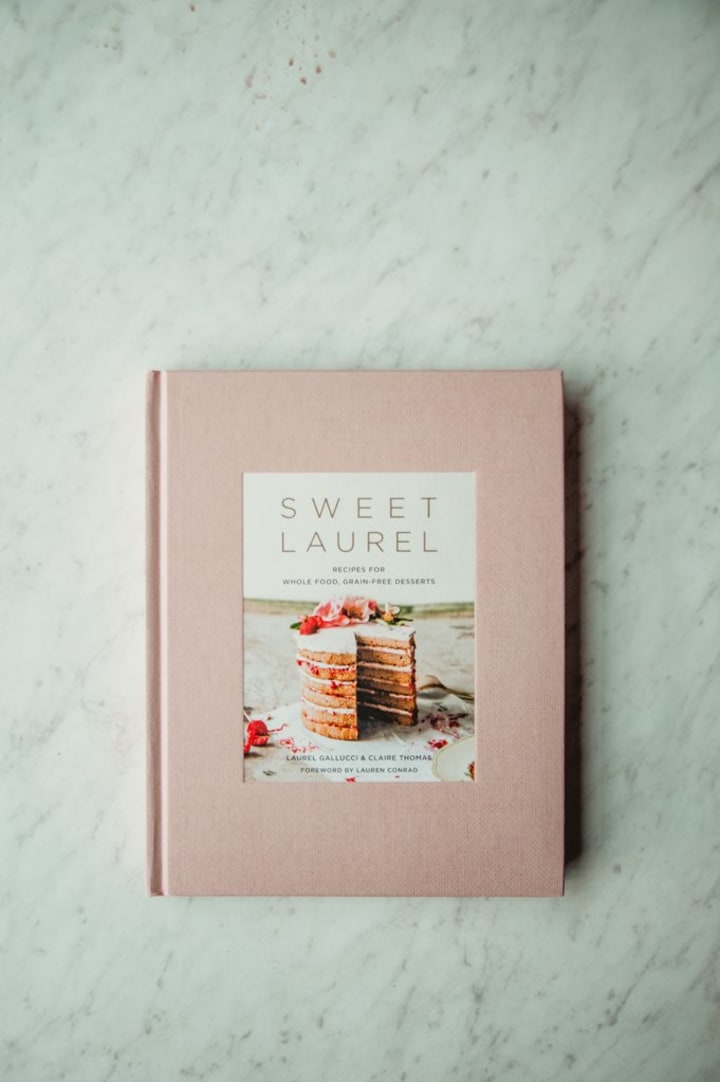 I was in the mood for a delectable lemon poppy seed scone, so the below recipe is a modified version of what's in the book, but I assure you, you can create whatever flavor you'd like.
Lemon Poppy Seeds Scones:
Ingredients:
1 and ½ cups blanched almond flour
¼ cup coconut flour
1 tbsp. baking powder
½ tsp Himalayan pink salt
¼ cup poppy seeds *
3 tbsp. maple syrup
1 tbsp. pure vanilla extract
½ cup unsweetened plain coconut yogurt (I found Cocojune at my local Sprouts Market, which has zero fillers or gums!)
zest of 1 medium sized lemon * (make sure you zest it before you cut it!)
Juice of ½ medium size lemon * (about 2 tbsp.)
*These are the only ingredients I added...the rest of the ingredients for the recipe have not been altered. '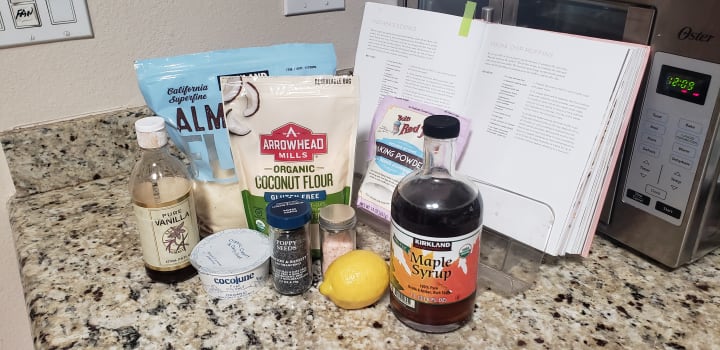 Directions:
In a medium bowl, whisk together your almond flour, coconut flour, baking powder, salt and poppy seeds. Don't underestimate this step. Whisk your ingredients together so they are evenly blended. You don't want to get a clump of baking powder in one area, or a bite of salt in another.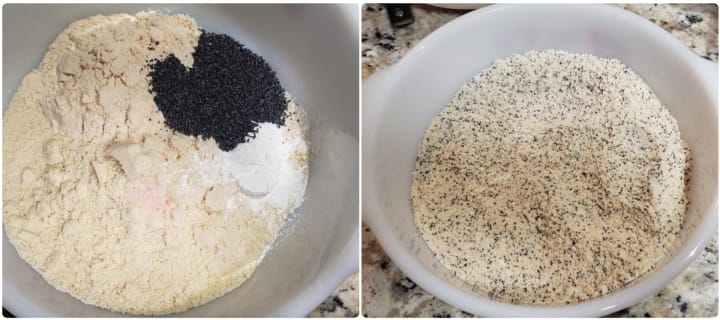 Right around now is when I generally turn on my oven to 350 degrees Fahrenheit. I feel like doing that right away just leaves the oven on way longer than needed. (OK, moving on.)
In your large bowl, mix together the maple syrup, vanilla, coconut yogurt, lemon juice, and lemon zest until fully combined. Mmm, so fragrant…
Random note: if you don't have a wood lemon juicer, you're missing out. It's the best.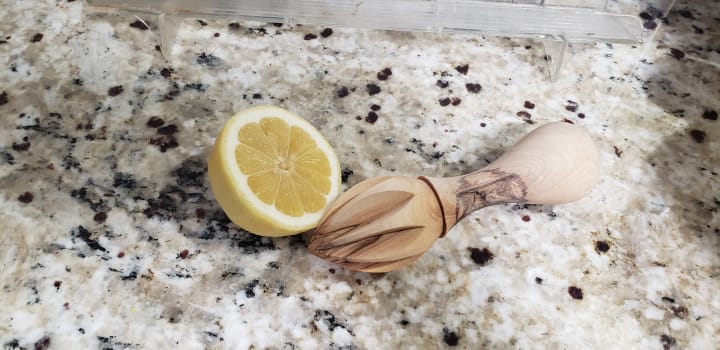 Little by little, add your dry ingredients to your wet ingredients, and mix together with your spatula or spoon. You don't need a mixer for this. The dough will come together quickly and easily. Once combined, place the dough onto your parchment lined cookie sheet. Shape the dough into a round, flat disk, about 1-2 inches high.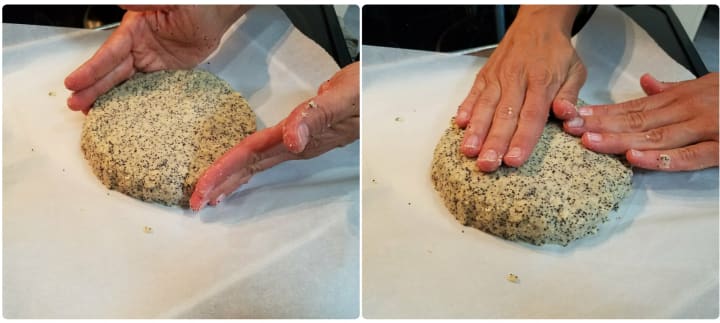 Next, you'll take your cutting knife and cut into 8 wedges, moving the knife away from the dough so there is space between each slice as it bakes. For larger scones, simply cut your scone disk into six wedges, or four. But I must warn you, these puppies are filling!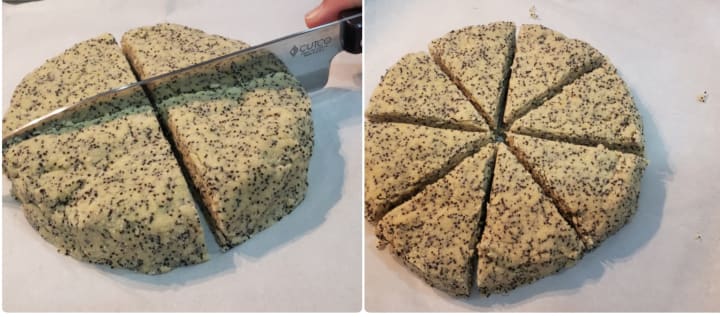 Place the cookie sheet in the oven for 10-15 minutes. You'll know your scones are ready when they are golden brown and feel relatively firm to the touch.
Remove from the oven and let cool slightly. Best served warm, but they're delicious at any temp.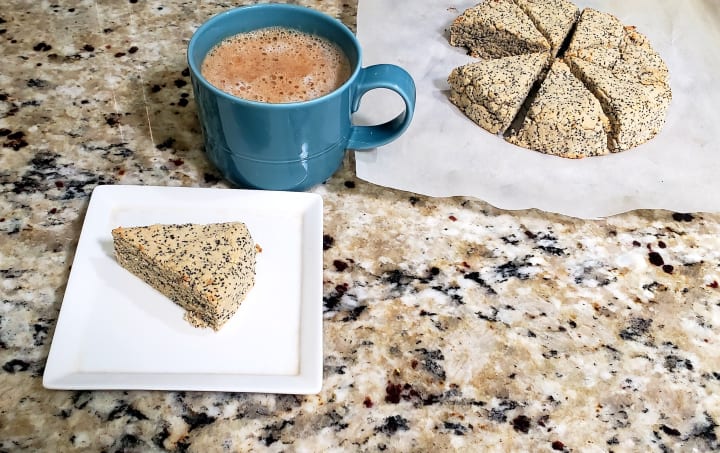 Changing it up:
While I modified this recipe to my liking, you can do the same with whatever mix-in you want. To get a standard, classic scone, remove the modified ingredients (poppy seeds, lemon juice and lemon zest) from the above. Follow the same steps, mixing dry ingredients first, then wet, and then adding your dry mix to your wet mix.
Once your base dough is ready, you can fold in whatever mix-ins you'd like, i.e. vegan chocolate chips, currants, fresh fruit, etc.
But keep one thing in mind: when you add fresh fruit, like strawberries, it will make the dough wetter, and therefore will need more cooking time.
How do I know this?
Well I had to make another batch to test this recipe, of course! Once I added my dry ingredients' mix into the wet, I was ready to fold in the strawberries.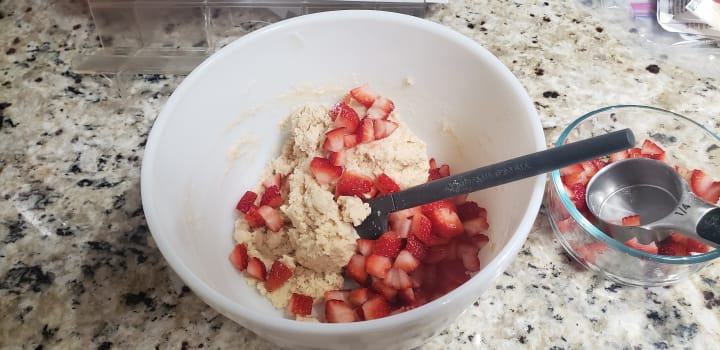 The strawberry scones took 22-25 minutes to fully cook. They might take less or more time, depending on your oven, so watch them carefully.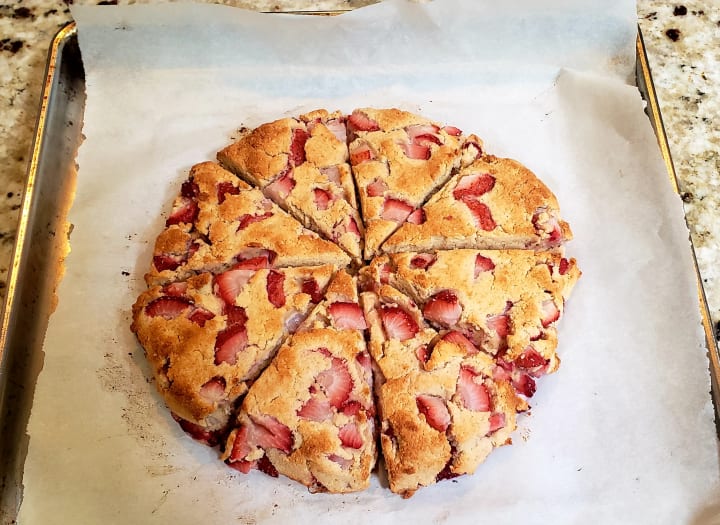 As an extra treat, and something the Sweet Laurel book suggests – you can easily whip up some coconut cream to go with your scone.
Being that these are strawberry scones, this whipped topping legit makes this baked good taste like strawberry shortcake, which is a splurge that is hard to come by for the dairy and gluten-free community.
Coconut Whipped Cream:
Ingredients: (recipe from page 30 of Sweet Laurel cookbook, slightly modified)
1 can (13.5) coconut cream, refrigerated at least overnight
½ tbsp. of maple syrup
½ tbsp. of vanilla
Directions:
When you open up your coconut cream, place the solid cream into a mixing bowl. There should be some clear liquid in the can as well, which you'll want to set aside in case you need it. (I use Trader Joe's brand, which is organic and has zero additives).
Beat the coconut cream with a hand mixer, or you can use a long wire whisk, until it becomes fluffy like whipped cream consistency. If it's too thick, you can add a bit of your reserved liquid to thin it out.
Once whipped, add the maple syrup and vanilla and fold them in.
Top off your warm scone with whipped cream and Oh...my...God. So good!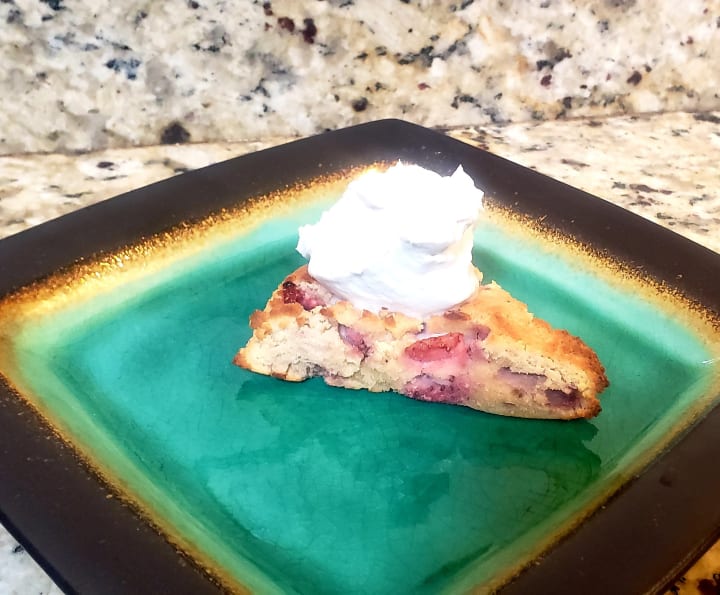 That's it! Can you believe how simple that was? No eggs, no butter, no problem. Scones galore!
So, what are you waiting for?!

Dana Maxwell
She/Her. Coffee and cat lover. Film and television enthusiast. Random thought thinker. If only every decade could be as cool as the 90s.
T: @danamaxwell30
IG: @danamaxwellsmart
See all posts by Dana Maxwell →