Venison Taco Stew
The perfect warming dish.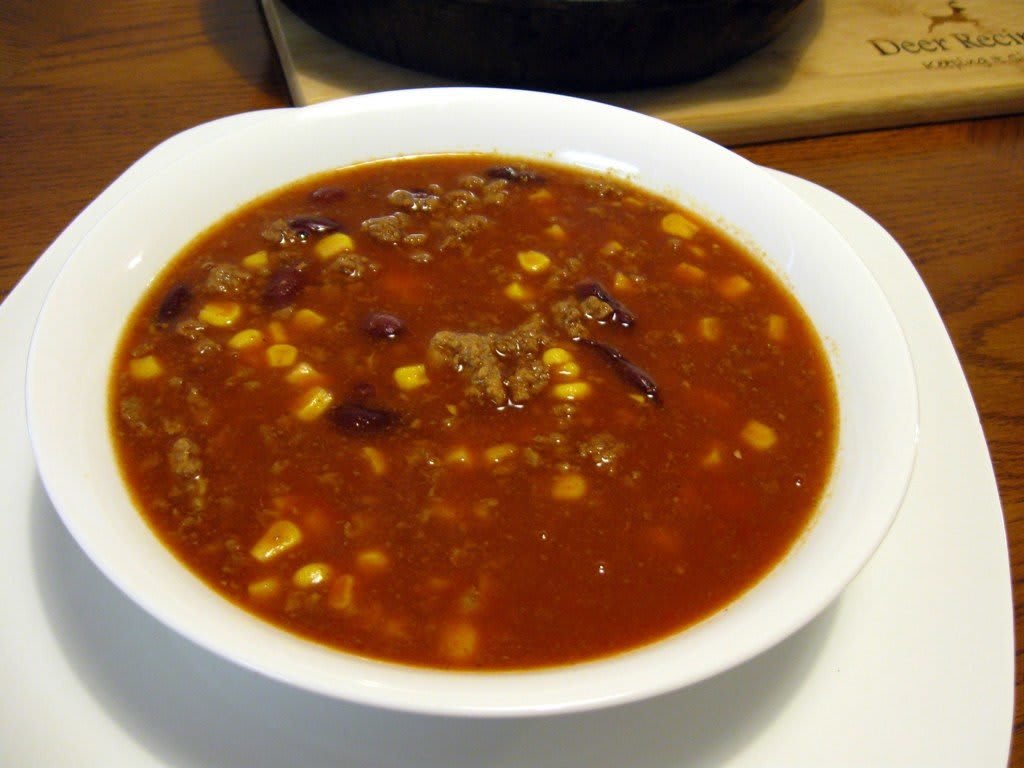 Venison Taco Stew by Amanda Payne
Venison Taco Stew is a delicious stew made with venison and whole kernel yellow corn, kidney beans, tomato juice, and taco seasoning. It is served as a main dish and is ready in less than 30 minutes. It is the perfect quick comfort food meal.
Prep Time: 2 Minutes
Cook Time: 27 Minutes
Yield: 6 Cups of Venison Taco Stew
Serving Size: 1 Cup
Calories: 258
Fat: 12 g
Carbohydrates: 25 g
If you are on a diet and nutrition information is important, remember to recalculate the nutritional information provided above if you make any changes to the recipe. MyFitnessPal seems to be the most accurate.
Venison Taco Stew Recipe
Ingredients:
1 pound of venison, ground
1 pack of taco season or make your own using the ingredients listed below.
12 ounces of tomato juice
12 ounces of kidney beans
15 ounces of whole kernel corn
1 cup of mild cheddar cheese (optional–for topping)
Getting It Done:
First, in a large kettle heated to medium-high heat, fry the ground venison burger just until no longer pink. Scramble and break it up as it fries.
Remove excess grease if needed.
Add taco seasoning and mix well.
Add the tomato juice, kidney beans, and corn, and mix well.
Turn the burner down to a slow simmer (medium-low or low heat)
Cook for about 20 minutes.
Dip out some delicious Venison Taco Stew and top it with a couple of tablespoons of mild cheddar cheese and serve.
This recipe is best served with cornbread or saltine crackers. It goes well with a grilled cheese sandwich or macaroni and cheese.
To make your own taco seasoning, mix 2 teaspoons of chili powder, 1-1/4 teaspoons of ground cumin, 1/4 teaspoon of paprika, 1/4 teaspoon of cayenne pepper, 1/4 teaspoon of dried minced garlic or garlic powder, 2 teaspoons of dried minced onion or onion powder, 1/4 teaspoon of oregano, dried, 1/2 teaspoon of salt.
You can also fix Venison Taco Stew in a crock-pot. Just add all ingredients to the crock-pot, set it to low heat, and cook for 7 hours. If you are crunched for time, you can put it on high heat and cook it for about 5 hours. You can also fry the venison burger in a skillet and add it to the crock-pot with the other ingredients. This way, the excess grease can be removed if needed, and it cuts down the cooking time.
Sometimes I cook this Venison Taco Stew recipe with stew meat instead of ground venison burger. Stew meat is bite-sized solid chunks of venison. If you use stew meat instead of ground venison, cook it at low heat. Slow-cooked stews are the best. It helps tenderize the meat and marry the flavors together.
Sharing is caring. Please share my recipe if you enjoy it. I appreciate your support very much.
Would you like more delicious recipes? Take a look at my Venison Potato Soup or my Venison and Barley Soup recipe below.
Maybe you have a sweet tooth and need something sweet. Try my No-Bake Oatmeal Candy recipe.
This Venison Taco Stew recipe was originally published at deerrecipes.online. I am the owner of that recipe website. I am in the process of moving all of my recipes to Vocal.Media. Please bear with me during this transfer. I appreciate my readers more than I can express.
Check out my author profile on Vocal.Media if you are looking for more recipes. Please consider subscribing to me, Amanda Payne. It's free! Likes, pledges, and tips are welcomed and appreciated but not necessary. You can also find me on Pinterest and Rumble.