Venison Steak Sub
Your next favorite sub!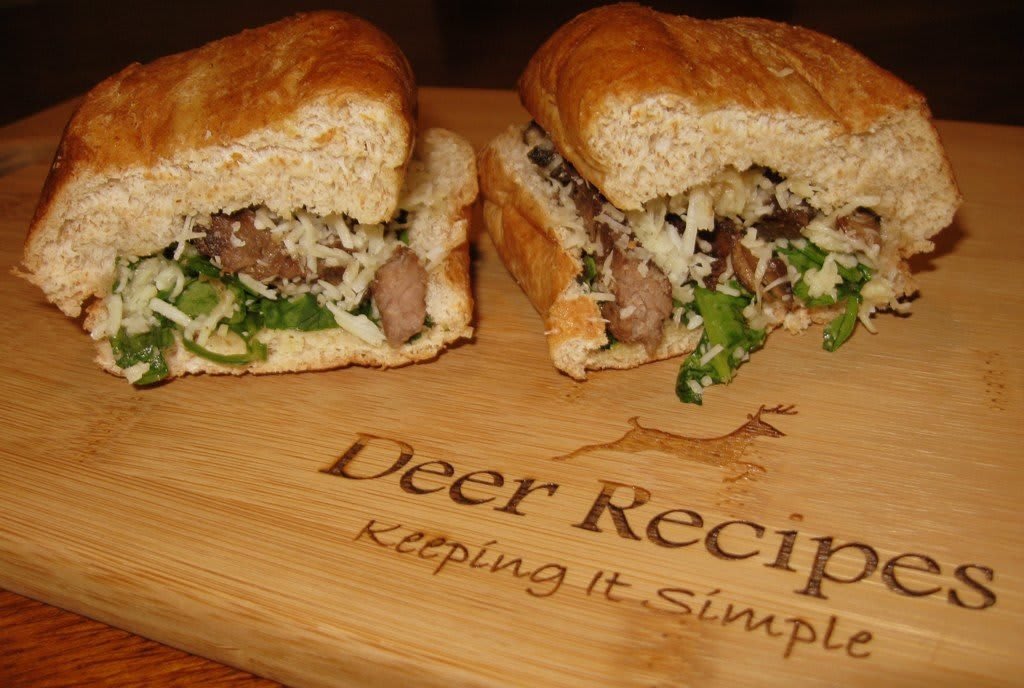 Venison Steak Sub by Amanda Payne
Venison Steak Subs are delicious subs made using fried backstrap, sautéed Portobello mushrooms, garlic, fresh spinach leaves, Parmesan, and Asiago cheese. It is placed on wheat sub rolls, warmed or toasted, and served with chips or fries.
Yield: 8 Venison Steak Subs
Serving Size: 1 Sub
Calories: 367
Fat: 6
Carbohydrates: 45
If you are on a diet and nutrition information is important, remember to recalculate the nutritional information provided above if you make any changes to the recipe.
Venison Steak Sub Recipe
Ingredients:
1 pound of venison tenderloin or backstrap, sliced thinly
6 wheat sub rolls (I prefer Cobblestone Bread Co.)
2 cloves of garlic, diced
6 ounces of Portobello mushrooms, sliced
1 ounce of Parmesan cheese
1 ounce of Asiago cheese
4 ounces of fresh spinach
1 1/4 teaspoon of vegetable oil for frying
1 tablespoon of melted butter (optional)
Getting It Done:
First, slice the tenderloin into bite-sized pieces as thin as possible–at least 1/8″ thick.
Preheat a non-stick skillet to medium-high heat. Add 1 teaspoon of vegetable oil to the pan.
Chop the mushrooms, dice the garlic (keep the mushrooms and garlic separate) and line a plate with paper towels.
Fry the venison tenderloin pieces just until done. If they are 1/8″ thick, this should take about 1 minute on each side.
Once the venison is done, remove from heat and place the pieces on the paper towel-lined plate.
Clean the skillet. Grab a few paper towels with a set of tongs and gently rub the pan until it comes clean.
Add 1/4 teaspoon of vegetable oil to the same pan and heat it back to medium-high. Add the chopped Portobello mushrooms. Sauté them and remove heat. Set them aside for later.
Next, assemble the subs. Spread the sub bun open and sprinkle 2 teaspoons each of Parmesan and Asiago cheese on each side of the sub roll.
Then sprinkle garlic and add about 7 leaves of spinach to each side of the sub.
Add about 1 teaspoon of sautéd mushrooms and then the fried venison.
Top with 7 more leaves of spinach and 2 teaspoons of Parmesan and Asiago cheese.
Serve as is or heat them in a microwave for about 35 seconds. You can also toast them in the oven at 350°F for about 5 minutes and brush the top with melted butter. When heating, leave them open and fold them together after heating.
Serve with chips, French fries, or hushpuppies. If you're looking for more ideas, you can skip the sub roll and turn this into a salad by adding lettuce, cucumber, tomatoes, and other salad ingredients you might enjoy. It's also great on a pizza, added to scrambled eggs, or mixed in with macaroni and cheese.
Sharing is caring. Please share my recipe if you enjoy it. I appreciate your support very much.
Would you like more delicious recipes? Take a look at my Heavenly Tenderloin Bites recipe below or check out my profile.
Maybe you have a sweet tooth and need something sweet. Try my No-Bake Oatmeal Candy recipe.
This Venison Steak Sub recipe was originally published at deerrecipes.online. I am the owner of that recipe website. I am in the process of moving all of my recipes to Vocal.Media. Please bear with me during this transfer. I appreciate my readers more than I can express.
Check out my author profile on Vocal.Media if you are looking for more recipes. Please consider subscribing to me, Amanda Payne. It is free! I will be posting many more recipes in the future.
Likes, pledges, and tips are welcomed and appreciated but not necessary. You can also find me on Pinterest and Rumble.