Venison Pepper Soup
Comfort food for the winter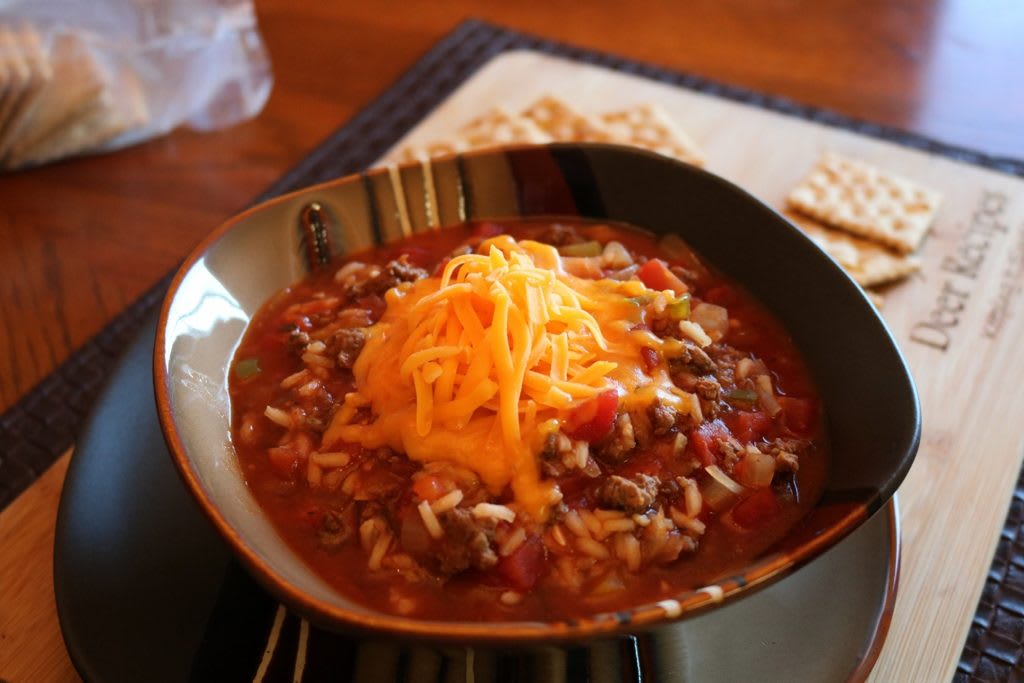 Venison Pepper Soup by Amanda Payne
Venison Pepper Soup is a hearty comfort food recipe made with peppers, ground venison, tomatoes, onions, garlic, oregano, basil, and rice and often topped with cheddar cheese or sour cream. It is very similar to stuffed bell peppers but much easier to make. It is the ideal soup for cold weather.
Prep Time: 5 Minutes
Cook Time: 30 Minutes
Yield: 12 Cups of Venison Pepper Soup
Serves: 8
Serving Size: 1.5 Cups of Venison Pepper Soup
Calories: 265
Fat: 11 g
Carbohydrates: 29 g
If you are on a diet and nutrition information is important, remember to recalculate the nutritional information provided above if you make any changes to the recipe.
Venison Pepper Soup Recipe
Ingredients:
1 pound of venison, ground
1 tablespoon of olive oil for frying
1 yellow onion, chopped
1/2 green bell pepper
1/2 red bell pepper
1/2 yellow bell pepper
2 garlic cloves, minced
2 14.5 ounce cans of petite diced tomatoes
15 ounces of tomato sauce
2.5 cups of beef broth (or venison broth)
1 teaspoon of dried basil
1 teaspoon of dried oregano
Dash of salt
Dash of ground black pepper
1 cup uncooked long-grain white rice
Cheddar cheese (optional for topping)
Sour cream (optional for topping)
Getting It Done:
In a large pot heated to medium heat, add 1 tablespoon of olive oil. Add the chopped veggies and cook for a few minutes.
Add the garlic and a dash of salt and pepper and sauté for about 30 seconds.
Then add the ground venison and break it up as it cooks.
Once done, add tomatoes, broth, basil, and oregano and bring it to a boil. Turn the heat down to low and let it slowly simmer, covered for about 20 minutes.
Prepare rice according to directions on the package or use 3 cups of leftover rice and mix it into the soup.
Dip out some soup and top with cheddar cheese and a dollop of sour cream (optional). Serve hot and enjoy!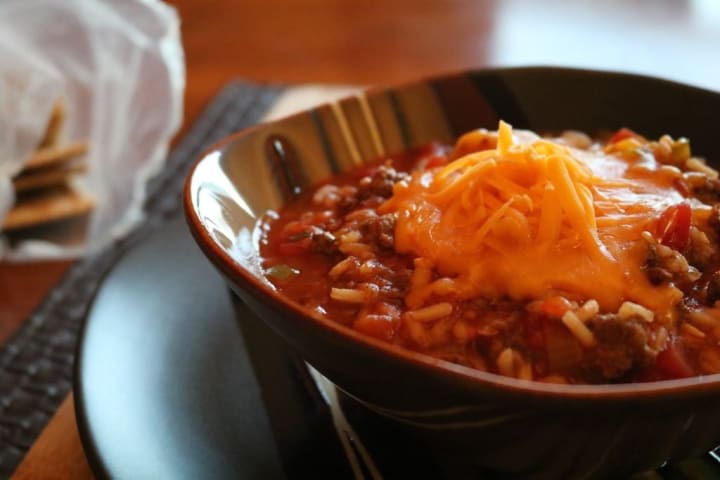 Venison Pepper Soup is delicious topped with cheddar cheese or a dollop of sour cream. It goes great with a pan of cornbread or saltine crackers or a nice buttery grilled cheese sandwich. Yum, yum!
For a thinner soup, add more broth or use less rice. This recipe is already spicy, but if you're looking for more heat, add cayenne pepper, red pepper flakes, or some chopped jalapeno peppers.
If you think you might have leftovers or you're making this recipe for meal prep, keep the rice in a separate bowl and only mix it into the soup when you are ready to eat it. If not, the rice may become too soft.
You can also cook this recipe in a crock-pot. Cook all ingredients, except for the rice, in the crock-pot. Cook the rice separately. Then mix it into the soup once it's done.
Sharing is caring. Please share my recipe if you enjoy it. I appreciate your support very much.
Would you like more delicious soup recipes? Take a look at my Venison Potato Soup and Venison and Barley soup recipes.
Maybe you have a sweet tooth and need something sweet. Try my No-Bake Oatmeal Candy recipe below.
This Venison Pepper Soup recipe was originally published at deerrecipes.online. I am the owner of that recipe website. I am in the process of moving all of my recipes to Vocal.Media. Please bear with me during this transfer. I appreciate my readers more than I can express.
Check out my author profile on Vocal.Media if you are looking for more recipes. Please consider subscribing to me, Amanda Payne. It's free! Likes, pledges, and tips are welcomed and appreciated but not required. You can also find me on Pinterest and Rumble.