Venison Loin with Blueberry-Maple Sauce
So delicious, you'll want to lick the plate!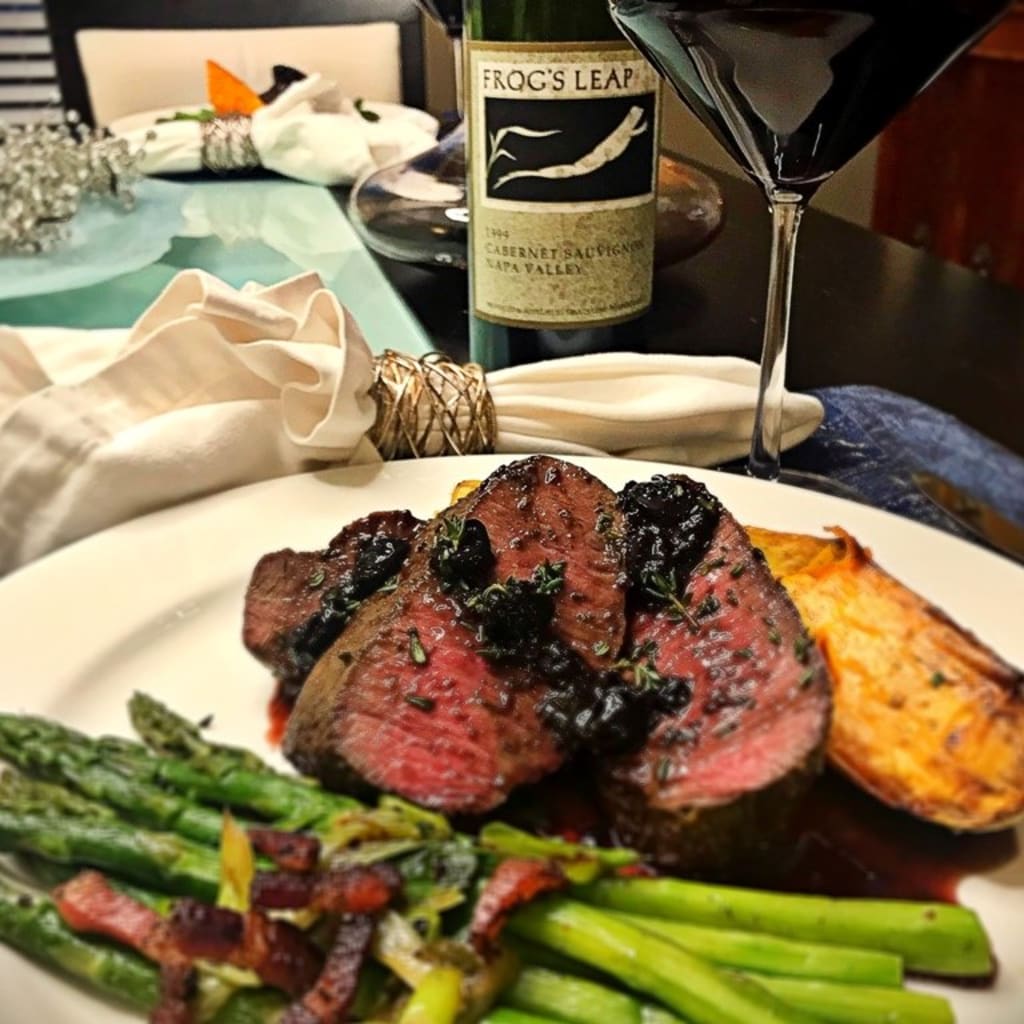 Venison Loin with Blueberry-Maple Sauce by Amanda Payne
Venison Loin with Blueberry-Maple Sauce: Wonderfully seasoned venison loin drizzled with a delightful homemade blueberry-maple sauce.
Serves: 4
Serving Size: 1/4 of Venison Loin with Blueberry-Maple Sauce
Calories: 344
Fat: 10 g
Carbohydrates: 18 g
Venison Loin with Blueberry-Maple Sauce Recipe
Ingredients:
(2) 8-ounce pieces of venison loin, whole
1 tablespoon of HO Venison Seasoning (see below)
1 teaspoon of coarse kosher salt
2 tablespoons of bacon grease or other high-temperature oil
2 teaspoons of French thyme
2 teaspoons ground nutmeg
2 teaspoons black pepper
2 teaspoons garlic powder
2 teaspoons dried orange peel
1/2 cup Madeira (sweet marsala or sherry can be substituted)
1/4 cup of blueberry preserves
1/4 cup maple syrup
2 tablespoons of fresh thyme leaves (reserve 1/3 for garnish)
2 tablespoons of butter
Salt to taste (optional if using salted butter)
Getting It Done:
Preheat the oven to 375°F.
Remove all silver skin from the loins and season on all sides with HO Seasoning and salt. Set aside at room temp.
Remove stems from enough fresh thyme to make about 2 Tbsp. Chop lightly and set aside.
Heat a cast-iron skillet or ovenproof skillet on high heat and add bacon grease. When it begins to smoke, add the venison. Brown for a minute to a minute and a half on each side and then place into the oven.
Roast for 6 minutes, then flip the loins and return to the oven for another 5 minutes for a rare to medium-rare finish.
Remove from the oven and set the loins aside on a plate to rest. Cover with foil.
Add Madeira to the pan to deglaze, scraping with a spatula to bring up all the fond (brown bits).
Once this begins to boil, light the Madeira with a long match or butane grill lighter.
Let this continue on high heat until the flames die out. This step removes most of the alcohol (99%) without reducing the liquid content too fast.
Add blueberry preserves, maple syrup, and thyme. Cook on high until reduced by half. Remove from the heat and add butter, whisking in until melted and the sauce thickens.
Slice the loin across the grain and spoon sauce over the meat and garnish with freshly chopped thyme leaves and enjoy!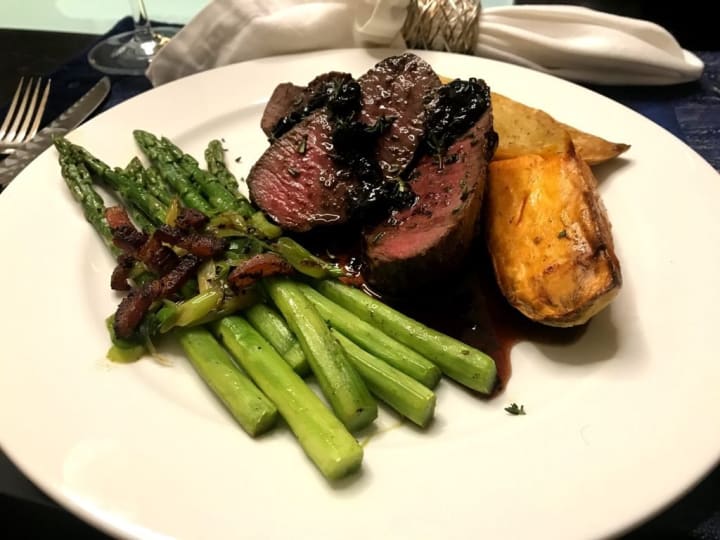 Cooking times with venison are tricky. Recipes have to assume a time, but that time varies based on the thickness of the cut. A venison loin from a 95 pound Arkansas doe is a lot thinner than the loin from a 200 pound Wyoming mule deer buck. Since I recommend that prime venison cuts be eaten on the rare end, I would suggest erring on the short side of cooking times. You can always put it back in a skillet if it is too raw for someone's taste.
The recipe calls for a special seasoning called HO Venison Seasoning. The HO is short for Honest Omnivore. It is made with equal parts of dried French thyme, ground nutmeg, black pepper, garlic powder, and dried orange peel. Mix all of the ingredients and process in a spice grinder until uniform and then store it in a Mason jar.
Sharing is caring. Please share my recipe if you enjoy it. I appreciate your support very much.
Would you like more delicious recipes? Take a look at my Heavenly Tenderloin Bites or my Taco Stuffed Taters recipe below.
Maybe you have a sweet tooth and need something sweet. Try my No-Bake Oatmeal Candy recipe.
This Venison Loin with Blueberry-Maple Sauce recipe was originally submitted and published to deerrecipes.online by my friend Christopher Kyer. I am the owner of that recipe website. I am in the process of moving all of my recipes to Vocal.Media. Please bear with me during this transfer. I appreciate my readers more than I can express.
Check out my author profile on Vocal.Media if you are looking for more recipes. Please consider subscribing to me, Amanda Payne. It's free! I will be posting many more recipes in the future.
Likes, pledges, and tips are welcomed and appreciated but not necessary. You can also find me on Pinterest and Rumble.