Vegetarian Mexican Salad Bowl
Insane to look at, insane to eat and insanely easy to make.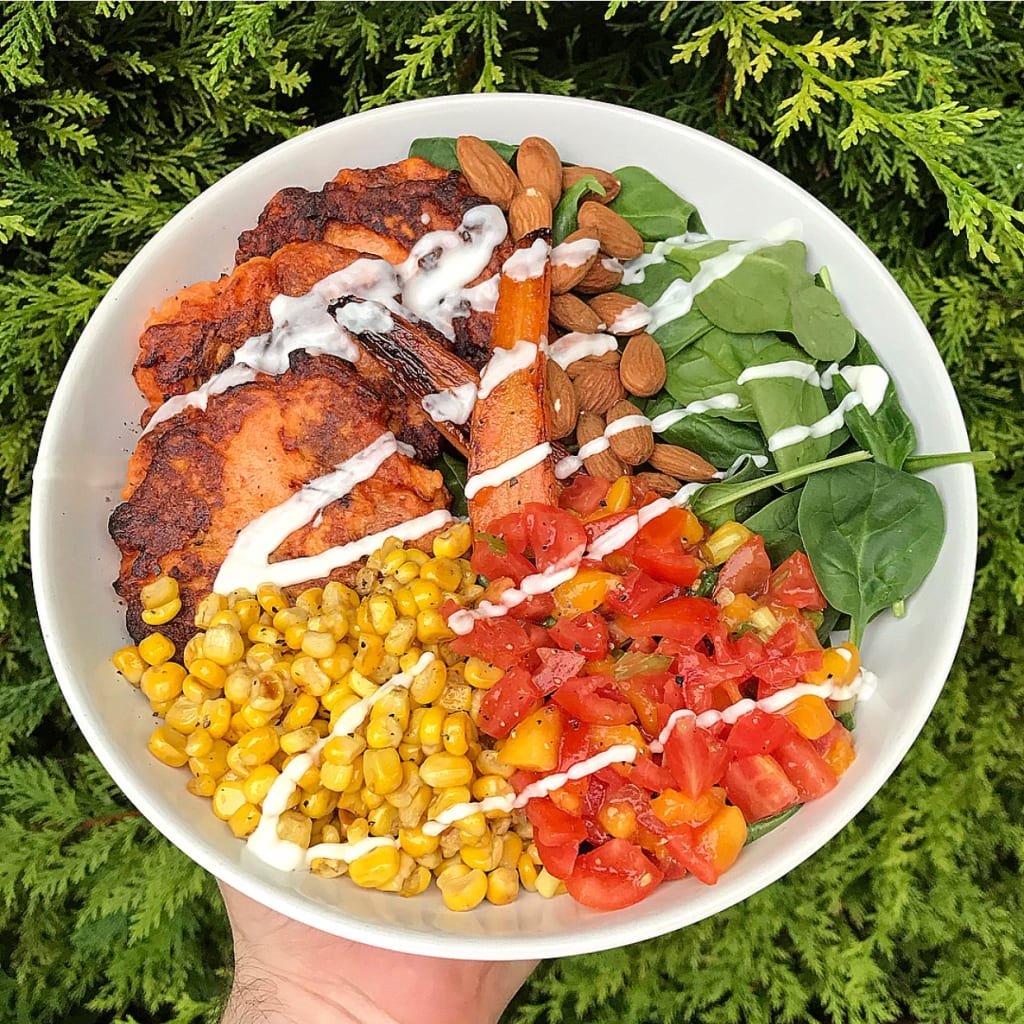 Vegetarian Mexican Salad Bowl
Check out my easy, vegetarian, Mexican-inspired salad bowl (okay, I know that's a bit of a mouthful, but seriously check it out)!
The other day before uni, I was absolutely starving (no shock there) and didn't have much in the house to make, but after a brief look around the kitchen I found some bits and threw them all together in the best way possible!
Being a student, all my food needs to be relatively cheap and quick to make, as I'm on a student budget and have to keep studying to keep my grades up. This bowl was made with things I found lying in the freezer and pantry and cost me next to nothing to make. It's quick, easy, satisfying and makes you feel like you're eating out! For me, all my food has to look as good as it tastes, because let's face it…the first bite is with the eyes! And this dish certainly looks delicious!
This Vegetarian Mexican Salad Bowl has three spicy sweet potato fritters, toasted sweet corn, zingy mango and tomato salsa, fresh spinach, caramelised carrots and crunchy almonds, with a drizzle of cool sour cream. Now does that sound amazing or what!?
Let me tell you how insanely easy it is to make...
Let's start with the spicy sweet potato fritters. For these, I chopped a medium sweet potato into cubes and microwaved them with a splash of water until they were just tender enough to mash with a fork; it took around 2-3 minutes on full power. Then I drained the liquid that was left and mashed them, but left a few small chunks in for some extra texture. Then when it had cooled, I added some dried chilli flakes and a pinch of paprika and mixed it all in well. Then I shaped the mixture into fritters about 1 cm thick and fried them in a little olive oil to make each side crispayyy.
For the caramelised carrots, I sliced a carrot in half and microwaved it for 2-4 minutes until it was just soft, then melted a tsp of butter in a frying pan and placed the carrots face down in the pan to let the butter do it's thanggg. When they are golden brown, they are done!
The toasted corn is as easy as emptying 1/2 a tin of sweet corn into a dry pan and letting it get some brown crispy bits, and plenty of black pepper added brings out the sweetness!
The last part that requires any sort of effort is the mango and tomato salsa! For this, I diced up 3 red tomatoes, 1/4 cup fresh mango and 1 spring onion. Then added some red pepper vinegar that I got from a Christmas market stall and mixed it all together. Fresh, zingy, and delicious.
Now it's just a case of assembling it all together. I started with the fritters and worked round anti-clockwise to fill the bowl with all the delicious parts of this insane salad! Then, because I couldn't help myself and I feel like everything in life needs a little extra somethin,' I drizzled over some cool sour cream...and then I devoured it in a matter of seconds.
Mexican food can be one of the easiest and most amazing things you can ever eat and it can be done on just about any budget! From salad bowls, to quesadillas, tacos, fajitas, chillies, rice dishes, nachos, and much more, the Mexican food scene is one of the most exciting to me because the flavours are so simple but effective. Let me know any of your Mexican recipes, because I certainly will try them!
ENJOY!
vegetarian
I spent 5 years working as an engineer before following my passion for food, nutrition and fitness. I now work as a fitness class instructor, personal trainer and study food science and nutrition at university.