Vegan Spaghetti Bolognese
Delicious and Healthy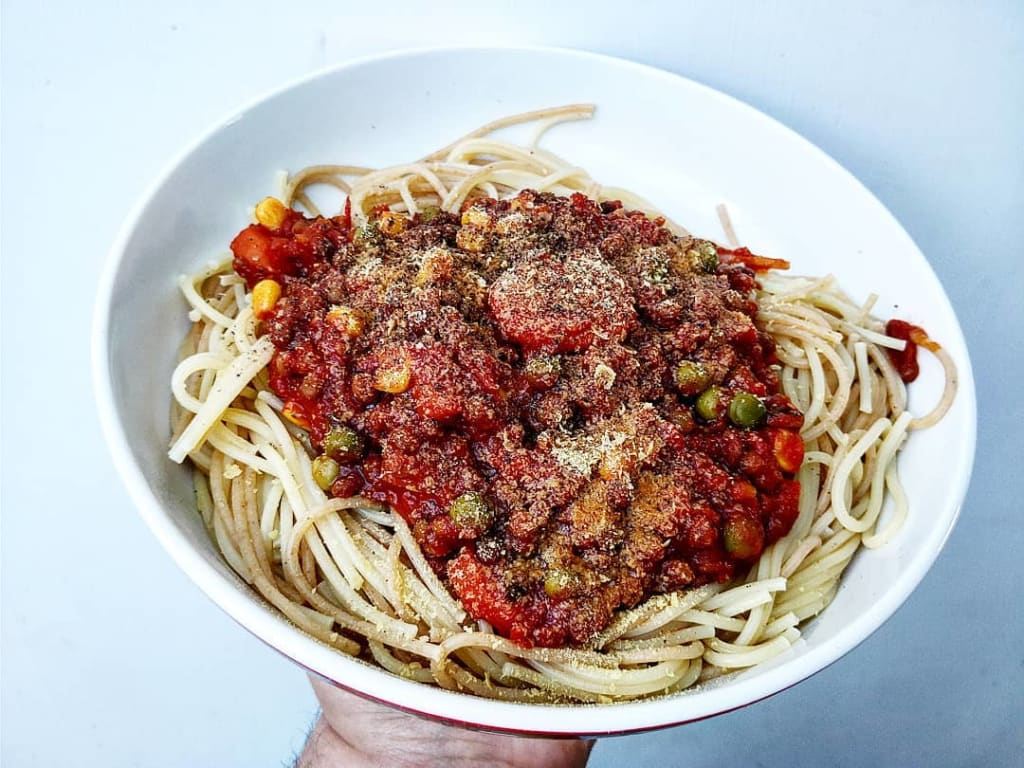 Vegan Spaghetti Bolognese!
Before going vegan, spaghetti bolognese was one of my favourite meals. I remember when mum would say it was spaghetti night, I would be very excited! I had to make sure when going vegan that I could make the meals that I have always enjoyed, but veganized, and I think with this recipe I have succeeded.
The Ingredients You Will Need:
Pasta (I used a mixture of whole wheat and white pasta spaghetti. You can use your favourite pasta. You could probably use the vegan Bolognese in a vegan lasagne.)
Tomato pasta sauce
Can of lentils
Sweet corn (optional)
Canned carrots (optional)
1/2 of an onion
1 garlic clove
Mixed herbs
Coriander
Paprika
Salt and pepper
How to Make the Delicious Vegan Spag Bol
In a large frying pan on medium to low heat, heat a little oil then fry the onion for 2 minutes. Add 1 chopped garlic clove (as small as you can get it). Let onion and garlic cook for another 2 minutes.
Drain the can of lentils. After the cooking time for the onion and garlic, add the lentils to the pan, add salt, pepper, and any herbs you like (I used mixed herbs), then cook and stir for another 2 minutes. Now add sweet corn and carrots if you want them, and maybe add mushrooms or broccoli if you like them. At this stage, I added a pinch of ground coriander, gave everything a mix, and cooked for a further minute.
I now add half a jar of tomato pasta sauce (Dolmio; you can use what you like, but just make sure it's vegan if that's what you want. Maybe chopped tomatoes or passata if you don't like pasta sauce from a jar).
I stir everything, turn heat up a little, and try and cook the sauce down (reducing the liquid, the sauce took maybe 7-10 minutes).
Whilst the sauce is cooking, cook your pasta. I boil kettle, add pasta to saucepan, pour over boiled water, add salt, and put the pan on high heat until boiling. When boiling, bring heat down, and simmer for how long it says on the packet.
Back to the sauce, I add the rest of the pasta sauce to the pan and add a pinch or two of paprika; smoked paprika would be a great idea too. Paprika is a great spice to use to add warmth to the flavours without making the meal too hot, and cook that down again. Cook off the liquid as best you can. The sauce will be done more or less same time as pasta, but just make sure nothing is burning. Once the pasta is cooked (Al dente, meaning slight bite, but not undercooked. If it's spaghetti, get a bit and throw it at wall or cupboard door; if it sticks, it should be done LOL).
Drain pasta, turn the heat off for sauce, and dish up and enjoy!
This would be a fantastic dish to impress dinner party guests with, especially those who are not vegan! If you were going to have this spaghetti with the family, at a dinner party or however else, maybe you could steam some broccoli and serve it on the side, or maybe a big green salad. I love having salad with spaghetti as it adds some freshness and a crunch to the meal. I also love topping my vegan spaghetti with nutritional yeast. Nutritional yeast or nooch is a great alternative to parmesan.
When I make vegan spaghetti bolognese, it always lasts me a few nights. I will eat what I want the night I make it and put the rest in the fridge. For some reason, it tastes even better the night after.