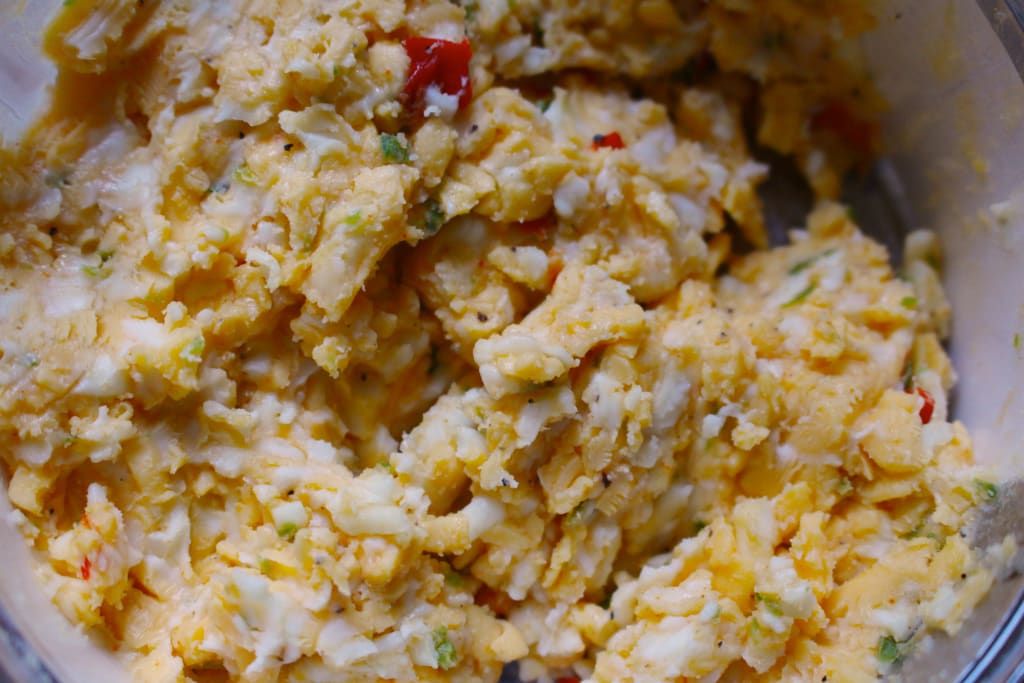 I recently started trying to eat more vegan food and naturally was craving some cheese, pimento cheese to be exact. So, this is a quick and easy recipe that anyone can follow and will satisfy that very real pimento cheese craving! This recipe is not just for vegans, it has a taste that will satisfy anyone and everyone that tries it. Some people agree it tastes even better than regular pimento cheese, but you can decide for yourself! This whole recipe can be completed in 10 minutes or less, so it takes no time at all.Below is a list of brands that I have used in the past to make this vegan pimento cheese recipe. Some brands work better than others to help recreate and aide the classic consistency and/or structure of the pimento cheese. Through trial and error, I have found that these particular ones do work quite well for the perfect mixture. However if there is a certain vegan brand that you would like to substitute instead of the ones listed below then go for it! These are, as with most recipes, just suggestions for how to create a dish. Also if you can't find a particular brand either, feel free to try out a different one. Discover and create your own version then share it with the world and see what they think!
Ingredients
1/2 cup Hampton Creek Just Mayo
1-2 diced and de-veined jalapeños
3-4 cups of Daiya shredded cheddar cheese
1-2 cloves of garlic or 1/4 teaspoon of garlic powder
8 oz of Tofutti cream cheese at room temperature
4 oz jar of pimentos
1/4 of teaspoon of onion powder
salt and pepper to your desired taste
*when preparing the jalapeños, make sure to try and remove the veins and the seeds before you dice them for a lot less spice in your vegan pimento cheese, if you keep them in then it will be EXTRA EXTRA SPICY*
Combine some of the Daiya cheddar cheese, all of the Tofutti cream cheese, and all of the Hampton Creek Just Mayo in a large bowl. Check your mixtures consistency and decide whether you want to add more shredded Daiya cheddar cheese or not. (Personally I like more cheddar cheese, but many recipes call for half the amount of shredded cheese that I have listed. Experiment with the amount to find the consistency you like.) Then add the onion powder, sliced pimentos, garlic powder or fresh garlic, (optional) diced jalapeño, and (optional) cayenne pepper into the large bowl of fake cheese and mayo. After everything is mixed evenly in the bowl, taste it and see if you think it needs any salt or pepper. If so, add as much or as little as you feel is necessary. The vegan pimento cheese is ready to eat as soon as it is mixed, but I highly recommend putting your a covered bowl of the mixture into the fridge so it has time to chill for a little bit.
After you chill your pimento cheese in the fridge for about 10 to 15 minutes, take it out of your cooling device, and give it a good solid stir with a knife, fork, or spoon, doesn't really matter. A quick tip: sometimes the vegan ingredients can settle and affect the overall texture of the mixture. The settling is usually just from the oil based mayo that is used in the recipe and disappears with a quick stir. This recipe should be good for a few days in the fridge but is best eaten quickly for maximum freshness. Enjoy and thanks for reading!
recipe

So Bored
240 characters or less, and now I only have 197 left before I typed 197, but now I only have 148 characters left before I had typed 148, so that means I probably wont be able to express the 51 characters I had left before I ran out of space
See all posts by So Bored →