Vegan in Morocco
A Comprehensive Guide to Being Vegan in One of North Africa's Beautiful Nations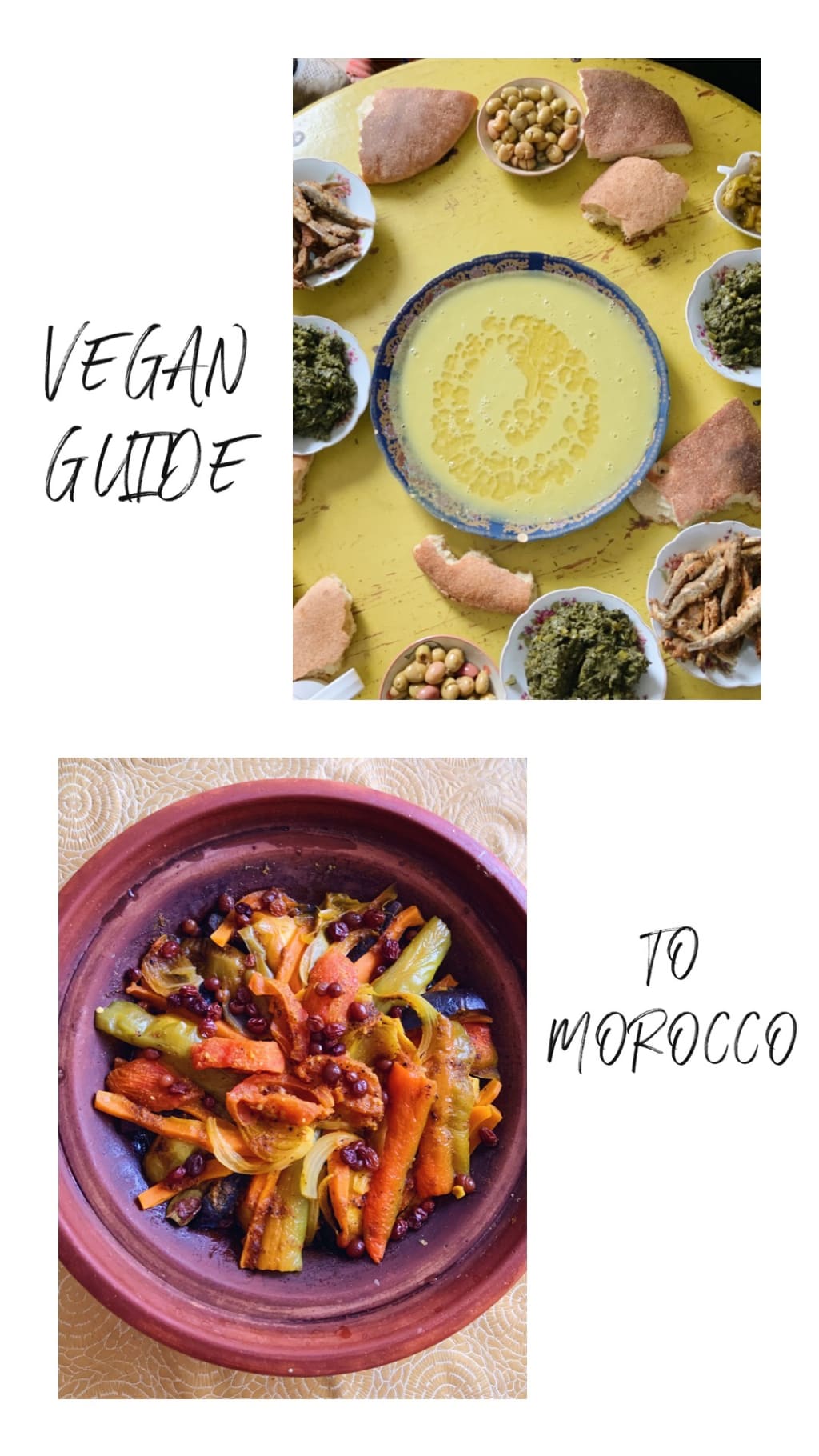 Before I came to live and study in Morocco, I was scared that I would starve as a vegan. People told me horror stories of their hair falling out, meat-only options, or a year of only bread. While Morocco may not be the typical "vegan travel spot", I actually think its an amazing place to be vegan, especially if you follow a more "whole foods" diet. You won't find the Impossible Burger here, but the fruits, vegetables, grains, and legumes that are so common in the diet are fulfilling. Where to start?
Traditional Foods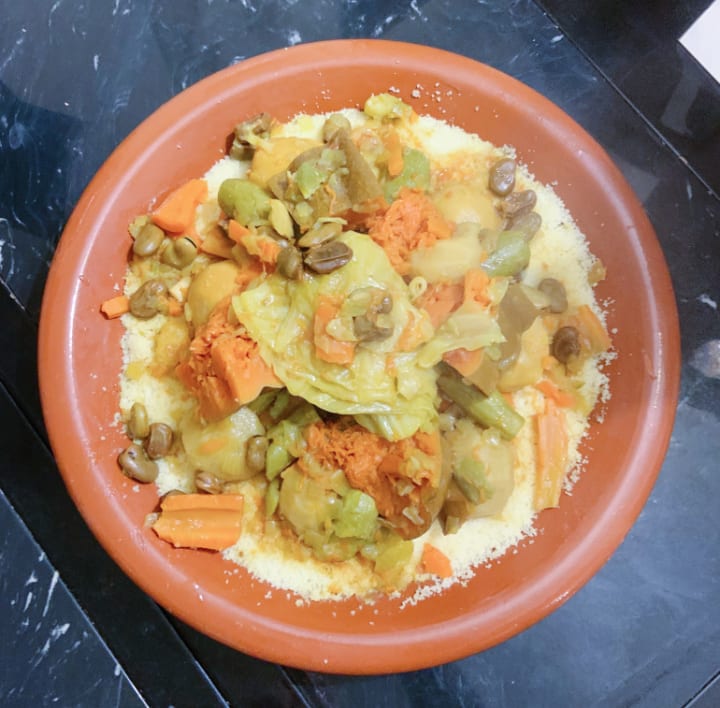 One of the most traditional meals, typically eaten on Fridays. It consists of the cous cous grain, usually covered in a variety of vegetables, usually served with meat, and sometimes served with "Leben", a milk/yogurt. Usually restaurants will have a vegetarian cous cous option but be wary about the sauce served on the side, as it is usually meat broth.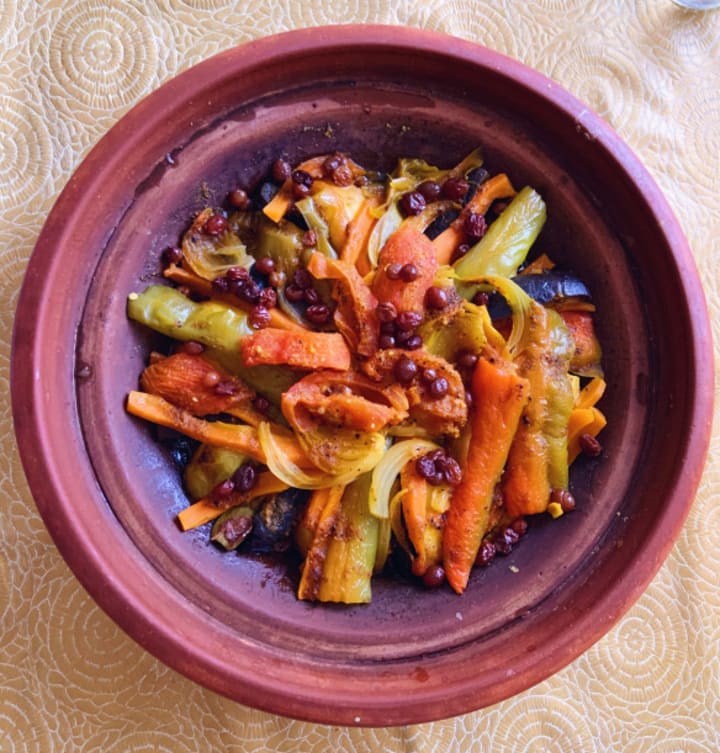 Tagine is simply a way of cooking, a covered ceramic pot that is heated, and cooks all of its contents from the inside. If you order this at a restaurant, it will be vegetables (cooked in a way that resembles a stew), spices, and served with bread to eat it with.
Taktouka
One of the many Moroccan salads, made of peppers, tomatoes and spices, eaten with bread.
Zaalouk
Another salad that resembles Taktouka, but is made with eggplant.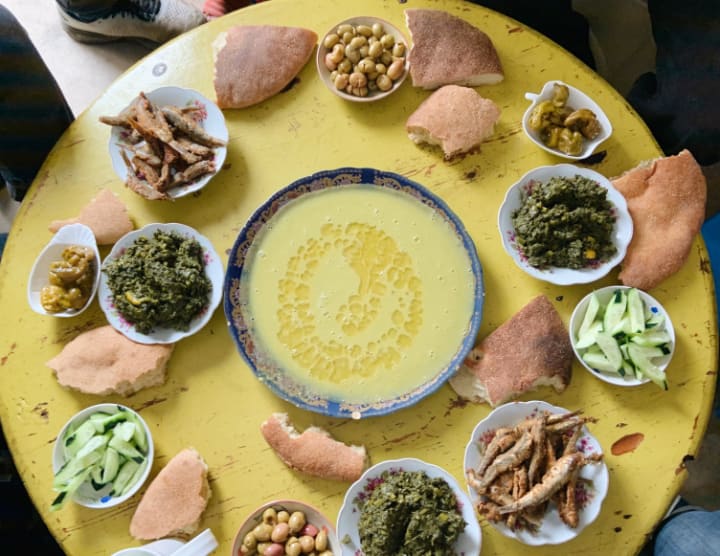 Bisara
My favorite soup on the planet, Bissara is a soup made from fava beans or split peas (or a mix), served with olive oil, cumin, and of course bread. Sometimes Bissara from restaurants can have chicken broth, but not usually.
Harira
Harira is a sort of "everything" soup that is traditionally eaten at Ramadan, but also available all year. It has a ton of legumes and grains in it. It also is frequently served with eggs, and sometimes has meat in it, so you have to ask before ordering.
Loubia
Loubia are stewed white beans with tomato and spices. Some restaurants may use beef fat in cooking.
Addas
Literally just Arabic for lentils, lentils are super easy to find. Cooked with spices, onions, etc. Ask the restaurant if there is beef fat in cooking, but frequently no.
Msemmen
Msemmen is a layered bread of flour and semolina. It is usually cooked with butter and oil, but sometimes just with oil. The majority of the butter used in Msemmen is margarine, which doesn't contain milk, however you may want to ask.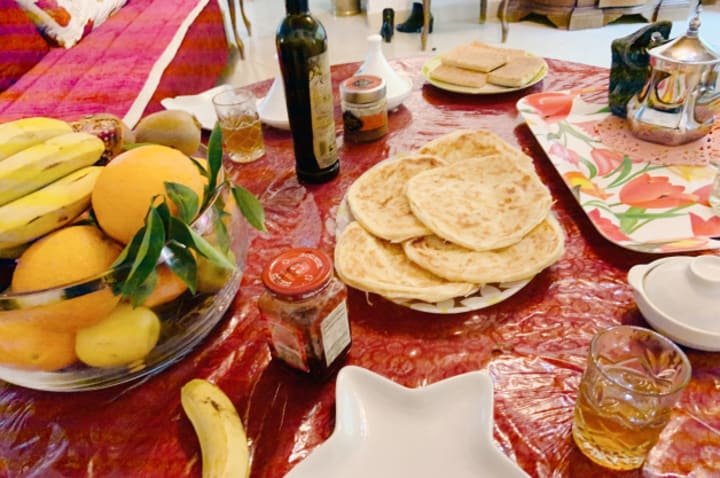 Baghrir
Some may call this the Moroccan pancake, or a "crepe with a thousand holes". Baghrir doesn't have any oil or butter in the batter, so its always an option.
Harcha
Sort of similar to cornbread but made of semolina. Harcha is almost always made with just oil, and you can find it on almost every street corner.
Khobz
Regular, rounded bread loaves. Usually this bread is used to eat other dishes, or served with olive oil and jam for breakfast.
Amlou
Amlou is sort of like almond butter. If you are a "honey vegan", this delicious spread is for you. It is traditionally made of almonds, argan oil, and honey. However it also is frequently made with peanuts, as its much cheaper. You can find this spread in stores, as well as with the various street vendors selling harcha and msemmen.
Salad
Moroccan salad, as it is named, is available at most restaurants. It consists of a variety of vegtables, just make sure to order it without mayo or egg.
Grocery Shopping and Vegan Products
Moroccan souqs have pretty much everything you could need in terms of produce, grains, and legumes but I will share some good vegan finds in Rabat.
Carrefour
A French grocery store brand, and has products including a variety of plant based milks, quinoa, tofu, etc.
Acima
Grocery chain that has mostly the same products as Carrefour.
Lifesprout
Vegan cheese, nutritional yeast, all natural peanut butter, vegan cake, etc
La Petite Épicerie du Terroir
Shop in Hassan, that has many super food and vegan options like Acai powder, granola, sorbet, and vegan protein powder.
Various Import Hanuts
I really recommend walking into little small stores, because they often have a variety of imported products that can be really fun and vegan. I found my chia seeds from a hanut, as well as little treats, quinoa crackers, and more products that can't always be found at others.
Marjane
The bio section is huge, which means every type of milk you could want, rice cakes, gluten free vegan breads, granolas, etc. They also sell Sojasun yogurts made of soymilk, and a few frozen vegetable patties.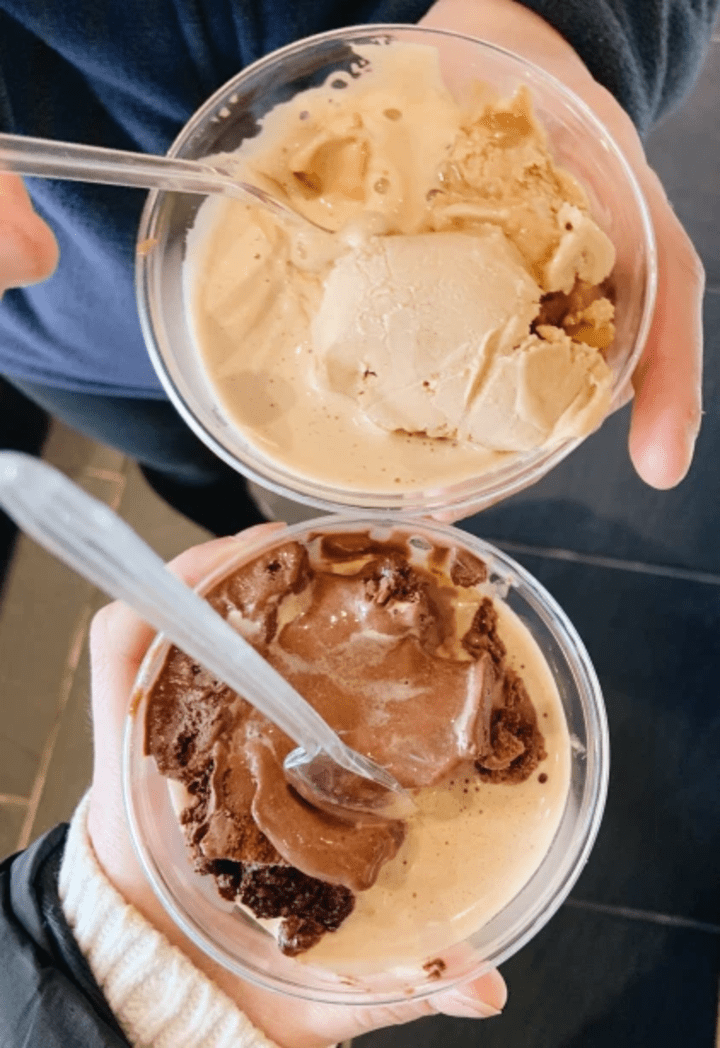 Random Tips
Middle Eastern restaurants have amazing vegan options for eating out, falafel, hummus etc.
Be wary about things that are marked as vegan on menus, as it frequently means it has a base of vegetables, but still has egg or milk in it. For example I've seen two sandwiches named "The Vegan", but have an egg based sauce.
Depending on where you are, the idea of veganism hasn't spread as much. I usually choose to say I have a sensitivity.
The brand "Gullon" has a huge range of cookies and packaged treats, available at almost every hanut or grocery store. The majority of their products are vegan as well.
Nuts are available almost everywhere. If you're looking for a quick and healthy snack, stop by any hanut and ask for a little paper cone of peanuts, sunflower seeds, pumpkin seeds or almonds.
Besaha!