Vegan Cinnamon Babka
...and a savory Sun-Dried Tomato alternative for the psychos who hate cinnamon (or don't have any)
Here is a video I made a couple of years ago that shows how I shape my babka loaves!
Besides it being fun to say, Babka is one of the best things ever invented. Most people think of inventions from the 1800's and their mind goes to the cotton gin, or light bulbs. And while Eli Whitney and Thomas Edison do deserve their accolades, the true unsung hero of the 1800's-- the housewives!!
They'd take leftover dough scraps and fill them with jam, twist them up and... just look at it!
Excuse me while I wipe the drool off my keyboard...~swd6efgtjl'\.
Anyways, I had babka for the first time in culinary school during our bread creating block, and I was instantly hooked. It became my favorite breakfast pastry. (poptarts don't hold a candle to this.) So once I went vegan, I knew I had to create a vegan babka recipe!
One problem: During this quarantine, I can't find yeast anywhere! A modern day catastrophe for a baker held prisoner in her own home. Despite the apparent yeast shortage, all of my friends and family keep posting photos of their homemade bread on Instagram! That can only mean one thing -- YOU GUYS ARE .HOARDING THE YEAST!
But thats ok. Game recognize game. You got it first. Fair and square. And although I can't join in the fun, I want to share this recipe for my vegan Babka!
This recipe makes 2 loaves and I'm giving you guys 3 flavor options so you can really get creative in the kitchen and distract yourself from the shambles of the world. Cinnamon and Chocolate are the classic fillings, but for all of my high blood pressure salt loving friends, I've added a Sun Dried Tomato + Basil filling recipe!
Alright, for those of you who actually read blog introductions and don't just skip to the recipe, thank you. High five yourself. Yup, enjoy that high five. That's just for you... and the blog skimmers won't get a high five. Maybe throw in a pat on the back if you washed your hands today, and if you haven't..... you know what to do. 20 seconds!!
Now it's time to start baking!
INGREDIENTS:
STEPS:
STEP 1:
In the bowl of a stand mixer, fitted with a dough attachment, combine 1 cup of warm water, sugar, and yeast. Allow it to sit for 5 to 10 minutes, or until it becomes bubbly.
Add remaining dough ingredients.
STEP 2:
Mix on medium-low speed for 2 minutes. The dough should be soft but not too dry. If it seems dry or hard, add up to 1/4 cup more of water.
Mix for about 3-5 more minutes or until it is soft and springy.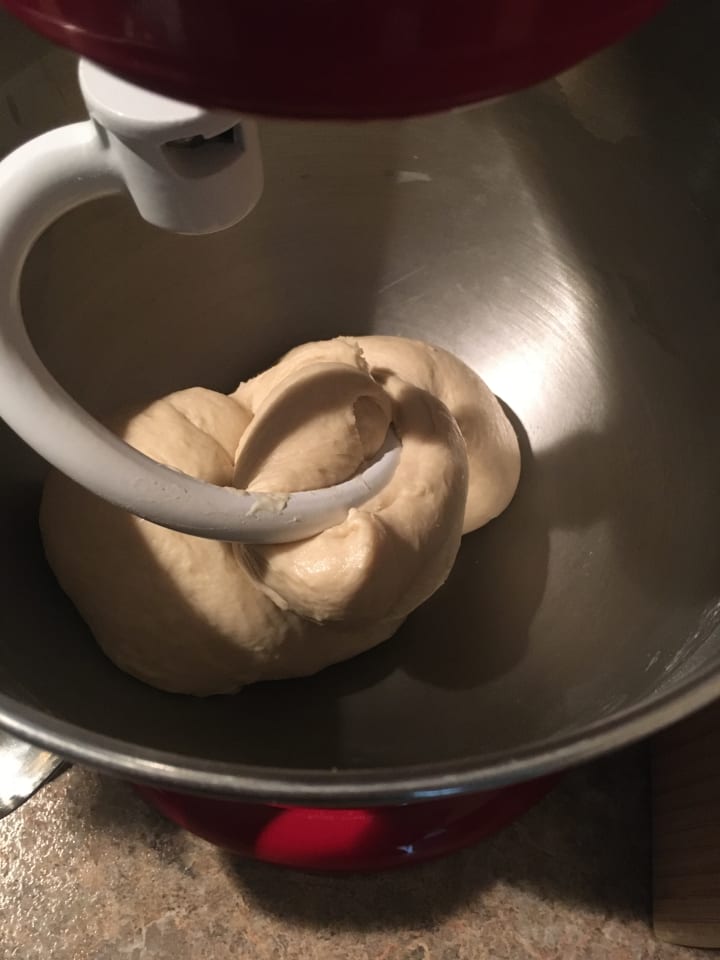 STEP 3:
Turn out onto a lightly greased bowl, cover with a towel and let it proof until it is doubled in size. This will take about an hour. During this time, prepare your SWEET fillings by combining all the ingredients in small bowls.
For the streusel combine your dry ingredients, and then start by adding 1 Tablespoon of butter, and add more if it's too dry. Not exceeding 3 Tablespoons.
For the tomato basil filling, mix everything in a food processor until smooth.
Prepare 2 loaf pans (Mine were 9 inches by 5 inches) w/ spray and flour or parchment.
Turn out dough onto lightly greased surface. Divide into 2 pieces. Set one aside, covered until you're ready to use it.
STEP 4:
Roll Dough into a square (mine were between 12 and 14 inches on each side).
Spread on your fillings as even as possible, and roll into a log.
Slice your log down the middle, twist one side of your log clockwise and the other side counterclockwise, and then twist them together.
Pinch the end to seal, and then carefully place it into your loaf pan.
Repeat with your second portion of dough and your other filling, and cover both of your loaves with a towel.
Leave to rest at room temperature until doubled in size.
(IF ANY OF THAT WAS CONFUSING, CHECK OUT THEI MADE VIDEO ABOVE. IT SHOWS HOW TO FILL AND TWIST YOUR BABKA!)
STEP 5:
Preheat oven to 375*
Once your Babka has doubled in size, this is the time to add streusel if you're using it! Brush your sweet babka with water, and top with as much streusel as your heart desires!
Bake for 50-60 minutes, or until they are nicely browned and a knife inserted into the center comes out without doughy-ness on it.
Allow them to cool for at least 30 minutes before serving. This will allow them to finish cooking and the filling will be set enough to avoid a mess.
STEP 6:
ENJOY! This Babka is perfect for breakfast or a brunch addition. Simply top it with vegan butter or cream cheese and enjoy! You could even toast it up and top it with jam!