Valerie Bertinelli Is My Mortal Enemy
The sitcom legend and Celebrity Chef made a grievous error...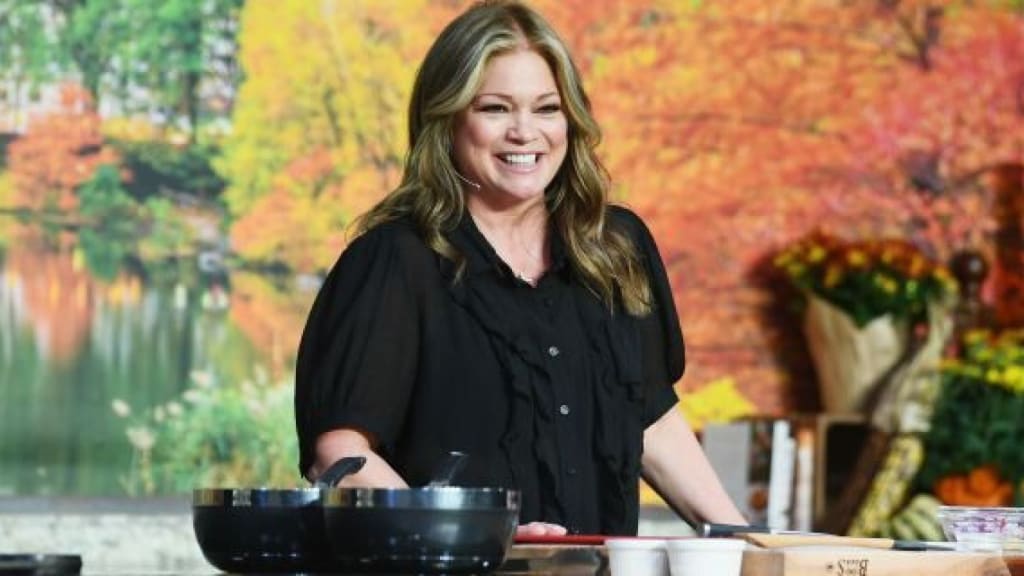 Photo Credit: Getty Images
Like Florine Mark before her, Valerie Bertinelli is on my list. It's an exclusive list of two people—well, it used to be three but Kesha has redeemed herself in my eyes. Also like Florine, Valerie has no idea who I am and doesn't care that I'm unhappy with her.
Now before anyone calls the FBI and Bellvue to reserve a room for me, this feud is totally one-sided and the worst thing I will do is not watch Valerie's show or buy Florine's terrible weight program she is the CEO of. If I wanted to do math to lose weight, I would've been a mathematician. At least Valerie doesn't try to tell me to do math, She just gives bad advice.
Cryin' Onion
It all started one day when I was watched her cooking show, Valerie's Home Cooking. While the recipes she made have faded from memory, there is one thing that hasn't. A tip she gave about not crying when peeling an onion.
She told the audience that if they put the onion in the microwave for 15 seconds or so, it would stop you from crying. Since I figured the show had to be vetted before hitting the air, the tip seemed solid. Plus, Valerie built up some goodwill from her stint on Hot In Cleveland with national treasure and indestructible Betty White.
One night, I was cooking with my brother-in-law and passed the tip along to him. We decided to give it a try. After putting the onion in the microwave, we went about making the rest of the meal. Then came the time to peel and cut the onion. The only time two grown men have cried more is when they canceled Will and Grace for the second time. Seriously, that was a sad day. And so was the realization that Valerie lied. Right there on national TV and the Food Network allowed it.
Fallin' Foot
After the onion incident, I was furious with her. Yet, I didn't plan on boycotting her. Instead, there would be some sly references in writings about how evil she was and then poof, the anger would dissolve. Then she tried to ruin my sanctuary.
One of my refuges from the real world is the bookstore. So after a particularly bad date, which I am still trying to find a way to blame on Valerie or Florine but so far I haven't been able to. Give it time, I can lay the blame for many things on celebrities. I'm still angry with Justin Bieber for getting my soaps canceled.
So I'm at the bookstore looking at cookbooks. My beloved Trisha Yearwood had just released one and I really wanted to buy it. There was a lady next to me and she was looking for the same book. She pulled out another book, and Valerie's fell from the shelf onto my foot. Clearly, the evil Valerie was behind it. She was just waiting for the chance to add even more salt to the tears.
Bean Redemption
For years this rivalry has gone on. I avoided making her recipes and ignoring her show. While she ignored my existence. What's worse is that there's no good gossip about her. The woman finds a way to keep it all away from me. How is a gossip podcaster supposed to make a living when celebrities refuse to act badly? At least Lindsay Lohan has the decency to be a hot mess.
One night my best friend said he was making baked beans for dinner. Since I love beans, this was a welcome change from the disgusting vegetables Andy Cohen has convinced him are healthy and nutritious. After we ate, I asked him who gave him the recipe. His answer shook me to my full stomach: Valerie Bertinelli.
Well played, Valerie. You temporarily put our feud on pause. But I am watching and waiting to reignite it, the way you want to revive Hot In Cleveland.
celebrities
About the author
Edward has written hundreds of acclaimed true crime articles and has won numerous awards for his short stories.
Reader insights
Be the first to share your insights about this piece.
Add your insights