Under Ten Meal Series: Chicken and Dumplings
Chicken and Dumplings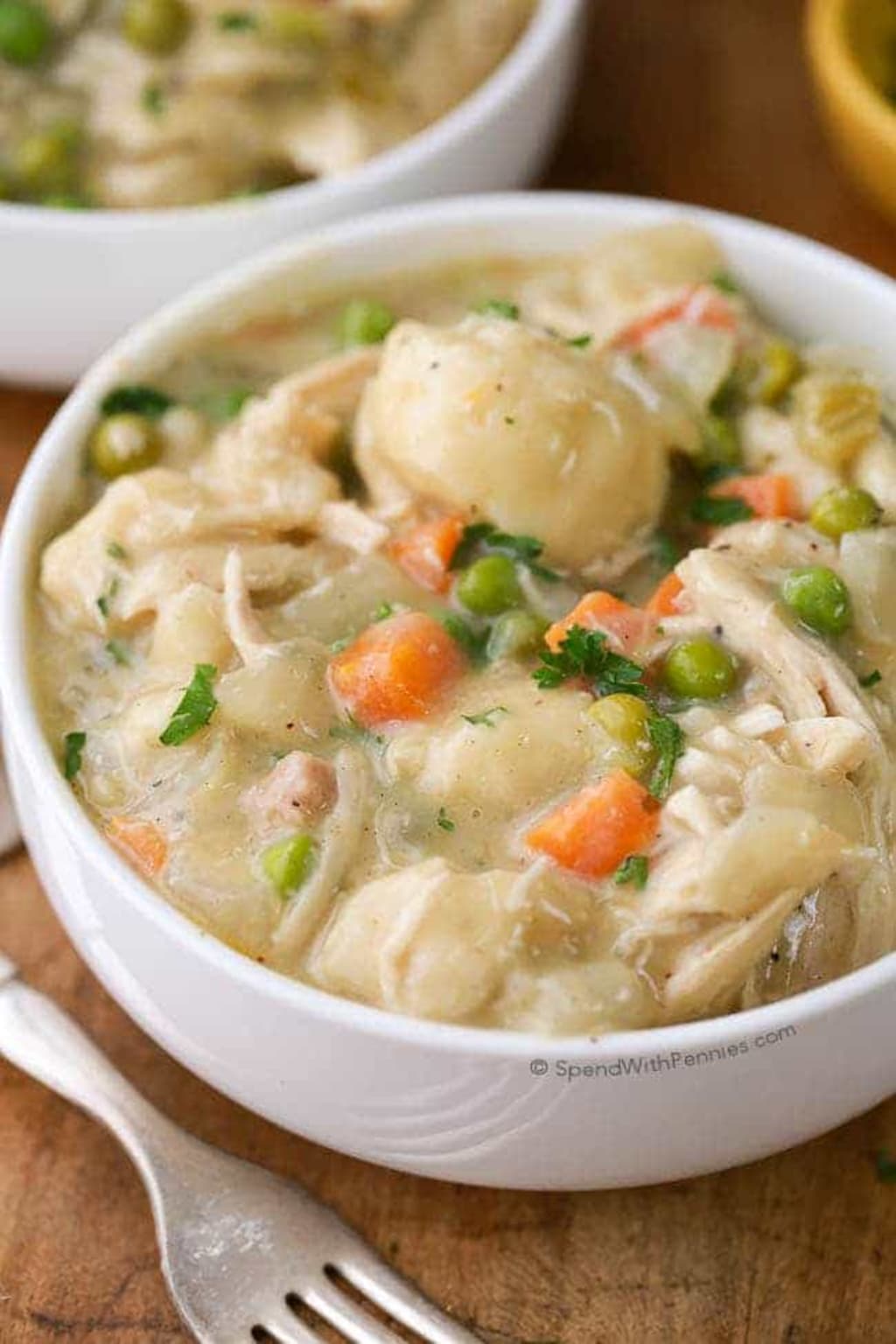 For today's dinner I chose to make a comfort food favorite because my husband was feeling a bit blue. Chicken and dumplings was today's menu item that I decided to tackle. I personally love this meal because it is so filling and hearty. However, I had never made this meal before and was a little unsure of how it was done. So I called up my mom and had her impart motherly wisdom upon my cooking venture. She always loves when I call her for recipes or cooking tips because I have never been the girliest girl on the block, so we haven't bonded over cooking much and mom loves a chance to spend time with me even if I am an hour away from her. Not saying that cooking makes you girly, only saying that there is a special bond between mother and daughter that is formed over sharing recipes from family that has now passed on. Mom suggested that I use a dutch oven for this meal as it cooks the dumplings nicely. However, if you don't own one of those you could use any old pot thats fairly deep and that you have a properly fitting lid for. As always, my shopping was done at Walmart if you would like to price compare to keep your meal cost as low as I have shown below.
Shopping List:
2 cans Texas style or buttermilk style biscuit rolls - 48 cents/roll
1 lb chicken thigh cooked and shredded off the bone - $2.40/lb
1 can sweet corn kernels - 48 cents/can
1 can cream of chicken soup - 89 cents/can
2 bouillon cubes dissolved in 2 cups water - $2.95/container of 40
Step one: If you have raw chicken thigh take the time to boil or pressure cook your chicken until it shreds right off of the bones.
Step two: Heat cream of chicken soup, chicken broth and shredded chicken in your dutch oven or deep pan to boiling.
Step three: Pop open your rolls of biscuits. Roll biscuits flat down to one-eighth of an inch. Then cut rolled biscuits into small squares about one inch squares. They will want to clump up on the knife and cutting board. Take a minute to unclump them as you want light single dumplings in your meal.
Step four: As the soup and chicken mixture is at a rolling boil, slowly drop the chunks of biscuits into the mixture. Take care not to just drop them all in at once or all in the same space because they will clump together and make a big lumpy dumpling and you do not want that. Drop them in a few at a time and spread them over the surface of the soup mixture. The dumplings should float.
Step five: Pour in drained corn kernels and stir the pot well. Cover and simmer for 15-20 minutes stirring occasionally to keep dumplings from sticking together. Mixture will be thick and rich upon slight cooling. Serve warm and enjoy.
This is the perfect meal to lift your spirits during these cold months. The total cost that I paid for this meal was only $7.68 if you include the cost of a whole container of bouillon cubes. If you already have the cubes as I did your meal will be right around $5 for a wholesome amount of chicken and dumplings. This is also a low energy meal as you just put it all in one pot and stir occasionally. This meal would be perfect for someone to make after a hard day at work because it won't tire you out to make. As always, the hungry men in my house scarfed this down and there were no leftovers. This is absolutely a meal I will be making again. If you make it I hope you'll comment and tell me how it turned out for you. As always, enjoy and thank you for reading.