Turkey Spaghetti
Meal Prep or Feed the Family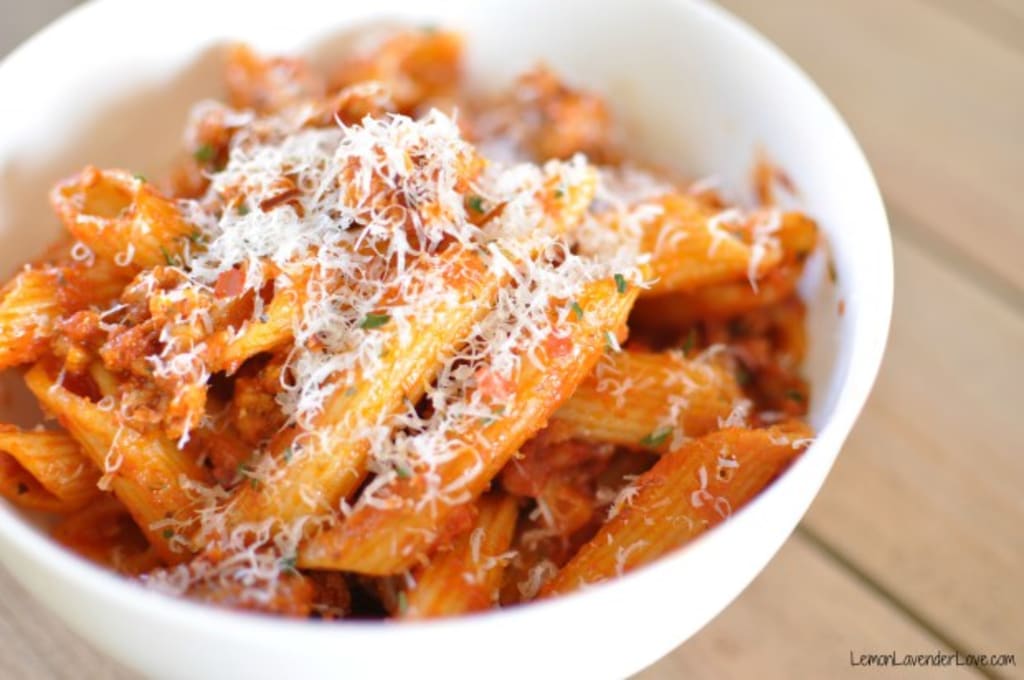 Hello my little lovelies!
So this recipe I have is a recipe that I developed back when I was in college when I started to really cook. Now a few things have changed since then since I started changing my eating habits. This is a favorite of my husband's and is something I will probably be cooking the next time he is home. Now I don't fix any garlic bread with this simply because there is already a lot of carbs in it with the pasta. You can use whatever type of pasta you would like for this recipe, I just used penne pasta because that was all I had in my pantry. Fettuccine works great with this recipe as well as does regular spaghetti but again the choice is yours.
This recipe is from my kitchen to yours and I hope you guys enjoy!
The things you will need:
1 onion, finely diced
4 cloves of garlic, minced (again, I love garlic but put less if necessary)
Salt and pepper to taste
1 pound of ground turkey or turkey sausage
3 tablespoons of olive oil
1 can of tomato sauce
1 small can of tomato paste
2 teaspoons of sugar
Cooked pasta of your choice
Heat up oil in the pan. Once oil is hot, add in the onions. Once onions get fragrant and a little bit golden, add in the garlic. Let it cook together for a minute or two. Se the onions and garlic to the side of the pan.
Add in the ground turkey. Break it up and then just let it sit in the pan for a minute or two to develop some color. Once you see the one side being cooked, go ahead and stir in the garlic and onions into the meat. Add in the salt and pepper to taste.
Once most of the turkey is browned, go ahead and add in the tomato paste. Fold the tomato paste into the turkey so that the tomato paste can melt and spread out easier. This will depend on the heat of the meat.
Once the tomato paste is melted throughout the meat, add in the tomato sauce. Stir everything together until it is mixed well.
Once everything is mixed together, go ahead and add in the sugar. If you don't want the sugar in there then don't add it. I just add it to enhance the natural sweetness of the tomato. Adjust seasonings here as needed.
Add in the cooked pasta. How much pasta you want to add in there is up to you. I did his for meal prep and I got 4 servings of the spaghetti. If you need to add more to feed the entire family then go right on ahead, there is plenty of sauce to go around.
This pasta is great with garlic bread if your family loves garlic bread with any pasta you eat. Or if you're a little on the healthy side you can add a salad to go with it. Either way or by itself, this dish is very hearty, warm and filling. If you don't like turkey you can cook this with beef instead but if you don't want it to be greasy, I would go with lean beef so that the sauce can keep it from completely drying when it cooks.
If you guys try this out please let me know how you like it and if you guys want more healthy recipes please let me know what you'd like me to make and I'll make a recipe for you.
recipe
24 year old doggy mommy to an an adorable 2 year old Shiba Inu named Lucy. Loves history, loves to write and relax while enjoying a nice cup of coffee.