Tropical Fruit Salad Ecuador Dessert Recipe
Topic: Tropical Fruit Salad Ecuador Dessert Recipe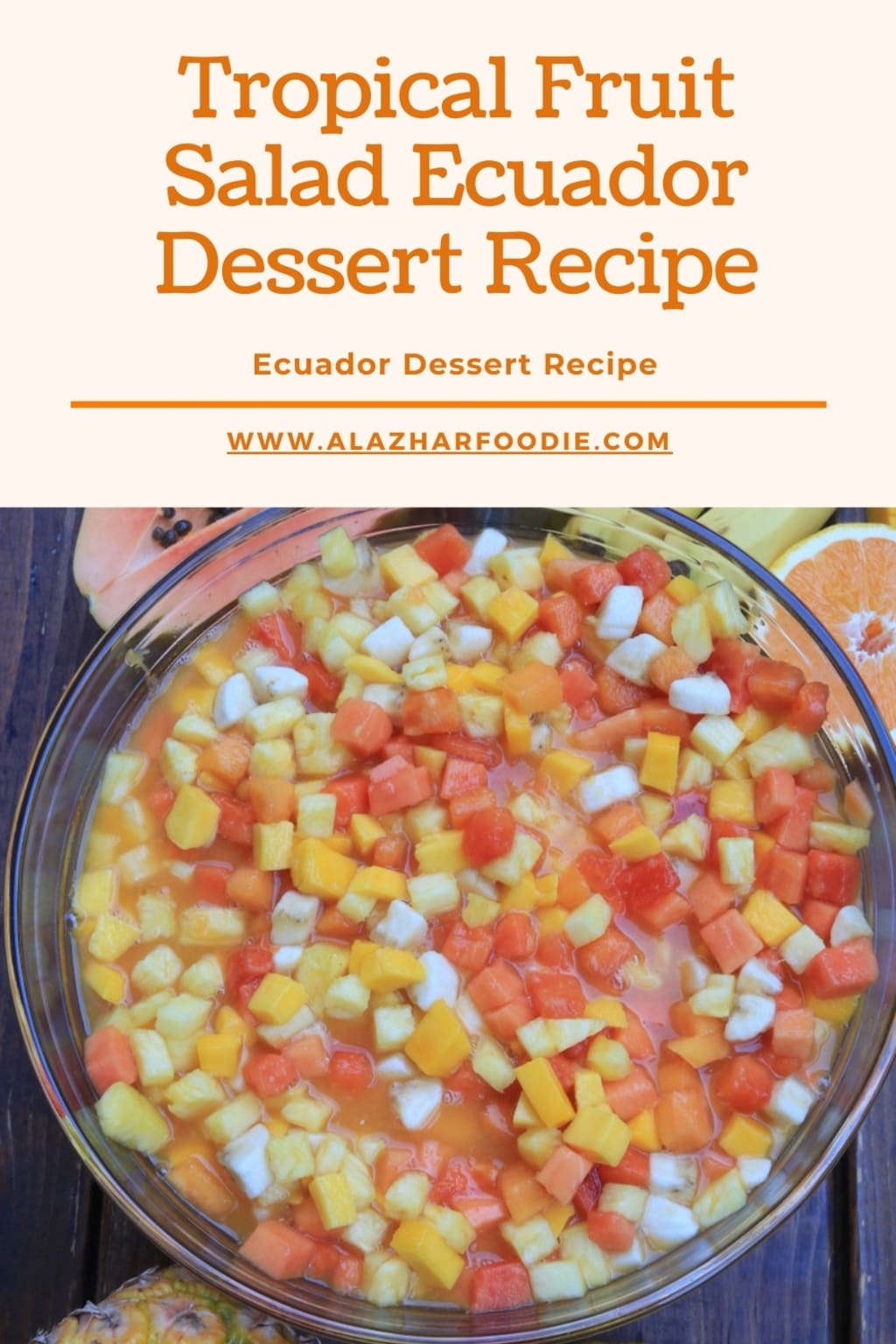 They eat and drink is an Ecuadorian fruit salad, which, as its name indicates, can be eaten and drunk. This delicious and juicy fruit salad is prepared with papaya, ripe bananas or bananas, pineapple, and orange juice.
The fruits are chopped into tiny cubes and enough orange juice is added for the fruit salad to be taken as a drink. You can also serve this fruit salad as a dessert. The basic recipe for eating and drink should always include papaya, banana, and orange juice. I add pineapple because my mom always prepared it that way, I love the texture and acidity that pineapple gives it and the contrast of flavors it creates with papaya and banana. I have also tried it with other fruits, such as mangoes, babaco, Badea, strawberries, blackberries, etc.
The best eats and drinks are always prepared with super fresh fruit, and depending on the natural sweetness of the fruits it is not necessary to add sugar or honey - I also like to serve it accompanied by whipped cream or whipped cream sweetened with honey, which gives it an extra sweet touch. To prepare the honey whipped cream, mix 1 cup of liquid cream with 2 tablespoons of honey. Honey gives a great flavor to whipped cream and is a good addition to fruit salad.
Papaya, pineapple, and orange juice can be made a few hours in advance, but peel and chop the bananas just before serving to avoid browning. If you want a more drink-style version, you can increase the amount of orange juice. You can also turn to eat and drink into a delicious cocktail or fruit salad for adults by adding a little rum, cachaca, or brandy.
Tropical Fruit Salad Ecuador Dessert Recipe
The juice of 10 oranges about 4 ½ cups of juice
1 large ripe papaya, peeled and diced into small cubes
1 pineapple peeled, cored, and diced into small cubes
6 ripe bananas or bananas, peeled and diced into small cubes
Sugar or honey to taste optional
Additional fruits to taste: mango, badea, strawberries, etc.
Whipped cream type to serve optional
Instructions
Combine the chopped fruit (papaya, pineapple, banana, mango, etc) in a large bowl.
Add the orange juice and mix well.
Taste and if you wish, add sugar or honey to your liking.
Serve immediately or refrigerate for about 30 minutes if you prefer it cold.
Frequently asked questions :
What are some popular foods in Ecuador?
Locro: Soup of potatoes, corn, cheese and avocado.
Empanadas: Corn pasties stuffed with meat, cheese or vegetables.
Llapingachos: Cheesy potato cakes.
Seco de chivo: Goat stew usually served on special occasions.
Ceviche: Raw seafood 'cooked' in lime and chilli.
What is the number 1 dessert?
According to Grubhub, the most popular dessert nationwide is chocolate fudge ice cream, 312% more than last year. It is followed by the vanilla cheesecake (227% most popular), the fruit pancake (215%), the caramel churro (210%) and the rainbow donut (204%).
What is the name of an Ecuadorian dessert made of merengue and sold on the street?
Espumillas are a popular Ecuadorian street food, the word espumilla means foam. These delicious guava meringue cream desserts are made with fruit pulp, typically guava or guava, egg whites, and sugar. It is very common to find street vendors selling foams outside most schools in Ecuador.
What is a typical breakfast in Ecuador?
The typical Ecuadorian breakfast is quite simple, usually anchored with scrambled eggs and potatoes or rice. Pancakes are usually an option, although they can be thicker and crispier than the pancakes you are used to. Breakfast is often served with fruit, toast, corn tortillas, and coffee.
What is the biggest meal of the day in Ecuador?
The most important meal of the day in Ecuador is lunch, usually followed by a relaxing nap. Breakfast is generally simple and has many options familiar to Americans. Soup usually accompanies most meals and there are several popular varieties. The broths can be creamy or not, and the dense locros have potatoes and cheese.
What are the 7 basic baking ingredients?
The essential ingredients consist of flour, sourdoughs, salt, sugar, dairy products, fats, extracts, spices and other supplements such as vanilla extract and chocolate chips.
recipe
About the author
Hello Reader,
My Name is Mustafa Rangoonwala, I am an Holistic Practitioner since last 7+ Years. I am a Graphologist, NLPMP, Reiki Master Practitioner, Ganotherapist and Vastu Consultant.
I have recently joined Vocal..Support me !!!!!!
Reader insights
Be the first to share your insights about this piece.
Add your insights