Top Rated Electric Kettles on Amazon
Instead of pretending like we've tested out every single one of these electric kettles on Amazon, we've discovered the reviews that stuck out to us the most. Based on ratings, these are the top 10 kettles on the market.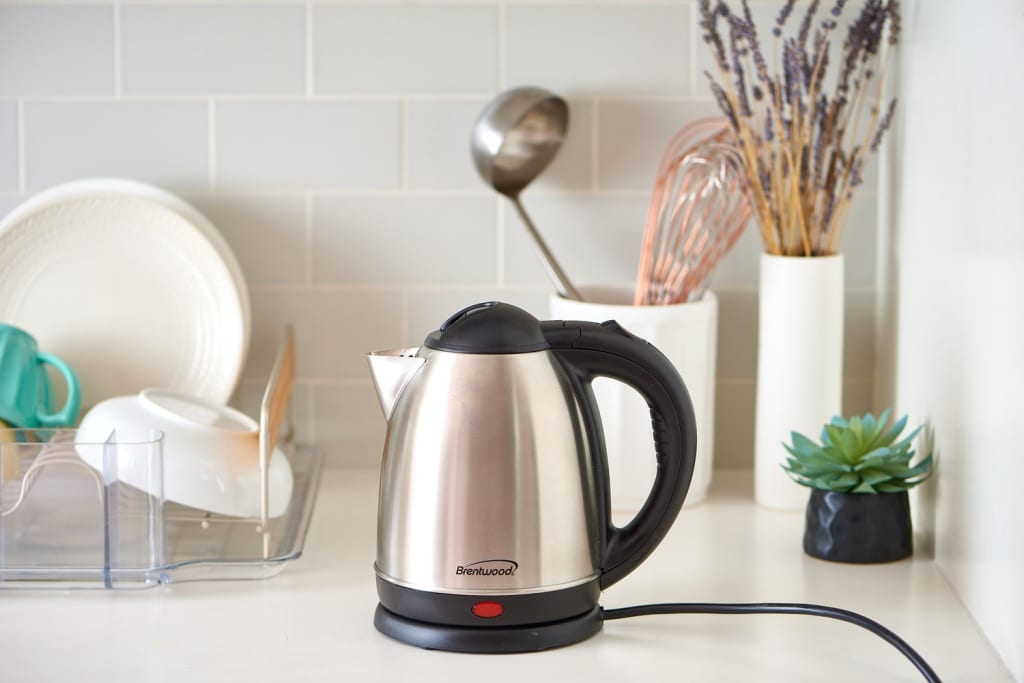 We are allowing Amazon's faithful reviewers to do the talking about the best electric kettles on Amazon. Depending on what you're looking for in kettle, you can find the best product for your kitchen and your needs. Plus, each of these designs are unique in themselves, and will stand out on your countertop, no matter your backsplash.
Digging deep into the reviews on Amazon's best selling kettles, we've discovered the most practical and versatile products that will perform best. So we'll allow the users do the talking, and you can trust their honesty.
To start off the electric kettles on Amazon with the best reviews, Ovente takes our number one spot. With almost 8,000 reviews and a four out of five rating, we'd say this ranks as one of the best selling kettles on the market. Described as "the ultimate water boiling experience," this kettle is convenient, easy to use, and super safe. With a modern and stylish design, it looks great and performs better.
McGlohn on Amazon talks about how his marriage got him into quality tea kettles:
"As someone who married a Brit, I have been through my share of tea kettles. Seeing the bit about "rust" in some of the comments seemed far fetch to me, so I ordered this one... and now I'm so glad I did. This is probably the 10th electric kettle I've had, and at 1/3rd the price of my most expensive one from the past, it already outshines it. Amazing little kettle. Very sturdy glass. Nice feel. Not "flimsy" at all. Oh and the bit about rust 😂😂😂 just like I suspected, it is not rust. It is mineral deposits."
Proctor Silex has one of the best electric kettles on Amazon, especially when it comes to the reviews. With almost 3,000 customer reviews and a four out of five-star rating, the most loved part of this kettle seems to be its lightweight material. Made of plastic, it is easy to use and almost impossible to break.
Another incredible feature of this kettle is it's price: 16 bucks. Plus, with Amazon Prime, you can get it in two days.
Lisa on Amazon calls this kettle "fabulous:"
"I love this electric kettle. I was looking for something inexpensive that would do the job and this kettle has been perfect. My office got rid of the water cooler so the only option to make tea was to use the microwave to heat water. The microwave here is full of smells that I do not want cooked into my tea water so I decided to look for a kettle that I could stash away in my office. Anyway, this kettle heats water so quickly and I couldn't be happier with it. I would definitely recommend it for anyone who needs boiling hot water quickly."
Made of 100 percent stainless steel, there is no plastic in sight with Secura's electric kettle. Its double-wall construction makes boiling water fast and easy, while also keeping the water warm longer. It is safe to handle, even when the pot is filled with boiling water. Plus, with its large top opening, the pour is smooth and seamless.
Our favorite review comes from Abigail:
"I spent nearly two months trying to find a kettle that didn't have _any_ plastic inside in contact with the water. I read many dozens of online reviews and forums, and nothing quite made the cut. I wanted a glass or ceramic interior, because they're inert and won't flavor or contaminate the water, but that proved impossible; I decided stainless steel was a good alternative. (I'd been using a Le Creuset for the past 10 years but can no longer remove the scale from the inside and needed a replacement.) This kettle works beautifully and it's completely nontoxic, as the water contacts nothing but stainless inside."
Following the same pattern of a stainless steel kettle, Brentwood, too, has one of the best electric kettles on Amazon. With almost 800 raving reviews, this is an Amazon's Choice product for a reason. Safe, functional, and sleek, your kitchen is missing this kettle to be complete. With a 1.2-liter water capacity and a 1,000-watt heating element, users love this product.
Amazon's AcidGlow says:
"Works very well and quick. I used to boil water for my tea in the microwave, but it just didn't feel right using a mw to just heat water, so I got this. When using the mw it would take a long time, and the cup would get so hot I couldn't touch it. With this kettle the water heats up faster, and after I pour, the tea cup handle doesn't get super hot. It would take forever for the mw heated cup to cool down, so it's nice to have the water cool down quicker and naturally just in time for my steeped tea to be drinkable."
Amazon reviewer, Sara, says it all when it comes to reviewing this kettle:
After sifting through the cordless kettles that had the functions that I wanted, I decided on this, the Epica 6-Temperature Variable Stainless Steel Cordless Electric Kettle. Not only is it an amazingly FAST cordless kettle, but it also has variable temperature settings so that you can make that perfect cup of tea, whether it be herbal, green, Japanese, black, white tea, etc. or coffee every time. As a tea enthusiast, it suits all of my needs. I can also heat the water to put in my French press for a beautiful cup of coffee. It's large, 7 cup capacity is very generous. You could even use this to boil water for cooking and baking, the tub... anything you could think of. Kawabunga!
Easy to operate with a great design, this electric kettle has all the features you desire, without a high price tag. Plus, it will look great on any countertop, and produces the perfect cup of tea with each use. There are some things you may know about tea, so read up while you're waiting for your water to boil.
Next, among the best electric kettles on Amazon, according to the reviews, is by Willow and Everett. As an electric gooseneck kettle, this design is unique in itself. With a spill-free lid and completely safe body, its stainless steel material provides the high quality you need in a kettle. Fitting comfortably in an adult sized hand, the kettle is easy to use with zero mess or burning possible.
Shirley M on Amazon says:
This 1liter electric pot is just the right size for one or two people in the home. It occupies such a small footprint and is stylish enough that I just leave it out on my countertop. It has an almost "retro" look, and the long pour spout is perfect for a slow pour over coffee grounds for just the precise and slow extraction in a French press or drip process or for brewing tea. Quiet operation, auto shut off- all the right features.
Called the PerfecTemp Kettle, this Cuisinart has a lot to live up to. With six preset heat settings, the right temperature is always achievable. As a 1500-watt/110 volt kettle, it is completely cordless, making for easy use and instant heating no matter how far your outlet is. It also has an auto safety shutoff for boil-dry protection for easy and safe pouring with each cup of tea, coffee, or cocoa. Coffee can affect your mood, so don't stay grumpy because your current kettle couldn't heat up the water fast enough!
J. Portz calls this an "amazing kettle,"
The kettle is easy to fill, solidly built, and heats water very fast. It finishes its heat cycle with an authoritative BEEP that I can hear from the next room as I watch Sports Center. Another bonus is that even once it has reached temperature, it will keep the water at that temperature for up to 30 minutes, so if I'm busy doing something else, my kettle can wait until I get there, and my water isn't too cold or too hot! The most important thing about a good cup of french press coffee, besides the beans, is the temperature of the water.
Hamilton Beach has one of the best electric kettles on Amazon with a 4.3 out of five-star rating, among 1,247 reviews. Our favorite review comes from Shelleyd73:
I have teenagers, so they are always using boiling water for soups and noodles and whatever else, and this works very well for that. I use it for tea, instant coffee, and to make coffee in my french press. It is so convenient! The water heats up so quickly, even faster than I expected. It doesn't make noise when the water is ready, but you can hear the water boiling, and you can hear the kettle making a click sound when the water is heated.
We personally love the appearance of this kettle with its sleek and classic design, looking attractive against any backsplash. Also featuring a stainless steel interior, a kettle like this is both safe and healthy for boiling. But best of all, it features a stay-cool handle and drip-free spout, for effortless pouring each time.
The Electric Gooseneck Kettle by Doctor Hetzner is the first gooseneck kettle with present temperature control. Impressed yet? The reviewers of this product were. Yvonne on Amazon says:
A quality product for a decent price what more could I ask for, it works a treat it looks good in my kitchen I'm very happy with this kettle, if your [sic] looking for a quality brand of kettle at a decent price buy this it wont disappoint. The pour is good and it doesn't drip. One feature that is very useful is that when you use all the boiling water the kettle can be refilled with cold and immediately switched back on - not all ketles do this!!
And to add to Yvonne's point, the kettle also provides easy to use digital controls to heat your water to perfection. Your beverages will be made to the exact degree of your liking with this feature. Plus, its stainless steel prevents surface corrosion, mold, and bacteria. And best of all, it boils water rapidly. So heat up some water for the best teas for anxiety and insomnia since you won't have to wait long.
To conclude the top rated electric kettles on Amazon, we had to include this incredibly adorable kettle. In mint green, this is the perfect addition to your kitchen, for both its drink making and appearance. Featuring a smooth aluminum handle and a stainless steel body, this little kettle supplies both quality and practicality.
Our favorite review comes from "Silverster Percival" on Amazon:
Overall this is a very nice kettle and wins big points for having great ergonomics and a solid, no-frills design. It lacks the features of the 1.7L KitchenAid kettle I already owned, such as the ability to heat to certain temperatures, the temp readout, and the stay-warm feature. But it makes up for this with a very good design. Because it has so few electronics, I expect this to be the kind of kettle that lasts forever and just keeps on working and working and working. It will be the new kettle in my office. I'm sure my college students will comment on how cool it is!