Top Five Favorite Magical Jollibee Food and Jollibee Spells
Food and Magic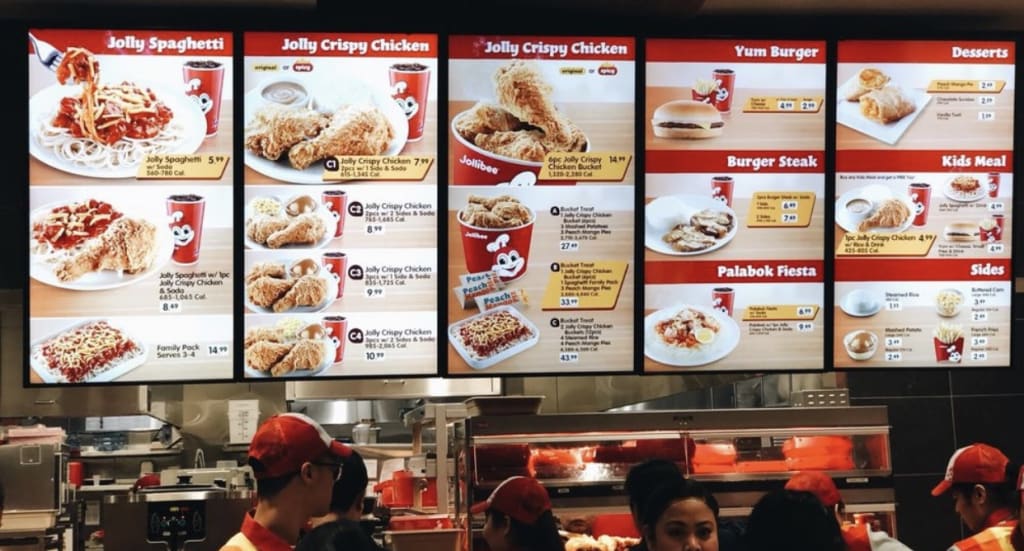 Jollibee. Jolly Me.
Jolly spaghetti. Amazing Aloha burger. Peach mango pie. Burger steak. Jolly crispy chicken. These are a few of my favorite things at Jollibee Restaurant.
Jollibee is a famous Filipino fast-food chain that started in 1979. Its very first branch opened in Santa Cruz, Manila in the Philippines. Tony Tan Caktiong, founder and chairman of Jollibee Foods Corporation is a Chinese-Filipino who came from a poor family in China who migrated to Philippines in search of a better life.
As of this writing, there are 1,150 branches in the Philippines, 234 in international branches, 16 of which are located in Canada. And the closest to my place is the one in Heartland, Mississauga.
They say food is magic. It brings you to magical places and lets you experience feelings you have never felt before. It brings out the best in you, makes you fall in love and also makes you powerful when it fills your stomach. They also say, food makes you send out your intention to the universe that will set a powerful motion to manifest what you desire.
I am a practicing witch. A witch, mother, maiden, crone. I love magic, tarots, crystals and stones. Let me describe in my own mystical witchy ways, how these mouth-watering Jollibee foods take over your palate once you taste it. I will compare my Jollibee favorites to what kind of magical spell I came up with, each time you taste these magical Jollibee meals.
Here are my Top 5 favorite Jollibee meals from least to best and the magic spells that matches each meal.
Number 5.
Jolly spaghetti. Sweet, meaty and super red sauce that lingers in your mouth when you eat it. I would use this Jolly spaghetti to create a spell to bring out the passion for a couple who's love life turned into a bloody cold winter.
• Here's what you are going to do. Get that Jolly spaghetti.
• Light a red candle. Sprinkle it with red chili pepper.
• Eat the spaghetti with your partner.
• While eating the Jolly spaghetti, silently say this in your mind, "With this spaghetti, you will make love to me, and it will be sweet, meaty and saucy!" Say this over and over until you are done eating the Jolly spaghetti. Then snuff the candle. Don't blow but snuff.
Number 4.
Amazing Aloha burger. A burger with pineapple twist, juicy, meaty and sweet. The first spell I thought of when I tasted the amazing aloha is a spell for success for your career or schooling. If you want to get accepted to a job you are applying for, or to pass that thesis or project you are working on, just use this spell.
• Light a yellow candle. Dab the candle with a lemon or orange or ylang-ylang essential oil.
• Then recite the following. E.g. I will get that (say your intentions) job as I eat this amazing aloha. Aloha for goodbye, make my intentions fly. Aloha for hello, make my intentions grow.
• Then snuff the candle. Don't blow but snuff.
Number 3.
Peach mango pie. Peach and mango fillings enveloped in crispy, toasty pocket of pie crust. The magic of eating this makes you think of having lots of money so you can just grow them on trees and pick them whenever you want it. This is an appropriate moment to come up with a money spell.
• Light a green candle. Sprinkle it with powdered cinnamon.
• Then eat your peach mango pie and say, "With each bite of this peach mango pie, money will come like honey to a fly."
• Then snuff the candle. Don't blow but snuff.
Number 2.
Burger steak. The flavourful taste of beefy burger, topped with mushrooms and bathing in Jollibee's famous gravy brings you to a magical place where time stands still. This magical food is good for creating a wish spell.
• Light a purple candle. Surround it with star anise seeds.
• Eat the Jollibee burger steak and say, "I wish (say your intentions) e.g. I wish I can travel soon. Provide me the means, aiming for the moon. I pray to moon Goddess Hecate, please grant my wish, grant my plea."
• Then snuff the candle. Don't blow but snuff.
Number 1.
Jolly crispy chicken. Its so crispy and juicy, that Anthony Bourdain, the famous travelling chef included it in his best fried chicken dish lists. This chicken is so delicious, so crunchy and so juicy, it should be matched with a power spell.
• Light a red candle. Sprinkle it with sea salt or any salt would be fine.
• Then munch on your Jolly crispy chicken and say, "with each crunchy bite I hear, give me power, show me no fear. Protect me from negativity. Protect me from my enemy.
• Then snuff the candle. Don't blow but snuff.
I believe all these food and spells I shared with you will only come true if you believe, and if you have faith in yourself. Unlock that great power within you, allowing good vibes only to enter your life. Your world will be filled with love, joy and abundance. Sending you all love, light and blessings. So mote it be.
B. Alamer