The Top 11 Junk Foods That Are Going To Satisfy Your Cravings But More Healthily
Junk foods, but healthy, is it possible? Let's find out how!
Whether it is our late-night cravings or 4 o'clock snack attack, all we can think about is to satisfy our taste buds with some tantalizing and not-so-healthy junk foods. But are not we sinning our health?
Well, this is the most common perception whenever we think about eating our not-so-good junky foods. But how about if I tell you to go for them while staying healthy at the same time?
Sounds good? Let's get dig into it!
Are junk foods good for your health?
Undoubtedly junks foods are bad news for our health. These are nothing but some processed foods with very negligible nutrients and a crazy amount of calories. But hold on, they can be healthier too if you choose them wisely.
Junks foods can also come up with a good amount of vitamin A, vitamin B6, folate, iron, protein, calcium, and other vital nutrients. Sounds great? Yeah, all these ingredients are beneficial to make you strong and enhance the functions of your organs.
What are the best healthy junk foods to eat?
Cravings for junk foods? Don't worry. Here, in this article, you will know about the top 11 healthy junk foods for a foodie just like you. So, read it and pick your favorite one right now!
1. Dark Chocolate
A melt-in-the-mouth junk food but with so many health benefits. Yes, you read it right. A chocolate bar is one of the most delicious junk food yet a healthy option to go for.
It contains a good amount of iron, fiber, protein, and is also power-packed with antioxidants such as – polyphenols, catechins, flavanols. A bite of your favorite dark chocolate can cut down the chances of blood pressure, blood sugar, cancer, and improve your heart health, cognitive function, and so on.
Just pick your favorite one that contains at least 65% of cocoa with low sugar. But don't try to overeat them.
2. Popcorn
A salty-buttery delicacy at your movie times. But wait, you have to cut down on salt and butter to reap all the health benefits from this junk food. This whole grain is filled with fibers and rich in polyphenols – good for blood circulation, digestive system, and reduces the chances of certain cancers.
Bring popcorn kernels in bulk, spray them with olive oil instead of butter. Do some experimentation with no salt herbs seasoning for flavor. You can make your evening spicy and delicious by adding some delightful toppings like chili powders, parmesan cheese, and cinnamon sugar to make it a bit more healthy.
3. Ice cream and ice pop
Good news for the people with a sweet tooth. Yeah, don't get surprised. Go for your favorite butterscotch or vanilla if you want to but in limit.
Ice cream has some vital nutrients, such as protein, fibers, calcium, and vitamins. And if you want to go with some homemade ice pops, then you are in great luck. It will help you cut back on saturated fats and sugar while adding vitamins, fibers, and minerals. You can also add protein powders, nuts, and butter for extra flavor. But remember – just one and you are done, don't go for two or three.
Another thing which is not so famous but a healthy option – yogurt pops. A sweet-sour popsicle made from yogurt, honey, fruits, and berries to give your taste buds a wonderful treat!
4. Cookies
Have a soft corner for cookies in your heart? Well, add some healthier ones to your list. You can name it – Oatmeal-pistachio cookies, Almond-blueberry cookies, Chocolate-hazelnut cookie drop, Gluten-free pumpkin cookies. All these junk foods are come up with so many health benefits you can't imagine.
These are better alternatives than any other unhealthy snacks as most of the cookies contain macronutrients. You will get the benefits of protein, fat, and carbohydrates – that act as fuel for your body.
Cookies made from oats or wheat with nuts and dried fruits are power-packed with fibers, vitamins, and minerals like calcium and iron. So, enjoy your evening tea time with some lip-smacking cookies but in moderation.
5. Cheese
Let's admit it guys, we can't live without cheese! Its creamy and nutty flavor is one of the reasons people love Italian food. But this is junk food, right? That may cause health issues or make you fat? It will if you eat too much.
But the best part is, this is a whole food–with very little processing or refining close to its natural form and free from any artificial substances. The health benefits of cheeses like–Feta, Parmesan, Swiss, American mozzarella are mind-blowing. They are loaded with protein and fats–improve heart health, brain function, gut health, and boost immunity.
So, enjoy your melted cheese on pizza, sandwich, or sprinkled over a salad but don't get addicted to it.
6. Granola bars
A not-so-bad option than any other unhealthy snacks, but is it true? Don't get fooled–it is just another bad news for your health. You may think you will get the benefits of grains, protein-rich nuts, and dry fruits from your favorite one. But, they are overflowing with added sugar, artificial sweeteners, and high in calories–nothing but a glorified candy for you.
But how about if you made them at home? All you need is a mixing bowl, an oven, a baking tray, and your precious one hour. And you are all set to make healthier, tastier, and cheaper granola than any other processed one.
7. Chips
Don't get me wrong. I know you might be wondering how chips can be healthy? As they are one of the worst junks foods loaded with unhealthy ingredients like artificial colors and sweeteners. But they can be healthier too if you pick the right one.
Sweet potato chips: Much more nutritious than any other regular potato chips. You will know that by its color. They are high in vitamin B6 – excellent for heart health. Also contain a decent amount of iron, vitamin C, and vitamin D. But the best option is to prepare them at home.
Kale chips: Not as tasty as potato chips or crackers but three times more healthy and delicious. Their incredible green coloring tells all the health secrets about them. Kale contains a good amount of iron, calcium, antioxidants and is packed with some powerful nutrients. You can find them at any grocery store or can make your own with olive oil and whatever seasoning you want.
Homemade banana chips: Last but not least, try some homemade banana chips – a way better than any other snacks. This crispy and crunchy snack comes up with potassium – a vital mineral to control your blood pressure. What's more? Banana is rich in fibers that help to improve the digestive system and prevent constipation.
8. Fried chicken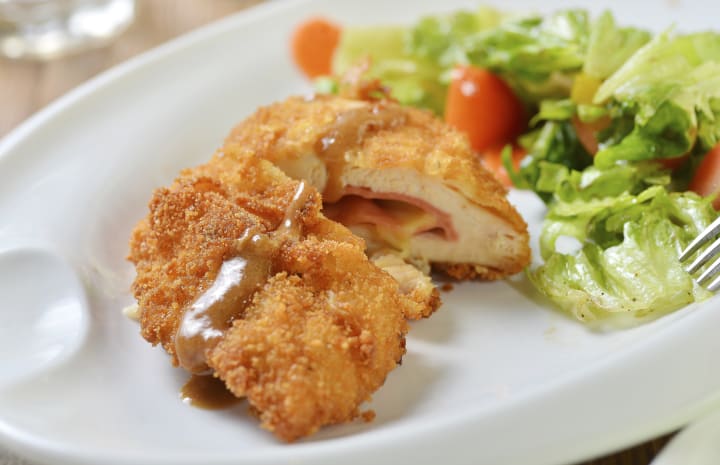 Having a bucket of fried chicken but still staying healthy, is it possible? Well, we all know, when it is about some crispy, mouth-watering fried chicken, it is nothing but the spokesperson for junk foods. And you can't deny it. But you can convert this junk food into a healthy one.
All you need to do is marinate the chicken, coat it with flour and some spices. Brush it with olive oil and set it for oven-fry. Yes, frying is the main part of this process that leads you to consume a high amount of calories. Instead of deep-frying, throws it for oven fry. And by this, you will get all the health benefits of chicken but in a tastier way!
9. Angel food cake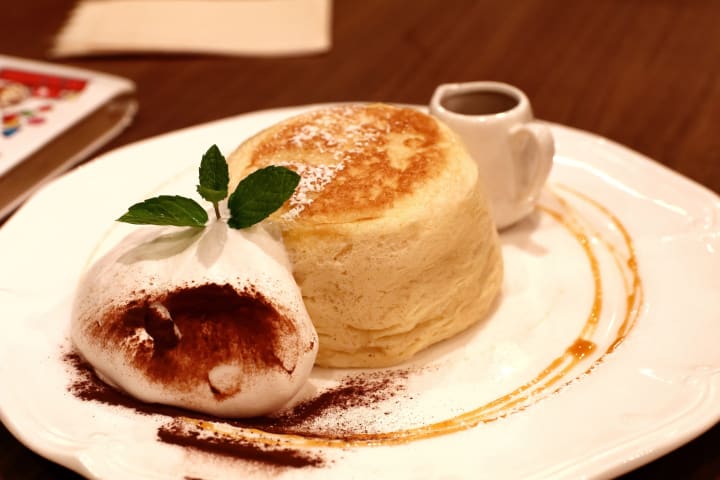 When you need to pick your favorite dessert, what can be better than angel food cake? A heavenly dessert with low calories and fats and with zero cholesterol. Angel food cake is made from beaten egg whites with no butter. Undoubtedly, it has some potential health benefits.
So, these fluffy and spongy delights are guilt-free-treat for your health as long as you avoid adding too much sugar to them.
10. Beef jerky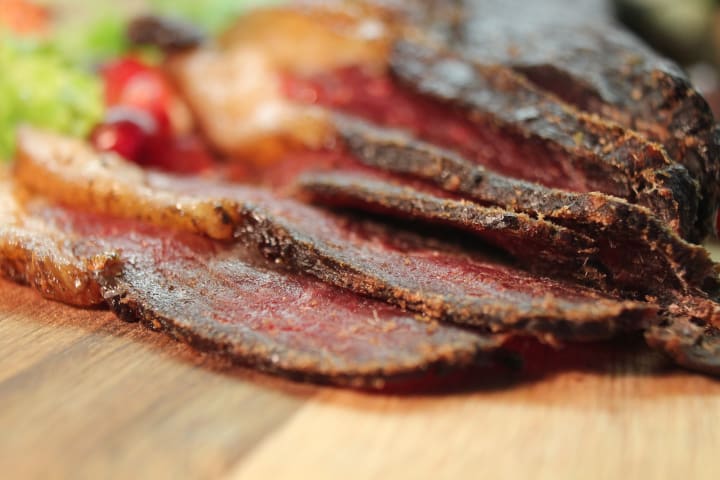 A very controversial food, labeled as junk food and healthy one at the same time. These are made from lean cuts of beef. It undergoes several processing techniques like curing, smoking, and drying before it hits the shelf. Rich in protein and low in carbs— excellent for people on paleo or low carb diets. They also contain a decent amount of vitamins and minerals like iron, zinc, vitamin B12, and phosphorus.
Though healthier than any other snacks, the store-bought varieties contain a crazy amount of sodium. This is linked to some health issues, same as consuming some processed meat. So, eating in moderation and making your own jerky will be the best choice.
11. Ramen noodles
The best one saved for the last. A traditional packaged ramen comes with a high amount of sodium, thanks to the flavor packets in it. But a bowl of your favorite noodle can be healthier too.
Making this at home may require a bit more time, but this is absolutely worth it. You can simply make your healthy ramen by adding some veggies, proteins like shrimp, leftover chicken, egg, or cubed tofu in it. And if you want to cut back on salt, add some fresh herbs and spices to your shimmering broth. So, satisfy your craving for ramen but more inexpensively and healthily.
Final Thought:
Now you get an idea about some of the junk foods, that will not be harmful to your health. These foods come with so many crucial nutrients that will actually improve your body in many ways. So, if you are a food lover and have cravings for any of those above ones, just go for them but in moderation.
Thank you for reading this article. If you enjoyed it, check this one also. This is on the Mediterranean diet.
healthy
About the author
A writer on Medium.MSc. in Biological Science. Write about Science, Wellness, Travel, Food & Health. Bookworm. Love to travel. Trying to learn German but ist Nicht gut.
Reader insights
Be the first to share your insights about this piece.
Add your insights