The Taste of Germany
German dishes and beverages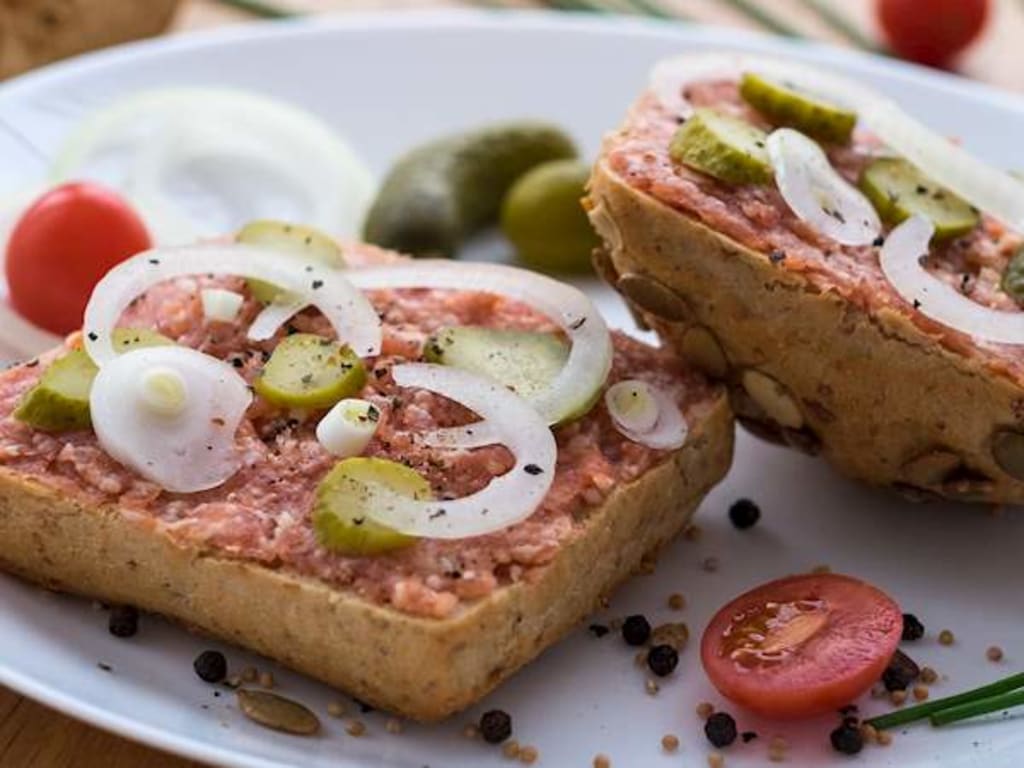 Hakepeter
Meat dishes
Hackepeter or mett is a German specialty that is prepared with raw minced pork and eaten just as it is, not cooked. The raw pork is seasoned with salt, crushed caraway, marjoram, nutmeg. garlic, and onions. In Germany raw pork is enjoyed placed on bread rolls or slices of bread with raw onion rings on top.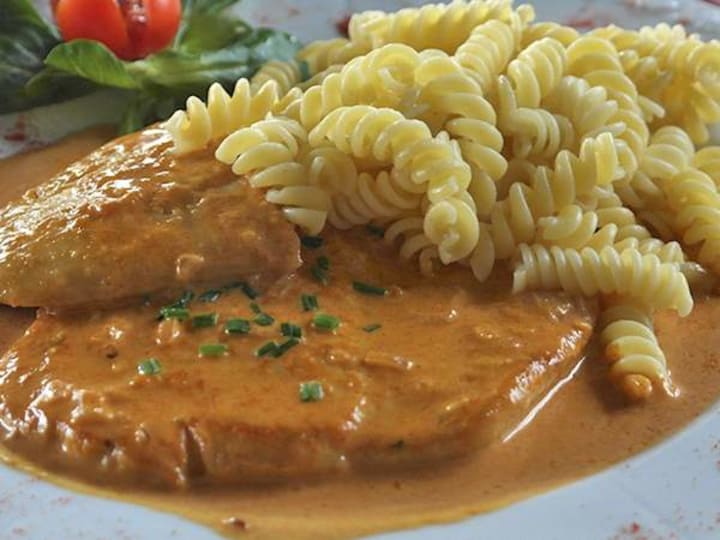 Rahmschnitzel is prepared with veal cutlets that are tenderized and seasoned then rolled in four and fried in butter until golden brown. Once the veal cutlets are done white wine is poured onto the pan with heavy cream and a bit of sugar to make a sauce. The dish is served with gravy on top and garnished with chopped chives or parsley. Traditionally spaetzle is served as a side but potatoes or pasta can also be used.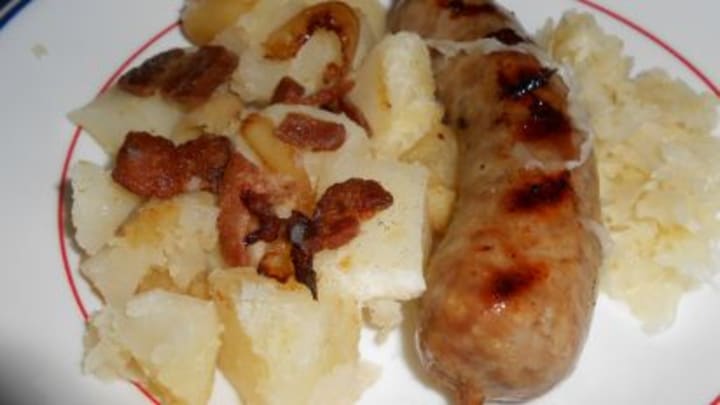 Himmel and Erde is a dish dating back to the 18th century translating to Heaven and Earth that is derived from the old word for potatoes Erdapfel. This is a dish consisting of mashed potatoes and apple sauce and served as a side with meat dishes.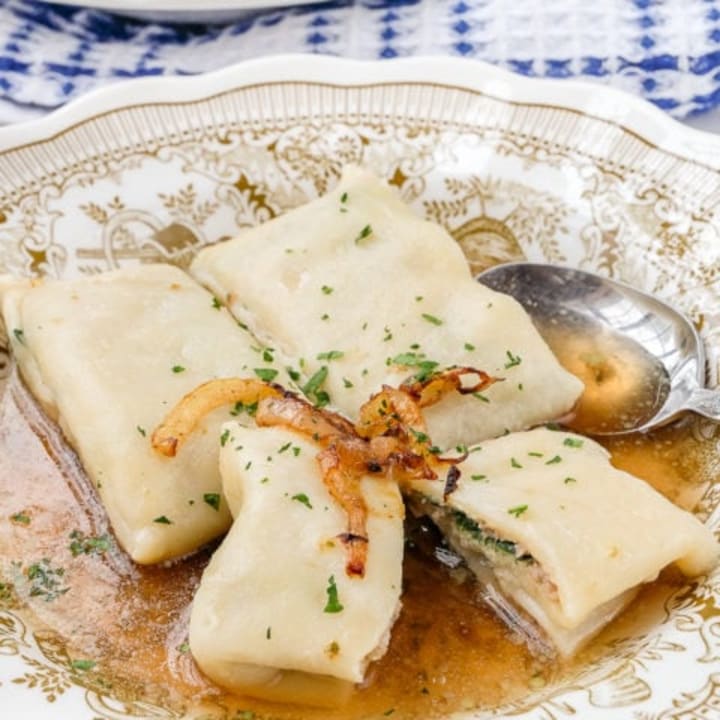 Pasta Maultashen dumplings are savory dumplings that are filled with ground meat, onions, spinach, and bread. The dish can be prepared in three different ways - sliced and fried with eggs, simmered in broth, or topped with onions and butter.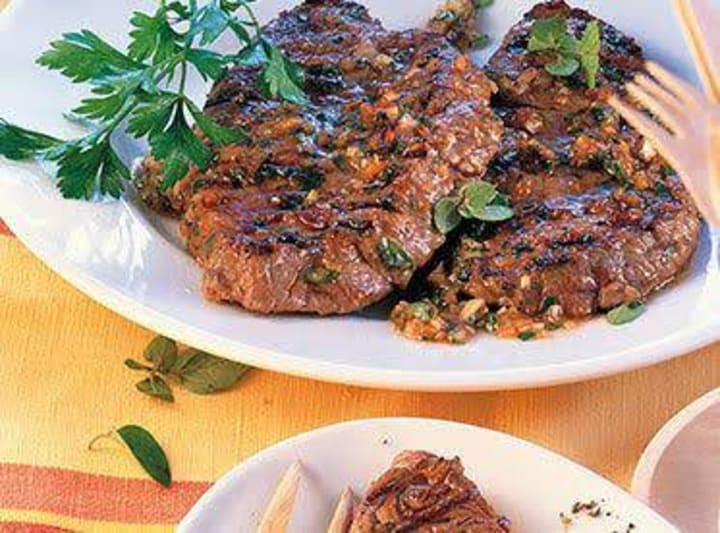 Schwenkbraten is prepared with grilled marinated pork steaks. The pork steaks are left to marinate overnight or for up to three days. The marinade is made with dried thyme and oregano. onions, salt, black pepper, garlic, juniper berries, oil, and German Reisling wine.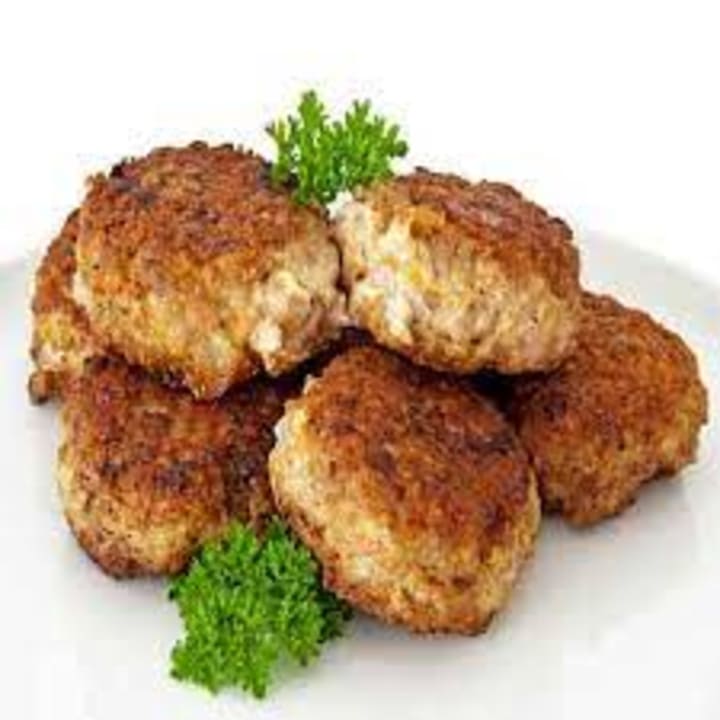 Buletten or Frikadellen are German-style meat patties prepared with ground pork or combined with ground beef, soaked bread, eggs, sauteed onions, and seasonings. Then shaped in flat, thick patties and pan-fried until brown and crispy. These are usually accompanied with potatoes, salads, or topped with creamy gravy.
Gansebraten is a whole goose that has been brined, stuffed, and roasted. The goose is seasoned with various aromatic herbs and spices such as marjoram, thyme, nutmeg, lovage, cloves, or bay leaves, while the stuffing may include ingredients such as apples, onions, chestnuts, almonds, or bread. When served the goose is accompanied by braised red cabbage, gravy, apple puree, potato dumplings or bread dumplings, potato salad, roasted chestnuts, sauerkraut, and spaetzle.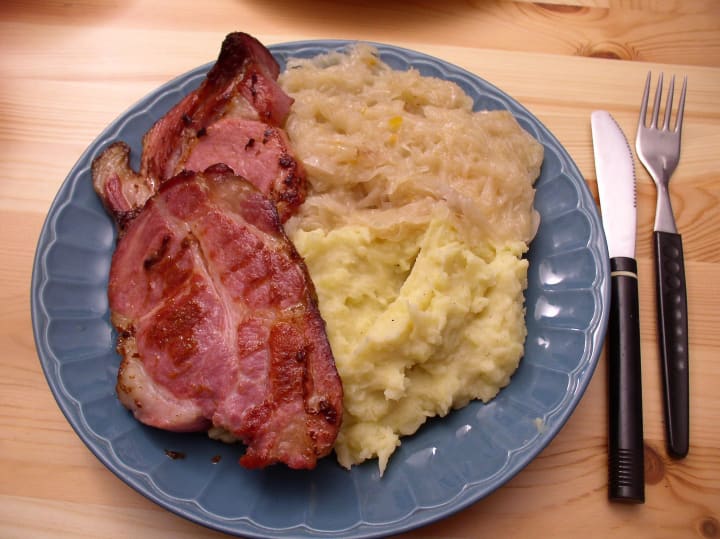 Kassler is a traditional dish usually prepared for Oktoberfest with cured and smoked pork. The dish is accompanied by sauerkraut and mashed or boiled potatoes.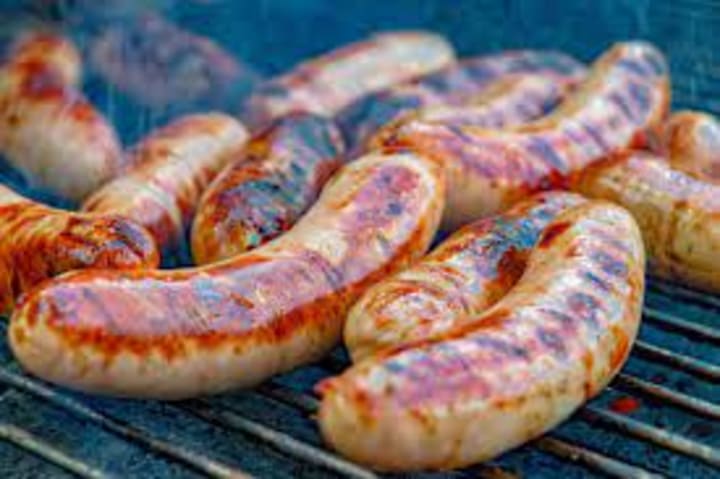 Wurst is the word in Germany when it comes to eating. You can find 1,500 varieties of sausage and many different ways to prepare them. Among the most popular varieties is Bratwurst that is made from beef, veal, or pork. Then there is bloodwurst, Blutwurst, adn Schwarzwurst.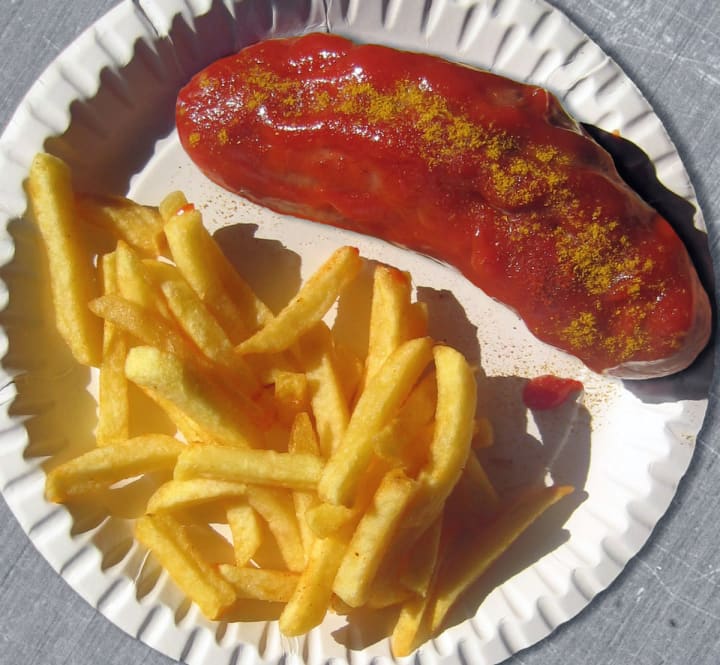 Other favorites are Currywurst with curried ketchup and Weisswurst a white sausage that is peeled before eating and topped with sweet mustard.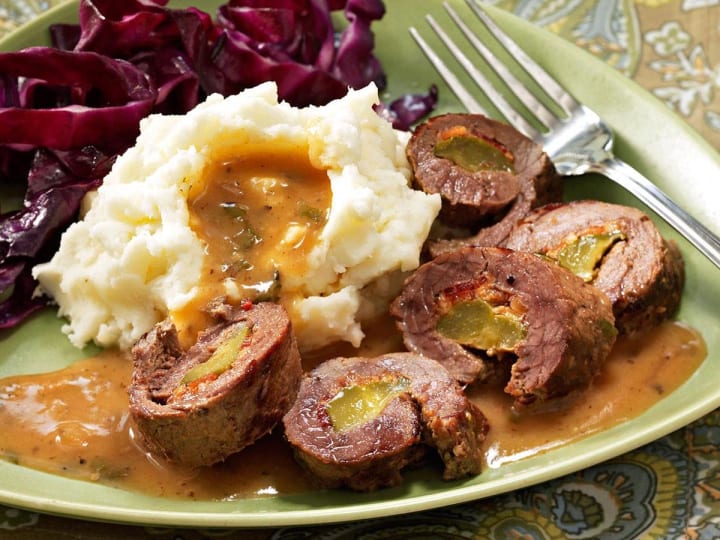 Rouladen is a popular dish that is prepared with bacon, onion, mustard, and pickles wrapped up in thin slices of beef or veal. Usually accompanied with dumplings, mashed potatoes, cooked red cabbage, and red wine gravy.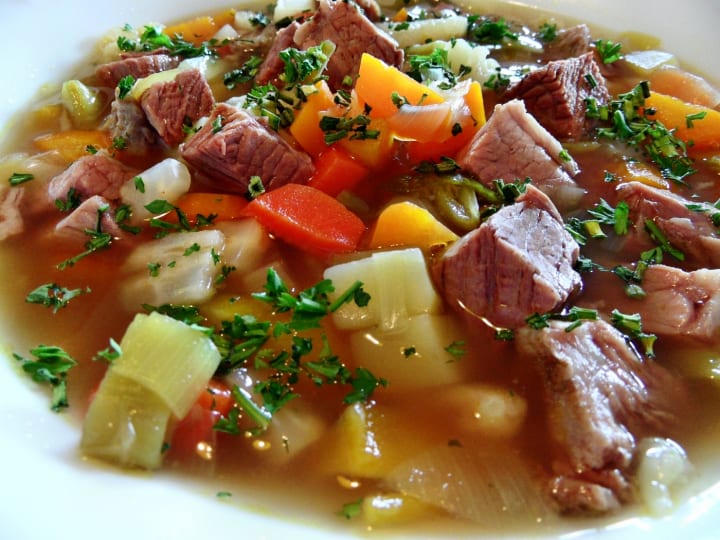 Eintopf is a German stew that has basic ingredients like broth, vegetables, potatoes, and pork, beef, chicken, or fish. It is a dish most often prepared on cold winter days.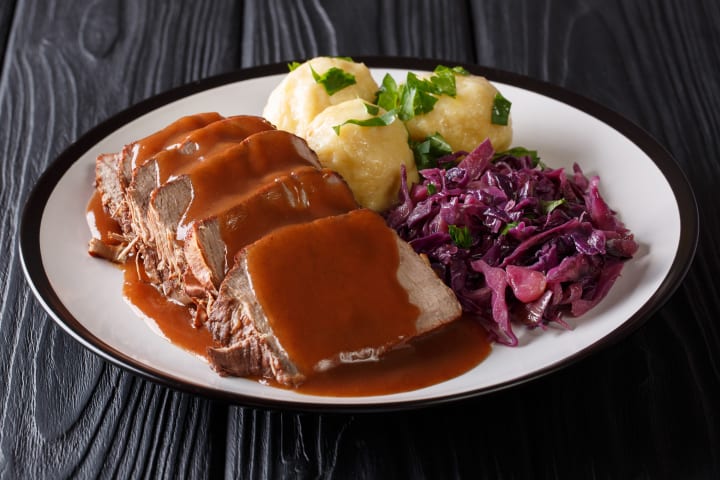 Sauerbraten is one of the country's national dishes. It is prepared with pot roast marinated in wine, vinegar, spices, herbs, and kept for ten days. This makes the meat very tender and then roasted and accompanied by braised cabbage or sauerkraut and dumplings.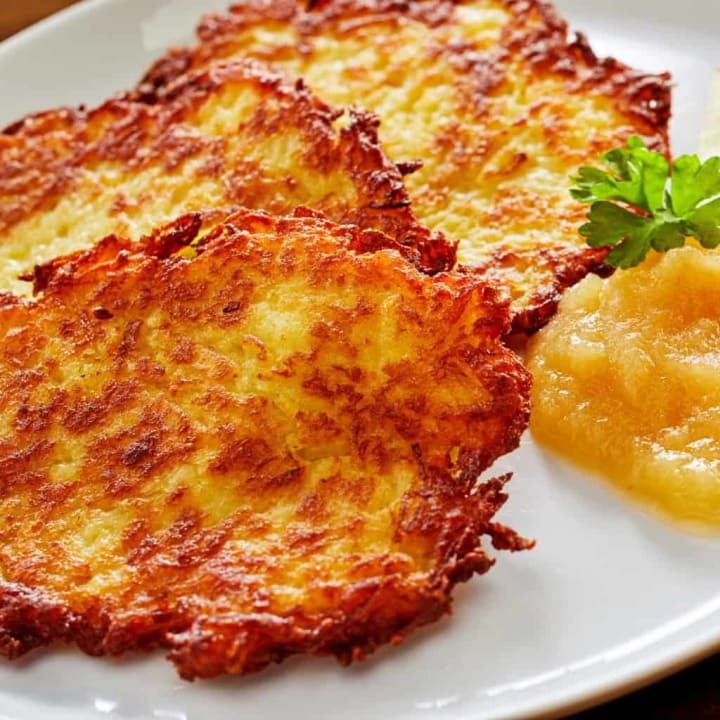 Vegetables
Kartoffelpuffer is great for a light snack. These are pan-fried pancakes made with grated or ground potatoes, flour, egg, onion, and seasoning. When they are crispy and brown they are eaten with sour cream, cottage cheese, apple sauce, or cinnamon. Variations are made with sweet potatoes.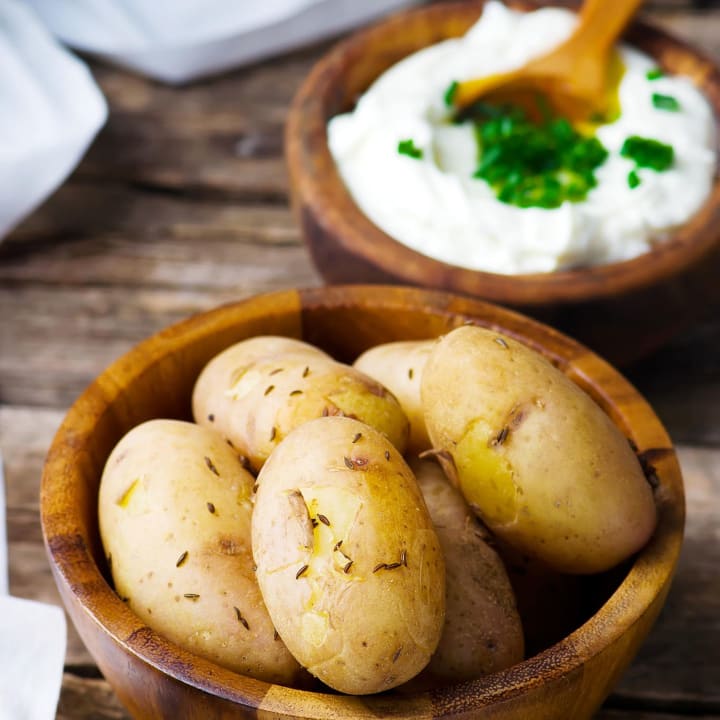 Pelikartoffein are boiled or steamed potatoes in their skins, They are cooked in water seasoned with salt and at times bay leaves or caraway seeds. When done the potatoes can be peeled or eaten with the skin and salt and butter.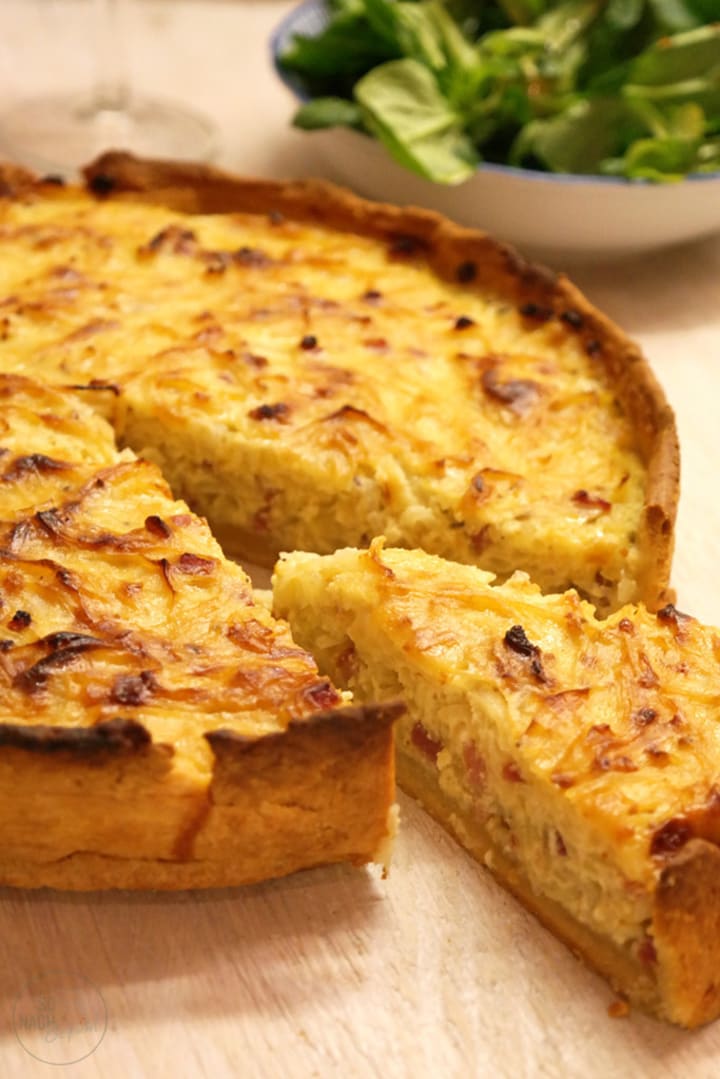 Zwiebelkuchen translates to savory onion pie. A yeasted dough is made with flour, butter, yeast, and milk. Then the butter crust is filled with caramelized onions, smoky bacon, and a creamy mixture of eggs and sour cream. It is flavored with salt, pepper, and caraway seeds.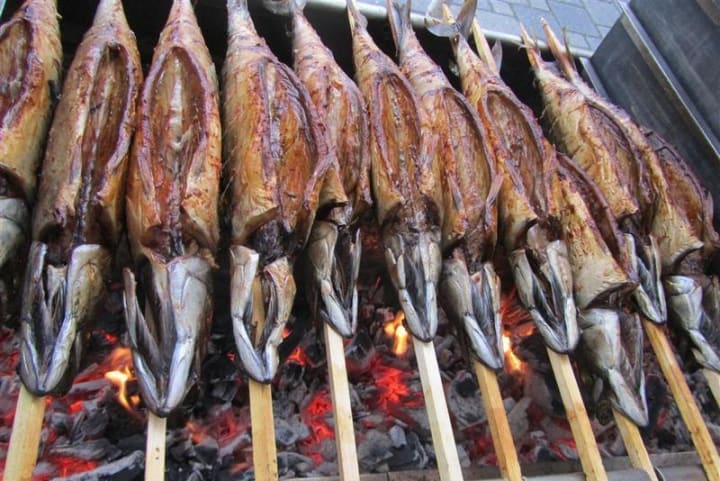 Seafood
Steckerlfisch is a whole fish gutted and cleaned the threaded on a stick and gilled. The fish most often used is freshwater whitefish and trout. Before grilling the fish is either marinated or dusted with seasoned flour.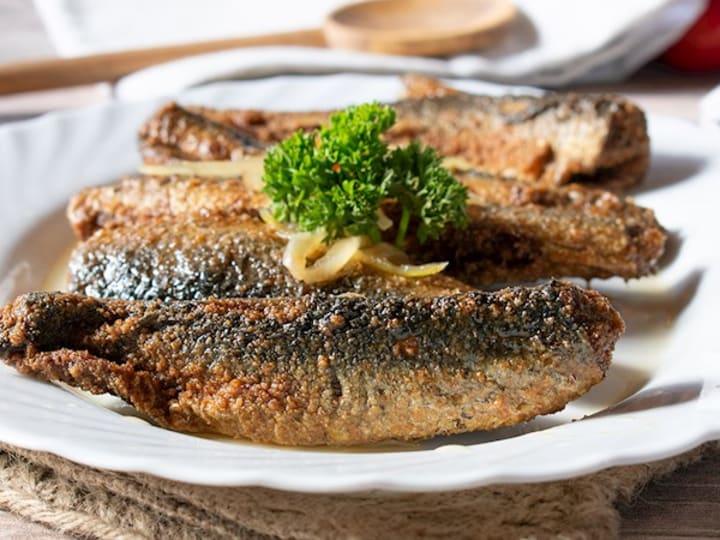 Brathering is a fish dish prepared with marinated fried herring. Fresh herring are rolled in flour or breaded, pan-fried and marinated in white wine vinegar, onions, sugar, salt, pepper, mustard seeds, and bay leaves. Usually, the dish is accompanied by fried potatoes, rosti, or potato salad.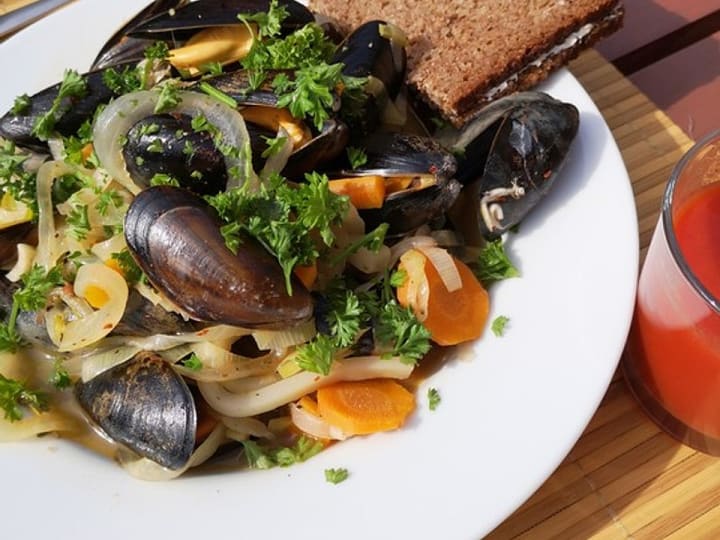 Muschein rhenische art is a dish prepared with mussels from the North Sea and white wine. The mussels are cooked in vegetable stock and white wine and served in their shells. The mussels are accompanied by brown bread and butter and are usually served as an appetizer. Some variations use beer instead of wine to steam the mussels.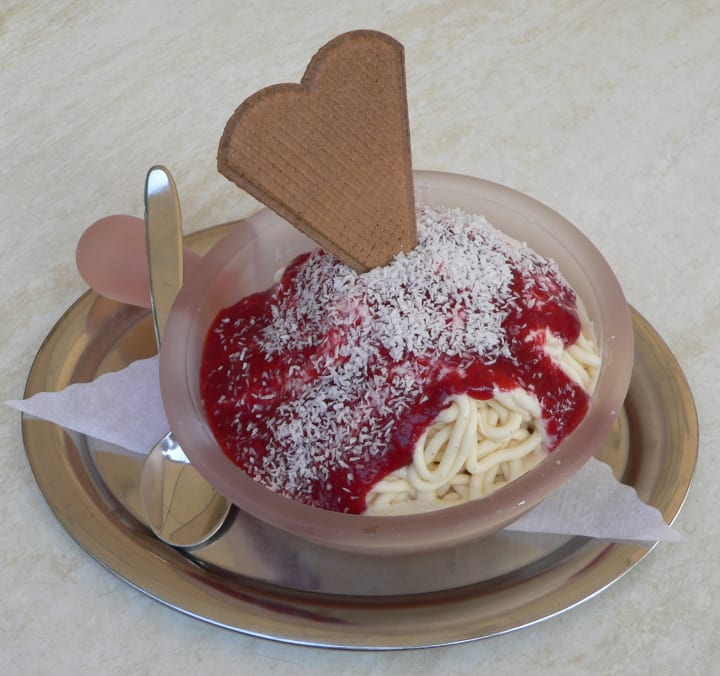 Sweet Things
Spaghettieis is a traditional German ice cream that's made to look like a bowl of spaghetti with tomato sauce and grated parmesan cheese. It was invented in 1969 by the son of an Italian immigrant. Dano Fontanella ran vanilla gelato through a spaetzle press added whipped cream and topped it with strawberry sauce and white chocolate shavings.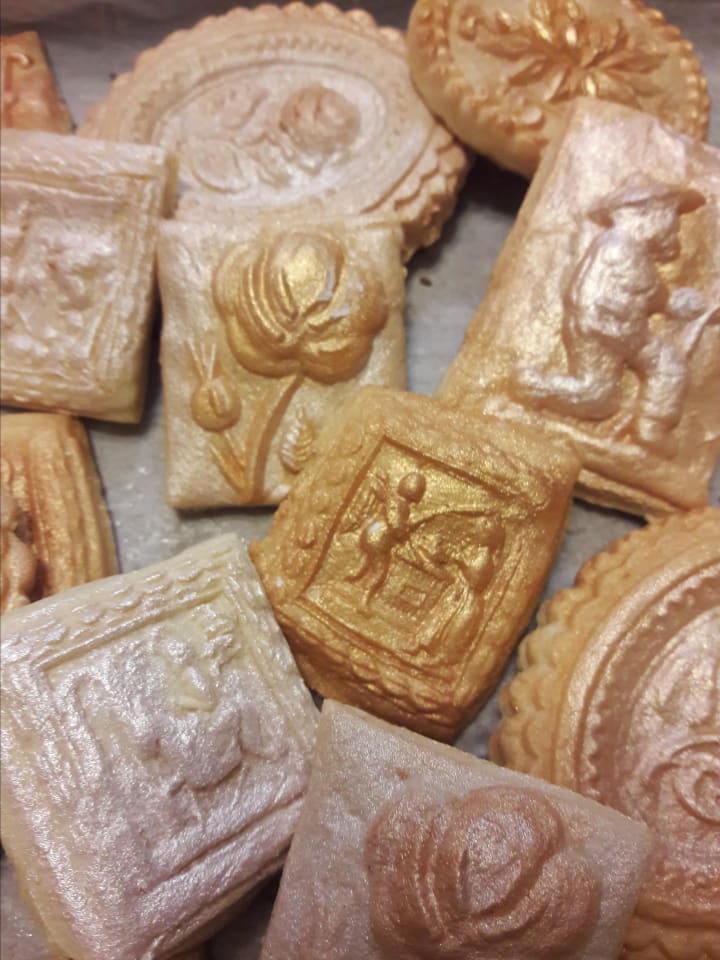 Springeria is an anise-flavored biscuit that is prepared with wheat flour, eggs, and powdered sugar. Shapes of the cookies are made with flat moulds, presses, and boards.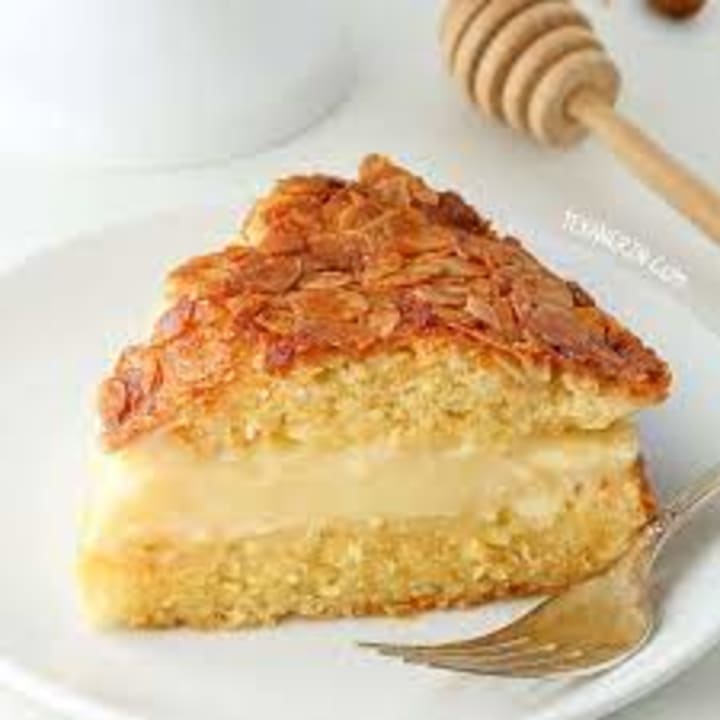 Bienenstich is a classic cake with a creamy filling between two layers of yeasted pastry dough. The cake is topped with a combination of sugar or honey, cream, and slivered almonds. When baked the honey-almond glaze is caramelized.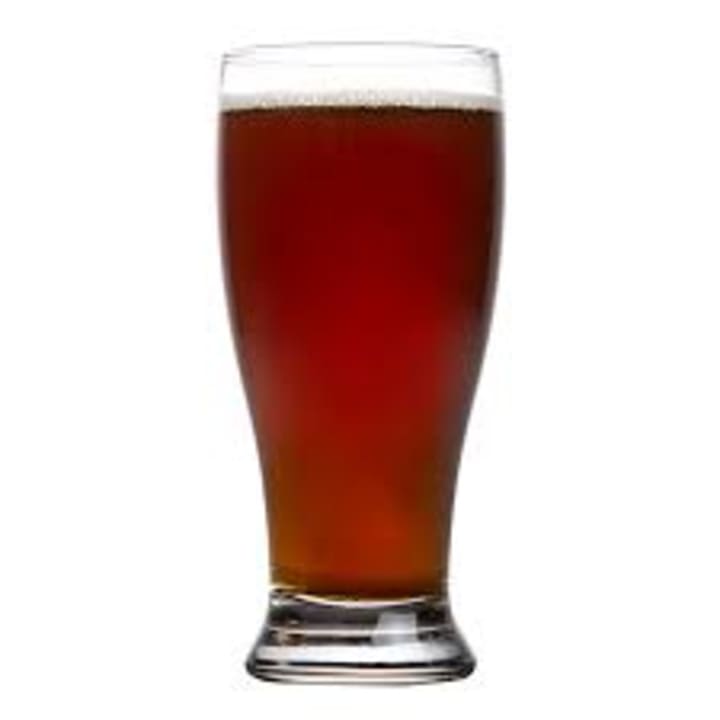 Beverages
Bock beer is a German bottom-fermenting lager with an alcohol range within the ABV range of 6.3 to 7.6%,. It is traditionally served in a tulip glass.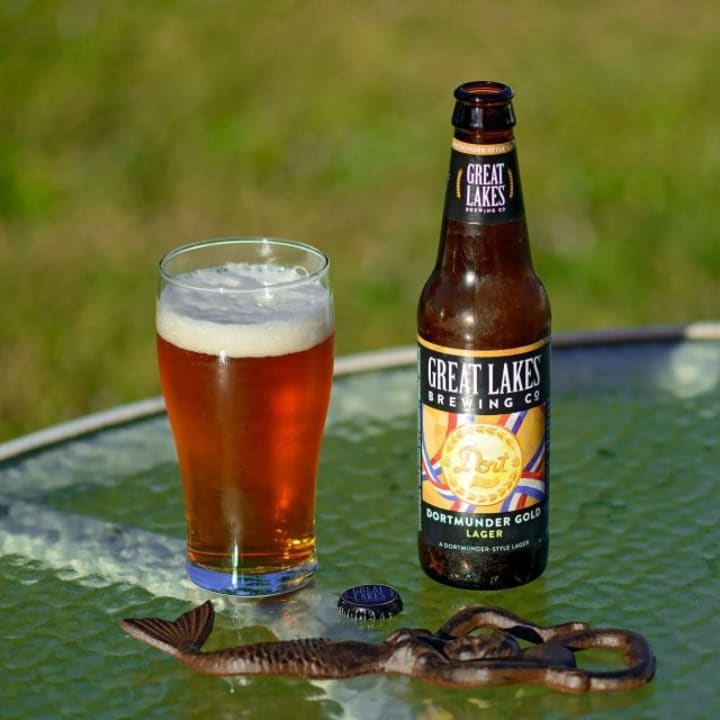 Dortmunder Export is named after its city of origin, It is a pale and clear lager with a nice balance of malty sweetness and hop flavors. The ABV range is from 5 to 6%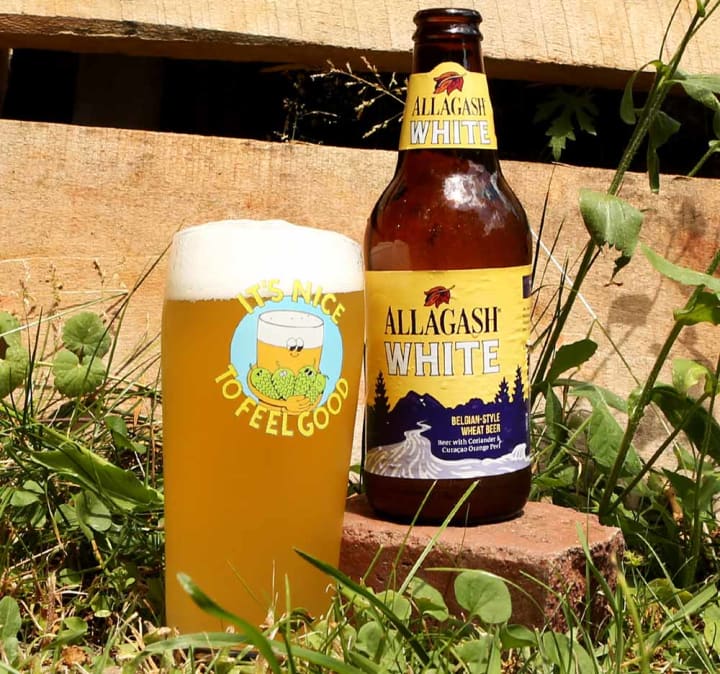 Aitbier translates to old beer and comes from Dusseldorf. It is somewhere between a lager and an ale.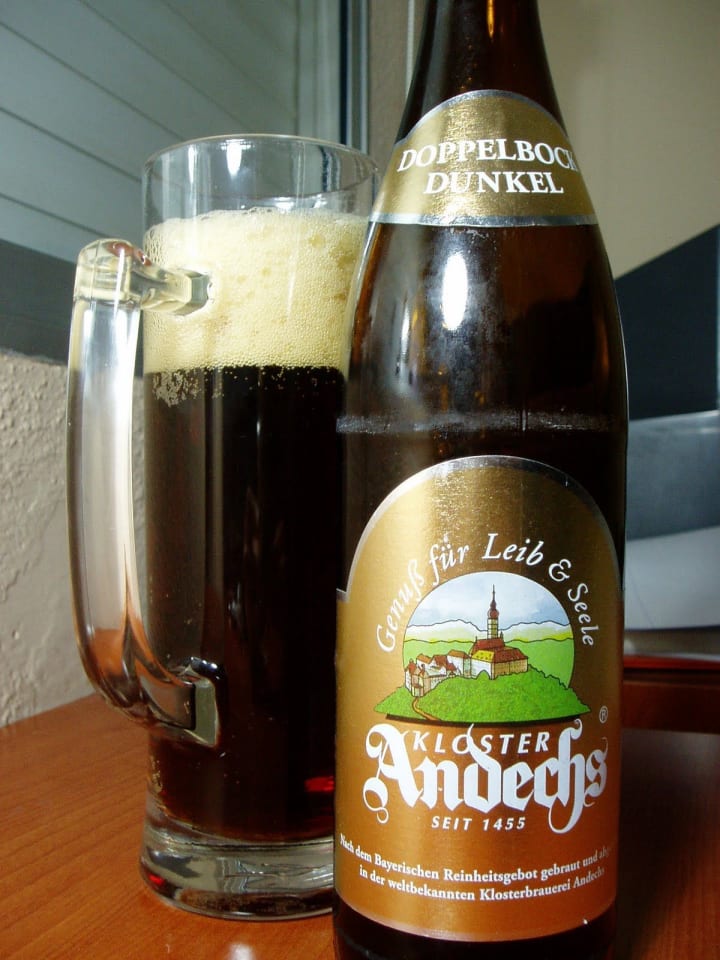 Doppelbock is a German beer style that was first brewed in Munich by Paulaner monks. It is malty-sweet with a bit of hop bitterness.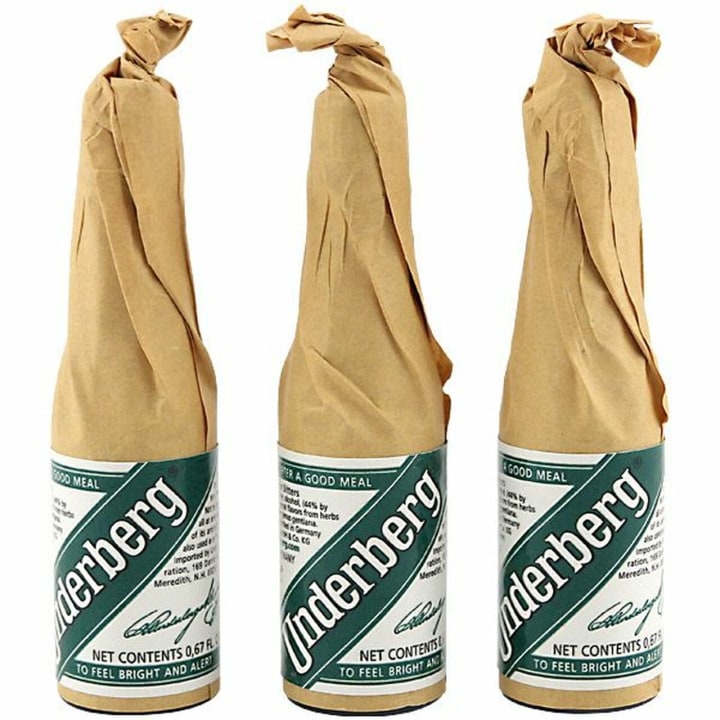 Underberg is a German herbal liqueur that is produced with 43 herbs making it an amber-colored herbal drink with a spicy and licorice taste. It is aged in oak casks and adjusted with fresh spring water when it reaches 44% ABV. It is typically served in the signature tall glasses and sold in copyrighted 20ml bottles wrapped in straw paper.
cuisine
My passions are writing and creating poetry. I write for several sites online and have four themed blogs.
Receive stories by Rasma Raisters in

your feed