The Story Behind Gallo Pinto
This is one of Costa Rica's GO-TO meals! Nothing better than a big plate of spiced-up Gallo Pinto con dos huevos encima!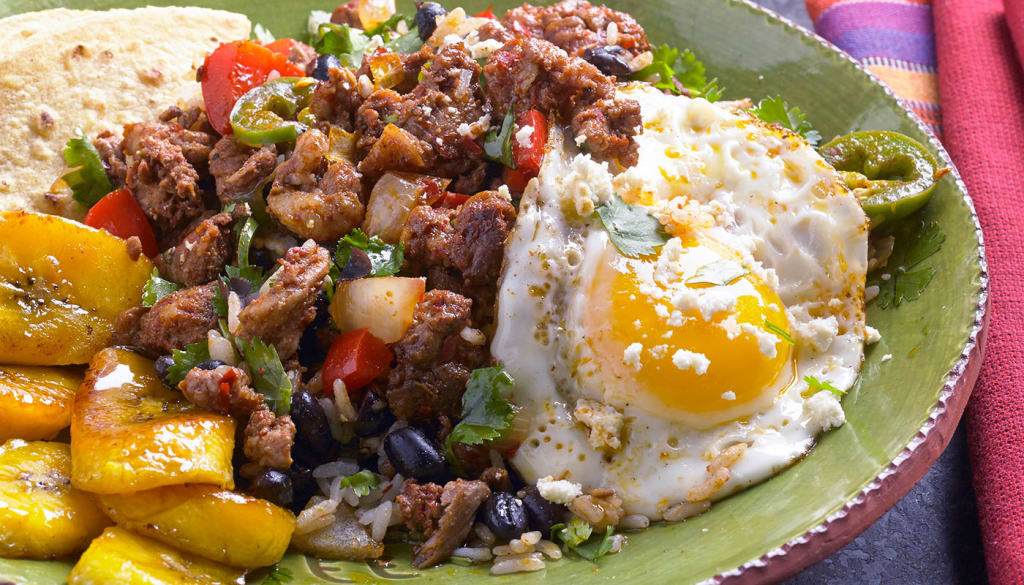 Add some additional meat, perhaps some jalapeno peppers & plantains and you have some good eating!
Have you tried Gallo Pinto? If not, then you're missing out on a staple food here in Costa Rica!
Gallo Pinto is the national dish of Costa Rica, consisting of beans and rice. Sometimes it is topped with scrambled or fried eggs, I like two fried eggs on mine.. and Salsa Lizano, the latter which is a favorite condiment of Ticos. Gallo Pinto is simple and nourishing. With that said, you can always kick it up a notch with some meat, pica (hot sauce) & a few hot peppers.
Most locals eat Gallo Pinto for breakfast, but it is delicious all day long. It's an easy recipe and can be used as a main course or a side dish.
The origin of Gallo Pinto is a highly disputed one – Costa Rica and Nicaragua both claim it as their own national dish .
Where did Gallo Pinto come from?
Both countries agree that the historical origin of Gallo Pinto is Afro-Caribbean. Nicaraguans claim that they were eating it long before the Costa Ricans. However, the first written account of Gallo Pinto showed up in the historical book, "Mamita Yunai", by Carlos Luis Fallas. In this book, both Costa Ricans and Nicaraguans were working together on banana plantations on the Caribbean coast in Costa Rica where Gallo Pinto was a staple component in their diets. The book claims that Nicaraguans took the Afro-Caribbean recipe back to Nicaragua and the Costa Ricans brought the recipe back to the Central Valley and made it a traditional meal there, too.
What is the difference between recipes?
While the battle between the two neighbors continues as to who is the originator of this delectable dish, there is a difference between the two countries' recipes. Costa Rican Gallo Pinto is made with black beans while the Nicaraguan version is made with red beans. It seems everyone from both countries knows how to make Gallo Pinto, but recipes tend to be slightly different depending on the spices used and the many secret family recipes floating around.
How did Gallo Pinto get its name?
Both Nicaraguans and Costa Ricans have very similar anecdotes about the confluence of this famous rice and beans dish. In short, a farmer with a prized, spotted rooster invited the local villagers to a feast where he was planning on serving that particular rooster. On the day of the feast, so many people showed up that there was not going to be enough rooster to go around. In a panic, the farmer asked for some help to whip up a large batch of rice and beans to supplement the meal. And on that day, Gallo Pinto was born. The name, "Gallo Pinto", translates to "spotted rooster". The fact that both countries share this story makes it even more difficult to determine the true originator. There are multiple stories on both sides as to how this dish came to be and where the name came from and both countries stand strong behind their own historical version of their national dish.
Who is the current Guinness Book of World Records Holder?
Both countries take such strong ownership and pride in "their" national dish that they have even gone as far as to compete in the Guinness Book of World Records for the largest quantity of Gallo Pinto ever created. Costa Rica was the first to do this. In 2003, 965 pounds of Gallo Pinto was prepared under the watchful eyes of official representatives of the Guinness Book of World Records. Two weeks later, the Pharaoh Casino in Nicaragua announced that they would beat Costa Rica in this challenge because Gallo Pinto is Nicaragua's national dish, not Costa Rica's.
So, two weeks later, 15 chefs created 1,200 pounds of Gallo Pinto, which fed 9,000 people and replaced the record of the Costa Ricans. The battle has continued year after year, with the last being in 2009, when Costa Rica made 3,300 pounds of rice and 2,640 pounds of beans and fed over 51,000 people. Whether Nicaragua will step up to the plate again is undetermined at this time. NO ONE goes hungry during these contests, that's for certain!
The conclusion. .
There isn't one. There is no readily-available conclusive evidence at this point from either side as to who truly was the first to create Gallo Pinto. There are multiple-origin stories and anecdotes from both Costa Rica and Nicaragua that will likely sway your opinion back and forth. But, in the end, what really matters is that Gallo Pinto can be enjoyed every single day in these two countries. It is safe to say that everyone is happy that someone. . somewhere created it.
Sharing this story with you made me really hungry. I will go straight to my kitchen to prepare some Gallo Pinto for myself at this very moment!
You're invited to visit our websites at www.costaricagoodnewsreport.com & www.costaricaimmigrationandmovingexperts.com
Also, please enjoy our over 1,150 episodes of our "Costa Rica Pura Vida Lifestyle Podcast Series". We are found on all major podcast venues, including iHeartRADIO, Spotify, Apple Podcasts, Google Podcasts, Radio FM, Anchor and many more. Here's our link: www.anchor.fm/costa-rica-pura-vida
About the Creator
Costa Rica is a magical place. Since November, 2002, when I first visited this country, I have been in love with the people, the culture, its biodiversity, the food. . everything about it makes me happy! Now I share my excitement with you!
Reader insights
Be the first to share your insights about this piece.
Add your insights