The Restaurant Grill with the Homiest Diner File
Anita's that spot after the spot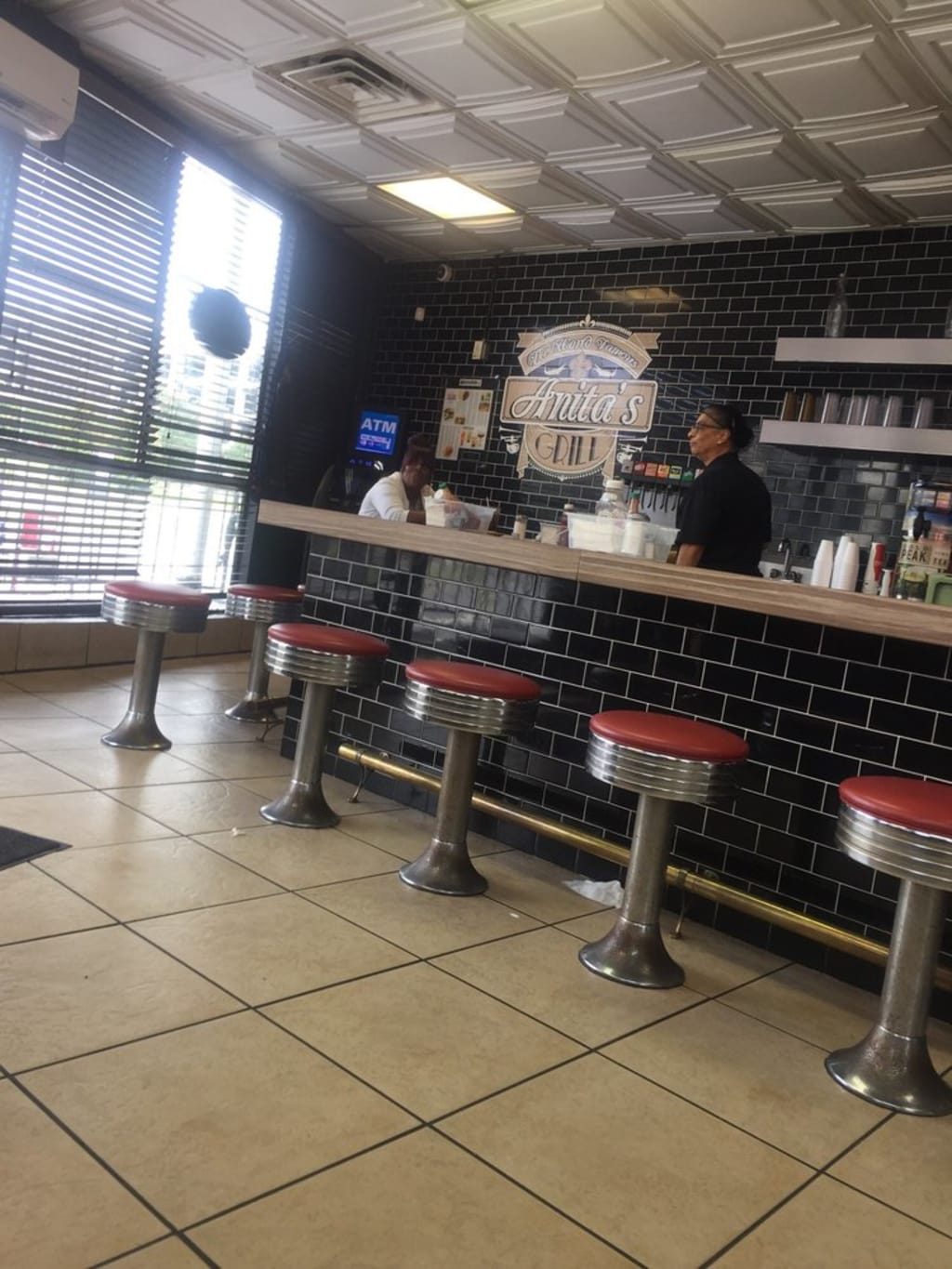 I remember growing up and hearing everybody talk about the spot you went to get the best greasy fried chicken after a night of partying, drinking, and making out. Sometimes when you were trying to impress someone you would take them to a fancy restaurant and end up disappointed and hungry, so you headed to the place to eat after you eat. No fancy tables, no tablecloths, a relaxed atmosphere, and the spot where everybody would meet up. For years I dreamed about being able to experience what the folks were talking about and waited for the day when I could go to the best greasy fried chicken spot in town. Now the spot is not for the faint at heart, because they are down home people, serving down home food, with a down home attitude. You know you better get in where you fit in. Walk in and somebody is going to holler hello, but nobody is going to come to the door and seat you. Building not fancy and some might say it is not clean, but I have learned that some of the most delicious meals are prepared in just this type of atmosphere. Get too fancy and you lose all taste and flavor.
People come from all over the world to eat at the spot and the locals frequent it as often as possible. I know folk who get up out of their beds at 2:00 in the morning and drive across town, sit themselves down and order some friend chicken.
Oddly, this was also the spot to go to after the prom. Gown, Tux and all the works, none of that mattered when you went to Anita's Grill on Tulane Avenue. Yes that's the name of the spot, and I can't even tell you how long it has been there or if Anita even owns it but I can stable you that it is a New Orleans Stable, it is world renowned and it is a great place to have a round.
While the sign says Restaurant Grill it has the homiest diner feel. No big fanfare, no false pretense down home comfort food that just makes sense. The menu has a plethora of choices and even some special combinations but trust me when I say the chicken is the rave and the sensation.
Now it is in a part of the city that you normally do not just hang around but if you find yourself in that particular part of town you might as well go in and sit down. You will not be disappointed, and you may have to wait but the experience of the food will be great.
Now you already know about the folks in the south, we know how to cook and how to eat and that is no doubt. But NOLA wears the crown for truly standing out.
So, I decided to google and look at reviews, since Katrina and because of COVID places like this have been catching the blues. Trying to survive let alone thrive makes for a hard divide. Some folk complained about the wait but very few about what they ate. New appearance because of a slight updo but still holding it down in the kitchen just to please you.
Now I do have a confession and I better put it down at 63 years of age in Anita's I have never been found, but what I share with you in this story I know to be true, just and native and they will attest to, how Anita's was the place to be found after a night of letting your hair down. And they might even tell you that the greasy friend chicken helped them to sober up to.
I may or may not win but it was fun reminiscing about this wonderful spot that has feed folks in and around New Orleans nonstop.
Now Anita's is one of many just so you know the skinny, do not always look for big and fancy when you want to cross your legs and sit down, ask somebody from the town. They will tell you where to go and how to get a seat and they will even tell just what foods to eat.
But for today and right now I introduce Anita's Restaurant Grill with the homiest diner feel. Located in a strange part of town and if you ever find your self there you may as well go in and sit down