The Perfect Dinner Party
The Lost Art of Hosting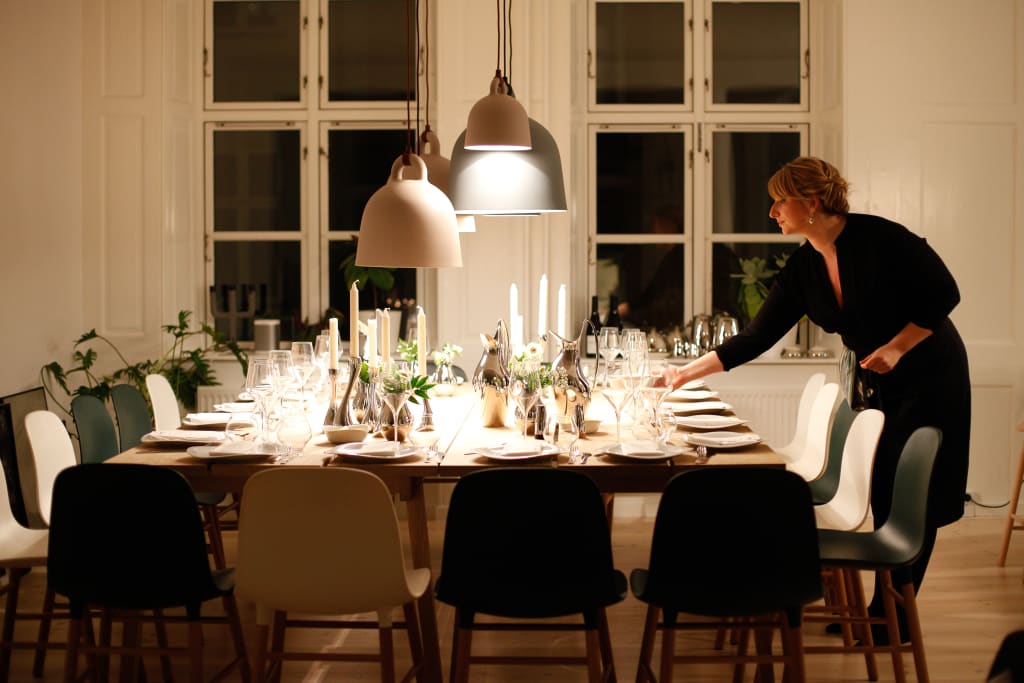 Whether you're new to hosting dinner parties or a seasoned pro, whatever the level of your culinary skill, we all have the same goal at heart: how to create the perfect dinner party. It's an art in itself. Selecting the right menu, deciding on which drinks to serve, the delicate act of selecting your guests, setting the mood; and finally, hosting. In the age of the cooking show, we all obsess with our level of skill in the kitchen, yet a dinner party is made or broken not just by the quality of the food, but by the efforts and attitudes of the host. In this article—dare I title it so? In this musing upon the perfect dinner party, I shall impart what I have learned on the subject and hope to offer some advise to those struggling to hit the mark.
The Menu
Two courses or three? Or four even? Cheese or dessert? Or both? Tapas? We live in a very global age and most of us will have tried foods from various different cultures, and it can seem hard to decide which food best suits a dinner party. For me, it is important to cook food which you are comfortable with. This may be old favorites, family recipes, tried and tested cookbook saviors, or even something new, but which uses ingredients and processes you are used to. A dinner party is not the place to reinvent the wheel. Don't think that simple means plain or that familiar means boring. Cooked well, with careful attention to seasoning, good ingredients and loving presentation, the food you make in a hurry for yourself or your family can also be the food which impresses your friends, colleagues, or other important guests.
The guests pose the next hurdle. The question: "Do you have any dietary requirements?" seems to be becoming increasingly loaded. Vegetarian, pescatarian, vegan, flexitarian, gluten-free, dairy-free, carb-free, sugar-free, low-sodium, allergies, and good old-fashioned pickiness can all scupper an otherwise faultless menu plan. However, your guests will be used to cooking and sourcing food that suits their needs, so if you're worried, speak to them first. Also, bear in mind how appreciative your guests will be if you really make the effort to cook for them despite their unfamiliar eating habits. Go the extra mile and you could turn this trial into a triumph. Be aware of common market habits here, in my experience offering a coeliac yet another gluten-free brownie will garner little mirth; but something a little special like a homemade Eton Mess Semifreddo might just hit the spot.
Once you've crossed that bridge, consider your timescale. Once your guests arrive, you want to spend as little time as possible in the kitchen (unless you're fetching more wine)! Try to find ways to cook or prepare your menu in advance but be realistic. A dish that requires hours of preparation may not be ideal if you work long hours or have a family to sort out. If preparation isn't going to fit with your lifestyle, consider quicker recipes. Lastly on this subject, I will veer toward the controversial: consider what can be pre-bought. I mean this when I say that it really is not cheating to buy components of a dish or menu which are prepared before you buy them. Hosting a dinner party is not about getting onto MasterChef or opening your new restaurant. Selecting quality products, adding your own flare and presenting them nicely is, perhaps, a shortcut but it might be what's right for you on this particular night, and that's okay.
Liquid Refreshments
In my opinion, a fully trained and experienced Sommelier is the only person that can truly understand the complexities of matching wine with food—and even then with a hearty pinch full of salt. Pretending that you know about wine when you don't is the height of pretension, so please don't do it. Again, I would always advise you begin with what you know. The drinks which you enjoy are enjoyable for a reason and so as long as that reason involves taste you're on the right track. You may consider elements of wine matching such as using a drier, more acidic wine to cut the richness of a meaty dish, or the rounded body of a juicy red to compliment the bitter, berry tones of a chocolate dessert; but what most dinner parties hinge on is the notion that, 'the tide never goes out.' In other words, keep the glasses full! A good host is mindful of their guests and will endeavor to keep their wine glasses full throughout the evening. It is always worth considering that some guest may not enjoy wine, or even drink alcohol at all, and so even if wine is seen to be the main drink on offer, a range of other drinks should be prepared. For those not drinking alcohol, consider fruit 'mocktails,' infused water or iced tea as an extra touch that will make your guests feel welcome and well cared for.
Selecting Your Guests
The make-up of your dinner guests can have a very real effect on the mood of the evening. In many cases you will know your guests well and be able to judge how they get along. However, you might be entertaining a work friend that you don't know outside of work yet, a friend of a new partner that you are yet to meet, or a family member from oversees that you haven't had the time to get to know. On these occasions, you should be particularly alert to potential risks. Friction can take many forms, be it over politics, religion or other world beliefs, or simply a clash of personalities. Whilst a varied mix of guests can add depth to the conversation, an argument will quickly ruin a perfectly good evening, so consider who you invite, and where you invite them to sit.
Dinner parties can sometimes feel like an opportunity for matchmaking. It makes sense that you would want your friends to be happy, and that may take the form of you setting them up, but please use caution. If sparks don't fly be prepared to drop the issue. A good host can alter the evening mid-conversation to restore balance.
Atmosphere or Ambiance?
I believe it was the comedian Micky Flanigan who said that posh restaurants have an ambiance, while more common restaurants have an atmosphere. Dinner parties can have the elegant ambiance of a French bistro, but they can also be raucous and fun. The important thing is deciding what you want the mood to be, and clearly communicating it to your guests. If there's a strong theme, make sure your guests are forewarned. No one wants to be the one in jeans and a tee-shirt when everyone else is in suits and ballgowns—or vice versa (vice versa is worse)! You want your guests to feel at ease—even in a more formal setting—so consider your choice of music, how you set the table, the lighting, the rules of engagement. If you get this wrong it can leave your guests feeling at best unsure, or at worse, unwelcome. I've always found that side lamps, fairy lights and candles, some light contemporary jazz, and a warm smile sets people in the right mood for flowing conversation and a relaxing vibe.
Hosting
As the host, you are the head chef (and often the sous chef too), the master of ceremonies, the waiter, the Sommelier, and in many ways, the guest of honor. There's a lot of plates to juggle (literal and figurative) but if you can do it with a smile, you'll win the admiration of your guests. I have always said that the best guests ask nothing of their host, and the best hosts asks nothing of their guests. You want to be available at all times, whilst cooking and presenting great food, pouring good wine, and sparking great conversation. If you can pull it off, you're a great host, and if you can't yet, then you're a great host in the making.
how to