The Noisy Lobster—Avon Beach—Mudeford
The triptych of qualities have endured.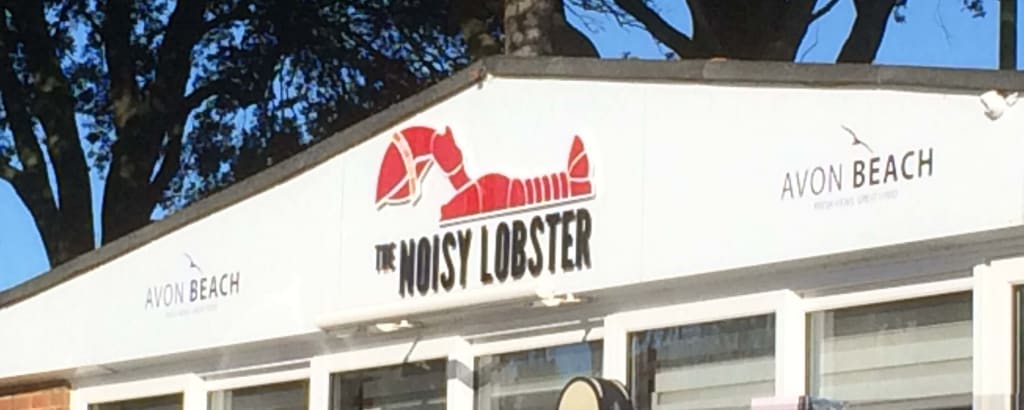 A year ago, April 2018, we had a fabulous lunch at The Noisy Lobster. Good food, good service and in a good atmosphere—a rare triptych of qualities. So, it was with a slight degree of trepidation that we decided to return a year later. "Trepidation" because we wondered if that triptych of qualities would have been maintained over the last 12 months and we would come away from this second visit disappointed.
We were hoping for things to be just like last year.
On April 6, 2019 we were greeted at the entrance as if we were "good friends" which is how I was trained to treat customers when I started work at a restaurant. The place had a hum of activity. From our table we looked across the water to the Isle of Wight and to the wider English Channel.
Drinks orders were taken and we were left with menus. Our drinks were served and our orders taken. Heather, my, settled for a small portion of fries and a couple of eggs. I know that is a shame when there is such a good menu to choose from, but sometimes all you want to eat is something simple and familiar. I chose the herb crusted fillets of plaice served on a spinach and salmon linguine.
To keep us going before the meals arrived, we had a small platter of bread and dips. This came on a slate about the size of a roofing tile. A few pieces of bread from the nearby bakery and three small bowls of dips. These were a taramasalata made from scallop roe, fresh made pesto and humus. If I had to lose weight, which I vowed to achieve after this meal, I would have been quite happy with only this slate of dips as they were full of flavour.
Our mains arrived and were exactly as described on the menu. I was presented with a nest of linguine speckled with flakes of pink salmon and traces of spinach all held together with a sauce made from crème fraiche, lemon and garlic. This was crowned with three fillets of plaice encrusted with fresh green herbs. All perfectly cooked and a dish that you wanted to hug or be hugged by.
There was only one dessert on the specials menu. It just had to be tried but purely out of sense of duty. This was a white chocolate and truffle tart. It was like looking at a canvas that had been painted in the sharp geometric style of Mondrian and the soft blurred style of Kandinsky. Rich white chocolate tart cut with precision with a dark chocolate tuille. Neither of them too sweet to disguise the flavours of the two chocolates and the background hint of truffle. These were then balanced against the sharp freshness of the spherical raspberry sorbet and the flat circles of the red berry sauce.
While we were eating the floorshow provided by the staff bustled around us. No journeys were wasted as they commuted to and from the kitchen always carrying plates or glasses in their hands. Passing by busy tables and asking if everything was OK and if there was anything else needed. This was never done in a pushy way. They bantered amongst themselves but never in a distracting way.
All of it just like last year, including the clear blue sky and warm sunshine.
Our total bill for the two meals and drinks came to £51.80. Because we walked away happy with what we had eaten and how we had been looked after that represented good value for money.
Crunch Questions
Would we go again?
Most definitely. "Yes!"
Would we recommend to friends, family and strangers?
Again, "Yes!"
Parking is available at the adjacent Avon Beach car park. The Noisy Lobster does not take bookings for lunchtimes except over bank holidays. Bookings are essential for evening meals.
The Specials Menu from the Day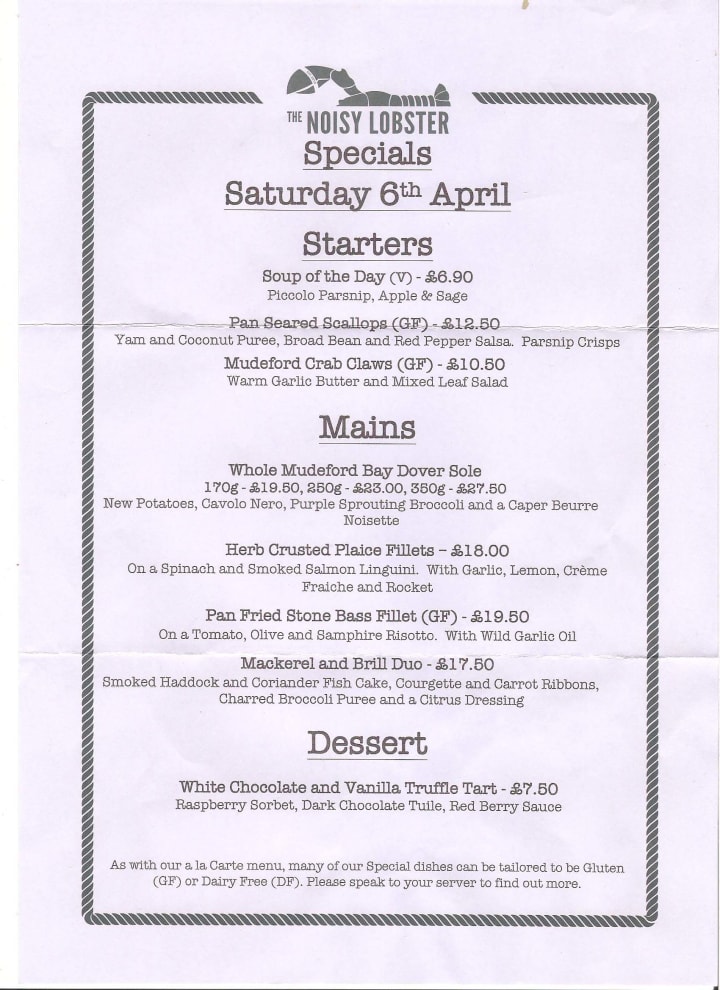 Your Link to the Noisy Lobster