The Legendary Lobster Village
Let's go to TJ!
Food has this amazing ability to bring all kinds of people together. Friends, family, dates, acquaintances, and sometimes even total strangers. No matter the occasion, time of day, how big or small the meal is, it always leaves room to create new memories. Or open the opportunities to talk about old memories and events that happened throughout the day. I grew up in a Hispanic and Mexican family; My mom and her side of the family are from the Country of Honduras and dad is from the City of Guadalajara, in Mexico along with his side of the family. I learned very quickly that food is one of our top traditions that will never fail at bringing us all together. To not only be surrounded by parents and siblings (if I had any siblings) but also with grandparents, aunts, uncles, along with perhaps twenty or more cousins. Celebrations are a real party at our house, but the best stories are from our mini vacations get aways.
When the family would have free time during the weekend and had the extra cash to spend, we and other family members that were invited to join us would travel to an amazing place we call TJ. My family's way of abbreviating the city of Tijuana in Mexico, just South of the California borders. Our vacation spot that we always went is known as the Legendary Lobster Village, in Puerto Nuevo.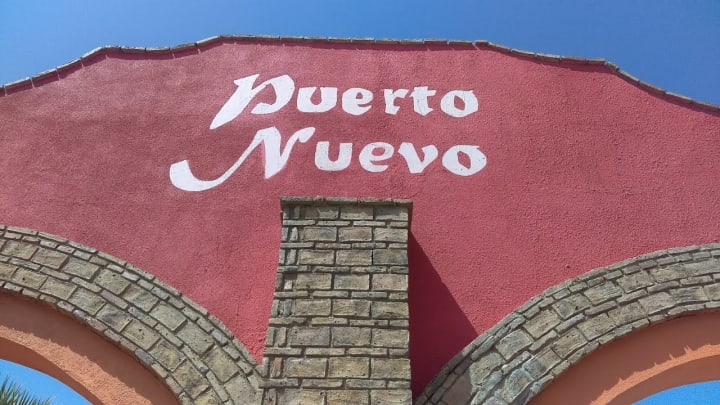 Best described as a huge shopping plaza filled with shops that sell all kinds of unique knickknacks, jewelry, cloths and so much more. This place is perfect for tourists but, let me tell you, it's not called the Legendary Lobster Village for nothing! The food, in my opinion, Is the best seafood I have ever tried. When my family travels three to four hours to TJ, it's not just for the beautiful relaxing hotels by the beach, and not just for the amazing one of a kind items to shop for. It's for the delicious, fresh, juicy lobsters that can be served in party platers for an affordable price!
These savory lobsters will rock you taste buds! Just one bite of this fluffy delicacy will tickle your tongue with a hint of pepper, just enough so that the juiciness of the warm lobster meat will entice your senses and send your month on a calming journey of richness. The smell of these perfectly cooked lobsters will fill your nose with vibrant aromas and is a feast for the eyes that looks filling and pleases to ones soul. Let me also mention that the restaurants are by the beaches, so imagine not only having the wonderful view of the ocean but also hearing the calming waves and feeling the fresh sea air as you dine.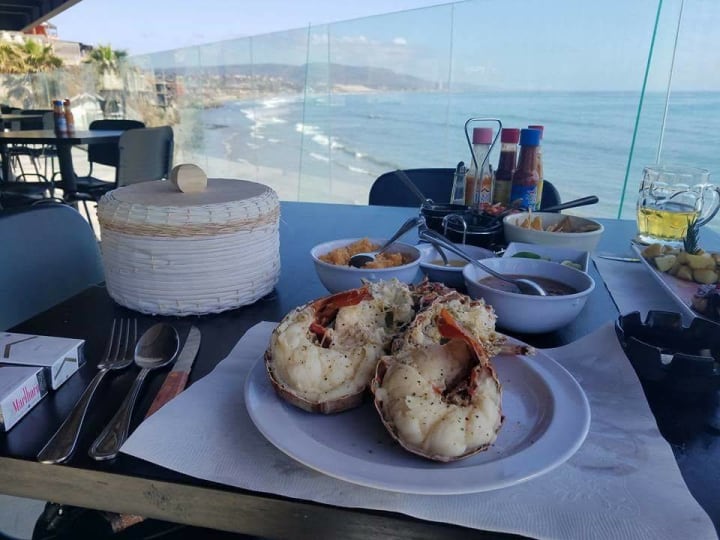 Do you think it stops there? Accompanying the lobster of perfection comes along creamy refried beans and steamy Mexican rice that fills your tummy with happy vibes. Do not forget about the extra large soft flour tortillas that come with the meal as well! Pour or dip as much golden warm butter to your your liking to seal the deliciousness. Or kick up your tast buds with a squeeze of fresh lime. Either way, I promise you, this will be a meal you will never forget.
Of course there are other meals to eat such a tacos, burritos, oysters, shrimp cocktails and so many other scrumptious foods but eating lobster at a place known for its name is the way to go in my opinion. My family has so many memories spending time in Puerto Nuevo together. Birthday celebrations, eating contests between cousins, even adopting our happy family dog in the city of Tijuana.
A little memory I wanted to share
There is one memory I will never forget and it was the when I was with my parents along with one of my aunts and uncles on our usual mini vacations. We were enjoying the legendary meal, already had spent a day in Puerto Nuevo. On that nice sunny afternoon, a woman in her 80's was selling hand made figurines made entirely by sea shells. She was going from table to table to see if anyone would be interested in buying one. When she reached our table my dad not only bought twelve figurines from the box she was carrying, he also invited her to eat. My mom went to hunt down the waiter for a menu, while my uncle went to find another chair for her to sit. My aunt reassured her that she would be eating under our care and would not have to pay a dime. I remembered the old woman cried tears of joy as she ate, telling us how extremely grateful she was for the company and meal. She mentioned she always dreamed of eating at one of the Village's restaurants and was even more grateful that she finally had the chance out of the pure kindness of strangers. As she shared her thoughts the people eating around us opened thier hearts into buying figurines from her box as well. Happy memories were made that day with a dash of kindness.
Telling people about that story reminds me of my family's traditions, and the magic that food/meals can have bringing people together in all sorts of ways.
My family has not gone to Puerto Nuevo for a very long time now. We couldn't go due to the world's circumstances and are still waiting for the clear. Better believe once the family is able to get together again without high risk, we will makes plans to go again. I highly recommend traveling to the wonderful place of Puerto Nuevo when the chance is given. Spend time with family, make memories with friends, try something new to tell stories in the future! Visit the Legendary Lobster Village for the best seafood ever.