The Goode Foode
A Review of Fast – and Not So Fast Food!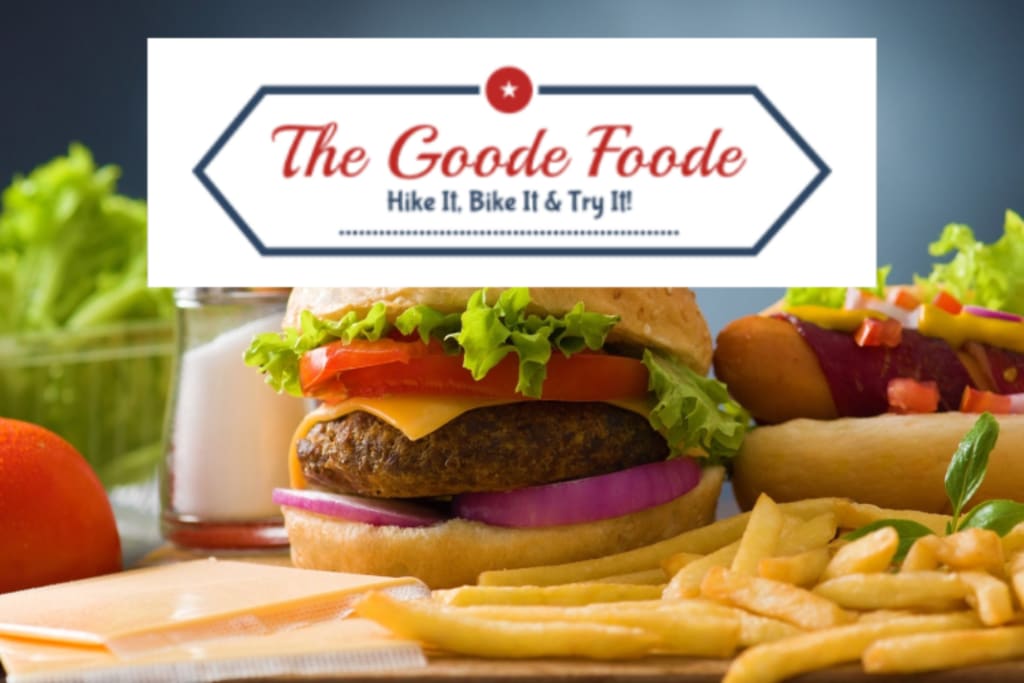 Hi, True Believers & Avid Readers. Welcome to The Goode Foode (say Goody Foody); a review of food that is fast — or not so fast — that is here to be informative, semi-entertaining, and meant to be an alternative to the blogs that seek to look at only the Michelin Star-rated establishments in the world.
I'm your Humble Reviewer, a self-taught home cook with 15+ years experience in the food service industry. I'll be tackling the local diner, the hole-in-the-wall, the everyday eatery that YOU see, and most likely go to for your culinary needs.
Each entry in this series will either deal with a Goode-Foode-Find (a new place to get your nosh & noms), a Recommended Goode-Foode Suggestion (which I'll check out & report back on), or a Weekly Ramble, which can be about anything and everything the little-grey cells can come up with (or what's on my mind at the moment). As such, because of limitations on my means to travel, I will mostly be reviewing places I can most easily reach — here in Tampa Bay — by either foot power or bicycle or public transportation. Thus, my byline for this review is "Hike It, Bike It & Try It!"
My Reviews are based on a Score of Stars, split into four quarters — one quarter meaning poor and four quarters meaning excellent — with a best possible score of five stars.
Each Star of the five is scored on the basis of individual criteria. which are:
The Franchise (Location, Operation, Staffing, Cleanliness)
The Food (Quality, Variety, Freshness, & Flavor)
The Service (Is the Staff Friendly? Helpful? Knowledgeable?)
The Connectivity (Wi-Fi, SMP [Social Media Presence], Apps)
The Value (Menu Pricing, Specials, & Promotions)
As a disclaimer, I am in no way affiliated with the establishments, restaurants or entities I choose to review. I do not accept, nor do I gain any benefits from same. All views and opinions are my own and not reflective of this website or any franchise or entity outside of myself.
So with that said, and without further adieu... Let's Dish!
* * * * *
Today's Goode Foode — SmashBurger
With fast food dominated by major chains like McDonald's, Burger King, Wendy's, and successes like Five Guys, and long-stays like Whataburger and In 'N Out, it's hard to actually nail down new and fresh takes on burgers, outside of the "Foodie" restaurants and joints that offer so many options to the classic hamburger it will make your head spin.
However, a few enterprising folks do come up with ways to buck the traditional "fast food" rhetoric, and re-invent how you get your Goode Foode-Fixe.
One of these is SmashBurger. A franchise that started in June of 2007 with a single location in Denver, Colorado, which has grown to over 500 locations in five countries — including the UK, Kuwait, and Canada. Founded under the premise of re-introducing a quality, fresh-made burger to folks who are looking for more than a "fast-food" sandwich, but aren't up for the whole sit-down restaurant deal. With the vision of offering freshly-cooked "smashed" burgers, topped with quality ingredients, served with tasty sides like seasoned fries, salads, and hand-spun milk shakes (made with Häagen–Dazs® ice cream), SmashBurger has become a rapidly-expanding newcomer to the burger game... and they're upping the ante on the whole burger experience!
The Goode Foode Review
The Food — The menu at SmashBurger offers a simple choice; burgers, fries, sides, milkshakes, salads and that's it. Nothing too fancy or pretentious. Burgers are made from beef, chicken or turkey (for all diet-conscious folks), or even black beans (for the vegans out there). Cooked to order, each patty is "smashed" onto the grill to provide a perfect sear that keeps the patty moist and flavorful. Toppings are as varied as the classics (tomato, lettuce, pickle, etc.) to new and different additions like avocado and crimini mushrooms. Cheeses and sauces, and a choice of bun — with even a gluten-free option! — round out the means for you to create your own unique SmashBurger, or you can go with the Classic Smash, or one of several optional creations.
Add to this a choice of tasty, hot-and-fresh cooked sides like fries — which are either traditional, Smash Fries with regular or sweet potato options — along with fried pickles, "Haystack" onion petals, or Veggie Frites. You can also get salads, from small side-sized to their larger portions like the Baja Cobb, Harvest, and S.C.G. (Spinach, Cucumber & Goat Cheese). Each can be topped with a crispy or grilled chicken breast, or you can top it with a Burger Patty in all their options.
Milk shakes, as stated, are hand-spun and made with real Häagen–Dazs® ice cream. Flavors come in classic Chocolate, Strawberry, and Vanilla, or you can have Peanut Butter and Salted Caramel too. All are served in a frosted glass. Of course, you can get fountain sodas, iced tea, and bottled juices and drinks, or if you're not due back at work you can also order beer (selection varies by location).
SmashBurger also has a kid-friendly menu; with a Kid's-sized Smash, or grilled cheese sandwich, or chicken tenders and an all-beef hot dog to satisfy the finicky appetites of your younger diners.
I tried the 5 oz. Classic Smash, with Smash Fries (seasoned with rosemary, olive oil, and garlic). The burger was very flavorful and tasty, with the sear keeping the meat moist and hot. Topped with the standard tomato, lettuce, onion, pickles, aged cheddar and Smash Sauce, combined with the Egg Bun its a much lighter textured profile than your average hamburger faire. The Smash Sauce adds a tang and zing that isn't over powering, and it just made me want to take another bite, and finish it before I had even started on the fries. Smash Fries are just as flavorful, with the combination of oil and spice complimenting so well, you almost don't need to dip them in any condiment to enjoy them.
Overall, the food lives up to the proclamation of SmashBurger's credo and hype. Full of Flavor. Hot and juicy. Surprisingly good and well worth trying out if you're looking for a different take on your usual burger-n'fries routine.
Score — One Full Star.
The Franchise — SmashBurger in South Tampa — located at 4035 S Dale Mabry Highway — is not a large location. Sandwiched in between two other stores and another restaurant, it doesn't have the big presence of say a McDonald's or a Red Robin. At first glance, it could probably only seat 15 to 20 customers in its lobby, but the location does boast an outside "patio" area, that can seat about 30 to 40 more by my estimate. Considering they offer both in-store dining and pick-up service, they appear to be poised to turn good amount of business daily.
Two POS (Point-of-Sale) cashier positions, along with a side-bar for pick-up orders and to-go service make the most of limited space. And from what I witnessed, a single front-of-house manager keeps it all moving smoothly.
From what I glimpsed of the kitchen (from over the counter and through an employee door, next to the rest rooms), it looks efficient, compact, and well-staffed with cooks, prep-people, and a grill manager. Both the Front and Kitchen look cleaned and well-maintained.
The lobby itself was neat and well-designed. With standard tables to seat four and two customer set-ups, along with a row of "Counter" seats along the main window. The "patio" had a long line of four and two seat tables, with multiple access gates to allow customers the option of leaving without having to return to the store interior.
The location is pretty well-set, in spite of their being several competing fast food places within the immediate (née five mile) location. With a Taco Bell, a Pizza Hut, a Jimmy John's, and yes, even a Mc'Ds down the street, there is competition, but the restaurant is placed in a prime location. Being that it's in a "mini mall" location poses a small problem of parking, but considering it's set for quick, pick-up, and take out, this shouldn't bear a problem in the long run.
Overall, this location looked well maintained and clean -- for all it opened only a bare week ago. The rest rooms were clearly set up for all-access, being wide enough for folks with wheelchairs and ECV scooters, and with diaper-change stations, and easy-to-use, hands-free wash sinks. I'd say the only downer is that the toilet in the men's room was manual flush, as well as they didn't have an option for a air-dryer for hands.
Score — Three Quarters of a Star.
The Service — Staffing at a fast food place usually suffers from lack of availability, poor choices of hiring, or simply not having the numbers to support the workload during "rush" periods. So, having efficient, knowledgeable staff who can also be friendly and helpful is a must!
At SmashBurger, they seem to have this in mind, as all of the staff I saw at this location were very fast and worked hard to give customers a positive experience. While I was waiting in line, I picked up a hand-held menu to see what was available, and the cashier was quick to say, "Take your time sir. Just come up when you're ready to order!" She then went to the next customer behind me, without trying to pressure me into going faster.
Both cashiers were very in the know about their product — it's how I learned about what was in the Smash Sauce — and very willing to answer questions, even while keeping the flow of "traffic" moving. The wait-staff was also very conscious about the lobby, the customers, and the status of both. No one I saw was ever not approached by staff to check on "how's the food? Do you need a refill? Can we do anything more for you?" Very friendly and fast. A spill happened on the patio, and within a few minutes it had been mopped up and cleaned with no fuss.
I asked for a second sandwich to go, and the order was ready and presented by the manager within mere minutes (possibly well under the advertised 6-minute window touted on the company web page).
Overall, SmashBurger meets the high standard for customer service, store cleanliness and staff awareness that is a MUST in food service. If the Dale Mabry store is the example set, then the franchise should have no problem keeping its place among the fast-food landscape in the future.
Score — One Full Star.
The Connectivity — In today's day and times, Connectivity through a presence on the internet and social media is key to any success. Businesses have to find means to interact with consumers and customers to keep profits and feedback rolling in. For that, not only must you have that presence, but you also need to allow on-site access for folks to give their views on your performance through all forms of social media.
SmashBurger does host a hefty online presence, with sites and pages through most of the more popular Social Media services. Facebook, Instagram, Twitter, and also has pages with job networking sites such as Glassdoor and Linkedin (which is a boon for possible employment seekers). They also have a well-designed web page; its user interface is simple and quick, with the means to access all possible features like store locations, menus, nutritional value list, and even access to the franchise's history and story. The store locator makes it easy to find your local SmashBurger — via address or zip code — and even lists the out-of-country locales like in the UK and Canada... if you're traveling and need your burger fix.
The website is also where you can sign up for their customer rewards and incentive program — Club Smash — which ties into their smart phone app. The app can be downloaded through the usual services (Apple App Store and the Google Play for Android), and is used to help record your "points," get deals on food and drinks at your local franchise. The app allows you to sign up to Smash Club with your prior account — if you have one — or create a new one and sign in with Facebook or your email. Though I recommend signing up through the website, as the app seems to be slow in places. It does have an "order" option that allows you to place an order for pick up at your favorite location, which gives it a must-have for frequent customers. The option can allow you to pick your favorite/closest store, and there's even an Uber connection so you can get a ride to pick up your order if needed (though I wonder if they will also connect to Uber Eats for delivery?).
There's a lot of ways to earn points for rewards — at 100 points, you get a $10.00 value to apply to your next order — and it does benefit the consumer who loves to eat at SmashBurger.
In-store, there is the means to connect to Wi-Fi, but you'll have to indicate your local ISP and sign in like you would with your account at home. Otherwise, you may have to rely on hot-spot connectivity.
All customers are encouraged to connect and share about their experience at SmashBurger, and the presence through Social Media appears to be large and widespread. Most folks will tout the popularity of chains like In-N'-Out and Five Guys, but SmashBurger appears to be getting a full head of steam and their fans are clearly devoted to the brand.
Overall, SmashBurger takes full advantage of Social Media and has a large footprint on the internet. I can only see this growing as the years go on.
Score — Three Quarters of a Star.
The Value — Consumers are all about value and getting the most quality for their dollar. This also means being given options so that frequent use doesn't become bogged down and stale over time. It's not about being "cheap" but more about being able to deliver quality against the bottom line of cost.
For SmashBurger, they sit about just above the average cost for most fast-food burger chains. At the most, most marque sandwiches — burgers — cost around $3.99 to about $4.99 average. For the Classic SmashBurger, I paid $5.39 before taxes. For a Classic, with Smash Fries and a drink, it came to around $10.99 with taxes. For one person, not too bad, though I can see an average family of four will come to around $40–45 dollars for one meal.
Most other competitors will beat this with average four-person meals roughly about $20–30 dollars (depending on items and costs), but the key here is quality of product vs. competitors. SmashBurger offers a higher quality with freshly-cooked-to-order meats, along with options for folks looking to stick to diet plans or life-style choices like Vegans. Also, options for healthier toppings like avocado put it a bit above places like McD's — who are only just rolling out a few item options for their burgers, as of this past year.
Add to this, SmashBurger's value also breaks down to further aspects of service, availability and experience for the customer. Much like recent additions to South Tampa like Jersey Mike's Subs and Blackjack Pizza (which I'll be reviewing in the near future), the emphasis is giving the customer far more than a counter, a menu and a cashier. Coming to SmashBurger is like stopping in on a friend, who's there to greet you warmly, give you a great meal and wish you a speedy return the next time your food craving hits.
While I don't see SmashBurger as being an everyday option for Goode Foodes like myself, I can say that combined with their quality, service experience and their willingness to earn your business makes them a top option for burgers in South Tampa (or anywhere they set up shop). Clearly, they are worth every dollar paid, and well worth the trip.
Score — Three Quarters of a Star.
Overall Verdict & Score — SmashBurger gets Four & One Quarter Stars.
I highly recommend to all my Goode Foode Folks to give them a try, and I believe once you do, you'll have a new favorite burger in your life.
* * * * *
I hope you all enjoyed my review! As always, folks are encouraged to send feedback, suggestions, or just notes (if you want to be friendly). Send them to our official email at [email protected] and watch for future posts on Vocal as we establish our social media footprint with more places to follow online!
This is your Humble Reviewer — in the immortal words of Chairman Kaga-san — saying Allez Cuisine (until the next time)!