The Ginger Tea Reviews: White Chocolate Yellow Tea Bark
Now, there's a mouthful...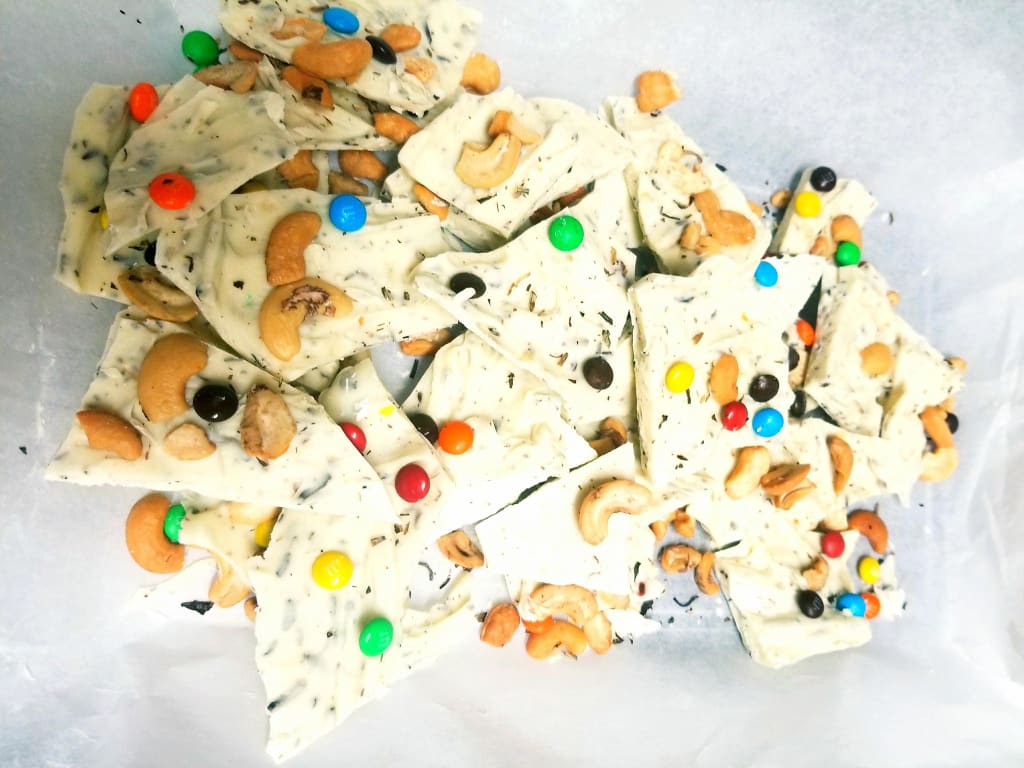 Easy and Delicious!
Hello, and welcome back to the Ginger Tea Reviews! Tea is my passion, and I'm making it my goal to share my passion with the world!
So, in my last post, we discussed yellow tea, particularly the amazingly delicious Golden Dragon, formerly sold at Teavana. I wanted to incorporate this tea into an easy recipe. While browsing through my Culinary Teas book, I came across a recipe for Chocolate Tea Bark. Inspiration hit me hard.
Not only is chocolate bark cheap and easy to make, but it's delicious and fun as well!
First, the Recipe...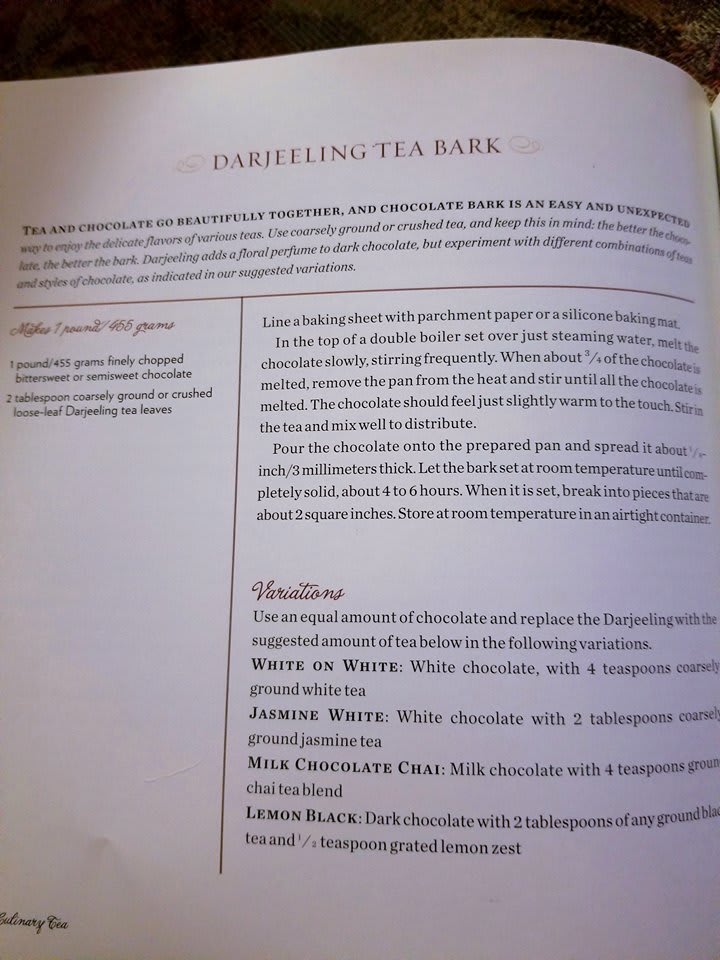 Chocolate Tea Bark
1 lb of Any type of chocolate of your choosing, finely chopped. (I went with white chocolate)
2 tbsp of finely chopped or ground Golden Dragon Yellow Tea.
Line your baking sheet with parchment paper. If you have a double boiler, set your chocolate up over steaming water, and melt slowly. When about 3/4 of the chocolate is melted, take off the heat and stir until smooth.
The chocolate should be slightly warm. Add your tea either while the chocolate is melting, or after and mix well. Pour chocolate into your prepared baking sheet, and add any toppings you feel like. Place in the fridge until solid.
You are also able to do this without a double boiler. Place half of the chocolate into a microwave safe bowl and heat for 30 seconds, or in 30 second intervals until most of the chocolate has melted. Add the rest of your chocolate, which will lower the chocolate's temperature, and mix until the chocolate is smooth.
Again, either add your tea leaves while the chocolate is heating up, or after. I chose to add my tea leaves during the melting process, only to let loose some of the tea flavor. Pour your mix into your prepared baking sheet, add your toppings, and then refrigerate until solid.
The Ingredients...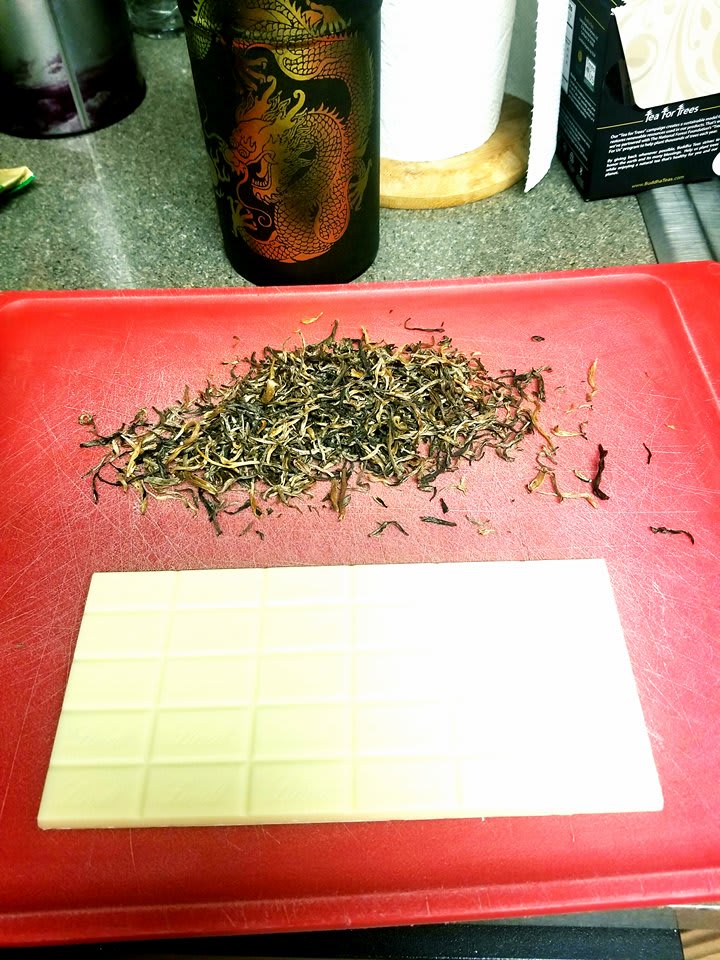 So, as we talked about in my last post, Golden Dragon has a warm, buttery flavor. I had to find a chocolate that would enhance this flavor, instead of masking it.
White chocolate seemed to be the best fit, as white chocolate has a smooth and buttery flavor as well.
I could have left the recipe as is, and I'm sure it would have been delicious. But I believe that we, as humans, eat just as much with our eyes as we do with our mouths. If the food is not visually appealing, then you are less likely to want it, right?
So, I chose to use chopped cashews as a topping. These were roasted and lightly salted, which added the perfect mix of salty and sweet. Then I added mini M&Ms for color, and because I have a chocolate problem (don't judge me).
How's the flavor?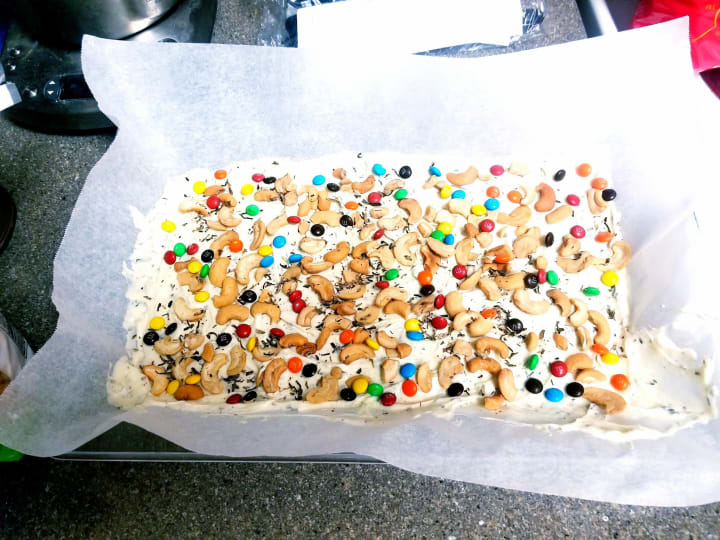 The tea paired perfectly with the white chocolate. The tea added some great health benefits to this delectable treat, just as much as it enhanced the flavor of the chocolate as well.
This bark is delightfully sweet, with buttery undertones. The cashews add a sweet crunch, and the M&Ms add just the right amount of color. It's crunchy, slightly rich, and just perfect for any event, whether it's a holiday or just for fun.
I know, it might be strange to imagine eating tea leaves at all, especially tea leaves that are still dried, but I assure you, it is well worth the try. The best part about chocolate bark is that it is so customizable. You can use dark chocolate with an Earl Grey, or milk chocolate with a chai tea, or even do matcha and white chocolate bark. All would be absolutely delicious!
Give it a try, and let me know what you think! Thank you for reading! Be sure to stay tuned for next week's topic: green tea! I know we have talked about green tea before, but be prepared! I've got something fun planned! So, I'll see you next time!
Remember, there is a great big world of tea out there, and together we can explore every last inch of it!
– Ginger
PS.
Like what you read? Support my blog by sharing with your friends and family! Share far and wide! Drop a gift down below if you're feeling particularly helpful.
Have a suggestion for a review, hit me up! I love to hear from you all! Follow me on my Facebook page, or on my Instagram, or on my Twitter page!
I appreciate your unending support! Thanks, guys!