The Earl of Normanton
It is not a person, it's a pub.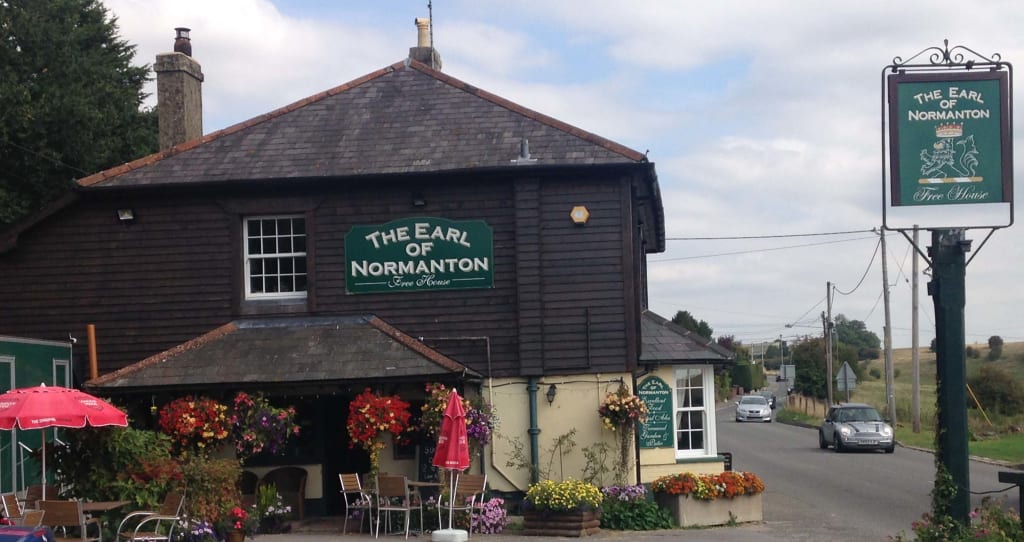 How many times have I driven past this place without stopping?
Several times when passing early in the morning before it is open or later in the day when I am faced with two very clear choices. One choice is to break the journey home, get comfortable and then have to break out of the womb like warmth and security of a decent hostelry to drive home. The second choice is to keep battling along the road for another 20 miles until I reach the womb like warmth and security of my own home.
Our visit was on the way home from Andover at about lunchtime on a sunny late summer's day. We pulled in to the car park and saw a chauffeur polishing his limousine as chauffeurs do when they are in that permanent state of standby. We both thought 'this might be a bit pricey'. We went to look at the menu outside the front door and the prices were not pricey at all.
The ladies behind the bar told us that the chauffeur pulled into the car park quite regularly but never came in to eat.
From the moment we walked in we were made welcome by the two ladies behind the bar. Even though this was our first visit we were made to feel like long time regulars who had only been in last night. This is something that happens all too rarely in the hospitality business here in the UK and when it does it stands out as clearly as a verdant green oasis in a desert welcoming the weary traveller desperate for sustenance and comfort.
At a quick guess the bar and eating area could seat up to forty covers at one sitting. The day we dropped in there were possibly eight other customers having lunch. This area will get bigger when the very discrete building work going on behind a plasterboard partition is completed. The whole area was flooded with sun light and well-spaced out.
We explained that my wife is vegetarian and the team behind the bar both picked up the menus to look for possibilities. While they were doing this, I settled for the skewered chicken served with a satay sauce, salad and fries. A sort of fusion of Far East and British High Street cuisine meeting in a Wiltshire village. My wife chose the warm goats cheese salad that included her favourite veg; artichoke hearts.
After ordering we sat in a bay window, as shown in the cover photo, at a table bathed in warm sunshine and looking across a shallow green valley.
Lunch was served within fifteen minutes of our order being placed. The presentation looked really good. I had five skewers of chicken meat, some green salad, a generous bowl of satay sauce and the fries. The goats cheese salad comprised of a generous round of cheese served on top of a generous green salad that included that much awaited artichoke hearts. Not just one but three or four hence use of plural.
The chicken was moist. The satay sauce had that slightly delayed kick of hot spice that leads you to first believe that there is no spice at all and then, whoomph. Not like a Saturn rocket going for lift off but more like a wood burning stove on a cold winter's afternoon. My plate was cleared so that is something the kitchen always want to see. My wife only had two comments about the salad. "It was really good, especially the artichokes," and "There was too much."
Now for those killer questions.
Would we go again? A most emphatic YES.
Would we recommend The Earl of Normanton to anyone? Again, a most emphatic YES.
The price for our two main courses and two drivers drinks was £25.20.
A Very Rough Route Map from Salisbury to the Earl of Normanton