The Deviant Baker: Easy Peach Dessert Recipes That Will Leave You Feeling Peachy
Incident Four: Peach Season May Not Be a Total Bust
If you like to improvise, experiment, or find it difficult to follow a recipe—the Deviant Baker is the place for you where deviating is creating.
My sister has been on a peach kick. I went shopping with her a few months ago, and I think she spent the most time examining the canned peaches. But who am I judge? My favorite food is fruit. So when fresh peaches finally hit the local grocery shelves, I was excited to share them with her. I bought a few and eagerly took them home to test them. Unfortunately, despite feeling ripe, they did not taste good. Actually, they had no taste at all. I texted my sister, and we lamented on the local peach season being a total bust. Perhaps it is the odd weather we have had this year, too much rain and not enough sun, that they are mushy and tasteless. Or maybe I should have listened to Justin Bieber when he said he got his peaches in Georgia.
Regardless of the lack of delicious, fresh peaches, I was determined to make a peach dessert for my sister's birthday. After a bit of searching, I found two recipes that sounded quite, well, peachy.
Below are two classic recipes with a peach twist and notes on my improvisations and deviations. Not surprisingly, butter caused problems for me, again (rolls eyes).
Peach Upside-Down Cake
(Original Makeover Peach Upside-Down Cake found on Taste of Home, deviations by me)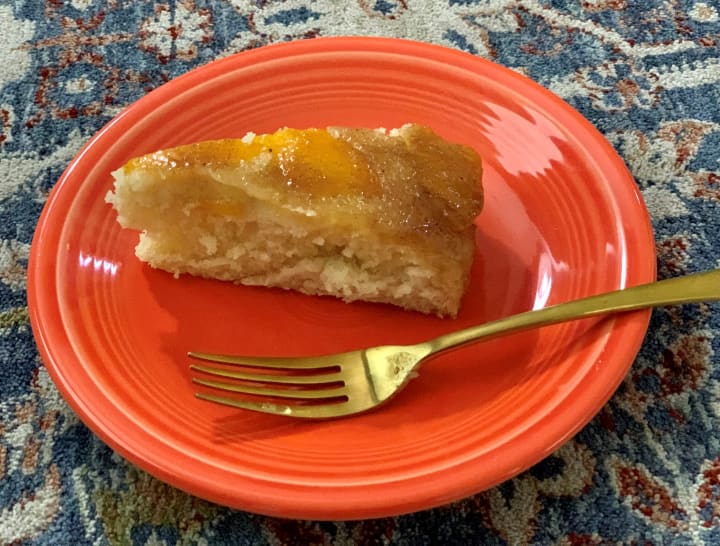 As common with The Deviant Baker, this recipe is quick and easy. And the peaches add a slight twist to this classic upside-down cake. However, my favorite part about this recipe was the texture of the cake. It was moist and flavorful. I often lose interest halfway through an upside cake as the bottom half is usually plain and dry, but the cake was my favorite part of this recipe. Maybe it was my butter blunder, or possibly it is the recipe itself—only someone who follows the original recipe step by step will ever know (and that will not be me).
Here are the ingredients you will need:
Dairy:
5 tablespoons butter
1 egg, room temperature
1 cup 2% milk
Baking:
1/3 cup brown sugar
1/4 teaspoon ground cinnamon
1/8 teaspoon ground nutmeg
1 1/2 cups all-purpose flour
2/3 cup sugar
3/4 teaspoon baking powder
1/4 teaspoon baking soda
1/4 teaspoon salt
1 teaspoon vanilla extract
1 tablespoon white vinegar
Other:
15 ounces organic canned peaches
Instructions (and deviations):
1. Place one egg on the counter to warm to room temperature. I did this, can you believe it?
2. Preheat the oven to 350 degrees F.
3. Drain peaches and set aside two tablespoons of peach juice.
4. Place drained peaches on a paper towel on a plate to remove excess liquid. Then cut each peach in half lengthwise.
5. Grease a 9 inch round baking pan with butter.
6. Melt one tablespoon of butter in the microwave for 30 seconds on low until melted.
7. Combine the melted butter, brown sugar, cinnamon, nutmeg, and peach juice. Pour into greased pan and tilt pan until the bottom is completely covered. Arrange peaches in the bottom of the pan. Note: I arranged the peaches in a flower pattern, but any design covering the bottom of the pan will work.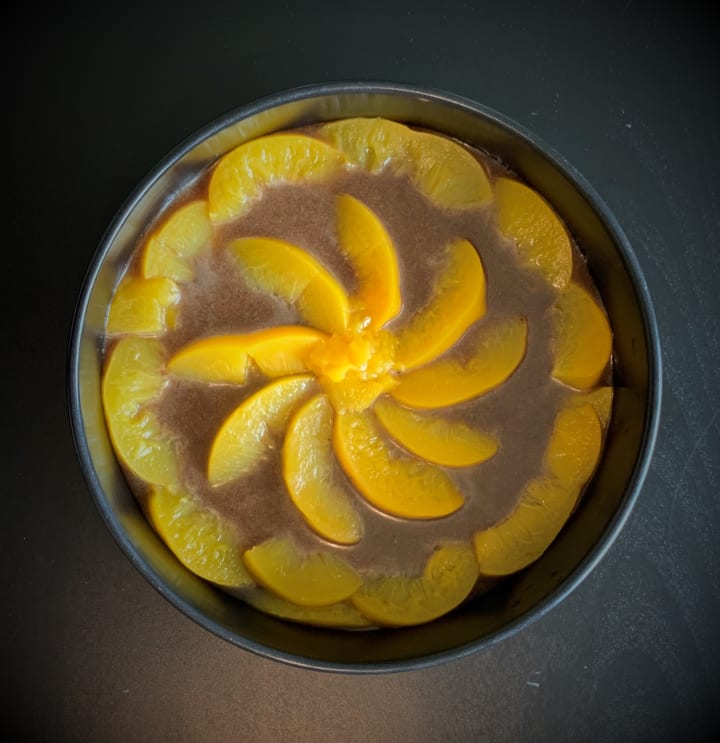 8. Combine flour, sugar, baking powder, baking soda, and salt in a large bowl.
9. Combine milk and vinegar in a small bowl and stir well. The original recipe calls for buttermilk. I prefer to make a buttermilk substitute with ingredients that I have on hand. Add the vanilla and egg and whisk until combined. Then add to dry ingredients and stir several times and then PAUSE!
Did you remember that troublesome butter? I forgot to add it when the directions called for it. Although if you have read the previous Deviant Baker articles, you will understand that butter and I are not friends.
10. Place the remaining butter in the microwave for 30 seconds on low until almost melted. I had a bit of impatience by this point. Then add to the mixture and continue stirring until just combined.
11. Carefully spoon the mixture into the pan, ensuring that the bottom of the pan is completely covered.
12. Bake for 35 minutes or until a cake tester comes out clean.
Note: I purchased an Oxo cake tester a few years ago, and it is one of my favorite baking tools. It is so easy to use and clean. It is not currently available, but check out this cute 4-pack of cake testers on Amazon. This is a suggestion and not a paid advertisement.
13. Place the pan on a wire rack to cool for 20 minutes. Then flip onto a plate or serving dish and serve warm or chilled.
Peach Cinnamon Rolls
(Original Easy Cast-Iron Peach Biscuit Rolls found on Taste of Home, deviations by me)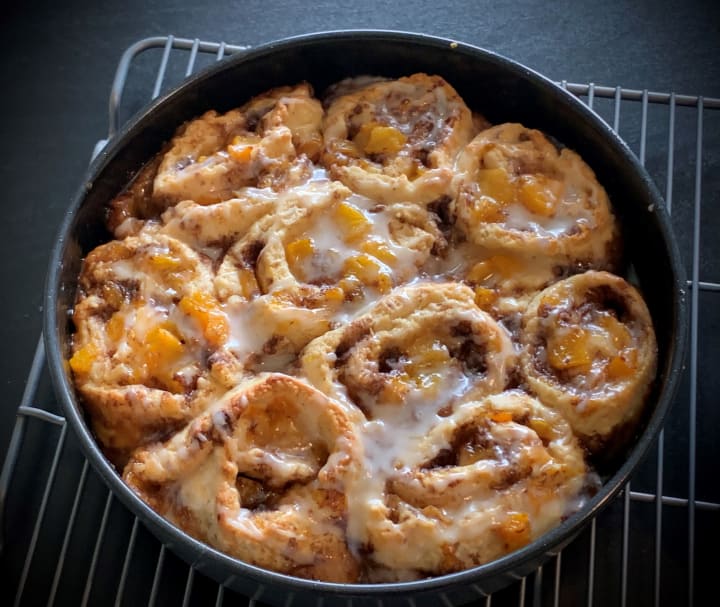 I have to confess that I do not care for cinnamon rolls. They are too sweet. The smell of the cinnamon sugar wafting from Cinnabon, a bakery specializing in cinnamon rolls, makes me nauseous. So I did not expect to like these rolls. However, I was pleasantly surprised to find that these rolls were not only not too sweet, but I loved the addition of the peach. These easy and delicious rolls make a great dessert or weekend breakfast treat.
Here are the ingredients you will need:
Dairy:
3 tablespoons butter
1/4 cup butter, softened
3/4 cup 2% milk
Baking:
1 cup brown sugar
3 teaspoons ground cinnamon
2 cups all-purpose flour
2 tablespoons sugar
1 tablespoon baking powder
1 teaspoon salt
1 cup confectioners sugar
Other:
15 ounces organic canned peaches
Instructions (and deviations):
1. Preheat the oven to 350 degrees F.
2. Grease a 9 inch round baking pan with butter.
3. Mix brown sugar, cinnamon, and three tablespoons of softened butter until crumbly. Crumble half of this mixture into the bottom of the greased pan.
4. In a large bowl, mix flour, sugar, baking powder, and salt. Cut butter into small chunks. Add butter and milk to the flour mixture and stir until it becomes a soft dough. Roll the dough into a rectangle on a floured surface. The original recipe calls for an 18x12 inch rectangle; I guesstimated the dimensions.
5. Crumble the remaining brown sugar mixture over the dough, leaving a 1/2 inch border.
6. Drain peaches and reserve peach juice. Chop peaches into small chunks and place evenly over the brown sugar mixture.
7. Roll dough lengthwise and pinch the end to seal the roll. Cut the roll into twelve even slices and place in pan on the slice side.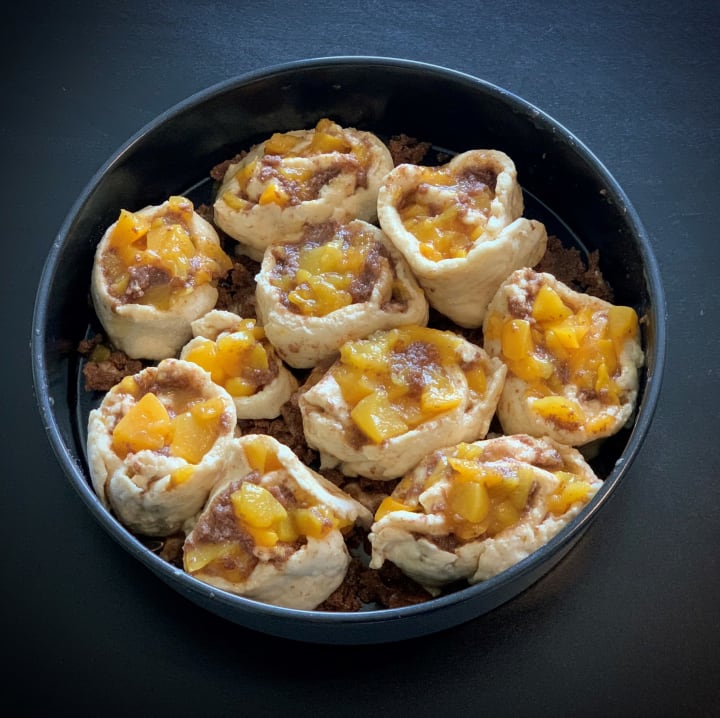 Full disclosure, I rolled my dough too thin in spots (apparently) because my roll was leaking peaches before I even cut it. When I cut the dough, a lot of the filling spilled out. If this happens to you, scoop up the filling and place it on the sliced side of the roll. Everything combines when it bakes, so do not worry if it does not look pretty. Additionally, the original recipe calls for twelve slices. Not surprisingly, I got distracted with all the gushing peach filling and ended up with ten-ish. I had one super tiny roll, but I put it in there anyhow, and it puffed up so much, only I knew it had been a miniature.
8. Bake for 30 minutes or until lightly brown. Place on a wire rack to cool for 10 minutes.
9. Mix confectioners sugar and two tablespoons of reserved peach juice. Add additional peach juice until the glaze reaches the consistency of a drizzle. Then drizzle over warm rolls and serve.
For a busted peach season, these peach desserts turned out pretty good. The best part? You can make them anytime because they both use canned peaches. Are you feeling peachy yet?
Until the next standard deviation,
The Deviant Baker
In case you missed it, check out The Deviant Baker: The Easiest Salmon That's So Good You May Think It's a Little Fishy.
About the Creator
I want to leave kindness in my footsteps and tiny seeds of hope in your brain.
Write your own story here.
Reader insights
Nice work
Very well written. Keep up the good work!
Top insights
Compelling and original writing

Creative use of language & vocab

Easy to read and follow

Well-structured & engaging content

Masterful proofreading

Zero grammar & spelling mistakes
Add your insights