The Bone Broth Trend, Explained: Why I've Made Bone Broth a Pantry Staple
Ready to integrate bone broth into your daily regimen?

Created withKettle & Fire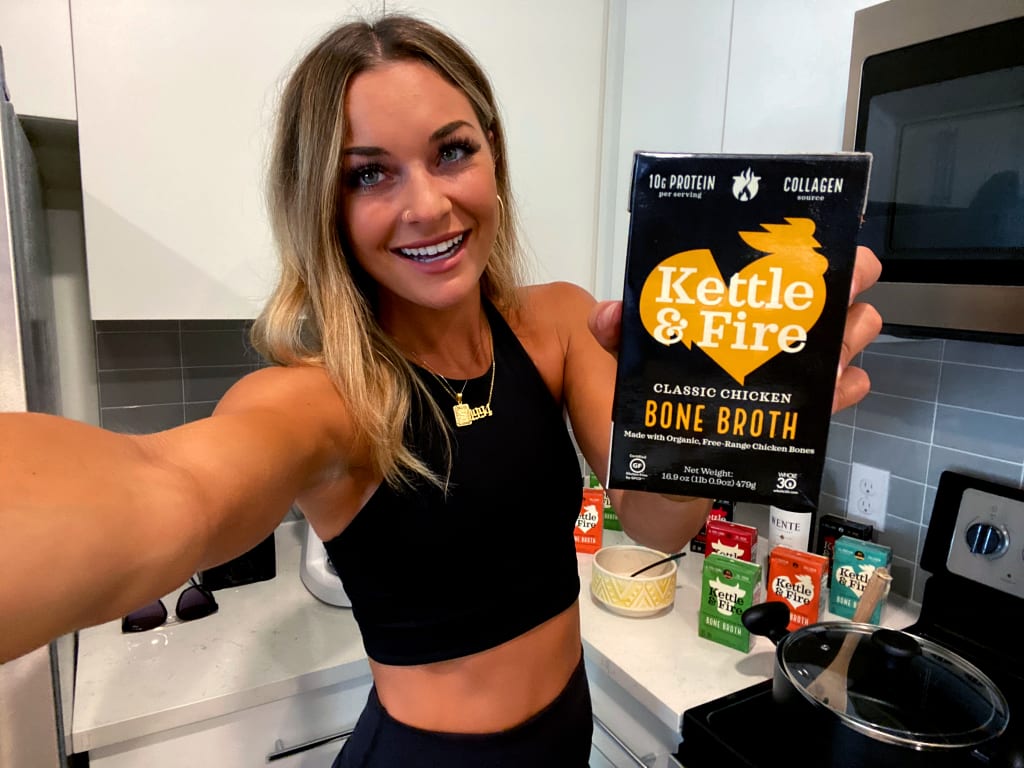 Broths and soups have been part of almost every culture's culinary tradition throughout the ages; from Vietnamese Pho to Italian Brodo to American chicken noodle soup, a flavorful, meaty broth is at the base of many of the worlds' most comforting dishes. But in the last few years, there's one type of broth in particular that has hit the food scene (and the fitness scene!) with a vengeance: Bone broth! Bone broth, which has been described by some nutritionists as 'liquid gold,' has quickly changed the game, and for good reason.
Ready to find out why? To all of my health-junkie readers, get ready to learn about the benefits of bone broth—from why you'll love it so much to why your body will, too.
Bone broths provide what our diets often lack.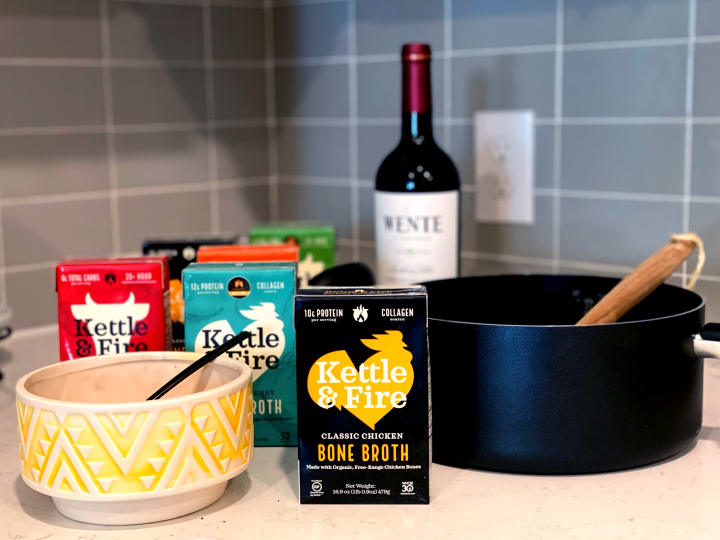 As a yoga instructor and world traveler, I have a unique desire to create meals that are delicious, nutritious and out of the ordinary, which requires some thinking outside of the box. That's why bone broth entered the scene for me — specifically, Kettle & Fire Bone Broth. This brand is not only committed to crafting soups and broths that are packed with nutritious goodness, but they've created bundles allowing you to purchase a variety of pre-selected flavors, including friendly options for a variety of dietary restrictions. Broths and soups are packed with nutrients we currently lack by and large in the western world of cooking — so I figured, why not bring broths back?
Not only does bone broth taste delicious and inject plentiful, juicy flavor into every bite of whatever dish it occupies, but it has crazy good health benefits, too. Displayed with pride and accessibility on the Kettle & Fire website are key nutrient benefits these miracle bone broths offer. This liquid is known to promote gut and digestive health, support joint mobility, increase skin, hair and nail strength and lastly, stabilize sleep! I don't know about you, but I for one need serious help in several of these areas in my life.
If you're on a restrictive eating plan and not sure if bone broth fits into your lifestyle, look no further. Bone broth can pioneer these wholesome dietary changes, but this broth has also proven to enhance results in the Keto, Paleo, and Intermittent fasting diets—so no matter the lifestyle choice or dietary restrictions, bone broth can be a great supplement, with benefits that go well beyond weight loss or muscle growth.
My bone broth journey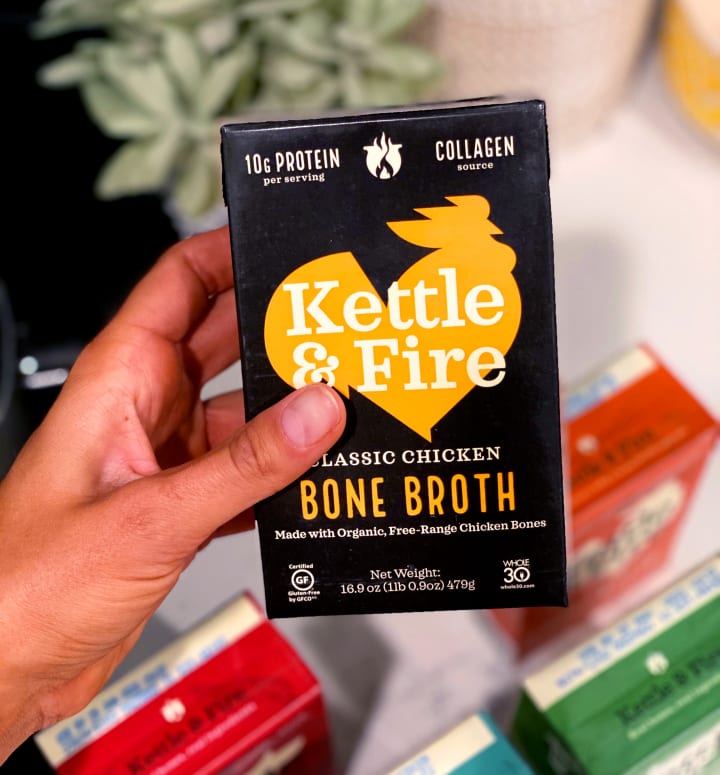 It's no secret to my friends and family that my favorite dishes revolve around chicken. From my favorite hot pot restaurant in Beijing to gyros on the coast of Greece, chicken is always my protein of choice, no matter the place or plate! So naturally, I had to research all about the benefits of chicken bone broth in particular, knowing I would be cooking with it the most. Lucky for me, yet again, Kettle & Fire made it super easy for me to find the facts.
Chicken bone broth contains collagen, and organic chicken bones (especially feet!) add extra collagen to your broth. Collagen is known to improve the condition of skin and also helps increase muscle mass, prevents bone loss and relieves joint pain. Anyone up for ordering chicken feet next chance you get?! Who knew— they're great for you! Chicken is also a natural protein source, and Kettle & Fire chicken bone broth contains 10 grams of protein per serving, along with amino acids like glycine and glutamine that keep your gut working properly, aiding in a healthy digestion process and immune system.
Now, I know not everyone shares the same taste buds as me, so naturally I had to follow up and find the facts on beef bone broth. The results were equally impressive. Bone broth by Kettle & Fire is made from 100% grass fed cattle and is simmered over long cooking times to extract bone marrow that contains nutrients your body will love and crave. This process also produces a killer flavor! Similar to chicken bone broth, the nutrients extracted from beef bones contain amino acids like glycine and glutamine that aids digestion and promotes gut health. Bone marrow gives you vitamin A, vitamin K2, omega-3s, omega-6s and minerals like iron, zinc, selenium, boron and manganese. Marrow from beef, specifically, contains CLA which is commonly used as a weight loss supplement, too!
Do I have you convinced you need to add bone broth into your diet regimen? I sure hope so! Let's figure out how.
Easy ways to incorporate bone broth into your diet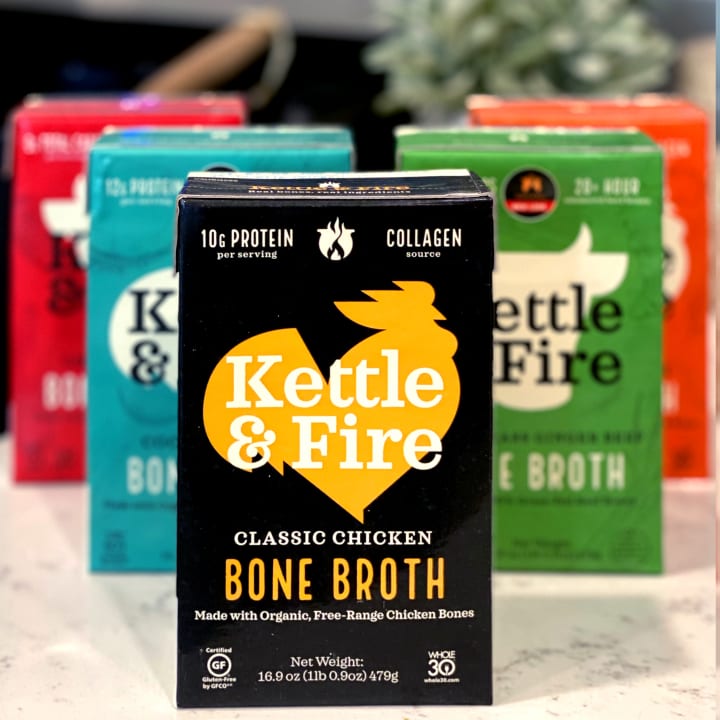 Heading over to Kettle & Fire's site, I noticed the brand has several articles covering popular seasonal dishes that integrate bone broth in surprising ways. Whether you want to take a swing at a Gluten-Free Mongolian Beef dish or cozy up and enjoy a classic One-Pot Chicken Noodle Soup, your best friend in the process will be your bone broth and the recipes found at Kettle & Fire. I even saw ideas of how to use bone broth in my morning smoothies! Crazy, right?! Crazy and delicious.
My favorite broth to cook with is the chicken bone broth and my favorite dish, the Easy Greek Lemon Chicken Soup by Bessie Bakes (which you can find here!). I not only love the flavor and texture of this soup but am thrilled that it takes less than 30 minutes to prepare. It's an easy soup that can be enjoyed all year long and can be made with your choice of rice, orzo, egg noodles, or even cauliflower rice to suit your taste buds and potential dietary restrictions, too. Once I began cooking with bone broth, I came to realize that you don't have to add tons of ingredients to get a soul-satisfying flavor. The only ingredients required in this soup are chicken, lemon juice and zest, green beans, chicken bone broth, and white pepper. Bone broth packs your dish with indulgent flavor, no matter the recipe—meaning that it's even simpler to make an even more satisfying meal.
Ready to integrate bone broth into your daily regimen? Whether you're a 'smoothie in the morning' person or a late night culinary prodigy, adding bone broth into your cooking routine can be a game changer. I know over the last few months of cooking with Kettle & Fire broths, I've created more satisfying meals and now have pure confidence that the creations I bring to the table will not only be delicious, but incredible for my active body, too!
So what are you waiting for? Take the first step, no matter how big or small, and give bone broth a try. Your taste buds and body will thank you later.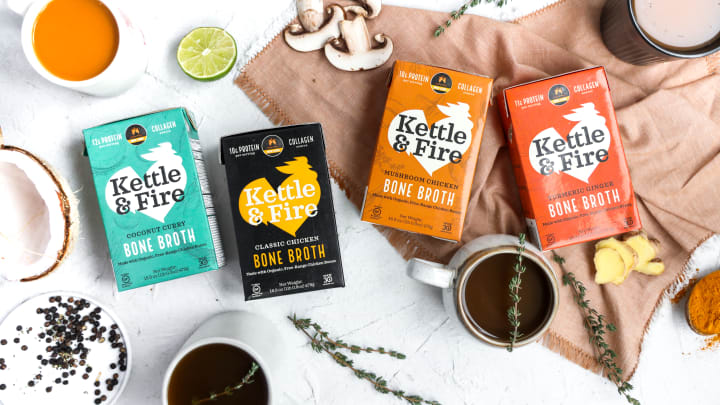 Reader insights
Be the first to share your insights about this piece.
Add your insights