The Best Pie Ever
Mini Peach Pies!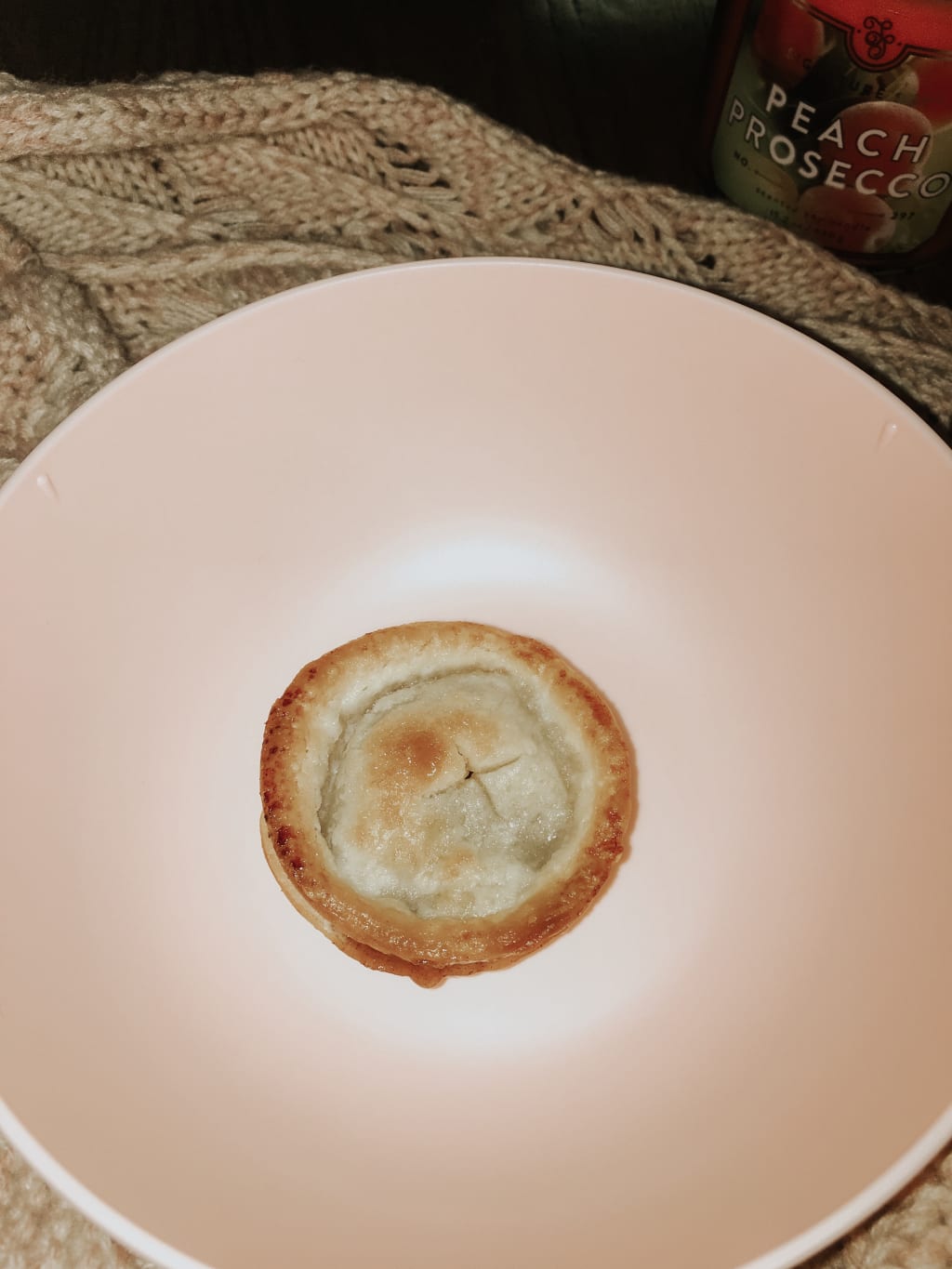 Once Luke and I got married, we both developed a really bad habit pretty early on. One that we indulged in just about every night: dessert. When you're newly married and don't want to spend a ton of money on things you don't really need, sometimes the best thing to do is to go pantry/freezer diving. We were sitting around the house one night, and I was feeling the familiar craving; I needed some sugar. We both did. So, I started making a mental list in my head of all the things we had in the fridge, pantry, and freezer (I like to be inventive when I can). The most hopeful ingredient that we had was a leftover refrigerated pie crust from when I had made a pumpkin pie a few days before. I didn't have much to fill it with laying around, but I did have a bag of frozen peaches in the freezer.
I googled "mini peach pies" feeling hopeful and found an amazing recipe online. I tweaked it a bit and thought it was definitely worth sharing. Luke and I both agree that it's our new favorite dessert (It's even up there with chocolate lava cakes for me).
Here are the ingredients that you'll need:
One refrigerated pie crust (Or you can make your own! I tried and it was just as good, according to Luke)
About a handful of frozen peach slices
Two tablespoons of flour
At least a teaspoon of cinnamon
A fourth of a cup of sugar (Sometimes I sprinkle a little extra on the top of the crusts before baking too)
A half a stick of butter (Or less)
To start, I mixed in a small bowl some flour, sugar, and cinnamon (If you want to get a little fancy with some extra spices, go for it! I bet it would be great). Then, I unrolled my refrigerated pie crust and cut four (about) five-inch circles and four (about) three-inch circles. I used two cups with different sized rims to make it easier. Then, I grabbed a muffin pan and pressed the five-inch pieces of dough into the bottoms of four muffin holes. Then, I added a slice or two of frozen peaches to the inside of the four pockets of dough (you want to save plenty of room for all of the filling). Next, I sprinkled the flour and sugar mixture evenly over the four pies (it might look like too much but they'll be delicious, trust me). After that, I placed a pad of butter on top of the flour and sugar mixture on each pie and sealed the pies by placing the smaller remaining circles of dough on top, pressing down around the edges of each one. Lastly, you want to cut a small 'x' into the tops of your pies to use as a vent. Bake in the oven at 375 degrees for about ten minutes or until your mini pies are crispy and golden brown.
Tip Number One: If you have extra pie crust leftover (which you should) get inventive! I've made a less-attractive extra peach pie, a small strawberry thumbprint pie, and even a chocolate pie with the remaining bit of dough. Luke made a chocolate peanut butter banana pie too! Have fun with the leftovers!
Tip Number Two: Serve with vanilla bean ice cream, a ton of whipped cream, or a hot cup of coffee. You won't regret it.
I hope you enjoy this tweaked recipe of mini peach pies! Luke and I have enjoyed them over and over. They're VERY addictive, and we have zero regrets.