The 10 Best Nespresso Compatible Organic Coffee Pods
Nothing beats that morning grogginess like some of the best Nespresso compatible organic coffee pods, am I right?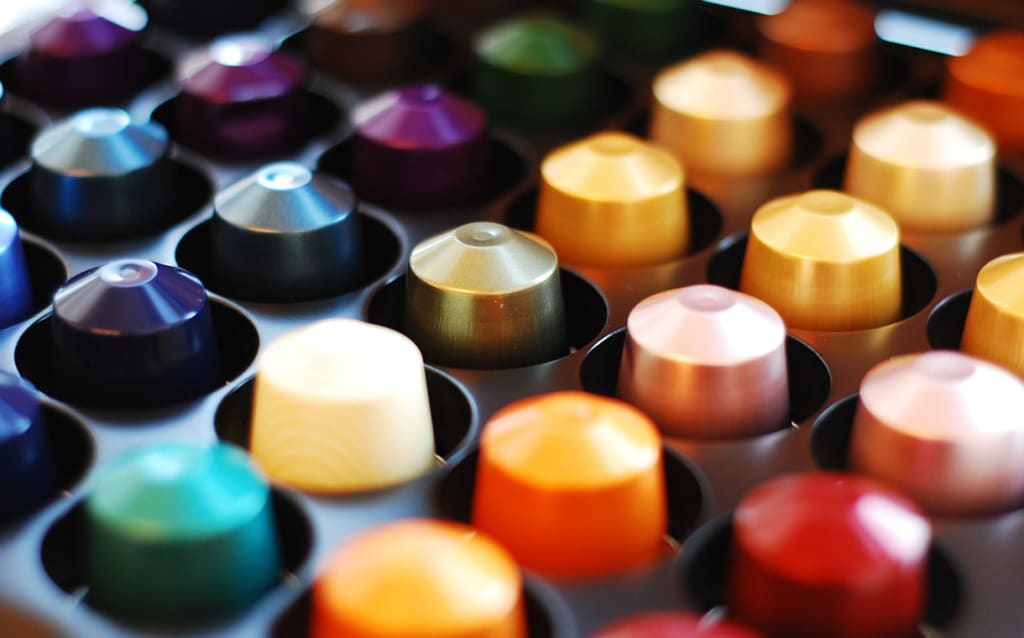 If you're like me, waking up in the morning is a tall order. Coffee used to do the trick, but at this point, I don't have enough time to consume the copious amounts of caffeinated liquids it requires to get me going in the morning. Especially when I'm rolling out of bed mere minutes before my workday starts.
What I've done to adapt is pretty simple—I've made the switch to espresso. It's just as quick as making my K-cup of coffee in the morning, but unlike my usual eight ounce cup of black coffee, it only takes a couple of seconds to get down my gullet. Obviously I'm no barista, but getting a Nespresso machine greatly facilitated my switch to espresso. It's easy to use and super convenient in the morning, so I don't have to worry about spending a ton of money—or time—when getting my "fix."
In my quest for ultimate caffeination, I've realized I need to get a little healthier—especially on those days where I'm drinking five or six espressos a day. In order to offset my crippling caffeine addiction, I've opted to go with organic coffee pods to make things a little easier on both my mind and body (I'm aware of the side effects of ingesting caffeine, but that's a discussion for another day). Luckily, I've gotten the pleasure of trying some of the best Nespresso compatible organic coffee pods, and they've really changed my morning routine for the better. So I'll go through some of the ones I've tried, and hopefully you readers will follow suit.
The first entry on this list comes courtesy of Artizan Coffee Co. These 100 percent USDA certified organic Nespresso compatible pods were fairly cheap, yet they gave me the energy boost I so desperately needed. I opted for the variety pack, so I could taste a few different choices. My favorite was the Cuba Mia Signature, which included a berry blend, chocolate, honey notes with hints of toasted coconut, and tobacco.
Hardy also has a pretty sweet deal when it comes to Organic Nespresso-compatible pods; especially if you're a fan of authentic Italian espresso, as Hardy roasts and packages their product in Milan. Added bonus—the pods AND the boxes they're shipped in are all 100 percent recyclable, so if you're big on the environment (as you should be!!!), these are definitely worth picking up.
These biodegradable coffee capsules are also great for the environment, but their main allure is their delicious, smooth, roasted blend. Made out of Arabica bean and packaged in Italy, this particular brand contains a smooth, strong tasting gourmet espresso. You'll know right away from the strong scent of it that this is some high quality coffee capsules.
Cap'Mundo has a fine selection of Nespresso compatible capsules, but the best I've tried was their French artisanal espresso. If you want to take a little bit of a break from the Italian roasts, this is probably your best bet. What separates this top quality organic coffee from the rest of its competitors is the extensive process its creators utilize before packaging. Unlike most brewers, Cap'Mundo uses high quality green coffee beans which are then roasted for 15 minutes or more. Comparatively speaking, most typical brands only roast their beans, on average for about five. Perhaps the best "perk" this brand had to offer was its 60-day money back guarantee. Obviously, however, I didn't have to use it.
I'll admit, I'm not a fan of a decaf cup of coffee, but when it comes to the rich flavor of espresso, I'll take it caffeinated or non-caffeinated. I've garnered such a love for espresso over the past few months that I'll actually have random cravings after work, so obviously acquiring some decaf was necessary. The brand that I found particularly delicious was Kiss Me Organics. Their 100 percent biodegradable coffee pods are great for the environment, definitely packed a punch in terms of flavor, and the caffeine hound in me was kept at bay. A rare feat, to say the least.
Even back to my regular coffee days, I've always had a preference for dark roast. What I didn't realize back then, however, was just how much better a dark roast actually is when it's in espresso form. This particular blend from Portland Roasting Coffee was absolutely delicious, which is no surprise, considering Portland's own illustrious history in coffee. Not only is this blend rich and smooth, but there is a hint of sweet toffee at the end of every sip, making it a great choice for cappuccinos. Personally, I'll stick to straight espresso, but for those who like to spruce up their beverages a bit, this is a great option.
If you're someone that typically has a hard time choosing between flavors, or simply likes to try a bevy of different types, you may want to go with this 100 pack of organic espresso pods by Gourmesso. Not only is it helpful from a financial standpoint (you'll save over 30 percent by simply buying in bulk), but you're getting a bunch of delicious and exotic blends like Brasile Blend Dolce, Ristretto Blend Forte, and Messico Blend Forte. If you decide you like them all and want even MORE, you can always opt for a pack of 150.
Cru Kafe also makes a variety pack of organic coffee pods for the Nespresso that is great for those with an extensive palate. There's not quite as much in this particular collection—only 48 total. However, this one is totally evenly dispersed, with 12 coffee capsules of each of Cru Kafe's signature blends.
Ginseng is considered one of the premier superfoods out there today, so if you're looking to incorporate some of that good stuff into your morning routine, these ginseng coffee compatible pods by Rokit are a slam dunk purchase. Not only do they contain ginseng, but there's some goji berries mixed in, making it the ultimate blend of superfood glory for those trying to, you know, stay alive a little longer. All that jazz.
Last but not least, we have this 60 count of pods by Rosso Caffe. These, without a doubt, rank as some of the best Nespresso compatible organic coffee pods, due to the rich, unique taste of all three different blends (Brulee, Caramello, and Vaniglia). Any time you have a hankering for some espresso, you can't go wrong with this tried and true set of brands. With over 2,800 customer reviews and a pristine four star Amazon rating, this is amongst the highest quality Nespresso compatible capsules out there.
Be warned, however; before trying all these pods, you might want to learn how to clean a Nespresso machine, first. Things might get a little ugly, if not.