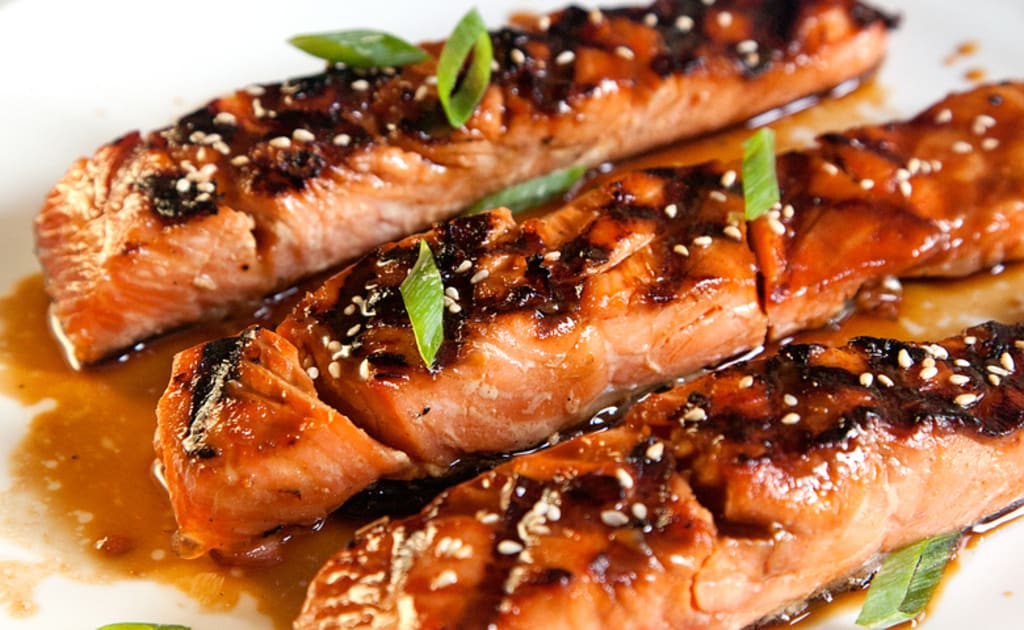 Teriyaki Salmon Recipe
This teriyaki salmon recipe is fantastic! It is quite easy to make and doesn't require a lot of time to marinate. With its tempting sweet and savory marinade, this teriyaki salmon will quickly become a go-to dish for dinner. Even the pickiest diners at your table will enjoy it!
With the homemade teriyaki sauce, the Asian salmon comes out flaky, juicy, and incredibly wonderful. The entire family will enjoy this simple salmon meal idea.
Ingredients Needed for Teriyaki Salmon
You'll need the following ingredients for this recipe for teriyaki salmon:
Sesame oil: Sesame oil is the first ingredient in this fish teriyaki marinade.
Lemon juice: Lemon juice brings much-needed brightness and freshness.
Soy sauce: The savory flavor of soy sauce is enormous.
Brown sugar: The marinade has a lovely sweetness from the brown sugar.
Sesame seeds: Sesame seeds give a light taste and crunch in a tablespoon.
Spices: You'll require powdered mustard, ginger, and garlic.
Salmon: There are four salmon steaks in this dish.
How to Make Teriyaki Salmon
This dish for teriyaki salmon is delicious! Basic ingredients don't require extensive marinating. A recipe for flaky, juicy, and delectable salmon with teriyaki glaze.
Whether we grill the salmon outside or broil it inside, this dish is always a favorite. To complete your dinner, serve it with some homemade teriyaki fried rice.
Teriyaki Salmon Recipe
Prep Time: 25 minutes Cook Time: 15 minutes Total Time: 40 minutes Servings: 8 Servings
Ingredients
2 1/2 lbs salmon filet sliced into 2" wide slices
For the Teriyaki Sauce:
3 tbsp teriyaki sauce
3 tbsp hoisin sauce
3 tbsp soy sauce
1 tbsp white vinegar
1 tbsp sesame oil
1/3 cup packed light brown sugar
2 large or 3 medium garlic cloves, minced
2 tsp freshly grated ginger, or 1/2 tsp ground ginger
Instructions
Large rimmed baking sheet, greased Set the oven to 400°F.
Brown sugar will dissolve after the sauce ingredients are combined and stirred.
Slices of salmon should be put one by one in a mixing dish. The salmon should be covered with the sauce and let to marinate for 20 minutes.
Place the fish on the prepared baking sheet. Salmon can be baked at 400 for 12–16 minutes, depending on thickness, to make it flaky and well cooked.
The remaining marinade should be transferred to a small sauce pan, brought to a boil, then simmered for 3 to 4 minutes, stirring occasionally, before being removed from heat while the salmon is baking.
After the salmon has finished baking, spray it with teriyaki syrup and top it as you like with sesame seeds and finely chopped green onions.
How to Store Teriyaki Salmon
You may keep leftover teriyaki salmon in the fridge for up to three days by placing it in a small, airtight container. The teriyaki salmon can be frozen for up to three months.
Nutrition Facts
411 calories, 26g of fat, 10g of carbs, and 34g of protein.
Frequently Asked Questions
1. Is pan-frying or baking fish preferable?
Salmon fillets that have been roasted in the oven produce lovely, delicious fish that doesn't need constant care. This technique requires you to sear the fish in a pan on the stovetop first, which crisps the skin in a delicious way. We advise it if you're preparing four or fewer fillets.
2. Is teriyaki a nutritious dish?
Given that it primarily consists of protein from the chicken and a manageable amount of carbs from the sauce ingredients, teriyaki can be a very healthy dish. If the recipe and portioning are followed, one serving of teriyaki chicken contains only 321 calories, 45 grams of protein, 20 grams of fat, and 13 grams of carbs.
To Read the Full Article, Click Here: Teriyaki Salmon Recipe
About the Creator
Addyourlife.com is pleased to provide reliable, comprehensive, thought-provoking information on important topics worldwide without regard to bias or personal agendas.
https://addyourlife.com/
Reader insights
Be the first to share your insights about this piece.
Add your insights