Tasty Appetizers
Delicious appetizers from various countries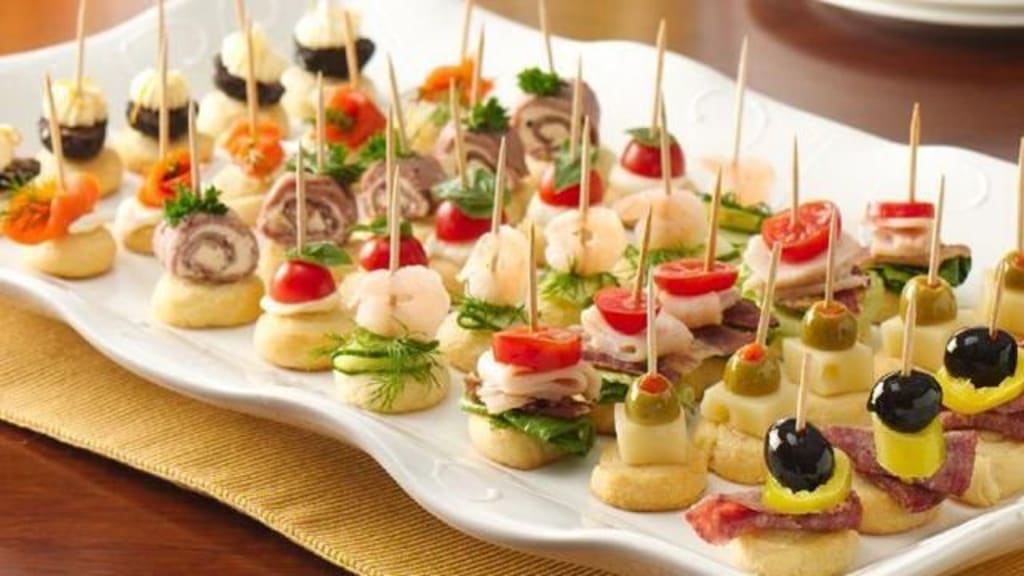 Europe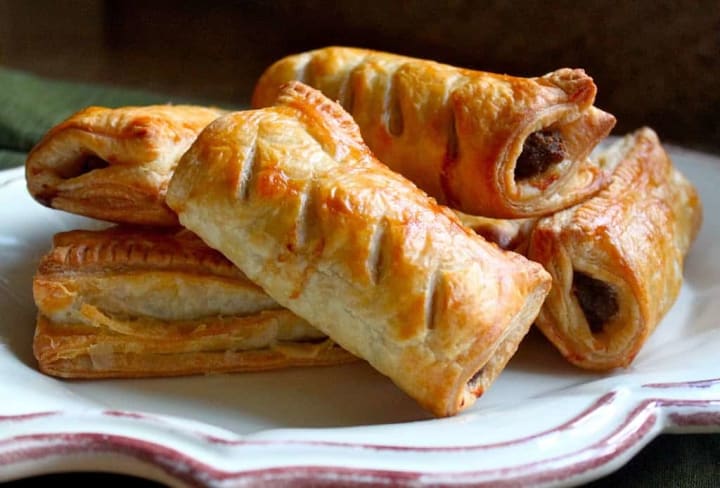 In Britain popular appetizers are sausage rolls There are sausages that are wrapped up in puff pastry and baked. Before baking the pastry is brushed with egg or milk. These can be served hot or cold. They can also be eaten as snacks and can be served with some dips on the side.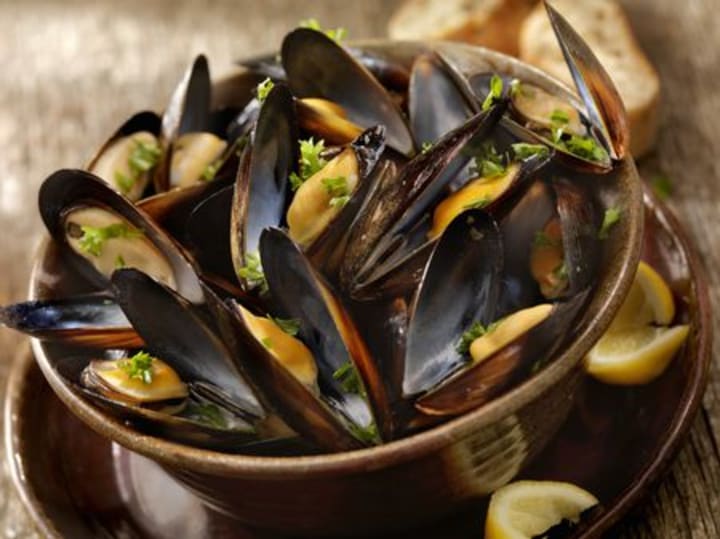 In Greece and Croatia, a popular appetizer is mydia or dagnje na crvenu buzaru which is also referred to as dagnje na crveno in Croatia . This appetizer consists of fresh mussels that have been steamed in red wine with fresh herbs, garlic, and different garden vegetables. This is usually served covered by a Mediterranean red sauce. The appetizer can be found in fish taverns in Greece and in coastal restaurants in Croatia. It comes with plenty of bread to soak up the sauce.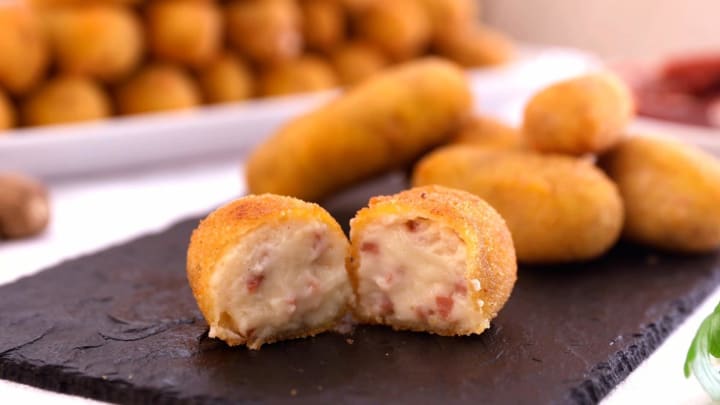 In Spain, you can find delicious Spanish fritters or crispy croquetas de jamon. The outside is crispy and the inside creamy. The main ingredients for this delicious appetizer are bechamel sauce and ham. After the thick sauce has been prepared diced ham is added and mixed well. The fritters are rolled into small logs, coated in breadcrumbs, and egg wash, Then they are fried until they are golden and crispy. This version with diced Spanish ham is the most popular.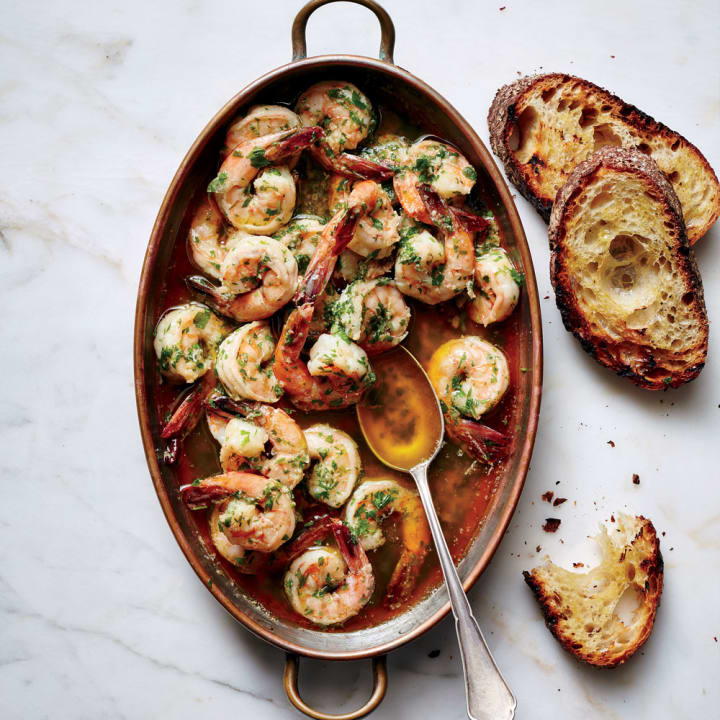 Gambas al ajillo another popular Spanish appetizer consists of shrimp that have been sauteed ina pan with minced garlic, lemon juice, paprika, and olive oil. This is usually served as a tapa. The appetizer is garnished with chopped parsley and crusty bread is served with it to soak up the delicious sauce.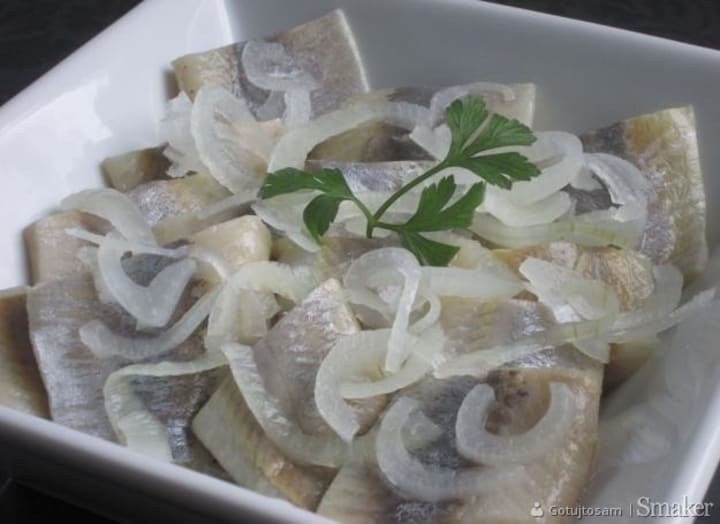 Sledzie is a Polish appetizer that consists of pickled herring. The herring is prepared using such ingredients as vinegar, oil, onions, and sour cream. Traditionally the herring is served on Christmas Eve as a cold appetizer or a side dish. It is best accompanied by dry white or red wines.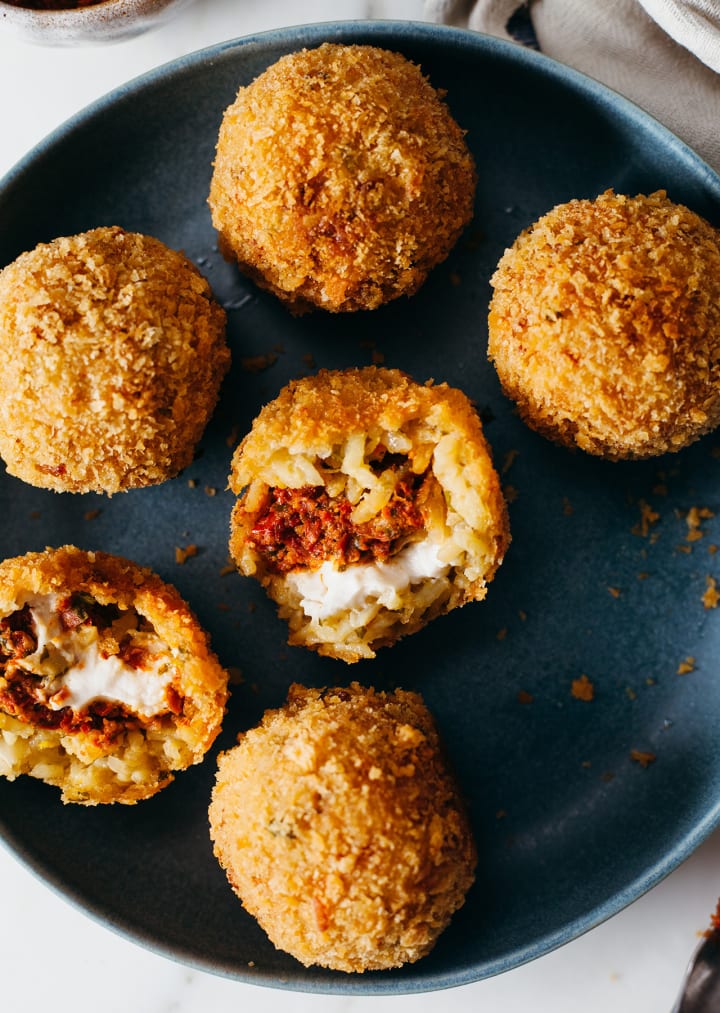 From Sicily come arancini. These are golden rice balls that have been filled with a combination of ingredients. Some of the fillings include meat sauce with peas, dried prosciutto, cheeses like pecorino and mozzarella, tomatoes and dried capers. The rice balls are rolled in breadcrumbs and fried in hot oil until golden, The word for this appetizer comes from the Italian word for orange, arancia, and refers to the likeliness of its color and appearance.
Asia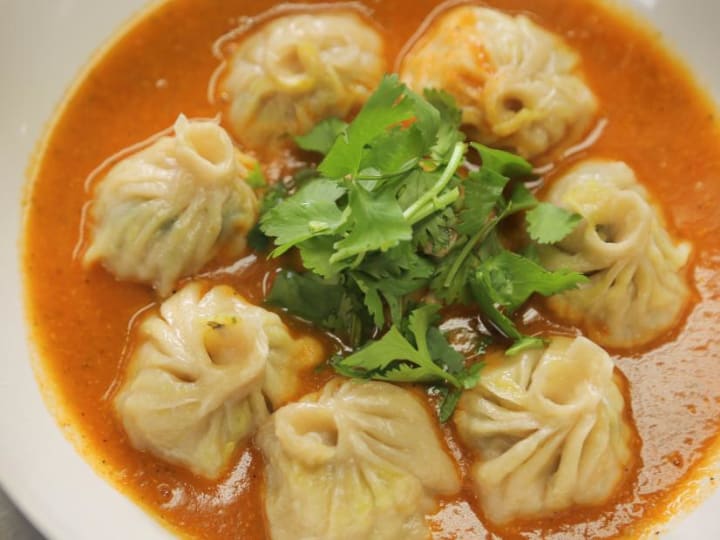 Traditionally momo dumplings are filled with minced meat but through the years many other different fillings have been included like vegetables. The dumplings are native to Tibet and were brought to the Kathmandu Valley by Newar merchants. Nepal considers momo dumplings to be their food.
Momo dumplings are also very popular in India. They are steamed but can also be fried. The dumplings are shaped into little purses or half-moons. The best-known varieties are buff momos with water buffalo meat, sha momos with beef or yak meat, and khasi momos with lamb or mutton filling.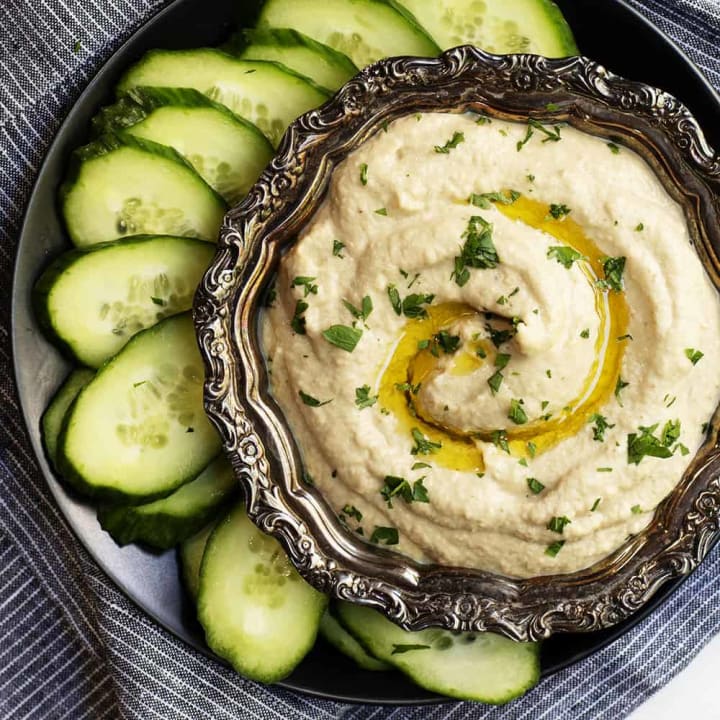 Baba ghanoush is a Middle Eastern dish that is made with roasted and peeled eggplant, garlic, olive oil, lemon juice, and tahini. Mint, onions, and different spices can be added. This is usually served as an appetizer and used for dipping or as a spread on open-faced sandwiches and topped with parsley, tomatoes, and sliced cucumbers.
South America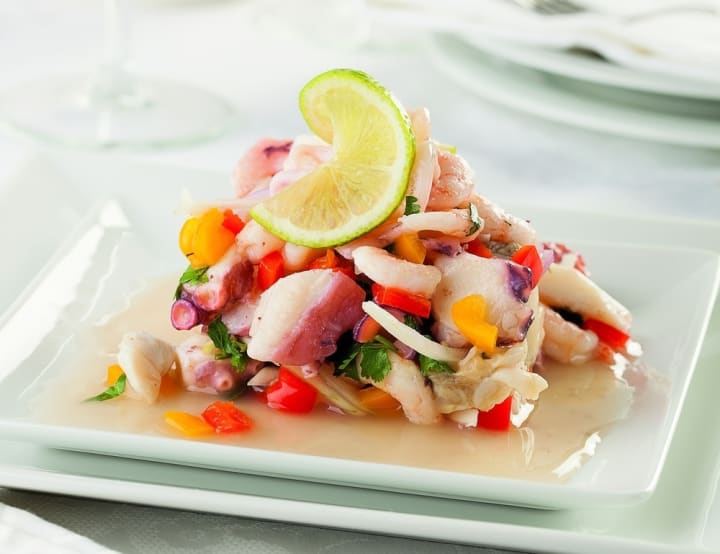 From Peru comes ceviche mixto with various seafood including shrimp, squid, octopus, clams, or scallops. The seafood is marinated in lemon juice, celery juice, salt, onions, cilantro, and hot chilli peppers. Ceviche mixto is usually served with glazed sweet potatoes and Peruvian corn.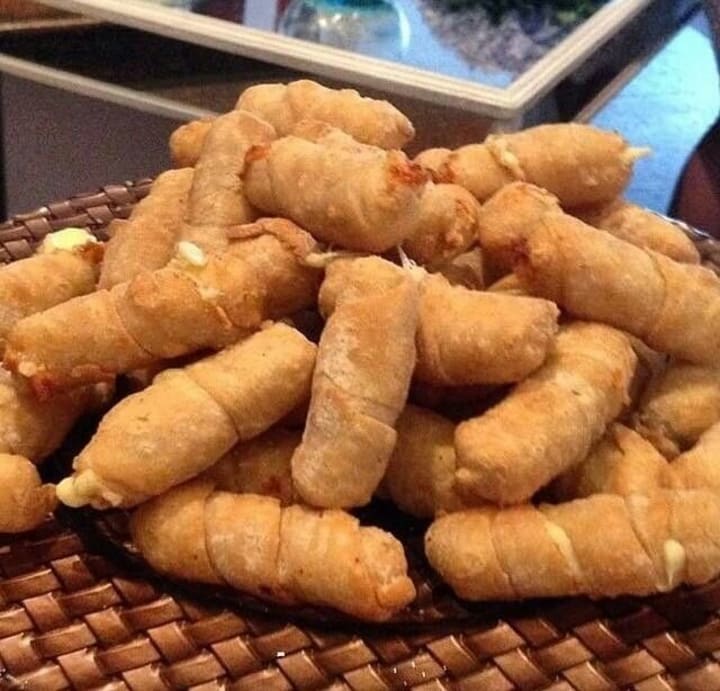 Tequellos come from Venezuela and are crispy fried cheese sticks. They are made with pastry dough or wonton wrappers that are wrapped around the salty white cheese. Then they are fried to a crispy golden brown. They are bite-sized and served with guasacara, a salsa.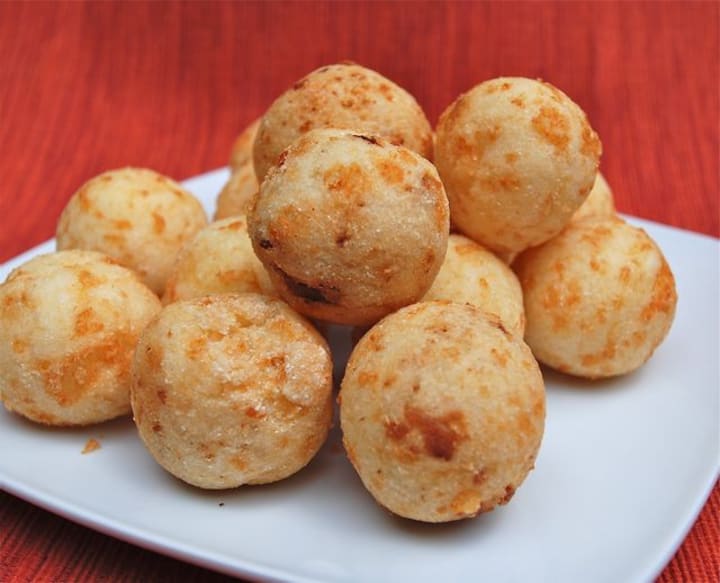 Boliarepas or stuffed arepas are a popular Venezuelan and Columbian appetizer. These are corn cakes that are crispy on the outside and soft and creamy on the inside, They're filled with bacon and cheddar cheese.
The Caribbean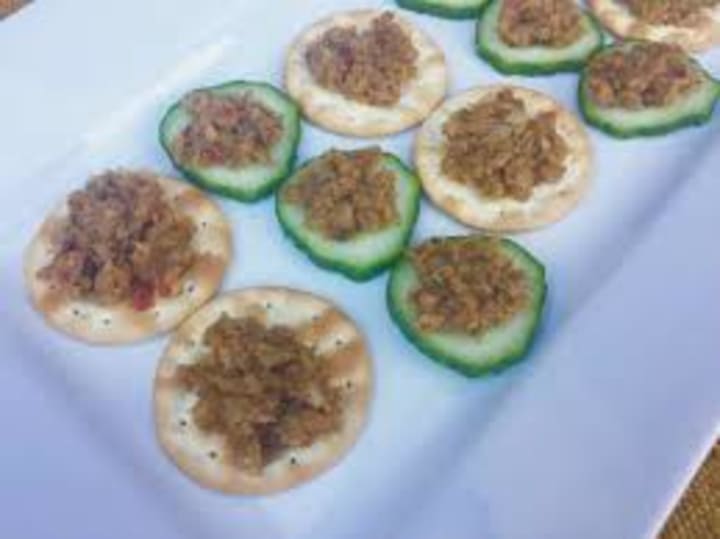 From Jamaica come solomon gundy which is a popular fish pate. It consists of smoked red herring or mackerel and mixed with onions, hot peppers, and spices. Traditionally this fish pate wi served with crackers and cam be either an appetizer or snack.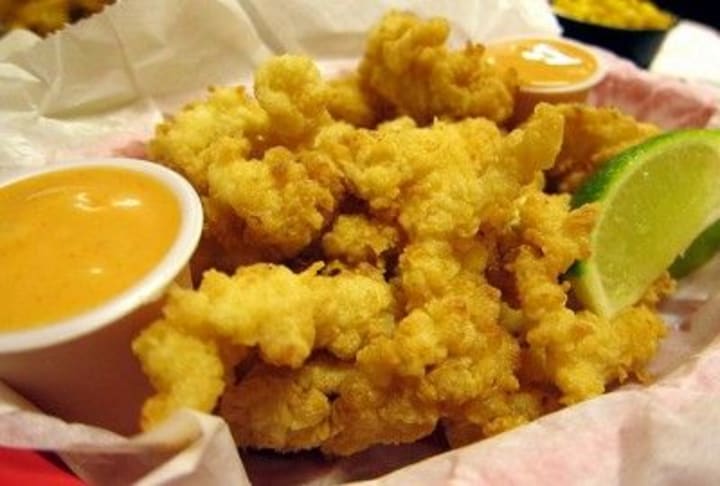 Cracked conch comes from the Bahamas. Conch is the meat from an oversized sea snail. Conch meat is dipped into a batter made with flour, Then deep-fried until crispy and golden. The name of the dish refers to the method of tenderizing the tough, chewy meat with a meat mallet or a frying pan.