Sweethearts Dessert Combo
Red Wine-Infused Chocolate Fudge Cupcakes with Pink Frosting, Chocolate Topping and a glass of Red Wine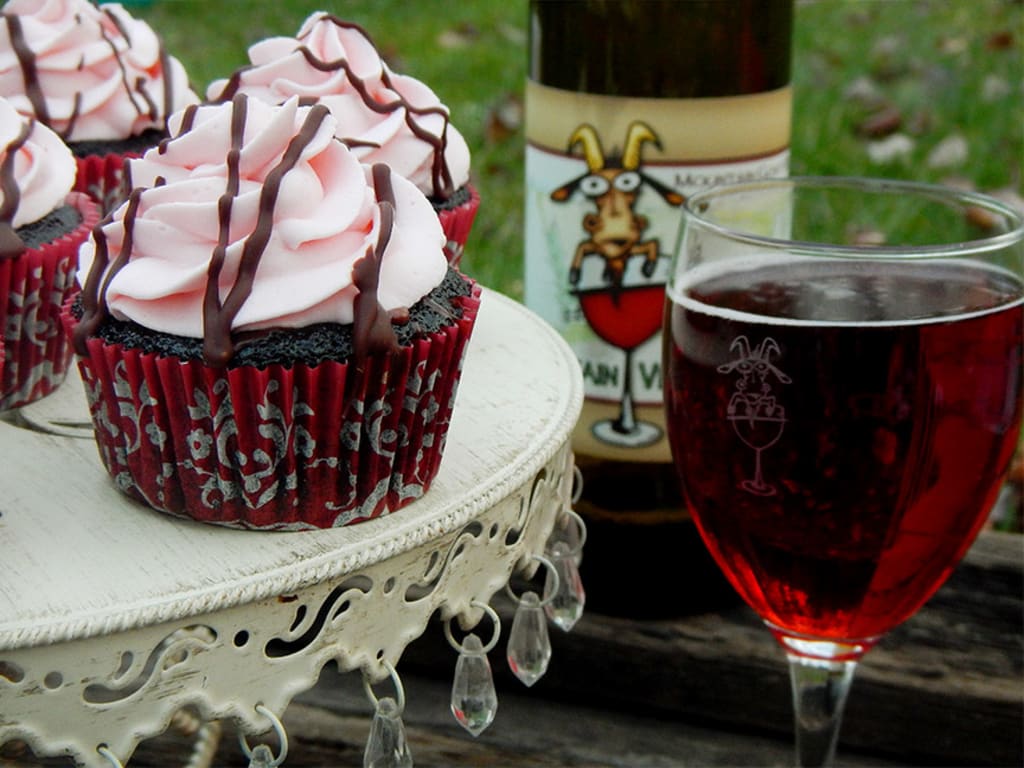 Although I am not a drinker myself, I decided to join this contest just for the fun of it! Since I have an enormous sweet tooth, including red-wine infused cupcakes would an impeccable idea. Even if I don't imbibe the actual glass of red-wine, a bite of a red-wine infused chocolate cupcakes with baby pink frosting and chocolate drizzle is worth the attempt! Having a small amount of wine in pastries is worth the try for me. Large amouts of wine would make me nauseous, and is not worth the risk for me. My stepmother, my grandfather and step grandmother really enjoy drinking wine as a treat, so I think they will definitely enjoy this incredible dessert combination. My grandfather was an event planner and a wine enthusiast, so he would absolutely benefit from the beauty of wine and dessert, and would enjoy reading up on this blog!
Red wine is a typical beverage that is enjoyed at picnics, restaurants, pubs, elegant parties, and also make a great addition to an enjoyable date night. Red wine can also be enjoyed all year round, however it is mostly enjoyed in the spring and summer months. Some people enjoy drinking red wine in the comforts of home and at a restaurant during the winter months, especially for people who take pleasure in activities like wine-tasting, dining out, and social drinking with friends and family. The best thing about red wine is, it can also be enjoyed with a decadent dessert. The average person enjoys a glass of red wine with a piece of chocolate cake or a box of Godiva or Purdy's chocolate truffles. Any kind of dessert or pastry would work with a glass of red wine, especially desserts like strawberry shortcake or chocolate ice cream. If I were to decide between strawberry shortcake or chocolate cake, I would choose chocolate cake. I also would enjoy combining chocolate ice cream, because I am an ice cream addict.
This decadent and creative dessert combo would make a fantastic addition to a Valentine's Day party, a date night, a bachlorette party, and a quiet family meal at home with your husband, relatives, grandparents, and/or adult children. If you enjoy baking and are willing to discover new recipes, you can create these cupcakes at home. Depending on what is in your area, you can purchase wine-infused cupcakes from your local bakery or a specialty dessert shoppe. Not every place serves wine-infused cupcakes, so research is necessary!
I have never baked red wine-infused cupcakes, so I cannot give you a recipe of my own. That being said, I can write out a recipe that I found, using my own words, so you can get some baking inspiration for the holidays and Valentines Day!
Red-Wine Infused Cupcakes with Pink Frosting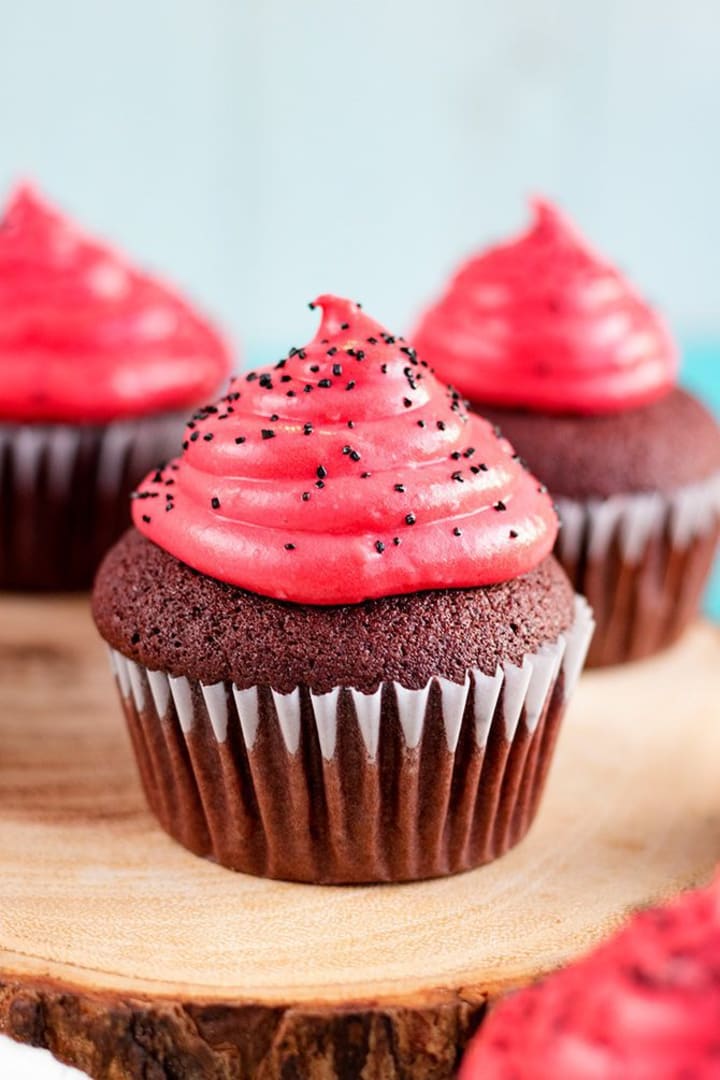 Cupcake Ingredients
3/4 cups unsalted butter or an oil of your choice
1 1/2 cups of granulated sugar or natural sweeteners such as Erythirol
2 tsps of artificial of natural vanilla extract
3 large eggs or any egg substitute
1 tbsp of distilled white vinegar
3/4 cups of red wine
1/4 cup of buttermilk or any liquid of your choice
2 1/2 cups of all-purpose flour or flour substitutes (e.g. almond flour, coconut flour, whole wheat flour, etc.)
1/3 cups of unsweetened cocoa powder
1 1/2 tsps of baking soda
1/2 tsp of kosher salt
Frosting Ingredients
6 oz of softened cream cheese or vegan cream cheese
1/2 cup of softened unsalted butter or coconut oil
3 cups of powdered sugar or powdered Erythirol
1 tsp of natural or artificial vanilla extract
1/4 cup of red wine
1/2 cup of heavy cream or full-fat coconut cream
2 tsps of red food coloring
Directions
1. Preheat the oven to 350 degrees F. Prepare the cupcake pan by lining it with red or pink cupcake liners.
2. In a large mixing bowl, or stand mixer with a paddle attachment, beat the butter and sugar/sweetener until you get a fluffy consistency. Combine the vanilla and mix well until the ingredients are combined well.
3. Add eggs one at a time, mixing in between, until all the ingredients are consolidated. Include the vinegar, red wine, buttermilk and combine.
4. In a separate bowl, whisk together the flour, cocoa powder, baking soda and salt. Add the dry mixture into the wet mixture and combine well. Avoid overmixing.
5. Scoop evenly into the baking cups and bake at 350 degrees F for 16-19 minute, or until the toothpick inserted into the centre comes out clean. Prior to icing and decorating, cool completely on the wire baking rack.
Frosting Directions
6. Beat together the cream cheese, butter, powdered sugar/sweetener, and vanilla until you get a creamy texture. Stir in the red wine and red food coloring.
7. Increase the speed to high and slowly add in the cream, then continue to whip until stiff peaks are formed.
8. Decorate and enjoy the cupcakes!
About the Creator
Poetess, visual artist and lifestyle/quiz writer! My pastimes include reading, sleeping, gaming, music, fitness, etc! Be yourselves, be kind and value life! Let's connect and be friends!
My IG accounts: @tdwrites24 & @tdcreates97
Reader insights
Be the first to share your insights about this piece.
Add your insights