Sweet Holidays
The holidays are sweet, the desserts even sweeter.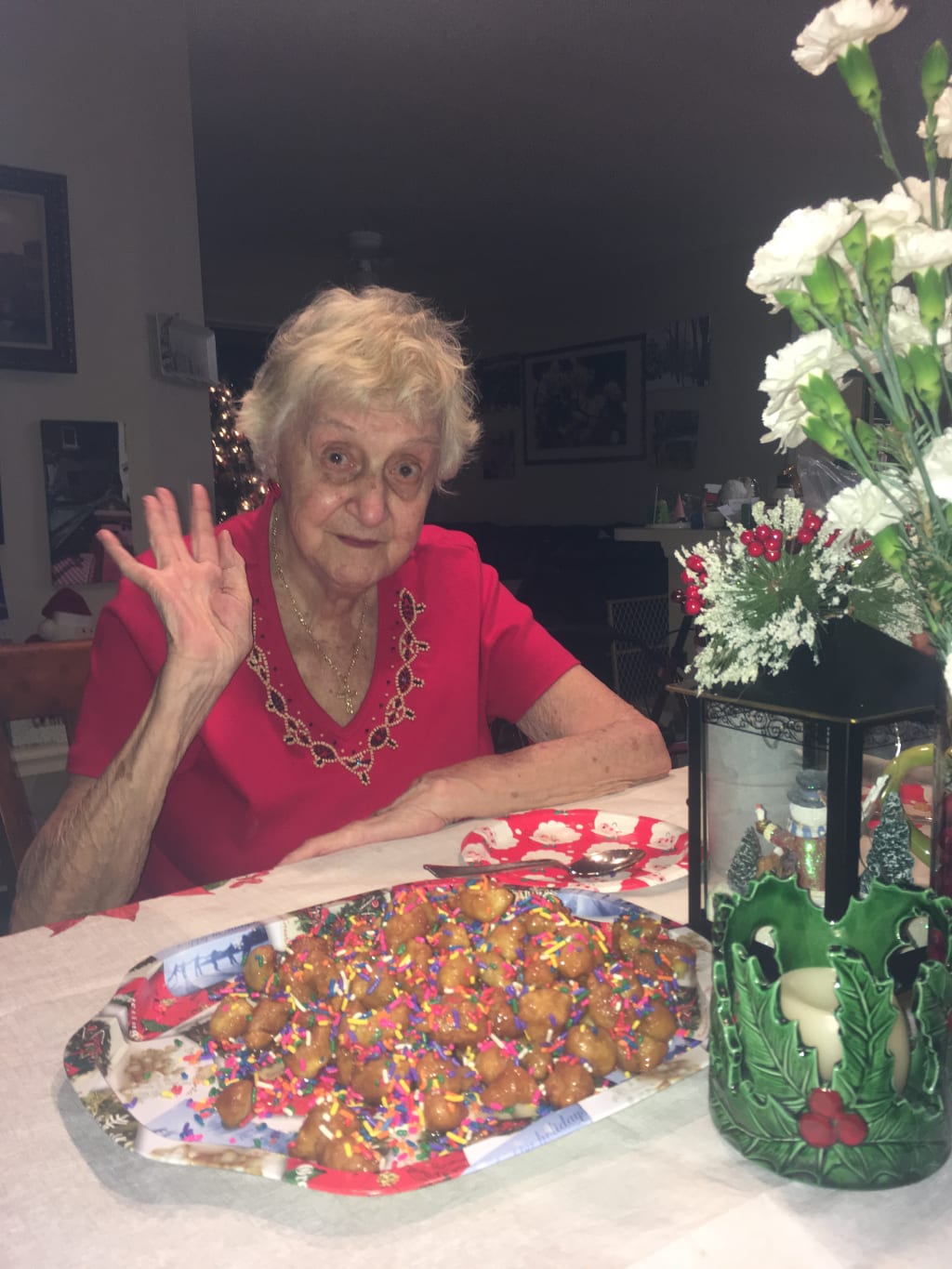 As the colder weather creeps upon the year, comfort food and sacred holiday recipes come to the table.
This holiday tale starts a fortnight before Christmas. Outside, trees become bare with only fresh snow covering their limbs. The Christmas tree is dragged into the home and placed upright with pride as the smell of pine fills the living room. My brother pops in the DVR of the classic Rudolph The Red Nosed Reindeer, the animated 1964 version of course. (Yes, we still have a DVR player and DVRs) My sisters, mother, grandma, and I all gather in the kitchen. With eager taste buds, we get into positions.
Matilda, my grandmother, starts making the dough on the countertop. My mother always insists she puts tinfoil down, but my grandma only prepares it her way. First, she coats the countertop with flower. After adding more flour to form a good circular barrier, she adds two eggs to the center. To top it all off, just a dash of baking soda and orange zest. A few minutes and very sticky hands later, the dough is ready! Then my oldest sister, Christina, jumps in to roll and cut the cough into small cube-like pieces. My grandmother always barks at Christina for cutting them too big, but I honestly think the bigger desserts the better.
As Christina is cutting the dough into pieces, my sister Grace and I are preparing our stations. On the left, Grace heats up oil in a deep-dish pan. On the right, I drip honey into a smaller pot. After all the pieces are cut, phase two begins! A few handfuls at a time are dropped into the hot oil, cooking the dough into golden brown. Grace, the middle child, always takes this part as it has the most responsibility to not overcook them and not get burnt yourself. Once fried to perfection, the balls are dropped into a strainer with paper towels under it to let all the excess oil drip off. Then, the best part.
While tilting a small pot of pure honey, I coat the balls in lavish honey. A few turns will do. This brings out all the sweetness with just one ingredient. Once the balls are coated in irresistible honey, I move them the display tray. This tray has been in the family for quite some time now and reserved only for our holiday honey balls. I am very particular about how to place the pieces. After many years of experience, I build a base layer and build up in a pyramid shape. While they are still piping hot, the piece of resistance is dashed on: Sprinkles! My mom usually takes this role, but Christina likes to join in (mostly to eat the sprinkles straight from the jar). At the end, the tray is piled high with colorful, sweet honey balls!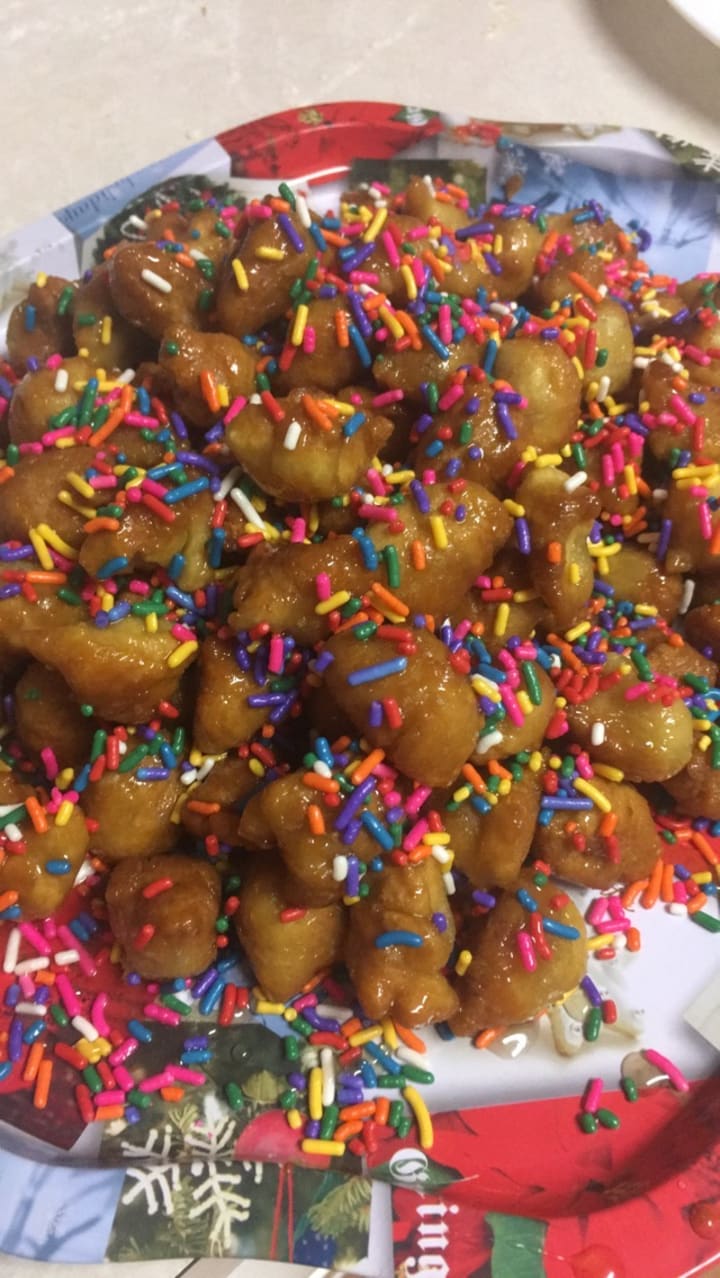 This traditional dessert comes from the Neapolitan cuisine. Being Italians ourselves, it is a classic tradition we cherish. The proper name of these sweets is struffoli. Often, Italians will even give out trays of these sweet balls as gifts to friends. My mom use to make trays upon of trays for her friends at church.
Yes, it's just dough with honey and sprinkles. Yet, it holds so much meaning. This dish brings my family together every Christmas and New Years. We always put on classic Italian music, make little chef hats, and have well a ball! It's extremely hard to respect the tradition by only making these during holidays. However, once the time comes, we are all around the table with big smiles full of honey and sprinkles.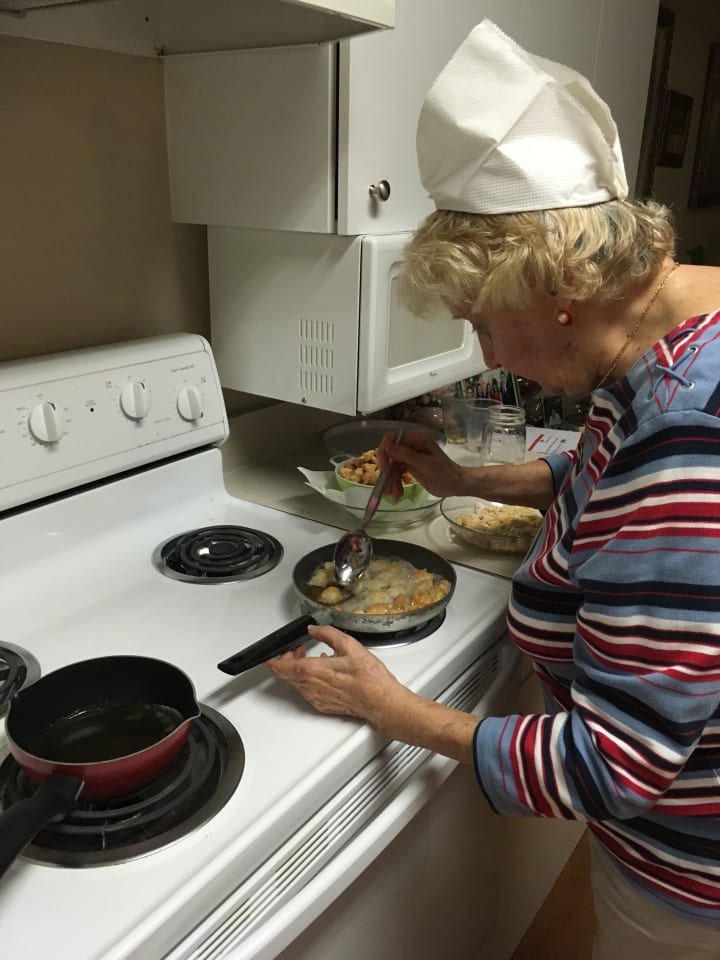 Honey balls is my favorite dish, ever. As an proper Italian, it wouldn't be right for me to keep this tradition to myself. When I was in college, I would teach my friends how to make my cherished, secret dessert. To this day, I demand a struffoli night every Christmas with my boyfriend before I visit my family.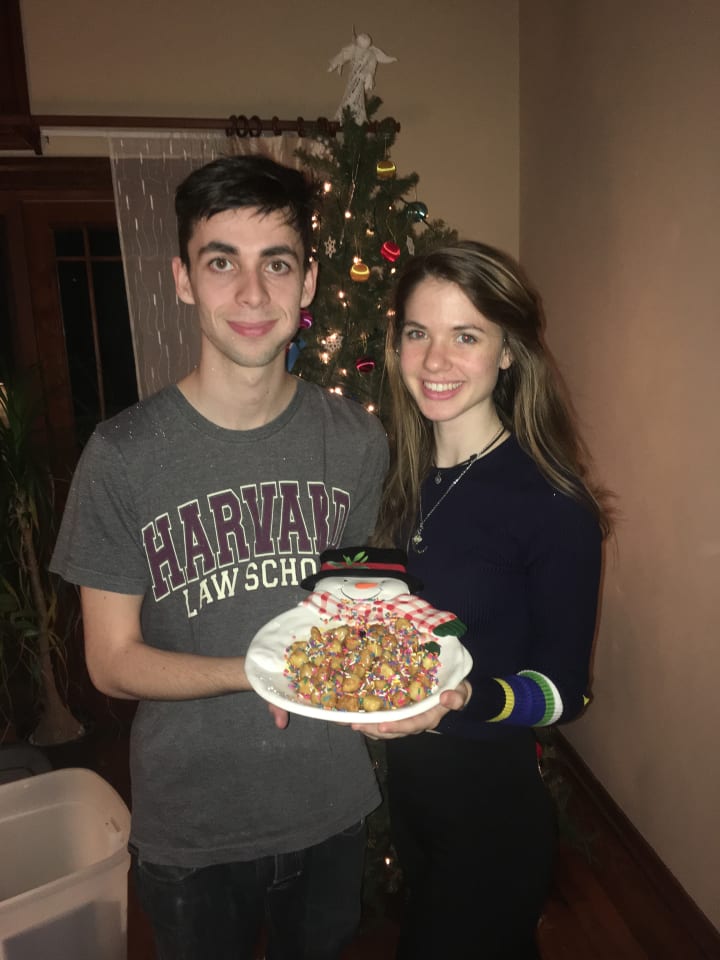 Food is universal culture. The dishes we make tell stories of heritage as deep as their delicious flavors. Food for the soul is made with loving hands and satisfied stomachs. I invite you to make my traditional struffoli so that your holidays can be a little sweeter.

Angelica Pasquali
Hi there, I'm Angelica!
I'm a wedding/elopement photographer and climate activist based in New Jersey. By combing art and activism, I create powerful visuals that influence and educate people on global issues. IG: @dawnpointstudios
See all posts by Angelica Pasquali →